Paul Pelosi is an American businessman, the owner of Financial Leasing Services, Inc., a San Francisco-based real estate and venture capital investment and consulting firm. He is also known as the husband of the US House speaker, Nancy Pelosi.
Early Life, Parents, Siblings, Education
Born Paul Francis Pelosi on 15 April 1940, in San Francisco, California USA to Italian-American parents, however, there is no information about their names. He spent his childhood in his hometown of San Francisco, together with his brother Ronald Pelosi, who is also an accomplished businessman.
After high school, Paul enrolled at Georgetown University from which he graduated with a bachelor of science degree in Foreign Service. He then furthered his studies as he entered the prestigious Stern School of Business at New York University, from which he obtained a Master of Business Administration; he also studied at Harvard's Business School.
Career
Paul founded the Financial Leasing Services Inc., and since then has evolved into a successful businessman. He has led the company to massive success in the real estate industry, widening it to a venture capitalism and consulting firm.
He is now a multi-millionaire thanks to the success he achieved with the company.
Investments
As he was becoming richer, Paul began expanding his little kingdom to other ventures; back in the '80s, he was the investor behind the professional American Football team the Oakland Invaders of the United States Football League (USFL). Unfortunately and completely unexpectedly, the entire league folded in 1985.
Nevertheless, he returned to football in 2009 by buying the United Football League franchise, the California Redwoods. The same year, the entire franchise moved to Sacramento and from the April of 2010, changed the name to Sacramento Mountain Lions.
Paul Pelosi, the businessman spouse of Speaker Nancy Pelosi, bought calls in Apple, Tesla, and Disney, and bought shares of investment firm AllianceBernstein in late December. https://t.co/v7gp0iq09T

— Barron's (@barronsonline) January 24, 2021
Unfortunately, two years later the team was defunct, since the entire UFL ceased operations due to financial problems, and Paul himself lost nearly $5 million due to the closure of the league.
However, this San Francisco real-estate magnate and financial investor has had a number of successful investments, which earned him a vast empire of holdings around the globe. In addition, he also has stakes in such corporations as Microsoft, Amazon, Apple, Facebook, and the Russell Ranch LLC which solely increased his wealth by $4 million.
Personal Life, Marriage, Children
Paul and Nancy met during her college years, and immediately became a couple. They married in Baltimore at the Cathedral of Mary Our Queen on 7 September 1963, then moved to New York, before finally settling in San Francisco.
Nowadays, they split time between San Francisco and Washington, since Nancy's post is in Washington. The two have welcomed five children, Nancy Corinne, Christine, Jacqueline, Paul, and Alexandra, all born within six years.
Christine is involved in politics as a Democratic Party political strategist, while Alexandra is a journalist and documentary filmmaker. Paul and Nancy also have nine grandchildren.
Paul Pelosi Net Worth
As of early 2021, Paul Pelosi's net worth is estimated to be around $120 million, earned through his successful career as a businessman and investor.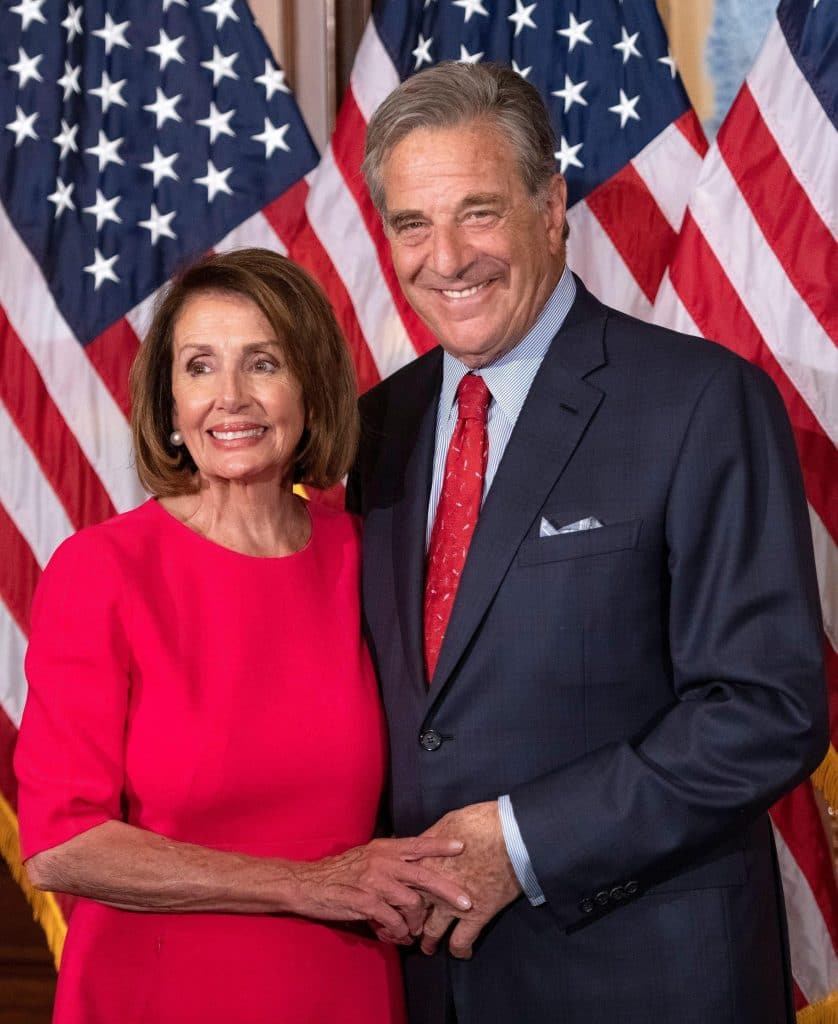 Paul Pelosi's Wife, Nancy Pelosi
Born Nancy Patricia D'Alesandro on 26 March 1940, in Baltimore, Maryland USA, to Italian-American parent, Annunciata M. 'Nancy' D'Alesandro and Thomas D'Alesandro Jr, her mother came to the USA in 1912 from South Italy, while her father traces roots from Genoa, Venice and Abruzzo. Both of her parents were politically involved, her father a Mayor of Baltimore, while her mother took a minor role as a leader of Democratic women, teaching them and Nancy alongside them the value of social networking. Nancy is the youngest child, and the only girl of seven children; one of her brothers, Thomas D'Alesandro III was also Mayor of Baltimore.
She attended an all-girls Catholic high school in Baltimore, Institute of Notre Dame, and after matriculation in 1958, enrolled at Trinity College in Washington D.C, from which she obtained a Bachelor of Arts in political science.
Career
Nancy is the second woman in the hierarchy of US politics, second only to vice president Kamala Harris. Being a daughter of a Mayor, she followed her father into politics, and for the first time entered Congress in 1987, into the US House of Representatives from California, selected by Sala Galante Burton as her successor, and in the elections Nancy defeated Republican candidate Harriet Rose, and since then has been serving in office.
She began with the 5th district and served in the position until 1993, after which she moved to the 8th district, holding the post until 2013. In 2021, Nancy started her 18th term and currently represents California's 12th congressional district.
Further Accomplishments
To speak further of her achievements Nancy made history in 2007 when she was elected the first woman to serve as Speaker of the House of Representatives, defeating Republican John Boehner of Ohio, collecting 233 votes to her opponent's 202. In the first tenure, she held the position until 2011, and it was Nancy who incorporated Obama's health care law, and a number of other Obama administration's landmark bills.
From 2011 to 2019 she was a House Minority Leader since the Democrats lost the majority, but in 2019 she re-assumed the position of a Speaker of the United States House of Representatives. Under her leadership, President Donald Trump was impeached twice by the House of Representatives. In January, Nancy was re-elected for the fourth term as Speaker of the House, and according to many, it will be her last, following a deal with progressives.
Nancy Pelosi Net Worth
As of early Nancy Pelosi's net worth is around $33 million, earned largely through her career in politics, however, combined with her husband, they have more than $150 million worth of assets.
Appearance and Vital Statistics
Nancy has brown hair and brown eyes. She stands at a height of 5ft 5ins (1.65m) tall, while she weighs approximately 132lbs (60kgs).
Trivia, Interests, and Honors
Nancy enjoys chocolate very much and chocolate ice cream, having her office always stocked with the particular Ghiradelli chocolates.
Nancy is a crossword puzzle geek – one of her favorite hobbies is to complete The New York Times crossword puzzle.
Nancy is heavily involved with the Italian-American community; she is a board member of the National Organization of Italian American Women, and also for 13 years was a board member of the National Italian American Foundation (NIAF).
In 2013 she was inducted into the National Women's Hall of Fame
In 2016 she was awarded the Foremother Award from National Center for Health Research.