• Mike Colter is an American actor best known for his roles in Marvel Cinematic Universe series
• He was born in Columbia, South Carolina and studied theater at the University of South Carolina and Rutgers University
• His first major role was in 2011 in The Good Wife, and he gained world fame after playing Luke Cage in the Marvel series
• Mike has a net worth of around $2 million and is married with two daughters
• He enjoys playing basketball, cooking, and playing video games in his free time
Who is Mike Colter?
Mike Colter is an American actor, who is best known to the public as Luke Cage in the Marvel Cinematic Universe series, including "Luke Cage" (2016-2019), "The Defenders" (2017), and "Jessica Jones" (2019), among numerous other roles that he has secured so far in his career.
Mike Colter Wiki: Age, Childhood, Parents, and Education
Mike Randal Colter was born on 26 August 1976 under the Virgo zodiac sign, in Columbia, South Carolina USA. He is the son of Eddie Lee Sr. and his wife Freddie Marion and spent his childhood in St. Matthews, South Carolina with his three older siblings. He went to Calhoun Country High School, after which he enrolled at Benedict College, where he spent just a year before he transferred to the University of South Carolina.
He obtained a bachelor's degree in theater in 1999, and then furthered his studies at the Rutgers University Mason Gross School of the Arts, from which he received a Master of Fine Arts degree.
Career Beginnings
Mike was interested in acting from an early age, and in high school he started a drama club of which he was the president, and organized a few plays with the help of the professors, getting his first taste of the audience and performance.
After finishing his MFA, Mike moved to Los Angeles, where he began auditioning for various roles.
He made his debut in 2002 as Watts in the TV medical-drama series "ER". Two years later, he appeared in the Academy Award-winning sports drama film "Million Dollar Baby", directed by Clint Eastwood, starring the latter as well as Hillary Swank and Morgan Freeman.
In this early part of his career, Mike was able only to secure minor roles, and he waited until 2011 for his first major role, until then guest-starring in such TV series as "Law & Order: Special Victims Unit" (2009)", "Royal Pains" and others.
Rise to Prominence
In 2010, he started playing Lemond Bishop in the TV series "The Good Wife", which turned out to be a popular role, lasting for 21 episodes until 2015.
In 2011 he was selected for the part of Malcolm Ward in the TV mystery crime-drama series "Ringer", starring Sarah Michelle Gellar, Kristoffer Polaha and Ioan Gruffudd, appearing in 16 episodes through 2012, after which Mike was cast for a role in the film "Men in Black 3", and also in the film "Zero Dark Thirty" as DEVGRU operative Mike.
From 2013 to 2014 he appeared in a few episodes of the anthology horror series "American Horror Story" while also playing Nick Donovan in the TV Series "The Following" (2013-2015).
Mike continued with roles in concurrent television series, in 2014 playing Locke in the TV action-adventure series "Halo: Nightfall", in 2015 as Miles Lathem in the TV action-drama series "Agent X", and in 2015 he was selected for the part of Luke Cage/ Carl Lucas in Marvel's series "Jessica Jones" and after a few episodes he starred in his own spin-off series "Luke Cage". He appeared in 26 episodes of the Primetime Emmy Award-winning series, which earned him world fame, then reprised the role of Luke Cage in several spin-off series, including the TV mini-series "The Defenders" in 2017.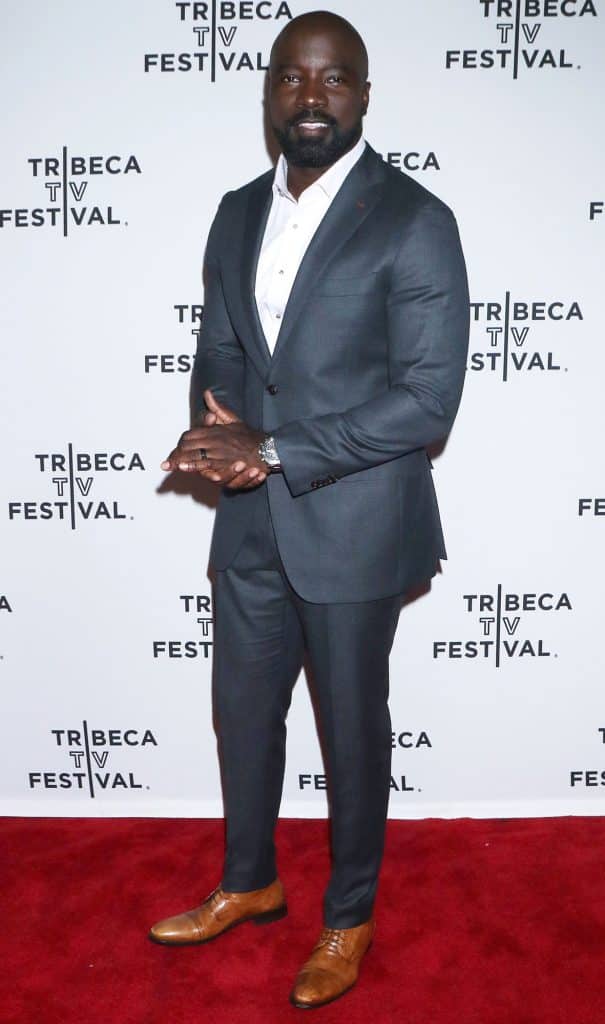 After the end of "Luke Cage" series', Mike continued his career quite successfully, first as David in the sci-fi action-drama series "Extinction", after which he played Daryle Jenkins in the award-winning crime-drama film "Skin" (2018), while in 2019 he appeared in the comedy-drama film "Before You Know It". The same year, Mike featured in the Academy Award-nominated drama film "Breakthrough", starring Marcel Ruiz, Topher Grace and Sarah Constible. Furthermore, Mike starred in the action crime-thriller film "Black and Blue", and secured the lead role in the horror crime-drama series "Evil", appearing in 17 episodes from 2019 to 2021.
Most recently, Mike starred in the thriller film "Fatale" with Hilary Swank and Michael Ealy, while he's also working on the action crime-drama film "South of Heaven", with Evangeline Lilly, Jason Sudeikis, and Shea Whigham, and he is set to star in the biopic about Charlie Walker, entitled "I'm Charlie Walker". The film is currently in post-production and awaiting its release date.
Net Worth
As of mid- 2021, Mike Colter's net worth has been estimated to be around $2 million, earned through his successful career as an actor, during which he has appeared in more than 40 film and TV titles.
Personal Life, Dating, Marriage, Daughter
During his year at Rutgers University in New Jersey, Mike met his future wife Iva – he was on the way to obtain his Masters' degree, and she was working on her Ph.D. The two married in 20016 and since then have welcomed two daughters.
How Tall is Mike Colter? Appearance and Vital Statistics
This prominent actor tends to shave his head, and has said he's done that since high school; he has dark brown eyes. He stands at a height of 6ft 3ins (1.91m), while he weighs approximately 205lbs (93kgs); his vital statistics are 47-37-16.
Hobbies, Interests, and Trivia
Although Mike hates the gym, he finds ways to work out and keep his body fit, such as training at Trinity Boxing Gym with Martin Snow.
Furthermore, he loves playing basketball, and goes swimming, while he also pays a lot of attention to diet, and said that he eats lots of lean protein and that he avoids fast food and soda-filled drinks. He likes to cook and is often in the kitchen preparing various meals for his family.
He played basketball for the 'home' roster of the NBA All-Star Celebrity Game at the Bojangles' Coliseum in Charlotte, North Carolina. The entire roster comprised of celebrities from Carolina.
He spends every single minute of his free time with his daughters and wife.
Mike has supported a number of social movements organized by the black people of America as he said that he is aware of what is going on.
Since starring in "Halo: Nightfall", Mike has become interested in the universe, and has started playing "Halo" video games.