• Tyler Mane is a Canadian actor best known for his portrayal of Sabertooth in X-Men and Michael Myers in the remake of Halloween
• He was a professional wrestler from 1985-1996 and wrestled in several promotions including World Championship Wrestling
• He made his acting debut in the film Luchadores de las Estrellas and has since had roles in X-Men, Troy and more
• He has been married twice and has two children
• His net worth is estimated to be around $2 million
Who is Tyler Mane?
Tyler Mane is a Canadian actor, probably best known to the world for his portrayal of Sabertooth in the film "X-Men", but also as Ajax in the film "Troy", and as Michael Myers in the remake of "Halloween" and "Halloween II", among numerous other roles that he has secured so far in his career. He's also a retired wrestler, having fought in several promotions, including World Championship Wrestling.
Tyler Mane Biography: Age, Childhood, and Education
Tyler Mane was actually born as Daryl Karolat, on 8 December 1966, in Saskatoon, Saskatchewan, Canada.
He grew up in his hometown, and went to Walter Murray Collegiate Institute. He became interested in wrestling at an early age, and as he got older, his interest increased, and as a teenager, he would travel to Calgary, Alberta, Canada where he began training wrestling with Stu Hart. After a while, he switched to training with Red Bastien, and in no time he was ready to become a professional.
Wrestling Career
Tyler's career started in the mid-'80s, assuming the ring name Skywalker Nitron in Canada.
At the time, he was under Mando Guerrero's training regime, and in 1987 he signed with Pacific Northwest Wrestling under the name Skyhigh Lee. Next, he wrestled in South Africa, which earned him a chance to wrestle for Joint Promotions based in the UK. In 1988 he was Gully Gaspar in New Japan Pro-Wrestling, as a team with Billy and Barry Orton, a bunch of hockey-masked pirates, whose manager was KY Wakamatsu.
In 1990, Tyler broke into the Puerto Rico wrestling league, and also toured with All Japan Pro Wrestling. The same year, he joined the Mexican promotion Consejo Mundial de Lucha Libre.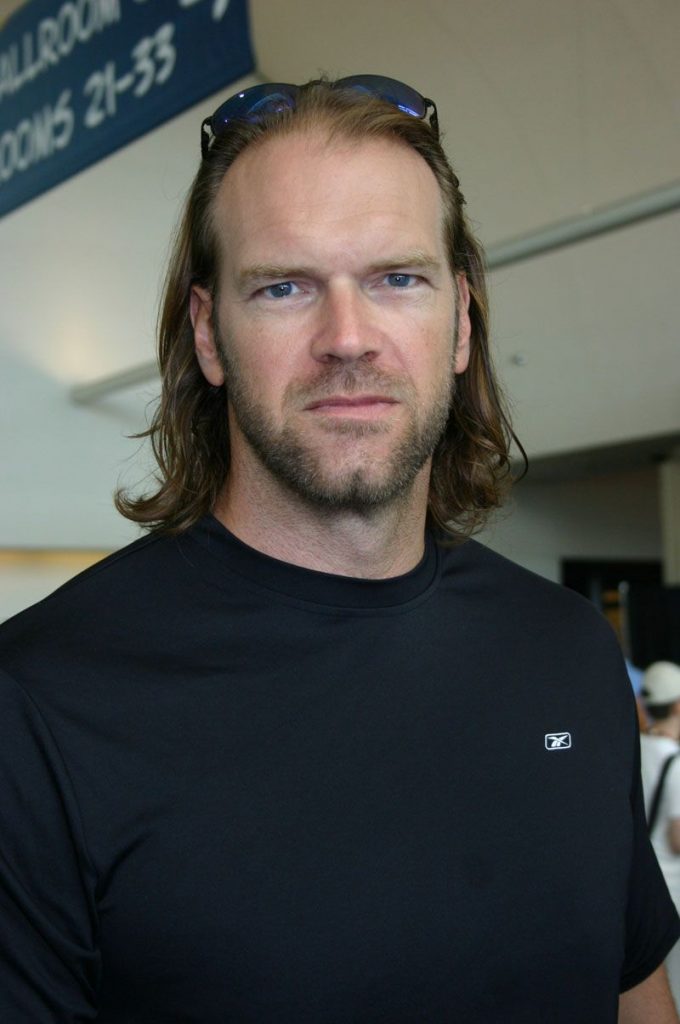 He was actively wrestling until 1996, having in 1993 signed with World Championship Wrestling under the name Big Sky, and teaming-up with Vinnie Vegas. However, this lasted less than a year, since Vinnie left WCW to join WWF, so in 1994, Tyler joined Universal Wrestling Federation (UWF), founded by Herb Abrams. He became the only UWF MGM Grand Champion when he defeated Steve Ray, however, Abrams died in 1996, and as a result, UWF dissolved, and Tyler decided to retire.
Acting Career Beginnings
Even before the end of his wrestling career, Tyler had made his acting debut; he was wrestling in Mexico with Consejo Mundial de Lucha Libra, and appeared in the film "Luchadores de las Estrellas" in which he portrayed the main villain El Vampiro Interespacial. His second role was as Sabertooth/ Victor Creed in the sci-fi action-adventure film "X-Men", starring Patrick Stewart, Hugh Jackman and Ian McKellen, while two years later he featured in the sci-fi action drama film "Black Mask 2: City of Masks", and then played Ajax in the Academy Award-nominated historical drama film "Troy", starring Brad Pitt, Eric Bana, and Orlando Bloom.
Rise to Prominence
In 2007, Tyler was selected for the role of Michael Myers in the reboot of the popular Halloween franchise, and reprised his role in the sequel "Halloween II" in 2009 – known for his towering height, Tyler is the tallest actor to portray Michael Myers. The following year he was Jack in the film "Gunless", and in 2011 he appeared in the horror-thriller film "247°F", while two years later he starred in another horror-thriller film, "Devil May Call", alongside Corri English and Traci Lords.
Tyler continued with horror films, and in 2014 starred in "Compound Fracture", with Muse Watson and Derek Mears.
Three years later he appeared in the action film "Check Point", starring Kenny Johnson and William Forsythe, and the same year played Bernard in the comedy-horror film "Victor Crowley", starring Parry Shen, Kane Hodder and Laura Ortiz.
Continual Success and Recent Projects
Tyler has continued his career rather successfully into recent years; in 2018 he co-starred in the adventure fantasy comedy film "Abnormal Attraction", alongside Leslie Easterbrook and Malcolm McDowell, while in 2019 he starred in the biopic about William Foi, one of the first Deaf Major League Baseball players, entitled "The Silent Natural", co-starring Courtney Gains and Sam J. Jones.
https://twitter.com/tyler_mane?lang=en
Next, he was Axe in the comedy film "Playing with Fire", with John Cena, Keegan-Michael Key, and John Leguizamo in the lead roles, also in 2019, while in 2020 he starred in the horror film "Penance Lane.
His next role was in the horror film "Entrenchment" in 2020, while in 2021 he was selected for the double role of Blackstar/ Dr. Bendal in the TV action adventure-drama series "Jupiter's Legacy", starring Josh Duhamel, Ben Daniels and Leslie Bibb.
Tyler is currently working on several projects, including the horror films "Psychosis", and "The Horror Show".
Personal Life, Marriage, Wife, Children
When it comes to his personal life, Tyler has one failed marriage behind him; from 1988 to 2003 he was married to Jean Goertz, and the couple welcomed two children before their split.
After his divorce, Tyler started dating actress and producer Renae Greelings, and the couple married in 2007.
Net Worth
As of mid- 2021, Tyler Mane's net worth has been estimated to be around $2 million, earned through his successful career as an actor, during which he has appeared in more than 50 film and TV titles, all of which have increased his wealth. Furthermore, Tyler's career as a professional wrestler also added to his wealth.
Appearance and Vital Statistics
This prominent actor has brown hair, though he is now bald, and has blue eyes. He stands at a height of 6ft 8ins (2.03m), weighs approximately 176lbs (80kgs), while his vital statistics are 42-34-16.
Hobbies, Interests, and Trivia
Tyler has several other interests, including motorcycles, and he has a few of them in his collection.
While active as a wrestler, Tyler used various stage names, including Giant Steele, Nitron, Sky High Lee, The Skywalker, and others. The Pro Wrestling Illustrated ranked him #440 of the 500 best singles wrestlers of the year in the PWI 500 in 1991.
He is a big foodie, and loves treating himself with various kinds of cheese, alongside a whiskey, in search of a perfect combination.