• Liza Powel O'Brien is an American screenwriter and copywriter, married to actor and comedian Conan O'Brien.
• She attended Vassar College and Columbia University and has a Masters in Fine Arts (Poetry Concentration).
• She has worked in advertising, screenwriting, and theater, and is also involved with humanitarian organizations.
• Her and Conan's estimated net worth is $85 million, and she does not have any social media accounts.
• Conan is a popular American TV host, comedian, writer, and producer, known for hosting "Late Night" and "The Tonight Show", and his podcast "Conan O'Brien Needs a Friend".
Who is Liza Powel O'Brien?
Liza Powel O'Brien is an American screenwriter and copywriter, perhaps best recognized as the wife of comedian and actor Conan O'Brien. She was born under the Zodiac sign Scorpio on 12 November 1970, in Bainbridge Island, Washington State, and holds American nationality. As of early 2021, she is 50 years old.
Early life and Family
Liza was born Elizabeth Ann Powel to Jake and Ann Powel. Her father was the guitarist of the Dixieland band who played at New Orleans Creole Restaurant for more than 20 years.
Liza spent most of her childhood in Washington, and from an early age showcased an interest and talent for writing, which would later shape her career.
As a devout catholic, she was also a member of the local Catholic Church. Regarding her education, she attended the prestigious Vassar College, a liberal arts college in New York State, and earned her bachelor's degree in 1992. Her academic achievements didn't stop there, as she then enrolled at Columbia University, and obtained a Master's degree in Fine Arts (Poetry Concentration).
Career
Liza began her career as a copywriter at the advertising agency "Foote, Cone, and Belding", rising to be promoted to an advertising executive. However, she always wanted to find something more creatively challenging, and she soon switched to screenwriting and composing plays for theaters and festivals in Seattle, Los Angeles, and New York. Liza also made a couple of appearances in TV shows, such as "Late Night with Conan O'Brien", "Conan O'Brien Can't Stop", and "SXSW Flashback 2011".
She also appeared in the TV documentary "60 Minutes" in an episode about Conan.
As a great humanitarian and academic, Liza is also involved with "Beat the Odds", the organization for the Children's Defense Fun, which offers a program designed to help at-risk high school students with great academic traits and abilities. Besides this organization, she serves on Ojai Playwrights' reading committee.
Her marriage to Conan O'Brien
She and Conan met while she was working with the advertising agency. As a part of the advertising team, Liza and a senior copywriter were called to do a skit on "Late Night with Conan O'Brien". Upon meeting, both of them immediately felt a strong connection; even Conan himself said that it was love at first sight, and in an interview with Piers Morgan, said: "Somewhere, in the vault at NBC, there's footage of me literally falling for my wife on camera."
The couple started their whirlwind romance, and dated for 18 months before tying the knot on 12 January 2002, at the St. James Cathedral in Seattle. Liza wore a long-sleeve white dress with lace details, while Conon wore a classic black tuxedo. The couple has two children; Neve they welcomed on 14 October 2003, and their second child, Beckett, was born on 9 November 2005.
As in any marriage, they have faced some hardships, during which Liza has stayed faithfully by Conan's side. Back in 2010, Conan was unexpectedly dropped from "The Tonight Show", leaving him upset and depressed. In an interview, Liza shared some details about Conan's mental state and aftermath. She said: "I hated to see him in such a state of tension and unhappiness.
It was very painful for him to let go of this hallowed ground that he'd finally got a chance to stand on." Liza gave her best to engage him in small tasks, such as making dinner or driving the kids to the school, as a way to make him feel productive. Liza also commented on his exit from the show saying: "The truth is, 'The Tonight Show' was the definition of cultural relevancy for decades. And all of a sudden, it's not. That's not Conan's fault. It's not anybody's fault. It just happened."
Physical stats and Hobbies
Liza is 5ft 8ins (173cm) tall. Her natural hair is blonde coupled with a fair complexion and blue eyes. Given her low-key personality, there's not much information about her hobbies and interests besides reading books and traveling.
What is her net worth?
As of 2021, her and Conan's estimated net worth is an astonishing $85 million.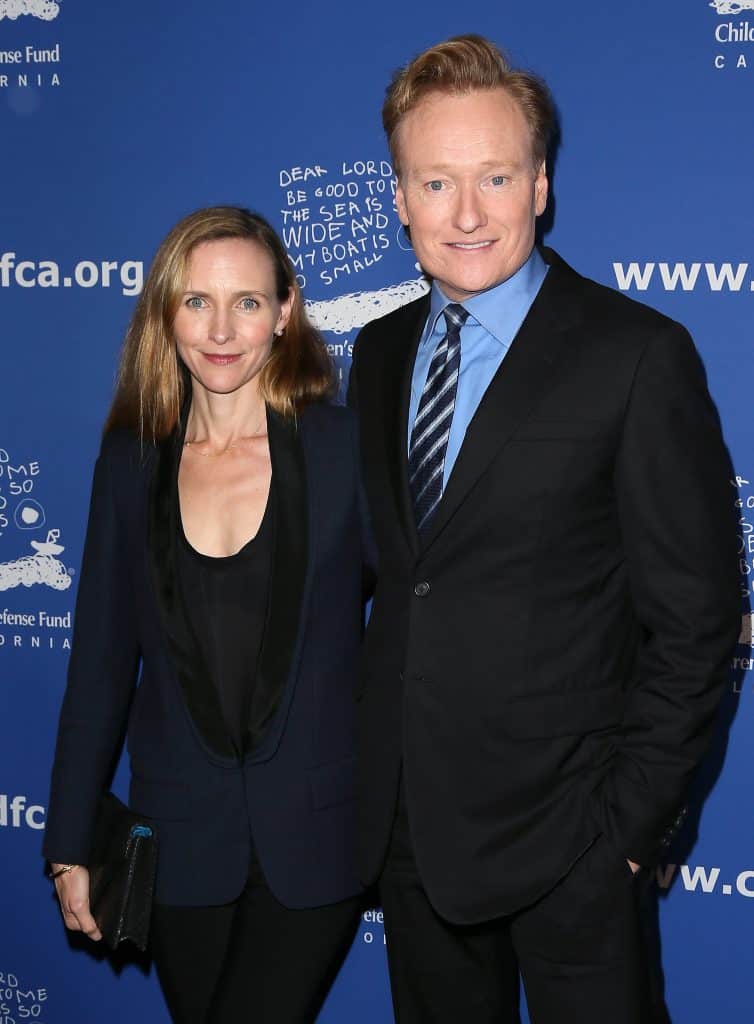 According to reports, she had amassed quite a sum over the years working as a playwright. In addition, Conan's current salary is $12 million per year. The couple also owns a house that reportedly cost almost $20 million, a luxurious mansion built on land stretching over nearly 12,000 square feet in Los Angeles.
It seems that Liza likes to keep her private life away from the public eye. Unlike her husband, she doesn't use any social platform. Conan is very active on Instagram and Twitter – his Instagram counts over 1.5 million followers, while his Twitter has almost 29 million. Conan usually posts photos from his show, as well as upcoming projects. Given his humorous and goofy personality, he is known to tweet a joke or two. He recently tweeted "I surprised a raccoon in my garage this morning, and now he's telling his friends he made a human run into a wall."
Briefly about Conan
Conan O'Brien is a popular American TV host, comedian, writer and producer, who rose to prominence as the host of the talk show "Late Night". He was born on 18 April 1963, in Brookline, Massachusetts, USA, to Thomas Francis and Ruth O'Brien. Conan comes from a well-educated family; his father was an epidemiologist and physician who also worked as a professor at Harvard Medical School, while his mother was a lawyer at Ropes & Gray.  He grew up in Brookline alongside his three brothers: Neil Luke and Justin, and two sisters: Kate and Jane. Conan attended Brookline High School, where he became managing editor for the school newspaper called "The Sagamore." Showcasing his writing genius, Conan received an award from the National Council of Teachers of English for composing the short story "To Bury the Living".
After matriculating in 1981 as valedictorian, Conan enrolled at the famous Harvard University to study American History, and where he was chosen as the president of "Harvard Lampoon" a humor magazine.
After graduating in 1985, he began his career as a writer of HBO's comedy sketch "Not Necessarily the News", and soon afterwards he was given the opportunity to write for "Saturday Night Live" (SNL), earning and Emmy Award in the Outstanding Writing in a Comedy or Variety Series category. One of his most memorable sketches was "The Girl Watchers", performed by Tom Hanks, Jon Lovitz and Sting.
In 1988, he collaborated with Bob Odenkirk and Robert Smigel on the improvisational comedy revue "Happy Happy Good Show". In 1992, Conan joined the iconic Simpsons as a writer, and later supervising producer.
In the following year, he was chosen among many celebrities and comedians for the highly coveted spot of the "Late Night" host. At the time, Conan was fairly a new face, and NBC's decision in choosing him was questioned, and even ridiculed by some. Despite the initial low ratings, the show eventually became very famous, as Conan worked his magic of enchanting the viewers with his charisma and humor. He subsequently hosted nearly 3,000 episodes, and won an Emmy Award and Five Guild Awards.
In 2009, Jimmy Fallon was chosen as his replacement on "Late Night", and Conan inherited "The Tonight Show" from Jay Leno. However, the politics of NBC became a ferocious bone of contention, and Conan was dropped as a host after just a few months. His official ending of his contract with NBC saw him move his show "Conan" to the cable network "TBS", which is set to end in June 2021. Following his departure, he said: "Every comedian, every comedian dreams of hosting "The Tonight Show" and—for seven months—I got to do it.
Nobody in life gets exactly what they thought they were going to get. But if you work really hard and you're kind, amazing things will happen."
In 2018, Conan partnered with "Earwolf", a podcasting network, and launched his own podcast "Conan O'Brien Needs a Friend". The idea behind the name of the show is that Conan is lonely and is inviting people to see if they could be his actual friend. Some of his most notable guests have been Michelle Obama, Bob Newhart, and Shaquille O'Neill. The podcast has won the hearts of many die-hard fans, as well as numerous awards, including the iHeartRadio Podcast Award for Best Comedy Podcast and Best Ad Read. Given the huge popularity the podcast has attracted, it's still running; one of his latest guests was Louie Anderson.