• Jillie Mack is a 63-year-old former actress known for being the wife of Tom Selleck.
• She has an estimated net worth of over $10 million.
• She was born in Devizes, Wiltshire, England and holds both British and American nationality.
• She and Tom Selleck married in 1987 and have one daughter.
• Tom Selleck is an actor, producer, and was in the California Army National Guard, known for his roles in Magnum P.I., Friends, and Blue Bloods.
Who is Jillie Mack?
Jillie Joan Mack was born on 25 December 1957 under the zodiac sign of Capricorn, in Devizes, Wiltshire, England. She is a 63-year-old former actress, who has appeared in such film and TV titles as "Tales From The Darkside", "Silverfox", and "Fired Up". However, she's probably best recognized for being the wife of famous American actor and film producer Tom Selleck.
How rich is she, as of now? Jillie Mack Net Worth
As of early 2021, Jillie Mack has an estimated net worth at over $10 million, earned through her successful involvement in the entertainment industry as an actress. Besides that, it's assumed that she enjoys the fortune of her famous husband Tom Selleck, whose net worth is reputedly over $45 million.
Early Life, Parents, Nationality, Ethnicity, Educational Background
Jillie Mack spent her early years in her hometown of Devizes, where she was probably raised by her parents; however, there is no information in the media about their names and professions; it's also unknown whether she has siblings or not. She holds both British and American nationality, and belongs to the White Caucasian ethnic group. Regarding her education, she has never shared any details about that, but developed a strong interest in acting very early, performed in numerous theater productions while in high school, and became interested in dancing, even taking dancing classes.
Career Beginnings
Upon matriculation, Jillie Mack started to pursue her professional career on stage by performing across the UK. Her first major stage credit came when she appeared as Rumpleteazer in the musical "Cats" in 1983.
The following year she made her TV debut as Sally Ponting in the episode "Rembrandt's Girl" of the CBS action-drama series "Magnum P.I.", but it went uncredited, and then made a guest appearance in the episode "Professor Jonathan Higgins" of the same series in 1985. During the same year, Jillie landed the role of Jayne in the horror film "Stephen King's Golden Tales", which she reprised in the episode "My Ghostwriter – The Vampire" of the syndicated anthology horror TV series "Tales From The Darkside" in 1987.
Further Work
By the end of the 1990s, Jillie Mack had also guest-starred as You in the episode "The Heart Of A Dancer" of the CBS action-adventure series "The Wizard" (1987), Nick's wife in the episode "Nick Derringer, P.I." of the ABC comedy-drama series "Hooperman" (1988), and Miss Jo Sherwood in the episode "The Case Of The Missing U.F.O." of the HBO adventure comedy family series "Encyclopedia Brown" (1990).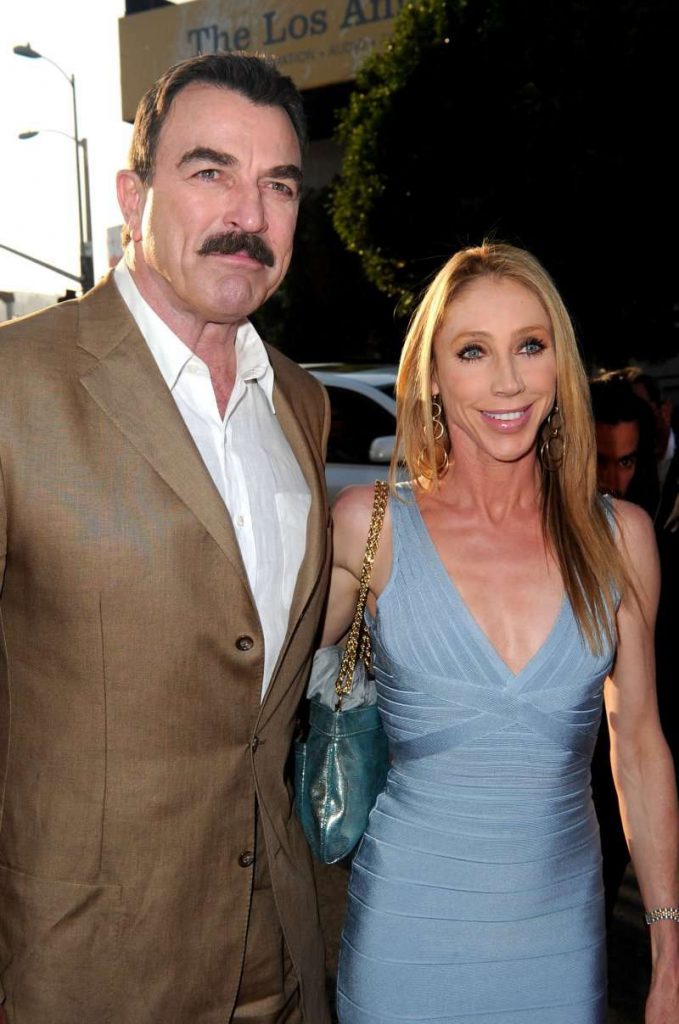 In 1991, she played Joanie in the made-for-TV action-adventure crime film "Siverfox". Five years later, Jillie guest-starred as Charlotte in the episode "Police Story" of the NBC sitcom "Frasier", and provided her voice to Brittany in the animated family film "Adventures Of Nicholas At Roaring Camp". She then made guest appearances as Eleanor in the episode "Are We Not Friends?" of the NBC sitcom "Fired Up" (1997), and Freesia in an episode of the BBC children's series "The Queen's Nose" (2000). Her latest screen appearance came in 2002, when she guest-starred in the episode "Chaos Theory" of the NBC medical drama series "ER".
Appearance and Vital Statistics
Jillie Mack has long blonde-dyed hair and blue eyes. She stands at a height of 5ft 5ins (1.65m), while her weight is around 121lbs (55kgs), and her vital statistics are 35-27-36, bra size 34B, shoe size 5 (US).
Love Story with Tom Selleck
Jillie Mack and Tom Selleck met each other in 1983, when she performed in the musical "Cats". They immediately hit it off, and after dating for four years, tied the knot at a wedding ceremony in the Cherrywood Waterfall Chapel in Lake Tahoe, Nevada on 7 August 1987 – they married under the aliases 'Tom Jenkins' and 'Suzie Mark'. She gave birth to their one and only child, a daughter named Hannah Selleck, on 16 December 1988, who is now a professional horse rider. Jillie's also the stepmother of actor Kevin Selleck, whom Tom adopted when he was married to Jacqueline Ray. The couple's current residence is in Thousand Oaks-Westlake Village, California.
Who is Her Husband? Tom Selleck Short Wiki/Bio
Thomas William 'Tom' Selleck was born of English and German descent on 29 January 1945 under the zodiac sign of Aquarius, in Detroit, Michigan USA, where he was raised by his parents Robert Dean Selleck who was an executive and real estate investor, and Martha Selleck.
He has two brothers named Daniel and Robert, and a sister named Martha. In 1948, he moved with his family to Sherman Oaks, California.
Educational Background
Tom Selleck matriculated from Grant High School in 1962, then enrolled into Los Angeles Valley College, but later transferred to the University of Southern California to study Business Administration. During his college years, Tom played basketball for the USC Trojans basketball team; moreover, he was a member of the Trojan Knights and the Sigma Chi fraternity. Tom didn't graduate, since he quit his education in his senior year to pursue his acting career. Thereafter, he joined the Beverly Hills Playhouse where he studied acting under Milton Katselas. He then received a draft notice during the Vietnam War, and joined the California Army National Guard, serving in the 160th Infantry Regiment from 1967 to 1973.
Career Beginnings
Tom Selleck made his debut television appearance with the guest role of Dobie in an episode of the CBS western series "Lancer" in 1969, and the following year made his film debut as Stud in Michael Sarne's comedy "Myra Breckinridge". He then made guest appearances in various TV series and commercials, for such companies as Revlon's Chaz cologne, Right Guard deodorant, and Pepsi-Cola, to name a few. His next major roles on the big screen came when he played James Robertson in the horror "Daughters Of Satan" (1972), featured as Dr. Norman Milford in the action drama thriller "Terminal Island" (1973), and portrayed Jim Hawley in the thriller "The Washington Affair" (1977).
Rise to Prominence
Tom Selleck's big break came in 1979, when he was chosen to play the lead role of cowboy Orris Sackett in Robert Totten's made-for-TV Western film "The Sacketts", starring next to Jeff Osterhage and Sam Elliott.
It was followed by his portrayal of Thomas Sullivan Magnum IV in the CBS crime drama series "Magnum, P.I.", from 1980 to 1988, which earned him the 1984 Primetime Emmy Award for Outstanding Lead Actor in a Drama Series, as well as the 1985 Golden Globe Award for Best Actor – Television Series Drama. As well as starring in the series, Tom was an executive producer for eleven episodes.
Continued Success
While filming "Magnum P.I.", Tom also worked on other projects, landing such roles as Mac Traven in the 1982 made-for-TV Western film "The Shadow Riders" (1982), and Patrick O' Malley in the adventure-romance film "High Road To China" (1983). He featured as Peter Mitchell in the 1987 comedy "Three Men And A Baby" (1987), and reprised the role in its sequel "Three Men And A Little Lady" (1990).
It was followed by his portrayals of Jimmie Rainwood in the crime drama thriller "An Innocent Man" (1989), Matthew Quigley in the Western film "Quigley Down Under" (1990), and Jack Elliot in the sports comedy "Mr. Baseball" (1992). Concurrently, Tom also produced the ABC detective drama series "B.L. Stryker" in 1989 and 1990.
Further Work
Between 1996 and 2000, Tom Selleck landed the supporting role of Dr. Richard Burke, Monica Geller's love interest in the NBC sitcom "Friends"; for his performance, Tom received a Primetime Emmy Award nomination for Outstanding Guest Actor in a Comedy Series. In 1998, he played Jack McLaren in the CBS sitcom "Closer", which was followed by his portrayal of George Matthias in the 1999 romantic comedy "The Love Letter".
His next significant role came when he produced and starred as Rafael 'Rafe' Covington in, the 2001 made-for-TV Western film "Crossfire Trail". He then produced and played the title role in the made-for-TV Western film "Monte Walsh" in 2003.
Recent Projects
In 2005, Tom Selleck took the lead role of Jesse Stone in a series of made-for-TV film specials, based on a series of detective novels written by Robert B. Parker. Since then, he has produced and starred in nine film titles of the series, such as "Jesse Stone: Stone Cold" (2005), "Jesse Stone: Thin Ice" (2009), and "Jesse Stone: Lost In Paradise" (2015). He is currently working on the tenth film special. Apart from that, Tom also portrayed A.J. Cooper in the NBC comedy-drama series "Las Vegas" from 2007 to 2008. Since 2010, he has starred in the CBS police procedural drama series "Blue Bloods" as Frank Reagan.