• Sofia Bevarly is a famous American-born social media personality and model
• She attended South Fort Myers High School in Florida, and later graduated in 2019 with a Bachelor's degree from Florida International University
• She is an avid pet lover and animal rights activist, and is a vegan
• She has a net worth of approximately $500,000-$800,000 and earns close to $2,000-$3,000 per post on her Instagram page
• Her Ex-Boyfriend Dan Bilzerian is worth close to $100 million
Sofia Bevarly is a famous American-born social media personality and model known by many for previously dating Dan Bilzerian, a millionaire poker player.
Early Life and Education Background
Bevarly was born into her middle-class family on 26 April 1996, in Fort Myers, Florida, USA, which makes her zodiac sign Taurus and her current age 25. Sofia has not disclosed the names of her father and siblings, however, she's known to have a younger sister. She once posted a picture of her mother on her Instagram page wishing her a happy birthday and thanking her for being her inspiration, but didn't disclose her name. Bevarly had a normal childhood, and her parents were very supportive when it came to her career choice.
Sofia Bevarly Bio, Weight, Height, Age, Career, Social Media, Boyfriend, Wiki
👇https://t.co/VdQclMdG9w#fashion #model #influencer #Sofia #Bevarly #SofiaBevarly pic.twitter.com/s0fj0y1wHt

— Influecer-dic.com (@Influecer1) May 1, 2019
Sofia attended South Fort Myers High School in Florida, where she completed her studies in 2014 before matriculating to Florida International University, but dropped out to pursue her modelling career. She later on resumed studies, and graduated in 2019 with a Bachelor's degree.
Interests and Hobbies
Bevarly is an avid pet lover and an animal rights activist who has two pets – a dog, and a cat called Giz. She is a forthright supporter of the Animal Hope and Wellness Foundation.
Sofia loves home partying, clubbing, and traveling.
She is also a sports enthusiast who previously bagged a prize of $600,000 after she won during a challenge of cycling from Los Angeles to Las Vegas – a distance of close to 480kms – within two days.
Sofia spends some of her time in the gym developing her body. She also likes snorkeling and swimming.
She is a vegan, and her favourite 'dishes' are chocolate, powdered sugar and banana pancakes.
Career Beginning and Rise to Prominence
Bevarly had started pursuing modelling as a career long before she graduated from university. She began working for Hooters Bikini Calendar as a bikini model in 2014, and appeared in all their calendars.
Sofia opened an Instagram account on which she started posting her videos and photos, which soon started gaining attention. She had her career breakthrough when she began dating Dan Bilzerian, and her online fame shot up rapidly. Several brands and companies soon began contracting Sofia for her modelling work – she was hired by Bang Energy, which is an energy drink brand whose products are aimed towards athletes and fitness fanatics, to be their elite model. Sofia promoted a wide array of their products such as REDLINE Energy Drink when she worked in the firm.
Bevarly is sponsored by KO Wattches (Knockout watches), which is an online watch retailer, created by several Mexican entrepreneurs and which uses famous social media sensations as their models.
Sofia has also worked with Fashion Nova, a Southern California-based clothing retailer that market low-priced club-wear, catering to both females and males as well as offering several body-type clothes.
As of now, Sofia is developing her fitness store, which has several fitness gear items, and a few technical gadget, such as smoothie makers, wireless ear pods, muscle stimulators, and fruit mini-blenders that are available for sale on her website.
Sofia's Instagram page is highly followed; she posts personal photos and videos as well as the brands she is promoting on this account. She has a Twitter account too, but that has been inactive since 2018.
Personal Life and Boyfriend
Sofia was previously in a brief relationship with the internet star and poker player Dan Bilzerian.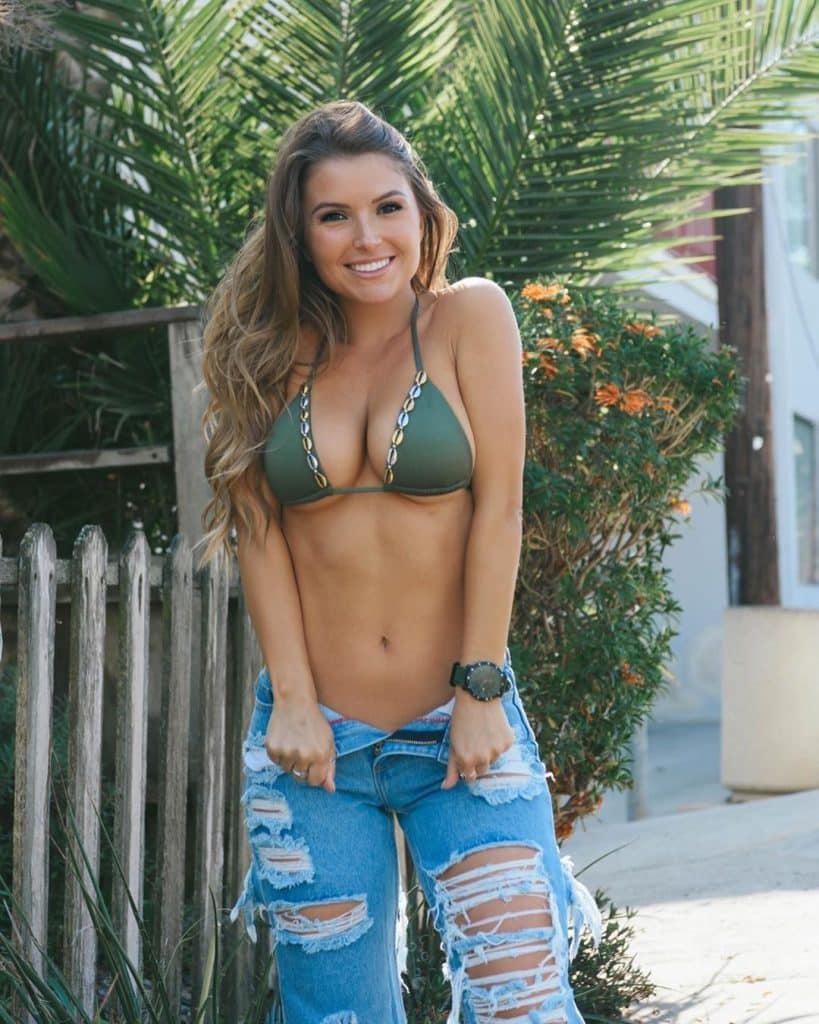 Sofia's first encounter with Dan was at a Marquee pool party that had been organized by the accomplished poker player at his place in 2017, and the duo started dating after several meetings. Dan is sixteen years older than Sofia, and their dating life was confusing because of Dan's different opinions about women. The duo had an open relationship, which lasted for around eight months, although Dan was seeing other women while he was dating Sofia. Before they drifted apart, Dan once took Sofia to his cannabis farm as a birthday present. Sofia shared that the birthday gift was the craziest and the most surprising she has ever had in her life.
As of now, Sofia has revealed nothing regarding her intimate life. However, she isn't married and has no kids; she's currently living in Las Vegas, Nevada.
Sofia's Ex-Boyfriend Dan Bilzerian
Dan is an American avid gun collector, cannabis farmer, and an accomplished poker player and social media personality, born in Florida, USA, on 7 December 1980 making him 40 years old as of mid-2021. Bilzerian was born to Paul and Terri Bilzerian – Paul is a Corporate Takeover Specialist. He has a brother, Adam Bilzerian, who is also a successful poker player. Dan went for Navy SEAL training program but did not complete his course; instead, he moved to Florida for his studies at the University of Florida before embarking on playing poker. Dan is known better for his accomplishments in his gambling career, notably early on in the main event of 2009's World Poker Series.
He frequently posts videos and photos of himself having fun at parties with many beautiful women, and has showcased himself owning private resorts, luxury ships, jets, and cars. Being a multi-millionaire, Dan lives a lavish lifestyle and is seen to have a playboy image because he dates many attractive women. However, living like that, by the time he was 32 years old he had suffered two heart attacks, specifically due to his alcohol and drug abuse problem.  His Instagram name, 'Instagram King' reveals what kind of a person Dan is.
In 2011, one of Dan's friends, Bradley Ruderman, was sentenced for cheating during a certain poker game. Dan came out defending him, and stated that he was not present during the game.
Dan has been arrested and sued severally, mostly for hitting girls in the face, for instance, the actress and porn star Janice Griffith broke her leg which led her to suing him for $85,000 after he threw her off his roof next to a pool, instead of pushing her into the pool during a particular photo shoot session. He was also sued for hitting model Vanessa Castano in a nightclub where they were both partying, however, the case was dismissed. Despite the numerous lawsuits, Dan has never been imprisoned.
Body Measurements
Sofia is an American citizen of white ethnicity, with dark brown eyes and long blonde hair, who is 5ft 4ins (1.65m) tall and weighs close to 110lbs (50kgs), with her vital statistics being 34-23-34. She wears shoe size 6 (US). Bevary is a fitness enthusiast, and has maintained a flawless hourglass body figure.
Sofia Bevarly Salary and Net Worth
Sofia's exposure and connections have brought many opportunities and sponsorships her way. The social media sensation features in many reputable brands, and has an Instagram page that is followed by more than a million fans. She has a net worth of approximately $500,000-$800,000 according to authoritative sources. A model's average annual salary is approximately $ 66,000; however, the figure varies depending on the number of brands one is modelling for and can be as high as around $130,000 per year. Sofia's Instagram page earns her close to $2,000-$3,000 per post. Her Ex-Boyfriend Dan, is worth close to $100 million.