• Marla Gibbs is a veteran actress, singer, comedian and TV producer best known for her role in "227" and "The Jeffersons".
• She was born in Chicago, Illinois in 1931 and attended Wendell Philips Academy High School.
• She has been in the entertainment industry for over 40 years, with her most recent roles in "One Day at a Time", "Young Sheldon", and "The Last O.G".
• She has three children and is an honorary member of Alpha Kappa Alpha Sorority Inc.
• In July 2021, Marla received a star on the Hollywood Walk of Fame.
Who is Marla Gibbs?
Margaret Theresa Bradley, professionally known as Marla Gibbs, is a veteran actress, singer, comedian and TV producer, perhaps best recognized for her role as Mary Jenkins in the hit TV series "227", and Florence Johnston in the sitcom "The Jeffersons". She was born under the Zodiac sign Cancer on 14 June 1931, in Chicago, Illinois, USA, so as of 2021 she's 90 years old, and holds American nationality.
Early life, Family, and Career
Marla was born the middle child to parents Ophelia Birdie and Douglas Bradley, and was reportedly named after her aunt Margaret Kemp. Her older sister was Susie Garret, who also dipped her toes in the entertainment business as an actress, jazz vocalist, and acting teacher.
Regarding her education, she attended Wendell Philips Academy High School in Chicago, from which she matriculated in 1949. Later, she relocated to Detroit and enrolled at the Peters Business School. Subsequently she toiled as a receptionist at the Gotham Hotel, and switchboard operator at the Detroit Street Railways, then having been employed by United Airlines as a receptionist, she was transferred to Los Angeles, where she started taking acting classes at the Mafundi Institute and the Watts Writers' Workshop.
Acting Career
Marla didn't launch her acting career until the age of 41, appearing in blaxploitation films such as "Sweet Jesus", "Black Belt Jones", and "Preacher Man". Her breakthrough role came in 1975, when she was cast as the sassy maid, Florence, in the longest-running sitcom entitled "The Jeffersons", which went on to achieve enormous success and popularity among all generations.
It ran for 11 seasons and won numerous awards and nominations, while Marla earned four nominations for Primetime Emmy Awards for Outstanding Supporting Actress in a Comedy Series. Her unforgettable portrayal of Florence additionally garnered a nomination for the Golden Globe Award for Best Supporting Actress- Series, Miniseries, or Television. The following years saw Marla mainly bounced from additional TV roles to TV movies, which included numerous projects such as "Checking In", "Pryor's Place", and "You Can't Take It With You". After the abrupt cancellation of "The Jeffersons" in 1985, she landed the lead role as Mary Jenkins in another hit TV series entitled "227", alongside Hal Williams and Regina King. This show ran for five seasons, winning the hearts of many fans, and garnering several awards and nominations.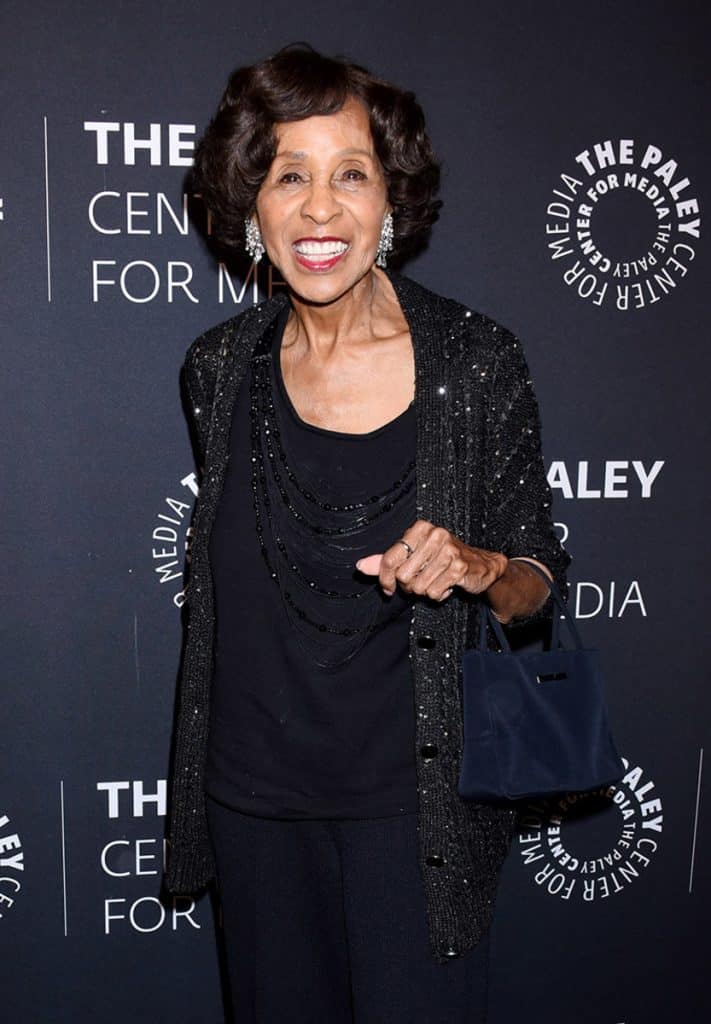 Her other notable TV credits include several one-episode appearances in shows such as "A Different World", Empty Nest" and "Dream On". In 1993, she returned to the movie screen as Maxine Reed in the superhero movie "The Meteor Man". Two years later, she portrayed Miss Minnie in an episode of the sitcom "Marvin", earning the nomination for NAACP Image Award for Outstanding Supporting Actress in a Comedy Series. After starring in the popular "The Fresh Prince of BelAir", she appeared as a regular cast member in several others sitcoms, including "The Hughley's", "Martial Law", and "Dawson's Creek". In 1999, she appeared in two comedy-dramas entitled "Foolish" and "Lost & Found".
The following year she starred in the movie "The Visit" portraying Lois Waters, and subsequently earned two nominations for NAACP Image Award and Black Reel Award.
Continuing with her pattern of making one-episode appearances, in 2005 she was booked as Aunt Irma in the drama series "Passions", again garnering the nomination for a NAACP Image Award. The following period she switched between roles in short movies and TV appearances, which included "The Brother's", "ER", and "Cold Case".
In 2012, she appeared on the sitcom entitled "The First Family", portraying Grandma Eddy, and also starred in the comedy movie "Madea's Witness Protection", followed by her 2015 role in "Grantham & Rose".
After appearing in TV series such as "Scandal", "Hot in Cleveland" and "American Horror Story: Hotel", Marla starred in two episodes of "The Carmichael Show". Her notable movie credits include several successful films such as "Please Stand By", "Love Jacked", and "El Camino: A Breaking Bad Movie". Marla also appeared in numerous TV shows, such as "NCSI", "Black-ish", and "Trial & Error".
Latest Roles
Her most recent projects are one-episode appearances in TV series such as "One Day at the Time", "Young Sheldon", and "The Last O.G". She also has the recurring role as Olivia Price in the NBC soap opera entitled "Days of Our Lives", one of the longest-running scripted programs in the world, which in December 2020 celebrated its 14,000th episode. As of 2021, the show has been renewed through September 2023.
Personal life
Marla married her high school sweetheart, Jordan Gibbs in 1955, and the couple welcomed three children together – Angela, Dorian and Joseph. Angela to follow in her mother's footsteps and launched her career as an actress, director, and writer, perhaps best known for her roles in "The Revenant", "Straight Outta Compton", and "The Fosters". Marla's marriage with Jordan didn;t last, and the couple divorced in 1973.
At the beginning of the new millennium, she had encountered several personal and professional setbacks. First, she lost her sister to cancer in 2002, then a couple of years later, she suffered a ruptured aneurism followed by a stroke. Luckily, Marla regained strength and continued appearing in various shows. Then in 2010 she broke her foot and subsequently underwent surgery.
Would you like to know her net worth?
As of 2021, Marla's estimated net worth is over $4 million, earned through her four decade-spanning career in the entertainment industry.
Unlike many people including celebrities of her age, Marla is very active on her Instagram account, which currently has over 200,000 followers. She occasionally tweets on her Twitter, which counts over 7,000 fans.
Physical stats and Hobbies
Marla is 5ft 8ins tall (173cm) and weighs around 130lbs (59kgs). Her natural hair color is black, further adorned with brown eyes.
In her free time, she likes to cook, pray, sew, read the Bible, sing and listen to Jazz music.
Marla has always been very close and friendly with her co-star Regina King and she was rewarded as the Surrogate grandmother of Ian Alexander Jr., Regina King's daughter.
Her idols include Betty White and John Wyman, and as an actress and comedian, she's a fan of sitcoms such as "Everybody Loves Raymond", "The Golden Girls", and "Hot in Cleveland".
More About Marla Gibbs
She changed her professional name to Marla Gibbs, because in her opinion it was previously too long.
In July 2021, the actress received her long-overdue star on the Hollywood Walk of Fame – Marla was accompanied by her daughter Angela for this special moment. However, during the speech, Marla suddenly paused and appeared to be about to faint. Her daughter took over and explained that she needed to cool down, especially considering the high temperatures. Later in disclosing to CNN affiliate ABC 7, Marla said: "I just got overwhelmed for a minute. I haven't been excited until this moment!"
Continuing to reap the fruits of her long-lasting labor, in 2010, she was inducted into the LaFemme Festival as Honorary Board Member in Los Angeles. California.
Marla is also an honorary member of the Alpha Kappa Alpha Sorority Inc.