• Robert Mark 'Rob' Marciano is a meteorologist and journalist born on June 25, 1968.
• He is married to Eryn Marciano, and they have two children together.
• Rob attended Cornell University and graduated with a Bachelor of Science in atmospheric sciences and meteorology in 1990.
• He is currently the senior meteorologist for ABC News and reports on weather in the critically acclaimed morning TV program "Good Morning America Weekend".
• As of February 2021, Rob's net worth is estimated to be over $2 million.
Robert Mark 'Rob' Marciano was born in Glenville, Fairfield County, Connecticut USA, of German and Italian descent, on 25 June 1968 – his zodiac sign is Cancer and he holds American nationality. He is a meteorologist and a journalist, perhaps known best for the work he has done in the TV program "Good Morning America".
Although there are rumors circulating the internet claiming that Rob is related to Rocky Marciano, the two are not connected in any way. Rocky was a professional boxer still remembered as the undefeated World Heavyweight Champion who held the title from 1952 to 1956.
Is Rob married?
Rob is quite secretive when it comes to his love life, but it's widely known that he's a married man. He exchanged vows with his other half, Eryn in November 2010. She is a real estate agent from Atlanta in Georgia, who was raised in Rye in New York, and is today a member of The Kim Arenas Team. Eryn has long blonde hair and blue eyes.
She gave birth to their daughter Madelynn on 19 November 2011, followed by their son Mason Anthony Marciano on 12 June 2018. Neither Rob nor Eryn have spoken about any other people they have perhaps been with, however, there are rumors circulating the internet claiming that both of them had been in multiple relationships before meeting each other.
As of February 2021, Rob is married to Eryn Marciano, and they have two children together.
Early life and education
Rob was raised in Glenville, but hasn't shared any details regarding his parents as they prefer to be left out of media. He hasn't talked about siblings he might have, which is why most people believe him to be an only child.
Rob was fascinated by the weather during his early years. and as he grew older, he became interested in learning more about it, starting with how the rain and snow occurred.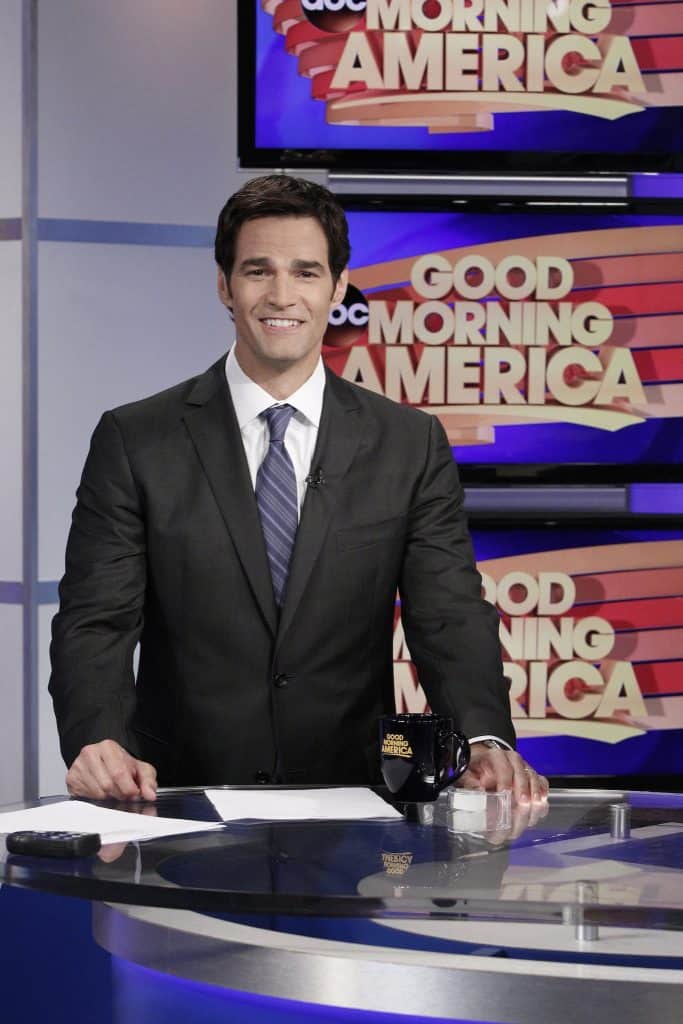 He attended a local high school at which he was physically active, as he played football and occasionally tennis with his friends, and upon matriculating in 1986, he enrolled at Cornell University from which he obtained his Bachelor of Science degree in atmospheric sciences and meteorology in 1990.
Career as a meteorologist and journalist
Rob worked various jobs for four years before launching his broadcasting career in 1994, when he joined KPLC-TV as the chief meteorologist. It's a virtual and VHF digital channel seven owned by Gray Television, that has been operating since 29 September 1954. Rob stayed with the network for three years before joining WVIT Connecticut News 30, and thus had to move to West Hartford in Connecticut for the job.
He went on to join KATU-TV in Portland, Oregon at which he was the chief meteorologist, and also worked at 750 KXL News Radio in the same city.
He gained recognition in May 2003 when he joined the CNN network as a news and weather anchor. The company was launched as The Cable News Network on 1 June 1980, and its first show was hosted by Lois Hart and David Walker, a husband and wife team. It counted 200 employees at the beginning, while today it counts 11 domestic and 31 international bureaus, and around 900 affiliated stations. It became popular in 1990 and 1991 after it covered the Gulf War, and on 11 September 2001, CNN was the first network to report on the 9/11 attacks.
It also played an important role in covering the 2008 US presidential election, as well as that of 2016.
It was reported on 12 November 2012 that Rob would become the new co-anchor of the show "Entertainment Tonight", meantime until 21 December 2012 he was hosting the CNN morning news show "Early Start", and the morning "Starting Show", and used his final appearances to say goodbye to his fans. Each episode of the show "Entertainment Tonight" covers the news in the fields of film, music and television, and has won various awards including a Daytime Emmy for Outstanding Entertainment News Program.
It was reported on 19 July 2014 that Rob would be joining ABC News as the new senior meteorologist. The network has been working since 1943, and is today amongst the most popular in the US. Rob was eventually chose to report on weather in the critically acclaimed morning TV program "Good Morning America Weekend", alongside Ginger Zee and the show's Extreme Weather Team. He held the job until 27 August 2014, and around 10 days later he started working as the meteorologist in the show "Good Morning America".
"Good Morning America" has been airing since 3 November 1975, and features interviews with various celebrities, plus weather forecasts as well as news.
Since 2012, it has been the most watched morning show in the US, and has so far won three Daytime Emmy Awards for Outstanding Morning Program in 2007, '08 and '09.
Hobbies and other interests
Rob likes to spend his spare time outdoors, and is a huge fan of nature. He's very sporting and has several training sessions at the gym each week, while he also likes to play sports such as football and soccer. He and his wife are members of Rye's Greenhaven community, and often go kayaking and paddle-boarding.
Rob is a big lover of animals, and he and his wife have contributed to the charity organization Best Friends Animal Society, which is currently helping over 10,000 animals around the US.
In his spare time which is mostly late at night, Rob likes to watch movies starring his favorite actors and actresses Tom Cruise, Russell Crowe and Meryl Streep – a couple of his favorite films are "The Last Samurai", "Robin Hood" and "Kramer vs. Kramer".
Age, height and net worth
Rob's age is 52. He has short brown hair and brown eyes, his height is 6ft 2ins (1.87m) and he weighs around 165lbs (75kgs).
As of February 2021, his net worth has been estimated at over $2 million.