• Rouba Saadeh is a 33-year-old fashion designer from Lebanon
• Her net worth is estimated to be over $1 million
• She has a Bachelor in Science degree in Graphic Design and a Master's degree in Business Administration
• She was previously married to Italian actor and singer Michele Morrone, with whom she has two sons
• Michele Morrone has a successful acting and music career, and runs his own women's beachwear clothing company
Who is Rouba Saadeh?
Rouba Saadeh was born in Lebanon, on 15 April 1987 under the zodiac sign of Aries. She is a 33-year-old fashion designer, but probably best recognized for being the ex-wife of famous Italian actor and singer Michele Morrone.
How rich is she, as of now? Rouba Saadeh Net Worth
As of early 2021, Rouba Saadeh's net worth is estimated at over well over $1 million, acquired through her involvement in the fashion industry. Moreover, it is assumed that she increased her wealth through the divorce settlement from her ex-husband, Michele Morrone, who has a reputed net worth at over $1 million.
Early Life, Parents, Nationality, Ethnicity
Rouba Saadeh spent her early years in Lebanon, where she was raised by her parents; however, there is no information in the media about their names and professions.
She has two siblings, a brother and a sister, but their names remain unknown. Rouba holds both Lebanese and Italian nationality; she belongs to the Arab ethnic group.
Educational Background
Regarding her education, Rouba Saadeh attended Collège Notre-Dame de Jamhour in Baabda, Lebanon, and upon matriculation in 2004, she enrolled into the private Lebanese American University (LAU), from which she graduated with a Bachelor in Science degree in Graphic Design with an emphasis in Digital Media in 2008. She then continued her education at the same university, and obtained her Master's degree in Business Administration in 2011. In the following year, she did an intensive course in Fashion Design at the private Italian school of fashion and design Istituto Marangoni, based in Milan Italy. She is fluent in Arabic, Italian, French and English languages.
Professional Career
According to her LinkedIn account, Rouba Saadeh did her internship at Publicis Graphics in Lebanon for two months in 2008. In April of the following year, she was hired to work in the position of a graphic web designer at Alfa-MIC1 in Beirut, and after working there for more than two and a half years, Rouba left the company to serve as an assistant to the head of the design team at ELIE SAAB in Beirut from September 2013 to January 2014. Moreover, she established her own lifestyle brand, called Le Paradis Des Fous, in September 2013, and served there as the CEO until December of the following year. Most recently, she started working as a senior ready-to-wear coordinator at ELIE SAAB. Concurrently, Rouba has worked as a freelance graphic designer since June 2008.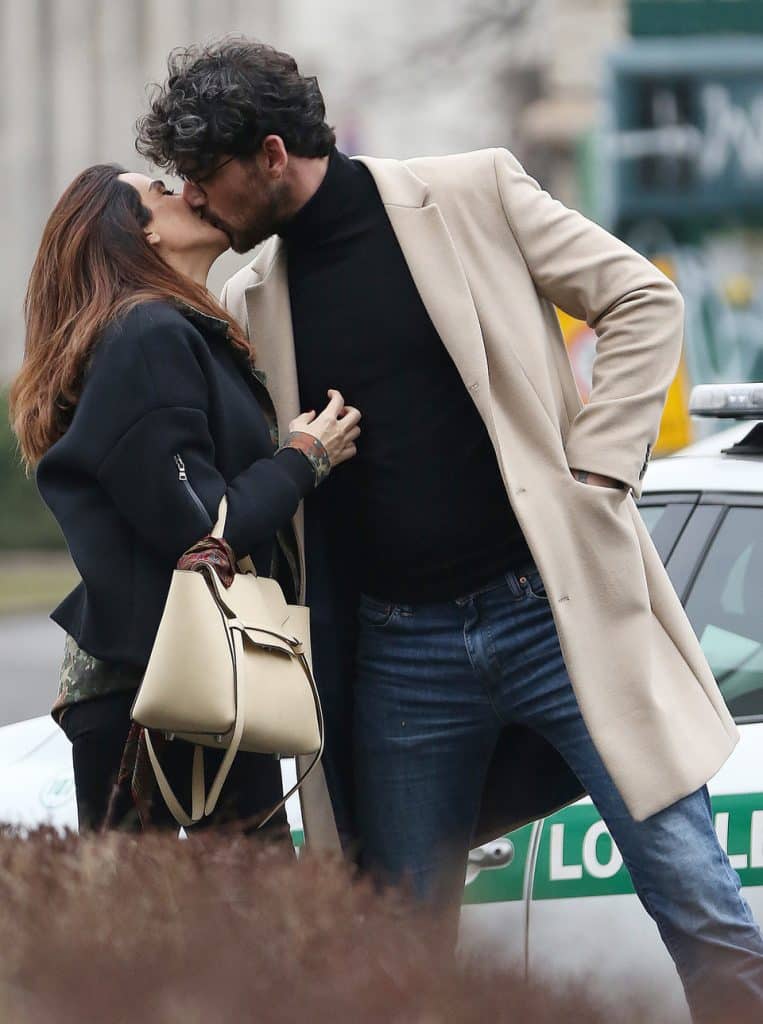 Marriage with Michele Morrone
The public isn't aware of when Rouba Saadeh became romantically involved with famous Italian actor and singer Michele Morrone, however, it's known that they met each other during his trip to Lebanon in 2011. He once admitted that he immediately fell in love with her, and even dedicate a poem to her. After dating for a while, the couple exchanged their wedding vows in 2014, in private ceremonies which took place in both Italy and Lebanon. During the same year, she gave birth to their first child, a son named Marcus Morrone, and three years later, the couple welcomed their second child, a son named Brado Morrone. Unfortunately, their marriage was short-lived, since they parted ways and divorced in 2018. They remain on good terms and share custody of their sons. Rouba is currently single.
Appearance and Vital Statistics
Rouba Saadeh has long dark brown hair and dark brown eyes. She stands at a height of 5ft 6ins (1.68m), her weight is around 125lbs (56kgs), and her vital statistics are 34-27-38, bra size 33C. Her dress size and shoe sizes aren't available.
Who is her ex-husband? Michele Morrone Short Wiki/Bio
Michele Morrone was born on 3 October 1990 under the zodiac sign of Libra, in Bitonto, Italy. Michele spent his early years in his hometown until he moved with his family to Melegnano. He was raised with his three elder sisters by their father Natale Morrone, a construction worker, and mother Angela Morrone, a seamstress. His father passed away when Michele was just 12 years old.
Educational Background
Michele developed his love for acting after watching the "Harry Potter" film series at the age of 11.
He then started performing in various productions at his middle school. Regarding his education, he had to repeat the first year of his high school education due to his bad behavior, but eventually matriculated, and then took acting classes at the Academy of Dramatic Art of the Fraschini Theatre in Pavia.
Career Beginnings
Michele Morrone started his acting career on stage, performing in the main role in the Fraschini Theatre's production of "Noah's Cat" in 2010. In the following year, he landed the role of Riccardo in the three-part web series "Second Chance", and then made an appearance in "Like A Dolphin 2", directed by Franco Bertini and Raoul Bova, a sequel to the TV mini-series "Like A Dolphin", also in 2011. He then starred in the 2012 short film "E La Vita Continua", directed by Pino Quartullo, and featured in the music video for the song "In Viaggio" by the girl band Makay.
Rise to Fame
In 2015, Michele Morrone landed the small role of Bruno Sacchi in the episode "Passioni Sprecate" of the TV comedy series "Provaci ancora prof!", after which he competed in the Italian version of the famous reality TV show "Dancing With The Stars" in 2016. He then played Ares a.k.a. Gegè in the TV six-part fantasy comedy mini-series "Sirene" and starred as Peter in the short horror film "Who's The Beast", both in 2017. It was followed by his portrayal of Marcello My in the made-for-TV drama film "Renata Fonte" (2018), and in the same year made an appearance in the short film "L'ultimo Giorno Del Toro", directed by Alessandro Zizzo.
Thereafter, Michele took the role of Luigi in the drama film "Bar Joseph", written and directed by Giulio Base, and guest-starred as Ship Captain in two episodes of the TV historical drama series "Medici", both in 2019.
Worldwide Recognition
In the same year, Michele Morrone was cast as Claudio Cavalleri in the TV crime drama series "The Trial", which was released on Netflix. It was followed by his portrayal of Massimo Torricelli in the Polish erotic romantic drama film "365 Days" (2020), directed by Barbara Białowąs and Tomasz Mandes. The film was also released on Netflix, and achieved enormous popularity, leading Michele to gain worldwide recognition.
He then starred in the main role of Marcello Bianchini in Vicente Amorim' drama film "Duetto", also in 2020, and it's been announced that he will reprise the role of Massimo in the upcoming "365 Days" sequel, which is currently under pre-production.
Music Career and Other Ventures
Apart from his acting career, Michele is also known for being a singer and guitar player. In February 2020, he released his debut studio album entitled "Dark Room", via Universal Music, Agora, and Polydor Germany record labels. The album includes several songs featured in the soundtrack of "365 Days", such as "Feel It", "Watch Me Burn", and "It's Hard For Me".
In August 2020, Michele Morrone launched his own women's beachwear clothing company, called Aurum Roma. He has collaborated with famous fashion designer Chiara Pollano.