• Dimitri Hamlin is an actor, model, and DJ from Los Angeles, California.
• His parents are Harry Hamlin, an actor and author, and Ursula Andress, a Swiss actress and former model.
• Dimitri attended Princeton University and is currently a producer at Future Release.
• His mother is Ursula Andress, a famous Swiss actress and former model.
• His father is Harry Hamlin, an actor, film director, and producer.
Dimitri Hamlin Wiki Bio
Dimitri Alexander Hamlin was born in Los Angeles, California USA, on 19 May 1980 – his zodiac sign is Taurus and he holds American nationality. He's an actor, model and a DJ, with just one acting credit to his name: in 2005, he portrayed Enzo Parisi Jr. in four episodes of the family comedy series "My Daughters" (original "Caterina e le sue Figlie"), which starred Virna Lisi, Alessandro Benvenuti and Valeria Milillo, but failed to attract a lot of attention.
Dimitri's also known for being the son of the American actor and author Harry Hamlin, and the Swiss actress, sex symbol and former model Ursula Andress.
Early life and education
Dimitri was raised in Los Angeles by his parents, who never married and split in 1983 when he was three years old, however, both his parents still spent a lot of time with him, and often took him to their movie sets.
His father married the actress and TV host Lisa Rinna in 1997, and she gave birth to Dimitri's half-sisters Delilah and Amelia Hamlin, in 1998 and 2001, respectively.
Dimitri was physically very active while attending a local high school, as he played for the school's football team. He wasn't interested in pursuing a career as an actor, which came as a disappointment to his parents, but they still supported his decisions. Dimitri matriculated in 1998 and then enrolled at the prestigious Princeton University from which he obtained his Bachelor of Arts degree in philosophy in 2002.
Dimitri's career
Not a lot is known about Dimitri's career, as he's trying to stay away from the media's attention. He's worked as a DJ, playing techno music around the US and in various European clubs.
He's been a model since he obtained his high school diploma, and one of the most popular fashion houses he has collaborated with was Abercrombie & Fitch.
Dimitri's today working as a producer at the film production company Future Release.
Love life and relationships
Dimitri's a highly secretive person, who prefers to keep details of his love life to himself, and hasn't mentioned any women or men whom he has perhaps been with, which is one of the reasons why there are rumors circulating the internet concerning his sexual orientation, and his current relationship status.
It's believed by some that Dimitri's gay, because of his long hair, the way he dresses and also because he's working as a model.
A fan has even claimed to have seen him spending time with a mysterious man who could be his boyfriend, but no evidence has been provided to support these claims, nor has Dimitri commented on them.
There are also those who believe that he's today in a relationship with a girl, and that he's keeping her away from media, but this hasn't been confirmed either.
As of May 2021, Dimitri appears to be single, hasn't married and doesn't have children.
Hobbies and other interests
Dimitri's physically highly active as he has four to five training sessions at the gym each week, thus his muscular body. He's also following a strict diet, and occasionally gives his fans advice regarding exercising and dieting.
He's not a big fan of social media networks, and doesn't have an Instagram account.
Dimitri likes to travel, and his modelling career has made it possible for him to visit various US states, while his dream travel destination is Miami in Florida. He's also been to various European countries, including his mother's home country Switzerland, England and Italy.
In his spare time which is usually late at night, Dimitri likes to watch movies starring his favorite actresses Emma Watson, Selena Gomez and Adriana Lima, such as the franchise "Harry Potter", "The Fundamentals of Caring", and "The Dead Don't Die".
Age, height and net worth
Dimitri's age is 40. He has long brown hair and brown eyes, his height is 6ft 1in (1.85m), and he weighs around 180lbs (81kgs). As of May 2021, his net worth has been estimated at over $300,000 ,while his father's net worth is reputedly over $10 million, and his mother's over $25 million.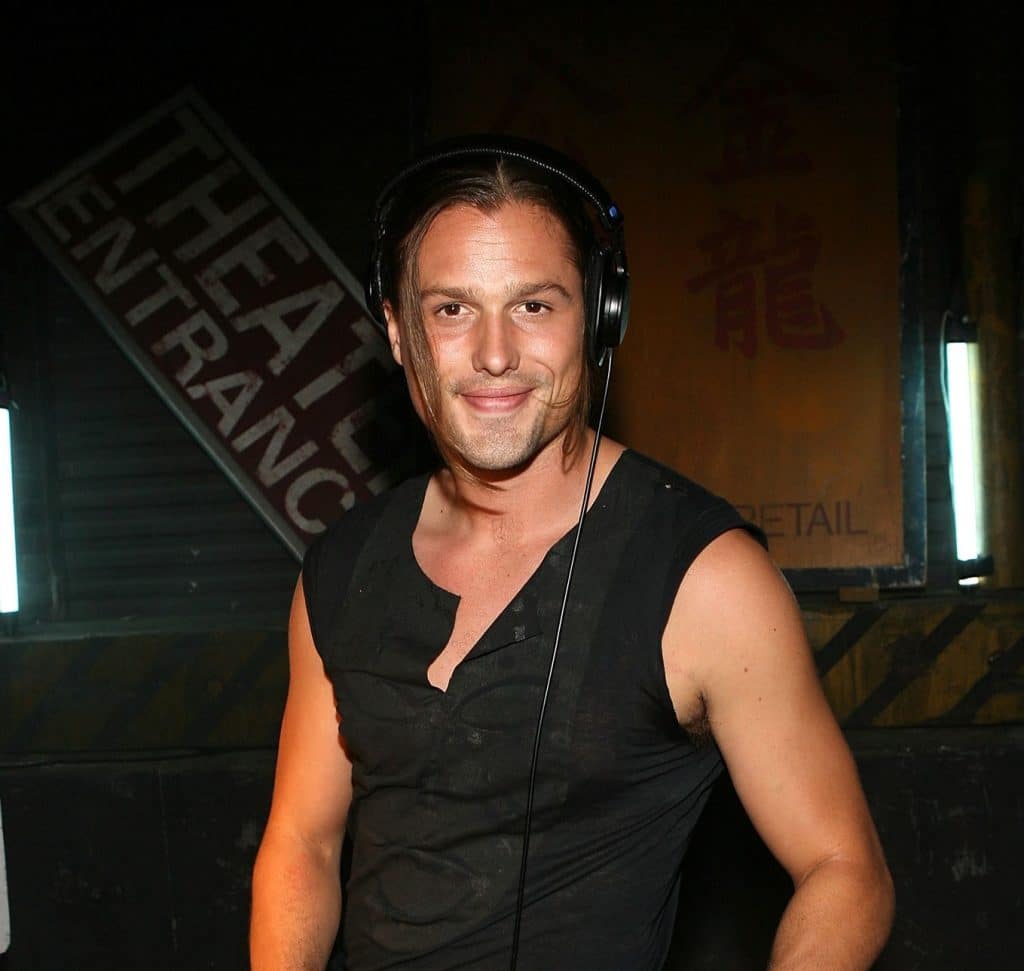 About his mother, Ursula Andress
Ursula Andress was born in Ostermundigen, Switzerland on 19 March 1936 – her zodiac sign is Pisces and she holds Swiss nationality. She's probably still known best for her portrayal of the first Bond girl, Honey Ryder in the 1962 action adventure thriller movie "Dr. No", scripted by four people from the book by Ian Fleming, directed by Terence Young, and which also starred Sean Connery and Bernard Lee. It follows the British agent James Bond who's investigating the disappearance of a fellow agent; the movie won four awards including a Golden Globe, while it was nominated for four other awards.
Ursula was raised alongside her five siblings in Ostermundigen, by their father Rolf who was a German diplomat and their mother Anna who was a housewife.
After her father was expelled from the country because for political reasons, Ursula's grandfather took care of her. As a teenager, Ursula studied in Paris, France and in Rome, Italy, and it was while in Rome that she was noticed by a talent scout who cast her to appear in the Italian movie "The Sins of Casanova" (original "Le Avventure di Giacomo Casanova"). After her appearance in the Italian movies "An American in Rome" and "La Catena Dell'odio", Ursula was persuaded to move to Hollywood, Californias.
She won no roles in her first four years there because she spoke no English, but was crowned Miss World Trade in 1956. In 1962, she appeared in an episode of the anthology series "Thriller", while a couple of her following roles were in the 1963 musical movie "Fun in Acapulco", the 1965 drama movie "Nightmare in the Sun" and the 1966 war movie "Once Before I Die".
The '70s saw her appear in numerous movies, including the 1973 Italian crime drama "Stateline Motel", the 1976 comedy "The Loves and Times of Scaramouche", and the 1978 Italian horror "The Mountain of the Cannibal God" (original "La Montagna del Dio Cannibale"). 1981 saw her star alongside Harry Hamlin in the horror fantasy adventure movie "Clash of the Titans", and Ursula continued being active in the film industry until the mid-1990s, after which she focused on spending time with her family.
She has been in numerous relationships, but married only once. In 1957, she exchanged vows with the American actor, film director and producer John Derek, but they divorced in 1966. Some of the men whom she has dated were the Italian actor Fabio Testi, Harry Hamlin and Fauston Fagone.
About his father Harry Hamlin
Harry Robinson Hamlin was born in Pasadena, California USA, on 30 October 1951 – his zodiac sign is Scorpio and he holds American nationality. He has appeared in around 90 movies and TV series, and been nominated for five awards including four Golden Globes, while he's probably still known best for his portrayal of the lead character Perseus in the 1981 action adventure family movie "Clash of the Titans", written by Beverley Cross, directed by Desmond Davis, and which also starred Laurence Olivier and Claire Bloom. It follows Perseus who's trying to rescue Princess Andromeda from the Kraken and Medusa; the movie won two of the eight awards for which it was nominated.
Harry was raised in Pasadena by his father Chauncey Jerome Hamlin, Jr., an aeronautical engineer, and his socialite mother Bernice (nee Robinson).
He studied at Flintridge Preparatory School before moving on to The Hill School at which he became interested in playing lacrosse and soccer. It was there that Harry became interested in acting, and began appearing in school plays. Upon matriculating in 1969, he enrolled at Yale University from which he obtained his dual Bachelor of Arts degree in psychology and drama in 1973; he continued his education at the American Conservatory Theater, from which he obtained his Master of Fine Arts degree in acting.
In 1976 he appeared in the TV movie "The Taming of the Shrew", while he gained recognition in 1979 with his starring role in the mini-series "Studs Lonigan". A couple of Harry's following roles were in the 1978 film "Movie Movie", the 1982 drama film "Making Love", and the legal drama series "L. A. Law" in which he starred between 1986 and 1991.
He was the star of the comedy series "Bratty Babies" in 2001, while the year 2004 saw him play a supporting character in the teen mystery series "Veronica Mars". Harry played the lead character Uncle Marty in the 2009 mystery horror series "Harper's Island" while some of his most recent roles have been in a 2018 episode of the action crime comedy series "Angie Tribeca", the 2019 short science fiction film "Defrost: The Virtual Series", and a 2021 episode of the animated comedy series "Bless the Harts" (voice role).
Harry's also an author, having published his book "Full Frontal Nudity: The Making of an Accidental Actor" in 2010.
Harry was married to the famous American actress Laura Johnson from 1985 to 1989, and from 1991 to 1992 he was married to the American actress Nicollette Sheridan. He has been married to Lisa Rinna since 1997.