Who is Elaine Trebek Kares?
Elaine Trebek Kares (née Howard, formerly Callei) was born in 1943 in Columbus, Ohio USA; however, the actual date of her birth isn't available. She is a 78-year-old businesswoman and former broadcaster, probably still best recognized for hosting the TV daily talk show "Call Callei" in the 1970s. Elaine is also known as the ex-wife of the late Canadian-American TV personality and game show host Alex Trebek.
How rich is she, as of now? Elaine Trebek Kares Net Worth
As of early 2021, Elaine Trebek Kares' net worth is estimated at over $15 million, acquired through her successful involvement in the entertainment industry.
Moreover, she probably increased her wealth through the divorce settlement from her ex-husband, Alex Trebek, who had an estimated net worth of over $75 million at the time of his death.
Early Life, Parents, Nationality, Ethnicity, Educational Background
Elaine Trebek Kares spent her early years in her hometown of Columbus, where she was raised by her parents; however, their names and professions haven't been revealed to the public. It is also unknown whether she has siblings or not. She holds American nationality and belongs to White Caucasian ethnic group. After completing her high school education, Elaine enrolled into Ohio State University, from which she graduated with a degree in Journalism.
Professional Career
Elaine started her professional career in the 1960s when she became a Playboy Bunny under the pseudonym 'Teddy Howard'. She then moved to Toronto, Canada with her first husband. There, she ran her own party planning and promotion business, before she took the opportunity to work as a host of the daily TV talk show "Call Callei" on the Channel Zero-owned television station CHCH-TV in Hamilton, Ontario. The show became very notable because of her interest in sexual topics. In 1972, she interviewed Dutch former call girl Xaviera Hollander, after which she was rebuked by the Canadian Radio-television and Telecommunications Commission.
In February 1973, she left the station and became a co-host of the CTV breakfast news show "Canada AM", but after only a few months, Elaine decided to leave the program and returned to the US. She eventually established her own businesses, such as the multimedia distribution company Mag-A-Music and the perfume packaging company Scent Seal. She also runs Gallery GO, an art gallery based in Los Angeles.
Appearance and Vital Statistics
Elaine Trebek Kares has long blonde hair and dark brown eyes. She stands at a height of 5ft 7ins (1.70m), while her weight is around 120lbs (55kgs). Information about her vital statistics, bra size, and dress size isn't disclosed. Her shoe size is 8 (US).
Personal Life
Elaine Trebek Kares has married three times – she tied the knot with her first husband, Louis Callei in 1963. They kept their love story under the wraps, but it's known that they welcomed a daughter named Nicky. After eleven years of marriage, the couple went their separate ways in 1974.
Later that year, Elaine exchanged wedding vows with famous Canadian-American TV personality and game show host Alex Trebek. They met when they both worked for the Canadian Broadcasting Company (CBC). They didn't have children, but Alex adopted her daughter and changed her name to Nicky Trebek. Unfortunately, Elaine and Alex divorced in 1981.
Two decades later, she married famous producer and director Peter Kares, on 18 March 2001, and they're still going strong. It's unknown whether he has any children. Their residence is in Los Angeles.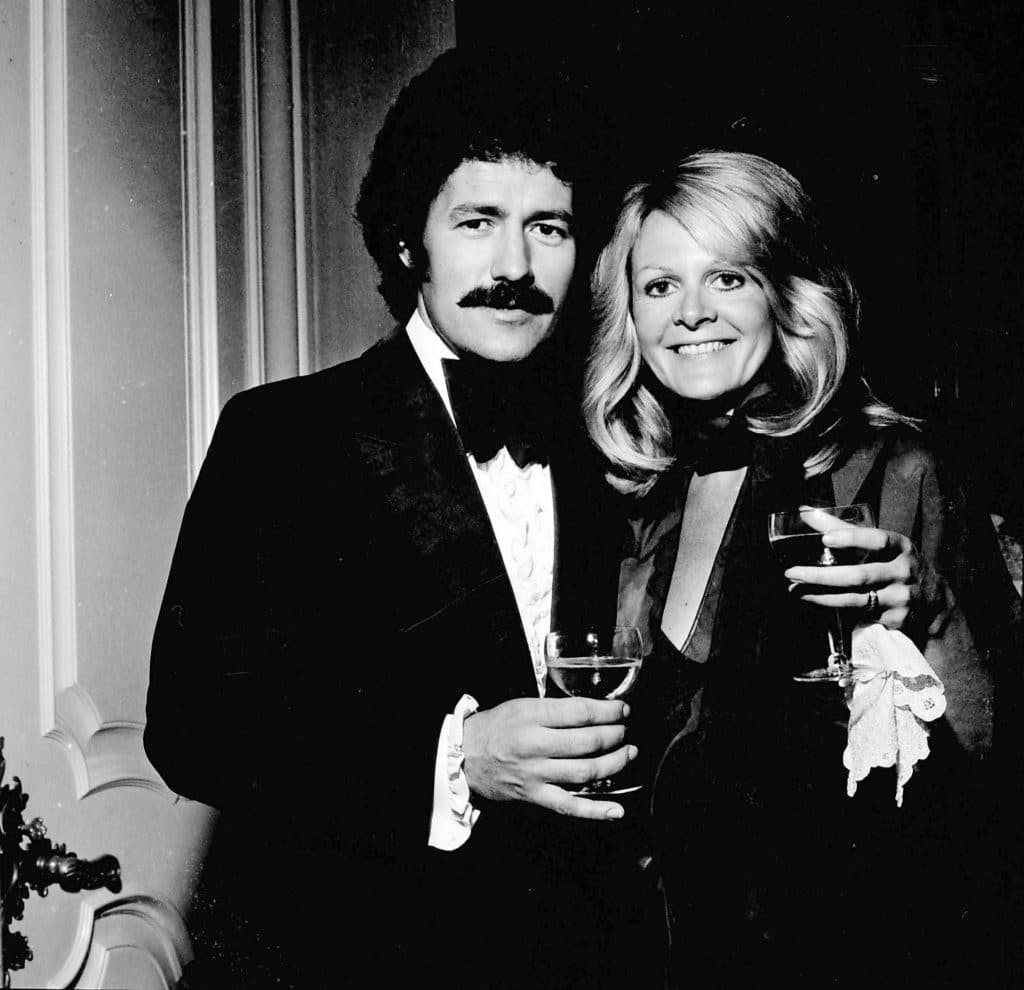 Who is her ex-husband? Alex Trebek Short Wiki/Bio
George Alexander 'Alex' Trebek was born on 22 July 1940 under the zodiac sign of Cancer, in Sudbury, Ontario, Canada, and passed away on 8 November 2020 at the age of 80 in Los Angeles. He was raised by his father, George Edward Trebek (born Terebeychuk), who was a chef, and his mother, Lucille Marie Lagacé. His father emigrated from Ukraine, while his mother was a Franco-Ontarian, so he grew up in a bilingual family speaking both English and French. He went to Sudbury High School, after which he was a student at the University of Ottawa, from which he graduated with a degree in Philosophy in 1961. While in there, he was a member of the English Debating Society.
Career Beginnings and CBC
Alex Trebek started his career by working for the Canadian Broadcasting Company before he graduated in 1961. He initially served as a replacement for announcers, until he was promoted to read the national radio news, and cover special events such as horse racing and curling, for both CBC Radio and CBC Television. He landed his first hosting job in 1963, when he joined the music show "Music Hop". Three years later, he served as a host of the high school quiz show "Reach For The Top", then hosted classical music programs from 1967 to 1970, the weekly game show "Strategy" in 1969, and the morning drive radio show "I'm Here Til 9" between 1971 and 1972.
Rise to Fame as a Game Show Host
In 1973, Alex Trebek relocated to the US to host the NBC game show "The Wizard Of Odds", and then the highly popular game show "High Rolles", also on NBC. He also hosted the short-lived CBS game show "Double Dare" (1976-1977), the syndicated game show "The $128,000 Question" (1977-1978), and the NBC game show "Battlestars" (1981-1982).
Worldwide Recognition and "Jeopardy!"
Thereafter, Alex Trebek gained enormous popularity when he started hosting Merv Griffin's game show "Jeopardy!" in 1984, remaining on the show until his death, so appearing in over 8,200 episodes, having in 2014 set the Guinness World Record for most game show episodes hosted by the same presenter with 6,829 episodes.
The game show has won a record 39 Daytime Emmy Awards for Outstanding Game/Audience Participation Show, and earned him seven Daytime Emmy Awards for Outstanding Game Show Host (1989, 1990, 2003, 2006, 2008, 2019, and 2020). His final episode was aired on Christmas Day 2020.
Other Work
Concurrently, Alex Trebek also worked on other game shows. Between 1987 and 1991 he served as a host of the NBC game show "Classic Concentration". Moreover, he made broadcasting history in 1991, when he started hosting the NBC game show "To Tell The Truth", which made him the first presenter to host three American game shows at the same time. He then returned to CBS to host the cooking contest "Pillsbury Bake-Off" from 1994 to 1998. Besides that, he made guest appearances as a panelist or player on other game shows, and also guest-starred in a number of TV series, mostly as himself.