• Joyce Collins Bulifant was born on 16 December 1937 in Newport News, Virginia USA
• She has an estimated net worth of over $2 million through her career as an actress, writer and director
• She gained recognition for her roles in "The Bill Cosby Show", "The Mary Tyler Moore Show", and "The Happiest Millionaire"
• She has been married five times and has three children, one of whom is an actor, writer and director
• She is an advocate for dyslexia and autism research, as well as a Celebrity Ambassador for Childhelp.
Who is Joyce Bulifant?
Joyce Collins Bulifant was born on 16 December 1937 under the zodiac sign of Sagittarius, in Newport News, Virginia USA. She's an 83-year-old actress, writer and director, perhaps still best recognized for landing the role of Mrs Patterson in the NBC sitcom "The Bill Cosby Show" (1969-1971), playing Rosemary in the musical film "The Happiest Millionaire" (1967), and featuring as Marie Slaughter in the CBS sitcom "The Mary Tyler Moore Show" (1971-1977).
How rich is she, as of now? Joyce Bulifant Net Worth
As of mid-2021, Joyce Bulifant's net worth is estimated at over $2 million; acquired through her successful involvement in the world of acting as a professional actress, writer and director, who garnered more than 60 television and film acting credits during the time her career was active from 1959 to 2019.
Early Life, Parents, Siblings, Nationality, Ethnicity, Educational Background
Joyce Bulifant spent her early years in her hometown of Newport News, where she was raised by her father who worked in the shipyard, and her mother; however, their names haven't been revealed to the public, and it's also unknown whether she has siblings or not. She holds American nationality and belongs to White Caucasian ethnic group. Regarding her education, Joyce matriculated from Solebury School in New Hope, Pennsylvania in 1955, in the same class as her first husband. She then furthered her education at the American Academy of Dramatic Arts, where she studied acting.
Career Beginnings
Joyce Bulifant started her professional acting career on stage, performing in such Broadway productions as "Tall Story" and "The Paisley Convertible". She also appeared in other plays in various locations, including "Auntie Mama", "Under The Yum-Yum Tree", "Glad Tidings", "The Queens!", and "Gentlemen". She has written and starred in two autobiographical shows too – "Remembering Helen Hayes With Love" and "Life Upon The Wicked Stage". Her career on film and TV began when she made her debut appearance as Timmy Barnes in an episode of the NBC comedy series "Too Young To Go Steady" in 1959. She continued to land small roles in such TV series as "Wide Country", "It's A Man's World", "The Real McCoys", and "Perry Manson", to name a few.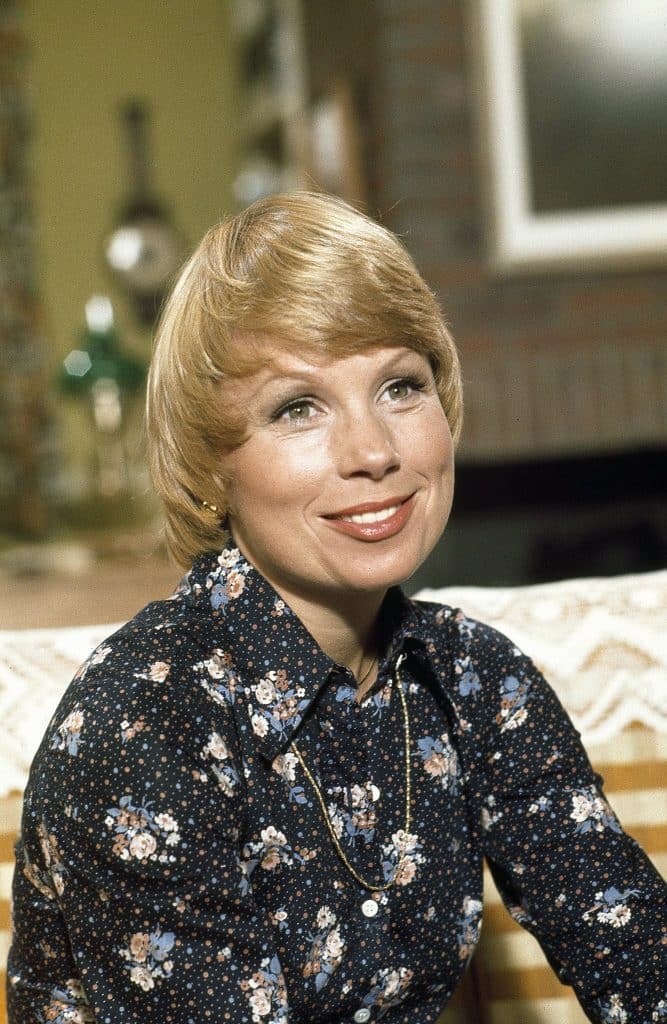 Rise to Fame
Joyce Bulifant's big break came with the role of Mary Gentry in the short-lived NBC sitcom "Tom, Dick And Mary", from 1964 until it was canceled after a single season in 1965. In the following year, she took the recurring role of Judy Cannon in the NBC medical drama series "Dr. Kildare", and then gained enormous popularity for playing Rosemary in the musical film "The Happiest Millionaire", alongside Fred MacMurray, directed by Norman Tokar, and based on the true story of millionaire Anthony Drexel Biddle.
In 1969, she joined the main cast of the TV sitcom "The Bill Cosby Show", aired on NBC, in which she starred as Mrs Patterson until its finale in 1971.
Joyce then went on to play Marie Slaughter in the CBS sitcom "The Mary Tyler Moore Show" from 1971 to 1977. Created by Allan Burns and James L. Brooks, the series was a critical success and won nearly 30 Primetime Emmy Awards, including three consecutive awards in the category of Outstanding Comedy Series – it was even considered one of the best-written TV series of all time.
Continued Success
Concurrently with filming "The Mary Tyler Moore Show", Joyce Bulifant continued to work on other major projects. In 1973, she was cast as Peggy Wilson in the ABC remake of the British sitcom "Love Thy Neighbour".
Her next significant appearance came with her portrayal of Marjorie Martin in the Saturday-morning situation comedy show "Big John, Little John", aired on NBC for one season in 1976, starring with Herb Edelman, Robbie Rist, and Mike Darnell.
Two years later, she took the role of Mrs Kirke in the NBC two-part romantic family drama miniseries "Little Women", sharing the screen with Meredith Baxter Birney and Susan Dey,  directed by David Lowell Rich, and based on the novel of the same title by Louisa May Alcott. Joyce then provided her voice to various characters in the NBC animated cartoon "Sport Billy" (1979-1980), and played Miriam Willoughby in the parody film "Airplane!" (1980), next to Leslie Nielsen. The film was both a commercial and critical success, grossing over $170 million worldwide against a $3.5 million budget.
Further Work
Between 1980 and 1981, Joyce Bulifant was cast as Miriam Willoughby in the CBS sitcom "Flo", which is a spin-off from "Alice". Afterwards, she started landing roles from time to time, and her next major role came in 1994, when she was chosen to portray Emily Wallace / Gary Wallace in the USA Network / Syfy sitcom "Weird Science" to 1997. She then shared the screen with Kirk Douglas and Lauren Bacall in the 1999 comedy film "Diamonds", in which she starred in the role of June, directed by her son John Mallory Asher. She continued to appear in other of his film titles, playing Mary in the romantic comedy "Dirty Love" (2005), and featuring as Edna Miller in the parody "Tooken" (2015). Her most recent appearance was her portrayal of Betty Bartlett in the 2019 adventure comedy "I Hate Kids", also directed by her son.
Appearance and Vital Statistics
Joyce Bulifant has short grey hair and blue eyes. She stands at a height of 5ft 8ins (1.73m), while her weight is around 143lbs (65kgs). Information about her vital statistics, bra size, dress size, and shoe size are unavailable, and at her age probably irrelevant.
Personal Life
Joyce Bulifant has been married five times. she married her first husband James MacArthur, an actor known for his work on "Hawaii Five-O", on 2 November 1958, They welcomed two children together, a son named Charles and a daughter named Mary. They divorced in 1967, and two years later she married the "Days Of Our Lives" star Edward Mallory, on 19 September. They have one child, a son, now named John Mallory Asher, who is also an actor, screenwriter, and director.
Following their divorce in 1974, Joyce married producer and director William Asher on 28 August 1976 – he adopted her son John and gave him his last name; they divorced in 1993. Her fourth husband was Glade Bruce Hansen, and they were briefly married from 2000 to 2001. In the following year, Joyce married actor Roger Perry, and they remained together until his death on 12 July 2018.
Advocacy
Joyce Bulifant only discovered in her 40s that she has dyslexia, after which she became an advocate for dyslexia research. She even wrote two musicals related to that, entitled "Different Heroes, Different Dreams", and "Gifts Of Greatness" – she was awarded the 2015 Broken Glass Award from The Dyslexia Foundation.
Besides that, Joyce has served as a Celebrity Ambassador for Childhelp, a non-profit organization dedicated to the prevention of child abuse. She was also a Vice-President on its National Board of Directors. Moreover, she advocates for autism research.