• Kaitlin Olson is an American actress and producer, best known for her role in "It's Always Sunny in Philadelphia"
• She was born in Portland, Oregon to American parents and grew up on a farm
• Her career began with the improvisational comedy troupe "The Groundlings"
• She has also done voiceover work for various productions
• Kaitlin is married to Rob McElhenney and has two sons; her net worth is estimated to be $18 million
An American actress and producer, Kaitlin Olson is perhaps best known for her continuing role as Deandra 'Sweet Dee' Reynolds in popular TV drama "It's Always Sunny in Philadelphia", amassing quite a loyal fanbase since her first appearance on the show in 2005.
Are you curious about Kaitlin Olson? Read her biography here, to learn more about her.
Early Life, Family, Educational Background
Kaitlin Willow Olson was born on 18 August 1975 under the zodiac sign of Leo, to American parents Donald Lee Olson and Melinda Leora in Portland, Oregon USA. She is of Caucasian white ethnicity. Her father was a publisher who worked with the Portland Tribune, while her mother was a nurse in a community hospital. There are no details of any siblings in Kaitlin's life.
Kaitlin didn't grow up in a particular place, as the Olsons' moved around a lot. Shortly after Kaitlin was born, her parents relocated to Spokane, Washington, then after some time to Vashon Island, still in Washington, where Kaitlin attended elementary school until she turned eight.
In 1983, the Olsons' moved back to the Portland area, and settled in Tualatin, where the family lived on a farm. Four years after they settled in Tualatin, Kaitlin was involved in a ghastly accident involving a bicycle and an automobile that left her with a fractured skull, and had to undergo reconstructive surgery. She still has a hole in her head from the accident.
Kaitlin matriculated from Tigard High School in Oregon in 1993.
Thereafter, she was accepted at University of Oregon, from where she obtained a bachelor's degree in Theater Arts in 1997. Subsequently, she moved to Los Angeles to pursue a career as a professional actor.
Career
Kaitlin Olson started her career while she a member of "The Groundlings", an improvisational comedy troupe, based in Los Angeles. It was there that she found her voice as an actor. She also toured with the United Service Organizations to Bosnia, Kosovo and Norway.
In 2000, Kaitlin made her debut in the film "Eyes To Heaven", and later that year landed a recurring role in "Curb Your Enthusiasm" (2000-2020), appearing in seven episodes of the drama series, in which she played Becky. Both debut roles were minor.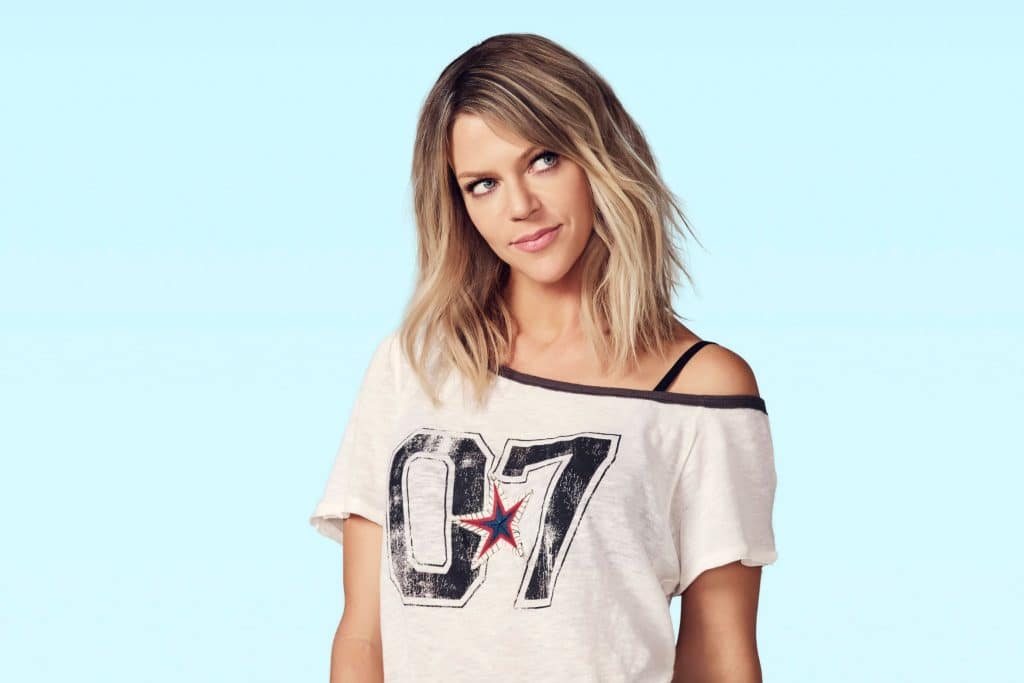 Two years later, she joined "The Drew Carey Show" (2002-2004) for a recurring role as Traylor in 12 episodes of the show, then in 2005, Kaitlin appeared in six episodes of "Kelsey Grammer Presents: The Sketch Show", and also worked behind the scenes as a writer.
Kaitlin's first major role was in the American sitcom "It's Always Sunny in Philadelphia" (2005-present). In 154 episodes of the TV drama, she played Deandra Reynolds, popularly called 'Sweet Dee'. Since its FX premiere on 4 August 2005, it has been a commercial success, having been termed 'the longest running live-action sitcom' in American history.
Concurrently, Kaitlin has portrayed a wide variety of characters, such as in other TV dramas "Out of Practice" (2006), "The Riches" (2007), "New Girl" (2014) and "The Mick" (2017),  which she produced and starred in.
Kaitlin Olson's television career has made her a fan favorite amongst other actors; still, she's made some major appearances in movies including "Fugly" (2001), "Leap Year" (2010), "The Heat" (2013) and "Arizona" (2018) among 15 others.
Early in 2021, she made an appearance as herself in a music video for "Follow You", a song by Las Vegas pop band, 'Imagine Dragons'.
Kaitlin's career as an actor is not limited to her physical appearance on screen. Her ability to modulate her voice to suit various situations has made her stand out as an excellent voice actor, firstly for "Family Guy" (2009), in which she voiced Brenda Quagmire. Next, she voiced Carol and Danielle in "Unsupervised" (2012). Other productions in which she has worked as a voice actor include "Brickleberry" (2012), "Escape From Planet Earth" (2013) and "Finding Dory" (2016) among others. She also voices video games from time to time.
Heyo! https://t.co/cfxQqOS2vx

— kaitlin olson (@KaitlinOlson) October 8, 2020
Personal Life, Husband and Children
For a long time, Kaitlin Olson and Rob McElhenney have been known as a Hollywood 'power couple'. The duo met on the set of "It's Always Sunny In Philadelphia", however, they didn't start dating until the second season, and even then they kept it secret from other members of the cast, in order to avoid any controversy.
With Kaitlin, there have never been doubts regarding her feelings towards Rob; she told Dax Shepard, 'once I fell in love with him, I realized that I was deeply in love with him in a way that I hadn't been with anyone before. The couple married on 27 September 2008 and have been going strongly ever since.
On 1 September 2010, Kaitlin and Rob welcomed their first son – as a matter of fact, she went into labour at a Philadelphia Phillies baseball game, of which her husband is a huge fan. She was quickly driven back to their home in California, where she had the baby (as planned). In the sixth season of "It's Always Sunny In Philadelphia", an episode entitled "Dee Gives Birth" was dedicated to their son, Axel Lee.
Two years later, their second son, Leo Grey was born on 5th April 2012. Before accepting a gig, Kaitlin weighs the impact it would possibly have on her kids. As she said to SippyCupMom, 'My kids are one hundred percent my priority'.
She has an Instagram page, with almost 750,000 followers. On her page, she shares details of upcoming projects with followers, and taunts her husband from time to time. The couple now live in California, with their sons and two pet dogs, Simon and Luke.
Appearance, Clothing Style
Kaitlin Olson is 5ft 6ins (1.73m) tall, and she weighs about 123lbs (56kgs). She has long blonde hair and her eyes are blue. She loves to dress elegantly, whether she's attending a red carpet event or just dinner with friends. Knee-length gowns and mom jeans are her favorite outfits.
Hobbies, Favorite Things and Interesting Facts
Kaitlin loves baseball games.
She enjoys reading during her leisure.
Her hobbies include internet surfing and traveling, and she has an interest in photography
She is a pet lover.
Kaitlin enjoys cooking for family and friends.
Net Worth and Salary
Kaitlin Olson's net worth is about $18 million, while her husband Rob McElhenney has a net worth reputedly over $50 million. The couple own an exquisite home in Southern California, the value of which is unknown at this time.