• Liane Valenzuela is an American model, actress, singer, and social media personality.
• She is known for hosting red carpet events for "The Voice", "X-Factor", and "American Idol".
• She gained popularity on Vine and transitioned to YouTube afterwards.
• In 2019, she launched her own merchandise line.
• She has a net worth of around $1 million.
Who is Liane V?
Liane Valenzuela, professionally known as Liane V, is an American model, actress, singer, and social media personality, perhaps best recognized for hosting red carpet events for "The Voice", "X-Factor", and "American Idol". She is additionally known for her previous association with Vine platform and YouTube channel. Liane was born under the Zodiac sign of Leo on 22 August 1986 in San Jose, California, USA, of Filipino ethnicity. She holds American nationality, and as of mid-2021, she is 34 years old.
Early life and Family
Liane was born to Wally Valenzuela and Prima Valenzuela, who used to run a DJ company in Modesto. She has two sisters named Melissa and Anna. Liane spent most of her childhood in Modesto. Even though the information about her educational background is scarce, it's known that she was very active physically during her high school years, as she competed in gymnastics, basketball and cheerleading.
Soaking up every moment 🌊 So excited to be traveling the next few months 😍 Comment a place I should explore next! ✈️ pic.twitter.com/cUwGakJw9N

— Liane V (@LianeV) June 11, 2021
Liane additionally attended various institutions such as Madonna Grimes dance classes, Ruskin School of acting, Burbank School of Ballet, and Vocal Training. In an interview, she said that after matriculating, she had decided to forgo college, which was not meet with cheers and approval, Liane said: "Surprisingly, Filipino parents are strict. They were like, 'You have to go to college. Both your sisters went to college and graduated.' Reportedly her parents gave her four years to make something of herself before forcing her to enroll at college.
After coming to terms with her parents, she moved to Los Angeles in 2006. Back then, she had quite a chaotic schedule; at night, she would attend acting and dancing classes, while during the day she would work at a car dealership, Liane said:" I was really just trying to get my feet wet in the industry. Before social media, it was just the work that you put in, and showing your face."
Career
Although many recognize Liane for her YouTube channel, she was previously very active on the Vine platform. She began her career as a social media star posting short humorous videos on Vine, and also collaborating with other Viners such as her ex-boyfriend King Bach, Amanda Cerny and Anwar Jibaw. In an interview, she disclosed that she had launched her Vine account at her friend's proposal, and in no time her skits started going viral. Soon the aspiring actress and model scored her first social media deal, after gaining popularity on Vine, saying "I still have that check at home, and I could not believe I made a couple thousand for a six-second video," I was like, 'Yo, I was working at the car dealership for a week and didn't even make this kind of money. Even a hundred dollars, I was like, 'Hell yeah! I got paid." After realizing that one could make a career and a living off social media, she began investing more time and effort into her videos and content.
She has also dipped her toes in the acting profession, appearing in an interactive news show in 2012. In 2014 she posted a fitness video entitled "Workout with Liane", which garnered a lot of views and brought her popularity. Two years later she appeared in the short video entitled "Missing Heart". In 2017 she starred in the series' "Caught The Series" and "Bad Escorts", and the same year she made a guest appearance on "Goin' Raw with Timothy Delaghetto".
After the shut-down of Vine, like many other Viners, Liane transitioned to YouTube, launching her channel in 2015 and expanding her fan base and content reach. In addition, she is also an aspiring singer; one of the first videos she posted on her channel was the music video for her single entitled "Strong".
Given her huge interest in make-up and lifestyle blogging, she has made numerous tutorials for various looks, Q& A videos, and challenges, such as "Smell It Challenge", "Halloween Mummy Transformation", and "Q&A with Liane V".
In 2016 she released a couple of more music videos, entitled "Mood", "No Cuffs", and "Curious".
Her music style can be described as a combination of old r&b and pop influences, drawing her inspiration from icons such as Aliayah, Mariah Carey, and Arian Grande.
While her channel and social media popularity skyrocketed, Liane always had the intention of pursuing fashion and make-up as a career, besides just making tutorials and sharing tips. Her prayers were heard in the same lucky 2017 when the "Guess" founder, Paul Marciano, presented her a deal that she couldn't refuse. He offered her a fashion line in collaboration with G by Guess, which featured fancy dresses for holidays, as well as lace maxi dresses. She has also collaborated with a variety of other brands, including CoverGirl, Nike and Maybelline.
The following year she released more singles and music videos, including "Out of This World", "Should I let You Go", and "No More".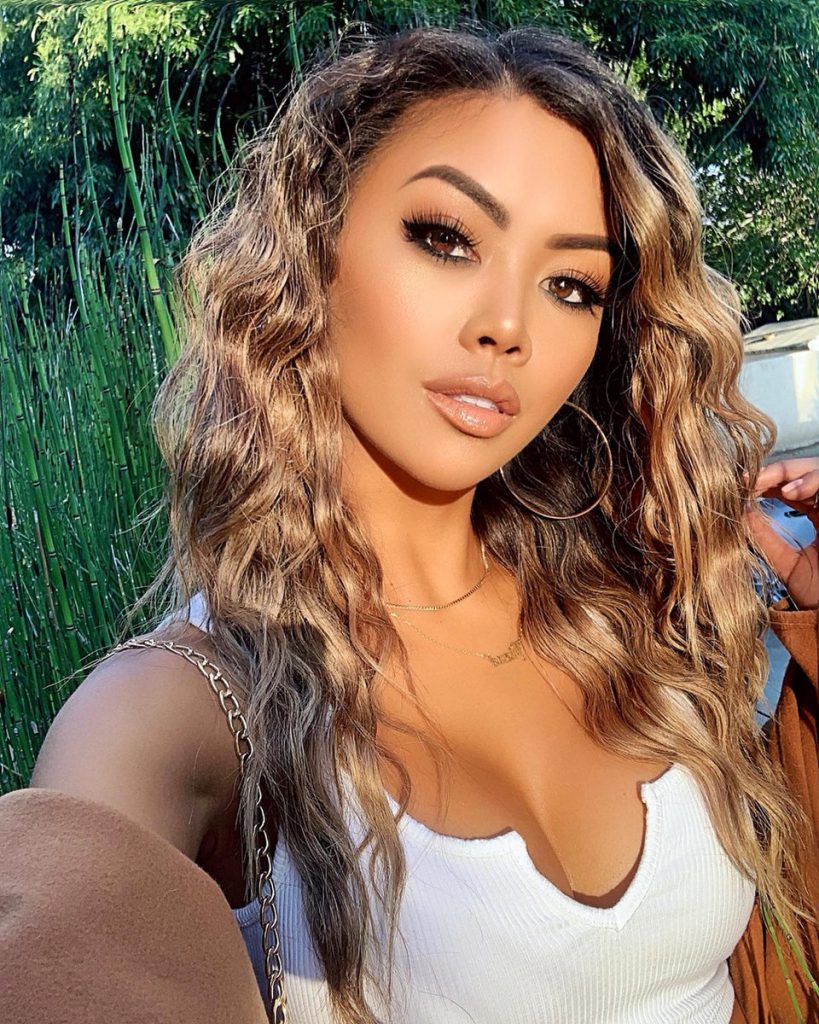 She is still very adamant about pursuing a singing career, as she continues to make videos and record singles; one of her latest songs released on YouTube is "Who You Are".
Currently, her YouTube is flooded with tutorials, house tours, and story-time videos such as "Teaching My Sister How To Do Make-Up", and "Cleaning Out My Closet".  Her channel has nearly 500,000 followers with more than 300 videos.
Enterprenurial endeavor
In 2019, Liane launched her own merchandise, which features a variety of clothing items, 'phone cases, and gym wear. Later she incorporated face masks, hoodies,and dresses with inspiring quotes as her signature, such as "I Go BEAST", "Hustle" and "Manifest It".
Social Media Presence
Her biggest following is on TikTok, which currently counts over 10 million followers with nearly 140 million likes. She uses her account to promote her merchandise, funny clips and make-up videos.
However, her Instagram account doesn't fall short, which at the moment has 4.5 million followers, which she mainly uses to post photos from her travels and upcoming projects. She is also active on Facebook, which has 1.3 million followers. Liane is represented by JGO Agency.
While many have the opinion that being an Influencer or YouTuber is easy and that everybody can do it, Liane assures us that it's not, she said: "A misconception people have for us influencers is that they think it's easy, and it's not. You're literally your own business, and people don't understand. They're like, 'Oh, you just shoot stupid for fun.' It's not. It's a lot of work." She also said that her key to success was her humorous and relatable content, saying "She's just like me! That girl from Modesto. She hangs out with her dad and her friends, and they make silly videos0. Making people laugh is a powerful thing. If you can make someone laugh or smile, they look forward to you. You're their positive thing in the day."
 Personal life
In 2014 Liane dated the popular YouTuber, actor, and social media star Andre Bachelor, better known as King Bach. While dating, they made a ton of Vines and YouTube videos with other social media stars, however, they broke up in 2015 for unknown reasons.
During the same year, she began dating her three-year-long friend, model, and social media star, Don Benjamin, who rose to popularity for appearing on the 20th season of the popular fashion series, "America's Next Top Model". Even though he was present in public life, making videos for YouTube and Vine, he additionally gained fame for starring in Ariana Grande's music video for the song "Into You", which currently has over 830 million views.
The couple collaborated on numerous projects together, starring in each other's videos, and even launched a joint YouTube channel entitled "Forever Us", which has nearly 200,000 subscribers. Everything seemed to be going fine as they continued making videos, and in 2019, Don proposed to Liane on her birthday, documented in the video posted to their channel entitled "The Sweetest Surprise Proposal Ever".
While the fans were at the edge of their seat, expecting the announcement for the wedding date, some fans noticed that things might have headed south, and in January 2020, they posted a video "We Are Taking a Break", Liane saying "To be honest we are going through a difficult time right now and we need to focus on ourselves and need to figure out what is going on between us because there are some things that we need to work on. We are human, you know."
However, after a couple of months, it became clear that they decided to go separate ways, and Liane opened about it in the video entitled "How I'm Healing From My Breakup". In the video, she shared some tips which helped her through the process, such as meditating, praying, and directing her thoughts. After the break-up, many fans wanted to know what happened that made this famous couple part their ways after so many years together. Soon the rumors about Don's infidelity resurfaced, which were later confirmed in the video they posted to their channel entitled "Why We Broke UP".
Both Don and Liane discussed his infidelity, and how it affected Liane, she said: "During the time I was hurt, I didn't wanna hear anyone's advice. I was in pain. He hurt me. I don't deserve this. I am worth more. I don't deserve somebody lying to me cheating on me. I reached that point. ." However, they decided to work on this issue together, mainly Don, who now swears that he is a changed man. Don even published the book entitled "The Truth", in which he discusses his journey to success, but also opens up about his infidelities and his growth as a man. In the video, Liane said:" Not all the time the situation ends up where the couple ends up together. But in some situations, it is possible. The number one thing if you want growth, change, and to build the trust, you have to believe that people can change ."
The couple has recently gone on vacation together and has swum with the sharks, posting some photos on their social media. Liane wrote: "Mastering peace. Finally get to check this off my bucket list! ✔Can't believe I got to swim with sharks in the ocean!"
Physical stats and Hobbies
Liane's natural hair color is brown, further adorned with brown eyes. She's 5ft 7ins tall (170cm), weighs around 132lbs (60kgs), and her vital statistics are 37-23-35; additionally, she's known for her curvy and fit figure as she works out daily – she likes to do yoga, run and swim. She also takes care of what she eats. A lot of her videos on YouTube and Instagram are work-out-related, in which she shows her current diets and routines, and also shares tips and advice on how to achieve a fit body and also maintain it.
Would you like to know her net worth?
According to sources, Liane's net worth is around $1 million, earned through her numerous endeavors as an actress, model, and social media star. She earns additional money through brand deals and affiliations on Instagram, YouTube, and TikTok. On the other hand, Don's net worth is estimated at the whooping $20 million, which he acquired working as a model and social media star.