Nikki Reed:
• Born in Los Angeles, California USA on 17 May 1988
• Actress, producer and singer-songwriter
• Known for her portrayal of Rosalie Hale in 2009's "The Twilight Saga: New Moon"
• Married to second husband Ian Somerhalder since 2015, with whom she has a daughter
• Philanthropist and animal-lover, with her own jewelry brand BaYou With Love
• Net worth estimated at over $12 million
Who is Nikki Reed?
Nicole Houston Reed was born in Los Angeles, California USA, on 17 May 1988 – her zodiac sign is Taurus and she holds American nationality. She's an actress, producer and singer-songwriter, who's probably known best for her portrayal of Rosalie Hale in the 2009 fantasy adventure movie "The Twilight Saga: New Moon", written by Melissa Rosenberg based on the novel by Stephenie Meyer, and directed by Chris Weitz. The film starred Kristen Stewart, Taylor Lautner and Robert Pattinson, and follows Bella who's torn between Jacob Black and Edward in a world filled with vampires and werewolves. The movie won 20 of the 44 awards for which it was nominated.
Nicole reprised her role in the 2010 "The Twilight Saga: Eclipse", the 2011 "The Twilight Saga: Breaking Dawn – Part 1", and the 2012 "The Twilight Saga: Breaking Dawn – Part 2".
Early life and education
She was raised in West Los Angeles alongside her brother Nathan August Reed and half-brother Joey Reed, by their Jewish father Seth Reed who was a production designer, and their Italian mother Cheryl Houston who was a beautician. Seth and Cheryl divorced when Nikki was two years old and she then lived with her mother.
Nikki left home aged 14 and lived around Los Angeles, while she later enrolled at Alexander Hamilton High School but quit after around a year to become homeschooled, eventually obtaining her high school diploma. Nikki didn't enroll at college, but focus on her career as an actress instead.
Roles in movies
Nikki made her debut movie appearance in the 2003 drama "Thirteen", written and directed by Catherine Hardwicke, and which starred Nikki, Evan Rachel Wood and Holly Hunter.
It follows the life of a 13 year-old girl who has been introduced to the world of sex, drugs and crime. It won 14 awards of the 63 for which it was nominated, including an Oscar nomination.
The following years saw her play supporting characters in various mediocre-rated movies, such as the 2004 drama "Man of God", the 2006 crime comedy "Mini's First Time", and the 2007 thriller drama "Cherry Crush". In 2010, she was cast to star as Jessie Campbell in the horror "Chain Letter" written and directed by Deon Taylor and which also starred Keith David and Brad Dourif. It follows a serial killer who only murders teenagers who won't forward his chain mail. In 2013, Nikki played the supporting character Wendy in the thriller "Enter the Dangerous Mind", and in 2014 she appeared in the mystery crime comedy "Murder of a Cat", which follows a man who's investigating the killing of his cat.
Nikki's three most recent roles in movies have been in the 2015 family drama "About Scout", the 2016 mystery horror "Jack Goes Home", and the 2016 biographical family sports drama "A Sunday Horse".
Roles in TV series
Nikki has been credited with appearing in six TV series. She made her debut appearance in 2006, with her portrayal of Sadie Campbell in six episodes of the romantic comedy drama "The O. C.", created by Josh Schwartz, and which starred Mischa Barton, Peter Gallagher and Adam Brody. It follows the lives of young adults living in Newport Beach, California, aired from 2003 to 2007, and won 15 of the 36 awards for which it was nominated.
Later in 2006, Nikki played Molly Larusa in the episode "Addicts" of the crime thriller drama "Justice", and in 201 she portrayed Jayna in two episodes of the comedy "College Humor Originals".
In 2015 and 2016, she played the supporting character Betsy Ross in the action crime adventure "Sleepy Hollow", created by Phillip Iscove and three others, and which starred Tom Mison, Lyndie Greenwood and Nicole Beharie. The series follows Ichabod Crane who has been resurrected and sent 250 years through time to solve a mystery; it was nominated for 34 awards, including a Primetime Emmy.
In 2019, Nikki played Bronwyn in the episode "Bridesmaid" of the comedy "Dollface", and most recently also in 2019, she played Rachel Thompson in five episodes of the science fiction horror drama "V-Wars", which starred her husband Ian Somerhalder.
Writing, producing and directing credits
Nikki has one writing, two directing and four producing credits. In 2003, she co-wrote the movie "Thirteen" and in 2009, she served as the executive producer of the comedy movie "Last Day of Summer".
Board Members @iansomerhalder and @NikkiReed_I_Am on the green carpet! Green parents 🌎❤️. #EMAwards pic.twitter.com/qsAri24oL2

— Enviro. Media Assoc. (@green4EMA) September 24, 2017
The year 2014 saw her direct and produce the documentary mini-series "Nine for IX Shorts", and in 2016 she co-produced the movie "Jack Goes Home". In 2019 she directed the short film "Andy's Song", and she's currently producing the upcoming drama series "At That Age".
Other credits
Nikki has been featured in various TV specials such as the 2003 "Young Hollywood Awards", the 2009 "Ulalume: Howling at New Moon" and the "2012 Do Something Awards".
Nikki can also be seen featured in many documentaries, including the 2005 short video "The Making of 'Lords of Dogtown'", the series "Years of Living Dangerously" and the  movie "24 Hours of Reality: The Road Forward", both in 2016.
She has made a guest appearance in various talk-shows, such as "The Ellen DeGeneres Show", "Jimmy Kimmel Live!", and "The Late Show with David Letterman".
Awards and nominations
Nikki has won three of the 13 awards for which she has been nominated: she won a 2003 Young Hollywood One to Watch – Female Award, a 2003 Nantucket Film Festival Screenwriting Award for Best Feature Screenplay for "Thirteen", and a 2004 Film Independent Spirit Award for Best Debut Performance also for "Thirteen".
Some of the other awards for which she has been nominated include two Phoenix Film Critics Society Awards, two Satellite and three Teen Choice Awards.
Love life and marriage with Ian Somerhalder
In March 2011, Nikki met the American singer-songwriter Paul McDonald at the premiere of the romantic horror movie "Red Riding Hood", they started dating only a couple of days later, and soon moved in together. In June 2011, the two announced they were engaged, and exchanged vows on 16 October 2011 while their divorce was finalized on 2 January 2015 following a 15-month separation.
In the summer of 2014, she began dating the famous American actor and model Ian Joseph Somerhalder, and they became engaged in February 2015. The two exchanged vows in front of their closest friends and family members on 26 April 2015, and on 25 July 2017, Nikki gave birth to their daughter Bodhi Soleil Reed.
As of April 2021, Nikki's married to her second husband Ian Somerhalder, and they have a daughter together.
Hobbies and other interests
Nikki's a philanthropist who worked together with the non-profit organization DoSomething, and the office retail company Staples Inc. in June 2011 for their Annual School Supply Drive. She has volunteered at various animal shelters as she's a huge animal-lover, and Nikki has also designed a special collar – all the money earned by selling these was donated to the American Society for the Prevention of Cruelty to Animals (ASPCA).
She's interested in politics, and supported Bernie Sanders during the 2016 US presidential election.
Nikki's a fan of jewelry, and she and Morgan Bogle have launched their own jewelry brand BaYou With Love, which has partnered with Dell to create jewelry from recycled technology.
She has her own favorite actors and actresses, some of whom are Leonardo DiCaprio, Kate Winslet and Emma Watson, and a couple of her favorite movies are "Titanic", "The Eternal Sunshine of the Spotless Mind", and the franchise "Harry Potter".
Age, height and net worth
Nikki's age is 32. She has long brown hair and brown eyes, her height is 5ft 4ins (1.63m) and she weighs around 112lbs (51kgs). As of April 2021, her net worth has been estimated at over $12 million, while Ian's wealth is reputedly over $12 million as well.
Who is her husband Ian Somerhalder?
Ian Joseph Somerhalder was born in Covington, Louisiana USA, on 8 December 1978 – his zodiac sign is Sagittarius and he holds American nationality.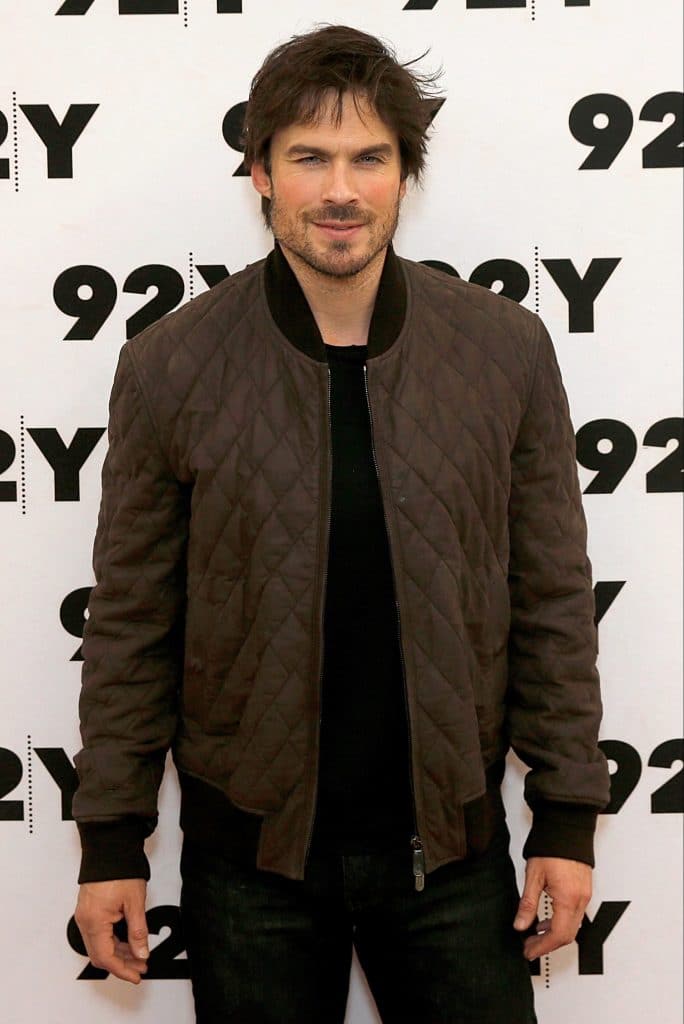 He's probably known best for his portrayal of Boone Carlyle in the critically acclaimed adventure fantasy series "Lost", created by J. J. Abrams, Damon Lindelof and Jeffrey Lieber, and which starred Jorge Garcia, Josh Holloway and Junjin Kim. It follows the survivors of a plane crash who have encountered an evil supernatural force on the island near which their plane came down. The series aired from 2004 to 2010, and won 113 awards including a Golden Globe, while it was nominated for 398 other awards.
Ian was raised in Covington alongside his sister Robyn and brother Robert, by their father Robert Somerhalder who was a building contractor, and their mother Edna who was a massage therapist. He studied at Saint Paul's School, and was 10 years old when he was noticed by a modelling scout – with his parents' permission, he launched his modelling career. Ian attended a local high school from which he matriculated in 1996 and then chose not to attend college but to focus on acting.
He gained recognition in 2002 with his portrayal of the bisexual man Paul Denton in the satirical black comedy movie "The Rules of Attraction", and in 2009, he starred in the thriller movie "The Tournament". From 2009 to 2017, he played Vampire Damon Salvatore, one of the lead characters in the award-winning supernatural teen series "The Vampire Diaries".
Ian today has around 35 acting credits to his name, and has won 14 of the 31 awards for which he has been nominated.
He has worked with many charity organizations, and on 22 April 2020, he was in one of the cleanup teams formed after the oil drilling disaster involving Deepwater Horizon. He has supported the St. Tammany Humane Society and the non-profit It Gets Better, which aims to prevent suicide amongst the members of the LGBT community. He's the founder of the Ian Somerhalder Foundation, which raises awareness of the importance of protecting all animals and our environment.