• 'Ice Road Truckers' was an American reality series that aired on History Channel from 2007 to 2017.
• It was one of the most successful shows on the channel, with more than 3 million viewers.
• Lisa Kelly was the only female driver featured on the show, joining in season 3 and starring in seasons 7-1•
• She took a break from filming in 2012 due to the tragic death of a beloved cast member.
• Despite its popularity, the show has yet to return and the truck drivers are now inactive.
'Ice Road Truckers' was an American reality series that aired on History Channel from June 2007 to November 2017. The show documented the dangerous occupation undertaken by the many truck drivers of Canada and Alaska, as they hauled freight over the frozen roads of the Arctic landscapes.
Created by Original Production, the same company responsible for numerous reality shows filmed in Alaska, which include 'Bering Sea Gold' and 'Deadliest Catch', 'Ice Road Truckers' continued the filming of what started as an episode of 'Deadliest Mission' and later 'Modern Marvels'. Because of the show's popular reception, production continued well into an eleventh season, and also inspired the spin-off creation of 'Ice Road Truckers: Deadliest Roads'.
With more than three million viewers, 'Ice Road Truckers' became one of History Channel's most-watched and popular series at the time in its 12-year history, making it one of the most successful shows on the channel.
The real-life dangers faced by the truckers, as well as the seemingly authentic reality of the show, drew countless viewers, who stayed tuned for all the high-strung drama, and above all else, the incredible suspense.
Although the dangers are real, as presented by a recreational display during the show's opening credits, no actual accidents were ever filmed, much to the dismay of the viewers, but the good fortune of the show's many stars.
Unfortunately, despite its continued popularity, the show aired its final season in 2017, announcing it would take a short hiatus from production, yet, as time passed, it now seems as if 'Ice Road Truckers' might never return to our screens.
As such, many of the show's fans are looking for answers, and of course, keep wondering where the truck drivers are today.
No explanation for the show's abrupt end was published by either Original Productions or the channel, with only the stars of the show reaching out to fans through social media to keep them informed of any updates.
One such star, Lisa Kelly, whom many dedicated fans would recall as a prominent feature on the show and a favourite among the audience, continued communicating with her followers, keeping up their hopes for a new season alive.
For a long time, Lisa was the only female driver, and as such won the favour of countless viewers who, in recent times, expressed their interest in learning more about current developments in her life.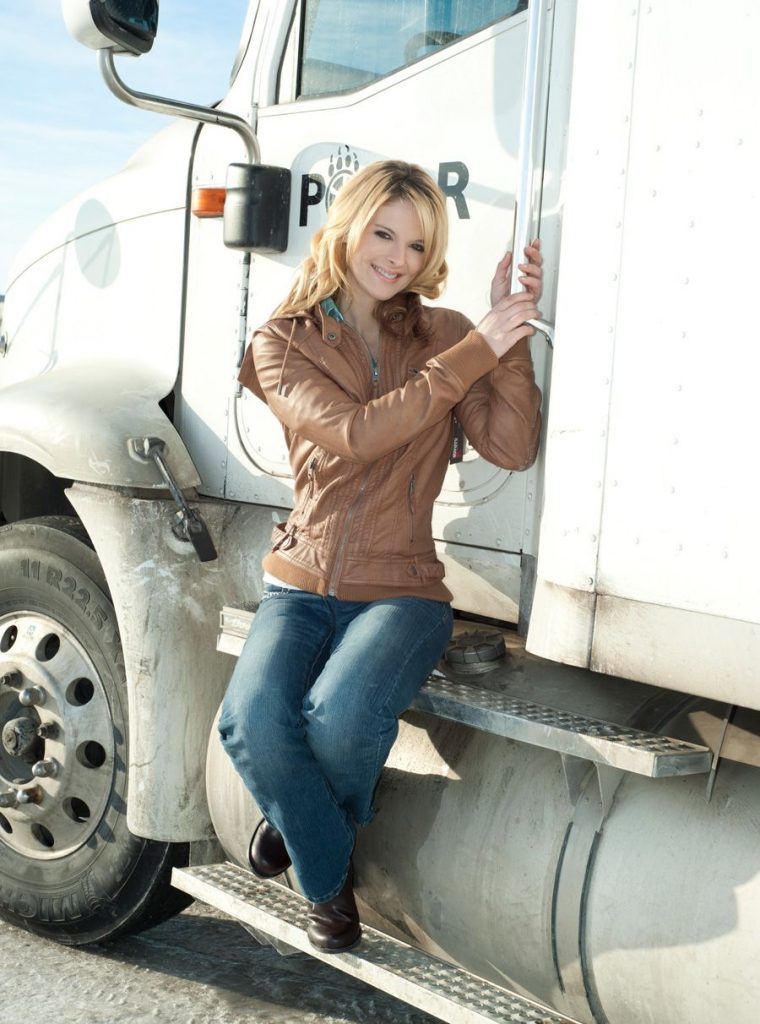 Ice Queen Trucker
Lisa joined the cast of 'Ice Road Truckers' during the third season, becoming the only female driver to feature on the show. She remained a part of the main cast until the end of season five, after which she took a short break from filming, returning again for the production of seasons seven through eleven.
She also appeared as one of the drivers featured in the spin-off series 'Ice Road Truckers: Deadliest Roads', starring in seasons one through two, for which she gained note as the only female driver. Born on 8 December 1980, in Grand Rapids, Michigan, Kelly moved to Alaska with her family at the young age of six, where they resided on a small farm near Sterling.
She spent most of her youth in the icy landscapes of Alaska, returning to Grand Rapids only for her tertiary education at Cornerstone University. However, shortly following her initial attendance, Kelly decided that she wanted to pursue other things in life, and dropped her studies to return to Alaska.
Back in Alaska, Lisa started working as a school bus driver, while competing in freestyle motocross. Other than that, to make ends meet, Lisa also worked at a pizza company and gas station before settling on a full-term career as a truck driver. During this time, Lisa became an Alaskan state freestyle motocross champion, also performing excellently as a motocross stunt rider.
Her first truck driving job was for an Alaskan haulage company called 'Carlisle Transportation', but as a woman, she often faced many difficulties that other drivers never have to endure.
According to Kelly, she would often have to work twice as hard as her male counterparts, enduring a lot of pressure that would sometimes require her to complete her work faster than others.
However, she was nonetheless proud of her achievement. She joined the production of 'Ice Road Truckers' in 2009, a year after marrying Traves Kelly, whom she dated for four years prior to their wedding day in 2008.
Other than spending time with her husband whenever she's not off hauling freight over the ice, Kelly enjoys dirt biking, skydiving, hang gliding, and snowboarding. She also owns a miniature horse named Rocky, and a cat by the name Tanzi.
In The Wake of Tragedy
In 2012, at the start of the show's sixth season, Lisa took some time away from the camera, despite, according to reports, that Original Productions extended her contract to include that season.
Dedicated viewers and, of course, Kelly's devoted fans quickly took notice of her absence, taking to social media to express their disappointment.
It, unfortunately, led to the rousing of speculative rumours which suggested that the show gave Lisa the sack. Original Productions quickly rectified the situation, especially because countless fans breathed down their neck, demanding Kelly's return. They stated that Kelly will remain a part of the series, and that they didn't let her go.
Kelly responded, reassuring her fans that she simply took time off from filming for personal reasons. At the time, Lisa recovered from stressful pressure following the tragic events of a beloved cast member's untimely death.
In 2010, a fan favourite star from 'Ice Road Truckers', Darrel Ward, sadly passed away in a horrible plane crash in Montana.
Throughout the filming of 'Ice Road Truckers', Lisa and Darrel often partnered together for long hauls, and as such became good friends. There were even some suggestions and rumours that considered they may have become intimately involved, but considering that Lisa is a married woman and that neither confirmed the rumours, it might only be wild speculation.
Nonetheless, the two spent a lot of time together on the show, and Darrel's sad, untimely passing took its toll on Lisa. In the wake of this tragedy, Lisa needed to take a breather, trying to recover from the emotional distress that loss could have on a person.
Keep in mind that on icy roads, such distractions could have devastating consequences. Thankfully, at the beginning of the seventh season, Lisa returned for the filming of 'Ice Road Truckers.
Where Is She Now?
Today, Lisa keeps on trucking despite the indefinite cancellation of the show, but it's not the only thing she does to make money. Aside from driving loads over the icy roads of Alaska to make ends meet, Kelly also undertakes several endorsement deals for a variety of companies.
Previously, her obligations to the contracts of 'Ice Road Truckers', which prevented any of the stars from benefiting from public appearances and other fame exploiting deals, kept her from doing this.
Now, though, with no new contracts, she seems to be free to undertake all the endorsements she likes. Aside from that, she keeps up with her many followers on social media, and continues to enjoy life with her husband, Traves.
Unfortunately, it seems highly unlikely that 'Ice Road Truckers' will return to our screens any time soon, but for those who simply can't get enough of the icy suspense, you could always catch-up on the reruns.
If you're more interested in the personal lives of the stars and the tragic events and difficulties they face on the roads, several of the former 'Ice Road Truckers' drivers keep their followers entertained on social media.
Feel free to check them out on Instagram, Twitter, or Facebook for a daily dose of trucking drama.