• Maisie Richardson-Sellers is an actress and director, most well known for her roles in "The Originals", "The Kissing Booth", and "Star Wars: The Force Awakens"
• Her parents were both stage actors and she was raised in London
• Maisie has had roles in various shows, including "Of Kings and Prophets", "Legends of Tomorrow", and "Kissing Both 2"
• She launched her own company, Barefaced Productions, and is part of the online collective "Shethority"
• As of 2021, Maisie's net worth is estimated to be around $2 million
Who is Maisie Richardson-Sellers?
Maisie Richardson-Sellers is an actress and director, perhaps best recognized for her roles in "The Originals,", "The Kissing Booth", and "Star Wars: The Force Awakens". She was born under the Zodiac sign Pisces on 2 March 1992, in London, England. As of 2021, she is 29 years old, and she holds British nationality. Maisie is a mix of Guyanese and British ethnicity. She currently resides in Los Angeles.
Early life and family
Maisie was born the only child into a very artistic family; both of her parents are stage actors – the name of her father remains unknown, while her mother is Joy Richardson, the renowned British actress of Guyanese roots. Her mother has been in the entertainment business since 1985, and is best recognized for her roles in various TV series, including "Doctors", "Silent Witness", and "The Long Song".
Maisie was raised in London, and grew up around TV sets. Looking up to her parents, it didn't take long for Maisie to develop an interest in acting, including performing on stage. She attended the private James Alleyn's Girls school, and was reportedly an outstanding student, who managed to obtain prestigious education through scholarships. After matriculating, Maisie enrolled at Hertford College, a constituent of Oxford University, to study Anthropology and Archeology. During her college days, she was very active in extracurricular activities, especially theater-related clubs and associations; she performed on various occasions, in plays such as "Chatroom" and "There will be Red and Mephisto". She graduated in 2013.
Career
Right after graduation, she kicked-off her acting career by signing up for various auditions, including for "Star Wars: The Force Awakens", landing the cameo role as Korr Sella, followed by a role in the supernatural hit series "The Originals". Maisie initially appeared as Rebekah Mikaelson in 2014, after the character of Rebekah inhabits a different body. Later, she portrayed the recurring character Eva Sinclair, the dangerous and powerful witch, instantly enchanting the audience with not only physical beauty, but also great inner beauty. Additionally, the show's executive producer, Michael Narducci had only words of praise for her performance and portrayal, saying she was "an incredibly strong sparkle"; she appeared in a total of 15 episodes.
In 2016 she landed the lead role in the drama series entitled "Of Kings and Prophets", based on the Biblical Books of Samuel.
However, the series run would be short-lived as it was canceled after two episodes due to low ratings. Then during the same year, she appeared as Amaya Jiwe/Vixen in the second and third seasons of the superhero TV series "Legends of Tomorrow". Interestingly, her mother Joy also guest-starred in two episodes, portraying Amaya's ancestor. In 2018 she was recast in the same series, this time in the role of the shapeshifter named Charlie, appearing in the fourth and fifth seasons, after which she exited the show.
In 2018 she landed the title role in the short movie entitled "Melody".
Her Latest Roles
In 2020, Maisie appeared as Chloe Winthrop in Netflix's hit romantic movie "Kissing Both 2", opposite Joey King and Jacob Eloridi.
The film was a huge commercial success, quickly becoming one of Netflix's most-watched movies, despite receiving largely negative criticism aimed at the played-out and predictable plot. Maisie is set to reprise her role in the third installment, "Kissing Booth 3", which will premiere in August 2021.
Following the release of the "Kissing Booth 2", Maise guest-starred on various reality programs and talk shows, including "Group Chat With Annie and Jayden", "Kelly Clarkson Show", and "Toofab".
Recently, she announced that she would appear in the cyber-thriller series entitled "The Undeclared War", starring Simon Pegg, Mark Rylance and Adrian Lester, and is set to premiere in 2022.
Even though acting is her passion, she would also like to try her luck behind the camera, directing and editing.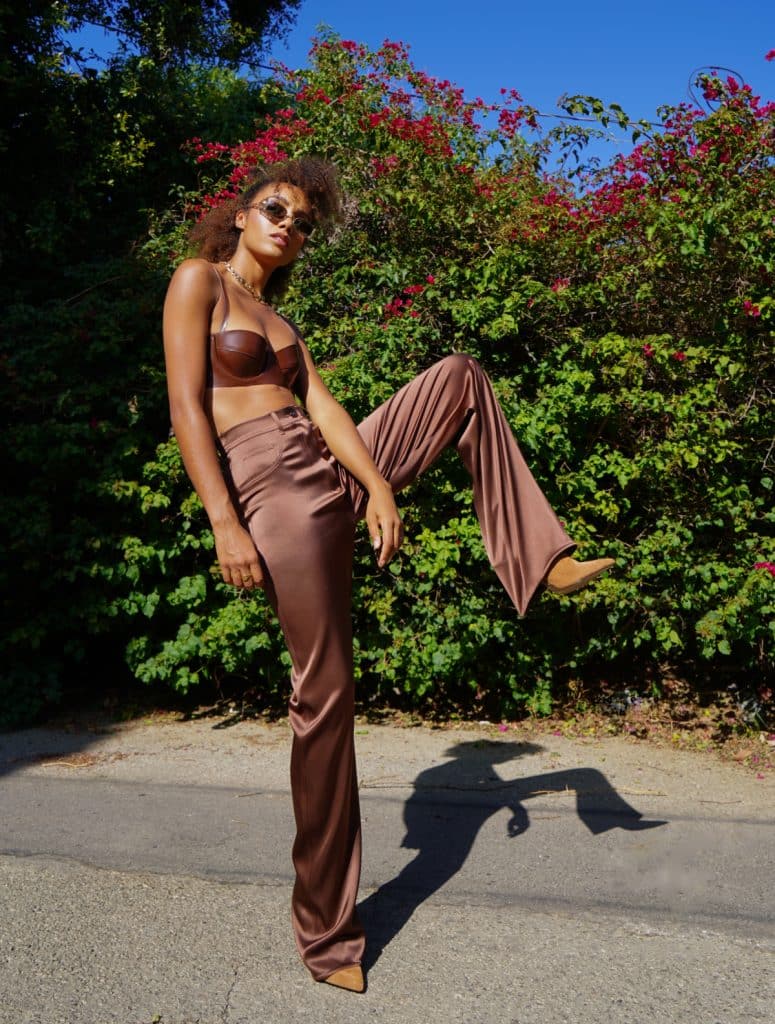 She previously had minor directing roles in 2021, and released the short movie entitled "Sunday's Child", which she directed and wrote under Barefaced Productions.
Barefaced Productions
In 2020 she launched her own company entitled "Barefaced Productions". In the interview with the media outlet Toofab, she disclosed the meaning behind the company's names, saying 'My mum is from Guyana and my gran is Guyanese, and we are extremely, extremely close. In Guyana, 'barefaced' is a phrase we use to describe someone who is challenging the norm, being a bit cheeky, being out there, being controversial. It's an affectionate slang word.'
Maisie also discussed the reason and her motive for launching the company; she compared hers and her parents experience in the entertainment business, often witnessing marginalized and under-developed characters who had been there to support the lead role without much background.
She said: 'I used to question it, and then I realized it. Some people who were directing it, casting it, writing it, directing it are not at all representative of the stories they are telling. What we'd want to do is to diversify every stage of the process from the creators all the way down.'
Maisie also added that her vast traveling experience – during which she met amazing and talented actors who did not have the means to tell their unique stories – also prompted her to think about launching the production company to bridge the gap.
Personal Life
The actress, who openly identifies as queer and lesbian, has been dating the soul singer, Clay since 2018. The couple met at a party, and Clay gushed over it to a media outlet saying: 'We met at a party that neither of us particularly wanted to be at. It's always the case, I suppose, to encounter something [or] someone amazing when you're least expecting it. Funny how that happens huh?'
Maisie directed and edited one of Clay's music videos entitled "Project 5", which promotes and spotlights the LGBTQ community. Both Maisie and Clay often share photos on their social media, professing their eternal love.
Physical stats and Hobbies
Maisie, known for her model-like appearance, is 5ft 6ins tall (167cm), weighs around 120lbs (55kgs), while her vital statistics are 32-26-35. She has curly black hair further adorned with black eyes.
In her free time, Maisie likes to read books and travel.
In 2017 she co-founded the online global collective for women entitled "Shethority" (She +Authority), which discusses various challenges and discrimination women face in the world.
The platform aims to promote feminism and women empowerment, through sharing stories, journeys, and experiences.
What is her net worth?
As of 2021, her estimated net worth is around $2 million, which she's earned largely through her career as an actress. Given her active engagement in various projects and the production company, it's believed that her net worth will be augmented substantially in the future.
Maisie is very active on Instagram, which currently counts nearly a million followers. Her Twitter account has over 70,000 followers; she usually posts updates on her projects, upcoming movies and series.