• Holiday Reinhorn is a 57-year-old fiction writer with a net worth of over $300,000
• She is married to famous American actor, comedian, producer and director Rainn Wilson
• She is the co-founder of the Lidè Foundation in Haiti, which empowers young women in writing and creative arts
• Rainn Wilson has had an extensive career as an actor, director and producer
• He is currently working on the animated film 'Hitpig' while also starring in the podcast 'Dark Air with Terry Carnation'
Who is Holiday Reinhorn?
Holiday Reinhorn was born on 12 March 1964 under the zodiac sign of Pisces, in Portland, Oregon USA, of British descent. She is a 57-year-old fiction writer, known best for her short stories and book "Big Cats". She is also recognized for being the wife of famous American actor, comedian, producer and director Rainn Wilson.
How rich is she, as of now? Holiday Reinhorn Net Worth
As of early 2021, Holiday Reinhorn's net worth is estimated at over $300,000; acquired through her successful career as a writer. Besides that, she probably partly enjoys the fortune of her husband Rainn Wilson, whose wealth is estimated at over $14 million.
Early Life, Parents, Nationality, Ethnicity, Educational Background
Holiday Reinhorn spent her early years in her hometown of Portland; her father was a military dentist who served in the US Army, while her mother Mary Putka was a middle school teacher and city council member of Kalama.
She holds American nationality, and belongs to White Caucasian ethnic group. Due to her father's profession, she moved frequently with her younger sibling and mother, and lived in such places as Thailand and Hong Kong. The family eventually returned to Portland, where she completed her high school education. She studied Acting at the University of Washington, and graduated in 1998. She later enrolled into the prestigious Iowa Writers' Workshop at the University of Iowa, from which she obtained her MFA degree.
Professional Career
Holiday Reinhorn started her professional career as an actress by performing in various theatre stage productions, before she decided to focus on writing. In 2002, she wrote a screenplay for the mystery film "Last Seen", for which she also served as a co-producer.
Three years later, she gained recognition after publishing the book "Big Cats", a collection of short stories, which became a Powell's bestseller, and received positive reviews in such publications as Post Magazine, Seattle Times, Publishers Weekly, and Kirkus Reviews. She then wrote for such publications as Zoetrope: All-Story, Gulf Coast, Tin House, and Columbia: A Journal of Literature and Art, Northwest Review. For her work, Holiday won a Tobias Wolff Award for Fiction, and was also rewarded with a Carl Djerassi Fiction Fellowship from the University of Wisconsin at Madison. She is currently working on a new collection of short stories, entitled "Our Lady Of Perpetual Sadness".
Apart from her writing career, Holiday Reinhorn also runs the Lidè Foundation, which she co-founded alongside her husband Rainn Wilson and Dr. Kathryn Adams.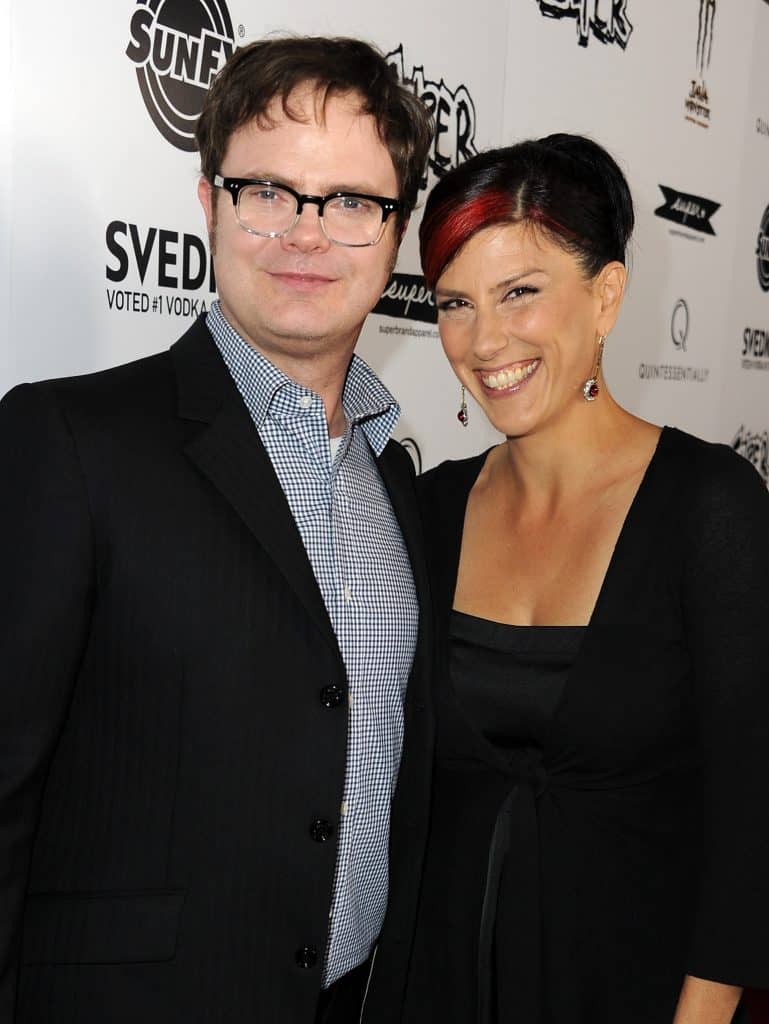 It's an educational initiative in Haiti, and provides academic support and arts programs to empower young women in writing and creative arts.
Appearance and Vital Statistics
Holiday Reinhorn has long dark brown hair with red-colored bangs, and dark brown eyes. She stands at a height of 5ft 6ins (1.68m), while her weight is around 127lbs (58kgs). Details about her vital statistics, bra, dress and shoe sizes aren't available.
Love Story with Rainn Wilson
Holiday Reinhorn and Rainn Wilson met each other while they were students at the University of Washington back in the mid-1980s, and subsequently became romantically involved. After dating for a while, they eventually exchanged their wedding vows at a ceremony on 30 July 1995, at Kalama River in Washington State. The couple welcomed a son they named Walter McKenzie on 1 October 2004.
Both Holiday and Rainn practice the Bahá'í Faith. Their current residence is in Los Angeles, California.
Who is her husband? Rainn Wilson Short Wiki/Bio
Rainn Dietrich Wilson was born on 20 January 1966 under the zodiac sign of Aquarius, in Seattle, Washington State USA, to Robert G. Wilson, a business consultant, novelist, and artist, and Shay Cooper, a yoga teacher and actress. Following the divorce of his parents, Rainn lived for sometime with his father and stepmother Kristin in Nicaragua.
Educational Background
Rainn attended Kellogg Middle School, then went to Shorecrest High School in Shoreline, Washington State. Before matriculation, his family moved to Wilmette, Illinois, where he matriculated from New Trier High School. In 1986, he graduated with a Bachelor's degree in Drama from the University of Washington. Thereafter, he enrolled in New York University's Graduate Acting Program at the Tisch School of the Arts, from which he graduated with an MFA degree in Acting in 1989.
Career Beginnings
Rainn Wilson started his career as a stage actor, performing with The Guthrie Theater, Arena Stage, Ensemble Studio Theater, The Roundabout, Playwright Horizons, among many others. In 1997, he made his debut TV appearance as Casey Keegan in an episode of the soap opera "One Life To Live", while he made his debut film appearance in the role of Lahnk in the sci-fi comedy film "Galaxy Quest" in 1999. It was followed by his portrayals of Newman in the 1999 made-for-TV action film "The Expendables", and David Felton in the 2000 comedy-drama "Almost Famous". In 2001, he played Dennis Van De Meer in the made-for-TV docudrama "When Billie Beat Bobby", and featured as Dave O'Hanlon in the romantic comedy film "America Sweethearts". He then appeared as Brian in Steven Soderbergh's 2002 romantic comedy film "Full Frontal", next to Julia Roberts.
Rise to Stardom
In 2003, Rainn Wilson landed his first lead role as Bill Hudley in the 2003 horror film "House Of 1000 Corpses", and then played Bill Harris in the biopic "Baadasssss!". From 2003 to 2005, he joined the cast of the HBO drama series "Six Feet Under", starring as Arthur Martin; for his performance, Rainn won the Screen Actors Guild Award for Outstanding Performance by an Ensemble in a Drama Series. Following the end of the series, he portrayed Rudi Gunn in the action-adventure film "Sahara", and Doug in the drama "Blue In Green", all in 2005. During the same year, he also had parts as Barney in the comedy film "Wheelmen", and Dr. Watson Newmark in the mockumentary "The Life Coach".
Rainn gained enormous popularity after being chosen to play Dwight Schrute in the NBC mockumentary sitcom "The Office", stretching from from 2005 to 2013, jointly winning two Screen Actors Guild Awards for Outstanding Performance by an Ensemble in a Comedy Series.
Listen to me: https://t.co/QwgVZata4w

— RainnWilson (@rainnwilson) April 26, 2021
It also earned him three consecutive nominations for a Primetime Emmy Award for Outstanding Supporting Actor in a Comedy Series, and he even directed three episodes.
Continued Success
In 2006, Rainn landed such roles as Angel Gabriel in the horror film "Dominion", and Vaughn Haige in the superhero romantic comedy-drama "My Super Ex-Girlfriend". He then played Larry White in the sci-fi adventure drama "The Last Mimzy", and Rollo in the coming-of-age comedy-drama "Juno", both in 2007. It was followed by his portrayals of Robert 'Fish' Fishman in the 2008 comedy film "The Rocker", and Professor Colan in the 2009 sci-fi action film "Transformers: Revenge Of The Fallen". In the same year, Rainn provided his voice to Gallaxhar in the animated sci-fi comedy film "Monsters Vs. Aliens", and the video game of the same title.
In 2010, he starred in the role of Paul in the dark comedy film "Hesher", alongside Joseph Gordon-Levitt and Natalie Portman, played Joel Meyerwitz in the comedy-drama "Peep World", and featured as Frank Darbo in, plus producing the black comedy film "Super", directed by James Gunn.
Further Work
In 2011, Rainn Wilson took the role of Cousin Don in the crime film "Few Options, All Bad", along with Kenny Johnson. Two years later, he was cast as Adult Ernest in the adventure comedy film "The Stream". He then played Wade in the horror-comedy film "Cooties" and Dr. Po in the made-for-TV comedy film "Annoying Orange: Movie Fruitacular", both in 2014. In the following year, he produced, and was cast as Detective Everett Backstrom in, the Fox crime comedy-drama series "Backstrom", after which he portrayed Castle in the sci-fi film "Uncanny" and starred as William Colby in the thriller film "The Boy", which earned him a Fangoria Chainsaw Award nomination for Best Supporting Actor.
He also produced the YouTube series "Impress Me" in 2015.
In 2016, Rainn Wilson had a part as Agent Simons in the comedy film "Army Of One", opposite Nicolas Cage. He then landed the title role in the drama film "Thom Pain", portrayed Andy Sikes in the neo-noir crime film "Shimmer Lake", and starred as Jim Dixon in the comedy film "Permanent", both in 2017. During the same year, he also lent his voice to Gargamel in the animated reboot of "The Smurfs: The Lost Village".
Recent and Upcoming Projects
Between 2018 and 2019, Rainn Wilson produced The CW's documentary series "My Last Days". In 2018, he featured as Jack Morris in the sci-fi action film "The Meg" and did the voice-over of Lex Luthor in the direct-to-video animated superhero film "The Death Of Superman", which he reprised in "Reign Of The Supermen", "Batman: Hush", and "The Death And Return Of Superman", all in 2019.
Later that year, he also landed the role of Michael in Roger Michell's drama "Blackbird", next to Susan Sarandon and Kate Winslet. Since 2019, he has starred as Dr. Trevor Wells in the CBS sitcom "Mom".
In 2020, Rainn took the role of Hamby in the psychological thriller film "Don't Tell A Soul", played Michael Stearns in the Prime Video sci-fi series "Utopia", and voiced Lex Luthor in another direct-to-video animated superhero film, entitled "Justice League Dark: Apokolips War". The same year, he produced and narrated the Netflix documentary series "We Are The Champions".
Most recently, he created, directed, and starred in the title role of the fictional darkly comedic podcast "Dark Air With Terry Carnation" (2021). It's announced that he will play Daniel Dandon in the upcoming drama series "The Power" and Vic in the upcoming animated film "Robodog", both of which are currently under post-production. He's also working on the animated film "Hitpig".