• Shawn Southwick is an American actress, film producer, and singer, known for being one of the former wives of Larry King.
• She obtained a Bachelor of Arts degree from Brigham Young University in 198•
• Shawn has appeared in 17 TV series and seven movies, and voiced characters in the animated series "Gravity Falls" and "Arthur".
• Shawn exchanged vows with her first husband Daniel Southwick in 1980 and gave birth to their son Danny in 198•
• She married Larry King in 1997 and the couple had two children, Chance Armstrong King and Cannon Edward King, before divorcing in 2019.
Who is Shawn Southwick?
Shawn King (nee Engemann) was born in Studio City, California USA on 5 November 1959 – her zodiac sign is Scorpio and she holds American nationality. She's an actress, film producer and a singer, but who's probably known best for being one of the former wives of Larry King, the late American TV and radio host.
Early life and education
Shawn was raised in Studio City alongside her brothers Paul and Ryan Engemann and her sister Shannon Engemann by their father Karl Engemann who worked at Capitol Records as their chief of artists & repertoire, and their mother Gerri who was a studio singer, and who collaborated with famous artists such as Elvis Presley and Bob Dylan.
Shawn became interested in acting while attending a local elementary school, and in 1973 aged 13, made her debut TV series performance when she voiced a character in the animated adventure comedy "Butch Cassidy".
She was then urged by her parents to focus on her education, and upon matriculating from North Hollywood High School in 1978, Shawn enrolled at Brigham Young University, Utah from which she obtained her Bachelor of Arts degree in 1982.
Roles in TV series
Shawn has been credited with appearing in 17 TV series and seven movies. In 1982, she played both Lonnie and Rita Wilcox in four episodes of the action crime drama "Knight Rider", created by Glen A. Larson and which starred David Hasselhoff, Edward Mulhare and Richard Basehart. It follows a crime-fighter who's catching criminals with the help of his artificially intelligent car; the series won five of the 13 awards for which it was nominated, including a Primetime Emmy nomination.
The following years saw Shawn appear in an episode or two of various series, such as the mystery crime drama "The New Mike Hammer", the action adventure drama "Cover Up" and the action crime drama "Hardcastle and McCormick".
In 1984, she played Doreen in two episodes of the soap opera "Days of Our Lives", and was then invited to make a guest appearance in the episode "Cup A' Joe" of the action crime adventure "The A-Team", and the episode "Christmas Carol II: The Sequel" of the comedy "George Burns Comedy Week". In 1988, Shawn portrayed Suzanne in the episode "Marry Me, Mona" of the romantic family comedy "Who's the Boss", created by Martin Cohan and Blake Hunter, and which starred Tony Danza, Judith Light and Alyssa Milano. It follows a retired baseball player who starts working as a housekeeper for an advertising executive; the series was a hit, winning 19 awards including a Golden Globe, while it was nominated for 30 other awards.
Two of Shawn's most recent roles in TV series have been in the 1990 episode "Goodbye, Mr. Dietz" of the family comedy "Empty Nest", and the 2012 episode "Tonight's Lesson, Respect" of the sport action "WWE Raw".
Roles in movies
Shawn made her debut film appearance in 1984, with her portrayal of Rich Lady in the comedy "Monaco Forever", which failed to attract a lot of attention and received mixed reviews.
In 1991, she was cast to voice Connie in the animated family comedy "Rover Dangerfield" written by Rodney Dangerfield, directed by James L George and Bob Seeley, and which starred Rodney Dangerfield, Susan Boyd and Ronnie Schell. It follows a Las Vegas show dog which gets fired, and then starts working on a farm. The year 1997 saw Shawn play Female Newsreader in the science fiction thriller "Bombshell" and in 2001, she voiced both Queen Camilla and Clarice in the animated adventure comedy "Rudolph the Red-Nosed Reindeer & the Island of Misfit Toys". In 2011, she was cast to play Elisabeth in the family drama "All Kids Count", which failed to attract any attention.
Shawn's most recent movie role has been her portrayal of Nurse Byrnes in the 2015 comedy "Christmas Eve", written and directed by Mitch Davis, and which starred Patrick Stewart, Jon Heder and James Roday Rodriguez. It follows six groups of people stuck in an elevator in a New York building on Christmas Eve.
Shawn's currently shooting as Queen Dalina for the upcoming family movie "Lundon's Bridge and the Three Keys".
Other credits
In 2001, she sang the songs "The Best Christmas Ever" and "Beautiful Like Me" in the movie "Rudolph the Red-Nosed Reindeer & the Island of Misfit Toys".
Shawn has two producing credits: she worked on the 2003 music video "Gotta Love the Holidays", and the 2015 comedy movie "Christmas Eve".
She has been featured in various documentaries and TV specials, such as the 1990 documentary movie "A Salute to Bob Hope", the 1992 TV "The Please Watch the Jon Lovitz Special", and the 2007 documentary film "Larry King's 50th".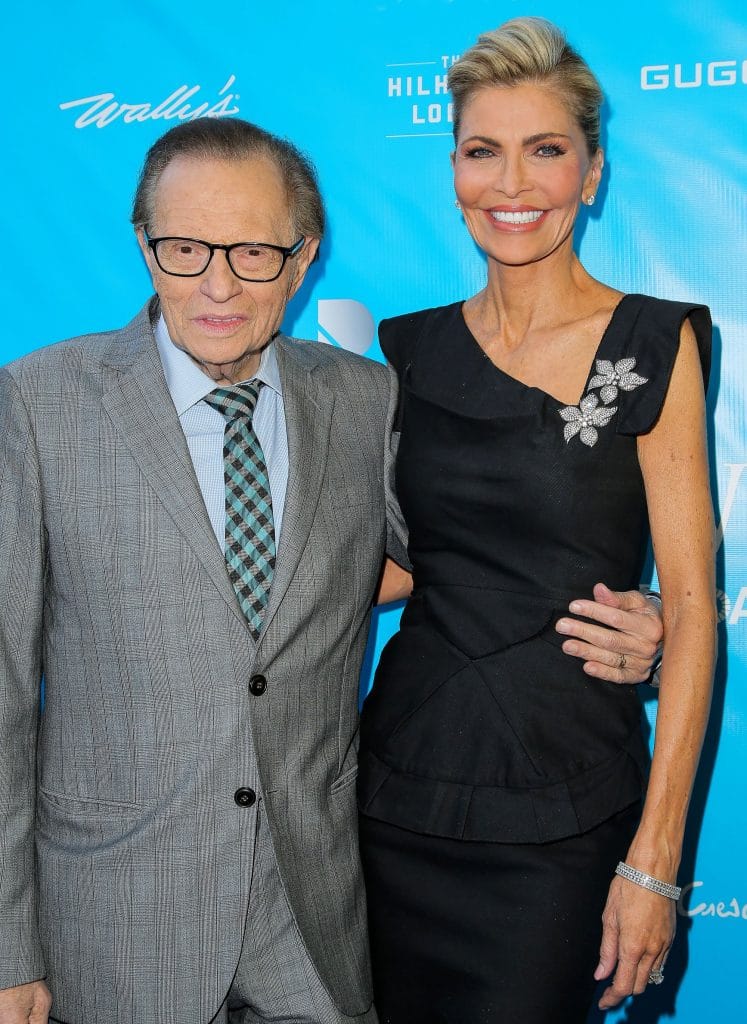 Shawn has made a guest appearance in numerous talk-shows, such as "Jimmy Kimmel Live!", "The Tony Danza Show", and "Extra with Billy Bush".
Love life and marriage with Larry King
On 24 October 1980, Shawn exchanged vows with her first husband Daniel Southwick, and on 28 December 198 gave birth to their son Danny, who's now a retired American Football player. Shawn and Daniel weren't very happy in marriage, and considered divorce on several occasions, before finally going through with it in 1995, exact date undisclosed.
On 5 September 1997, Shawn and Larry King married in a large ceremony attended by their wide circle of friends and family members. On 9 March 1999, Shawn gave birth to their son Chance Armstrong King, and their second son Cannon Edward King followed on 22 May 2000.
Shawn Southwick King confirmed that Larry King, who died Jan. 23 at age 87, was laid to rest in a "beautiful" ceremony on Wednesday morning​ https://t.co/wQxRyj0N37

— Entertainment Weekly (@EW) January 28, 2021
Shawn and Larry faced many problems during their marriage, as Shawn was accused of having cheated on Larry with the celebrity public speaker Richard Greene as well as with Hector Penate who was her son's baseball coach, however, she denied both of these accusations. In return, Shawn accused Larry of having cheated on her with her sister Shannon. It was later reported that Shawn didn't show support to Larry when he struggled with health issues, although she denied these rumors. The two filed for divorce on 14 April 2010, reconciled in July of that year, but officially divorced in September 2019.
Hobbies and other interests
Shawn loves being in nature, and has uploaded numerous pictures onto her Instagram account which have been taken from various attractive natural locations including from high up in the mountains and deep into the woods.
She's passionate about travelling, and has been all around the US for both work and pleasure, also to various European and Asian countries.
She's a lover of 'animals' with snakes being her favorite, but doesn't have any pets as she believes she'd lack time to take proper care of them.
Shawn's even today physically active, and has several training sessions at the gym each week.
In her spare time, she enjoys watching movies starring her favorite actor and actress Leonardo DiCaprio and Scarlett Johansson, such as "Inception", "Catch Me If You Can" and "Lost in Translation".
Age, height and net worth
Shawn's age is 61. She has long blonde hair and blue eyes, her height is 5ft 11ins (1.8m) and she weighs around 150lbs (68kgs).
As of April 2021, her net worth has been estimated at over $2 million, apparently being left nothing in Larry King's will – Larry's net worth at the time of his death was reputedly over $144 million, allegedly split between his three surviving children.
Who was Larry King?
Lawrence Harvey 'Larry' Zeiger was born in Brooklyn, New York USA, on 19 November 1933 – his zodiac sign was Scorpio and he held American nationality. He's still remembered for his talk-show "Larry King Now" which he hosted from 2012 to 2020; he won ten Cable ACE Awards, an Emmy Award and two Peabody Awards during his career.
Larry was raised in Brooklyn alongside his brother Marty Zieger by their father Aaron Zeiger who owned a restaurant, and their mother Jennie who was a garment worker.
He studied at Lafayette High School, but when he was nine, his father died from a heart attack. Upon matriculating in 1951, Larry chose not to enroll at a college but to find work and help his mother financially.
Larry travelled to Miami in Florida after hearing that radio stations were hiring inexperienced broadcasters, and he was hired at WAHR where he performed various tasks. He was put on air after a station's announcer suddenly quit ,and just minutes before he was about to go on air for the first time, the station's general manager chose 'Larry King' as his professional name, which Larry legally adopted two years later. He then joined the news talk radio station WIOD, and in January 1978 launched his radio talk-show "The Larry King Show" which aired until May 1994. In June 1985, Larry began hosting "Larry King Live" on CNN, and it aired until 2010.
He was also a bit of an actor having voiced characters in the animated series "Gravity Falls" and "Arthur", while he also played supporting roles in the series "30 Rock", and the movies "Ghostbusters" and "Bee Movie".
After Larry suffered his first heart attack in 1987, he launched the Larry King Cardiac Foundation which paid for cardiac procedures for people who weren't able to afford it. The attack nearly cost him his life and he then wrote his two books – "Mr. King, You're Having a Heart Attack: How a Heart Attack and Bypass Surgery Changed My Life", and "Taking On Heart Disease: Famous Personalities Recall How They Triumphed over the Nation's #1 Killer and How You Can, Too". In March 2019, Larry suffered a stroke and was in a coma for several weeks, while he then contemplated suicide.
On 2 January 2021, it was revealed that Larry had already been ia hospital for 10 days after he tested positive to the coronavirus, and on 23 January 2021 he passed away aged 87.
Larry was married seven times before meeting Shawn. He married Freda Miller in 1952 and divorced her a year later, in 1961 he both married and divorced Annette Kaye, and the same year married Alene Akins whom he divorced in 1963. Later that year he married Mickey Sutphin whom he divorced in 1967, and the same year married Alene Akins once again, but divorced her five years later. From 1976 to 1983 he was married to Sharon Lepore, and from 1989 to 1992, to Julie Alexander. He had five children from these marriages.