• Mike Tirico is an American sportscaster born in New York City in 1966.
• He attended Bayside High School and Syracuse University's S.I. Newhouse School of Public Communications.
• He started his career in 1987 and is currently working for NBC Sports.
• Mike is married to Debbie Tirico and they have two children together.
• He has an estimated net worth of over $14 million.
Who is Mike Tirico?
American sportscaster Mike Tirico was born under the zodiac sign of Sagittarius in New York City USA, on 13 December 1966. He's probably known best for his coverage of National Football League (NFL) for American commercial broadcast TV and radio network National Broadcasting Company (NBC); Mike's just recently begun working as a play-by-play announcer in the show "Sunday Night Football", having replaced American TV sportscaster Alan Richard 'Al' Michaels following his retirement in 2022.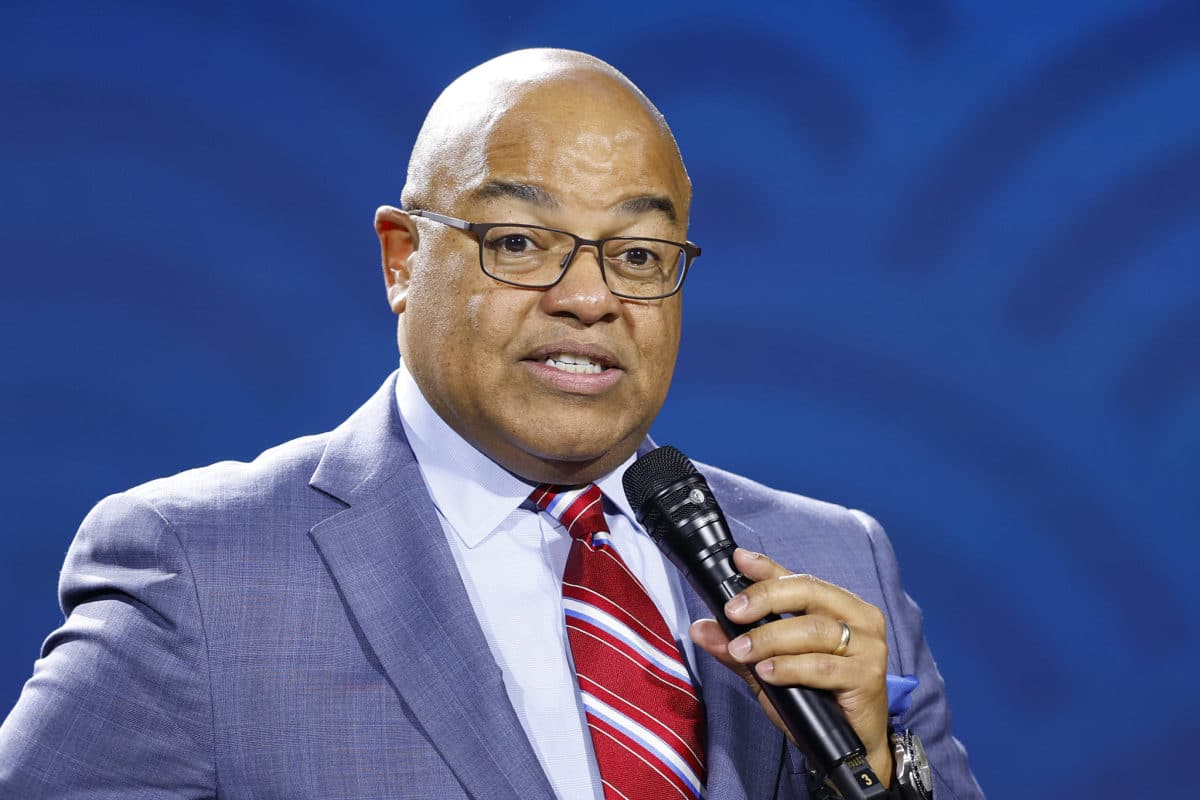 Education and early life
Mike was raised in New York City by his African-American father Donald and Italian-American mother Maria; the two split when he was four years old, and Mike was then raised solely by his mother. He's revealed that he had problems with his identity while growing up, not knowing whether he was white or black.
Mike and Maria lived in the New York City's borough of Queens, and he studied at Bayside High School; he was mostly interested in sports during his four years there, excelling in football and baseball. Upon matriculating in 1985, Mike enrolled at Syracuse University's S. I. Newhouse School of Public Communications, graduating with a Bachelor's degree in 1988; he was the first person to be awarded the Robert Costas scholarship.
Career as a journalist
Mike launched his career in 1987, when he joined the CBS affiliate TV station WTHV, licensed to Syracuse, New York State; he was promoted to sports director following his two years there, while he then quit two years later.
Mike began attracting attention in 1991, when he was hired by ESPN and became a co-anchor of their daily sports news TV program "SportsCenter"; he quickly built himself a fanbase thanks to his versatility and ability to handle various assignments, and he became the first host on the multi-national digital cable and satellite TV network ESPNews. From 1997 through 2005, he covered college football as a play-by-play Thursday night announcer, as well as college basketball from 1997 through 2002. Mike also covered National Basketball Association (NBA) from 2002 through 2016, and golf from 1997 through 2015. He was occasionally seen hosting sports related shows from ESPN studios, including "Monday Night Countdown", while he's today also known for having co-anchored the FIFA World Cup soccer coverage in 2010 and 2014, as well as the 2016 UEFA Euro soccer.
It was announced on 9 May 2016 by NBC Sports that Mike would be joining their team, and he signed a contract on 1 July, having officially quit ESPN a day earlier following the end of the 2016 UEFA Euro. His first TV appearance for NBC was serving as a play-by-play announcer for the 2016 Open Championship on their Golf Channel; he then became a Thursday and Friday studio host.
Mike reported from Rio de Janeiro, Brazil during the 2016 Summer Olympics, and the "Sports Illustrated" journalist Richard Deitsch then noted that Mike might succeed American sportscaster Bob Costas who was about to retire from his position as the NBC Olympics primetime host.
The year 2016 saw Mike serve as a play-by-play announcer in the show "Thursday Night Football", and he went on to cover three Notre Dame college football games; in November of the same year, it was revealed that Mike would be a play-by-play announcer in the show "Sunday Night Football.
After Bob Costas revealed that he was retiring on 9 February 2017, he also revealed that Mike would be taking his position, and would be covering the 2018 Winter Olympics; he also replaced Bob as a studio host in the show "Football Night in America". On 31 May 2017, it was announced that Mike would be replacing sportscaster Al Michaels, becoming the lead play-by-play announcer for "Thursday Night Football".
He covered his first National Hockey League (NHL) game for "Wednesday Night Hockey" on 20 February 2019, played between the Detroit Red Wings and Chicago Blackhawks; Mike was praised for his performance. The year 2020 saw him take over Al Michaels' responsibilities in the show "Sunday Night Football", but then missed a lot of work in 2020 and 2021 due to the COVID-19 pandemic restrictions.
Most recently, In 2022, Mike covered both Super Bowl LVI and the Winter Olympics.
Radio
Mike's also hosted a couple of radio shows, with his debut having been on the Syracuse's WAER station; his first guest was above mentioned sportscaster Bob Costas. He began hosting his own "The Mike Tirico Show" on ESPN Radio on 20 September 2007, but revealed two years later that he would be leaving, wanting to focus more on TV.
Awards
The S. I. Newhouse School of Public Communications presented Mike with a Marty Glickman Award for Leadership in Sports Media in 2017.
Love life and wife
Mike doesn't usually talk about his love life in public, but has recently opened up about his marriage with American non-celebrity Debbie Tirico. The two met while they were both attending Syracuse Universe, at which Debbie was a successful athlete and captain of the Syracuse's women's basketball team; she graduated with a Bachelor's degree in finance, and then with a Master of Business Administration degree from the Stern School of Business.
Neither has spoken about the exact date of their wedding, but it's widely believed that Mike and Debbie exchanged vows either in 1991 or 1992. They have two children together: son Jordan Tirico and daughter Cammi Tirico.
Mike hasn't spoken of other women whom he's been with – he's married to Debbie Tirico as of December 2022, and they have two children together.
Interesting facts and hobbies
There are more than 20,000 people following Mike on Instagram today, and he's uploaded over 150 pictures and videos onto the social media network, most of which features him working. He's more popular on Twitter, on which he keeps his fans updated with all of the latest NFL news – Mike's followed by nearly 550,000 people, and has tweeted over 4,600 times.
Mike's passionate about travelling, and his career's made it possible for him to travel all around the world; his favorite city to visit is Sydney, Australia.
He's a philanthropist, and Mike's donated money to a couple of dog shelters, and charity organizations working with children.
His favorite actors are Tim Robbins and Russell Crowe, and some of Mike's favorite movies are "Top Gun", "The Shawshank Redemption", and "Dark Waters".
Height, eyes and wealth
Mike's age is 56. He has brown eyes and is bald, he's 5ft 5ins (1.66m) tall and weighs about 170lbs (77kgs).
Mike's net worth's been estimated at over $14 million, as of December 2022.