Who is Alba August?
Alba Adele August was born in Copenhagen, Denmark, on 6 June 1993 – her zodiac sign is Gemini and she holds Danish nationality. She is an actress and a singer-songwriter, who might be known best for her portrayal of the lead character Astrid in the 2018 biographical drama "Becoming Astrid" written and directed by Pernille Fischer Christensen, and which also starred Maria Bonnevie and Trine Dyrholm – it follows the life of the Swedish children's books writer Astrid Lindgren, who is known for having written the book "Pippi Longstocking".
Childhood and education
Alba was raised alongside her older sister Asta August in Copenhagen by their father Bille August who is a popular Danish director and screenwriter, and their Swedish mother Pernilla August who is an actress and film director.
With the help of her father, Alba began her acting career aged eight when she appeared in the 2001 romantic musical film "A Song for Martin" written and directed by her father, and which starred Sven Wollter, Viveka Seldahl and Reine Brynolfsson – it follows the composer Martin and the concertmaster Barbara who both divorce their partners to be together.
After this role, Alba focused on her education, and wasn't involved in any movies and series in the following nine years. She attended a local high school from which she matriculated in 2011, and after a three-year break, enrolled at the National School of Performing Arts in Copenhagen, from which she graduated with a Bachelor of Arts degree in 2018.
Roles in movies
In 2010, Alba made her voicing debut in the drama "Beyond", written and directed by her mother, and which follows a young woman being raised in an abusive family of alcoholics – the film was a big success and won 11 awards, while it was nominated for 11 others.
Just wanna say #BecomingAstrid it's been a surprise for me. It's a GREAT movie and #AlbaAugust it's an awesome actress pic.twitter.com/wyzUPhlrSj

— Paula Génova MV (@PaulaGMV) April 3, 2019
In 2012, Alba starred as an actress in the short drama "Fodelsedagsfesten" directed by Simon Elvas, and the following year saw her portray Selinda in the mystery drama "Fortroligheten" which failed to attract a lot of attention. The same year, Alba played Agnes, one of the lead characters in the drama "IRL (In Real Life)", and then starred in the 2014 short dramas "Vi Maste Prata" and "Sometimes I Wish".
In 2015, she played Kjersti in the musical drama "Dryads – Girls Don't Cry", written and directed by Sten Hellevig, and which starred Thea Sofie Loch Næss, Alba and Iben Akerlie – it follows the life of Hilde after the band The Dryads move in next door. The year 2016 saw Alba play supporting roles in three films: the short science fiction drama "The Nation", the romantic drama "A Serious Game", and the short romantic drama "Fanny".
In 2018, she starred as Sara in the short drama "Scenes from the Nigh", and as Elise in the short thriller "Uro", followed in 2019 by her portrayal of Jenny Kuttim in the crime thriller "Quick". Alba's most recent appearance in a movie has been in the 2020 drama "Orca", written and directed by Josephine Bornebusch, and which starred Johan Rheborg, Marie Goranzon and Gustav Lindh. The film follows the lives of various people during the COVID-19 pandemic.
She has recently been cast to play Laura in the upcoming drama "Tusind Timer".
Roles in TV series
Alba made her debut TV series appearance in 2013, when she played Lina in three episodes of the romantic crime drama "The Sandhamn Murders", and she then appeared in a single 2014 episode of the drama "The Legacy".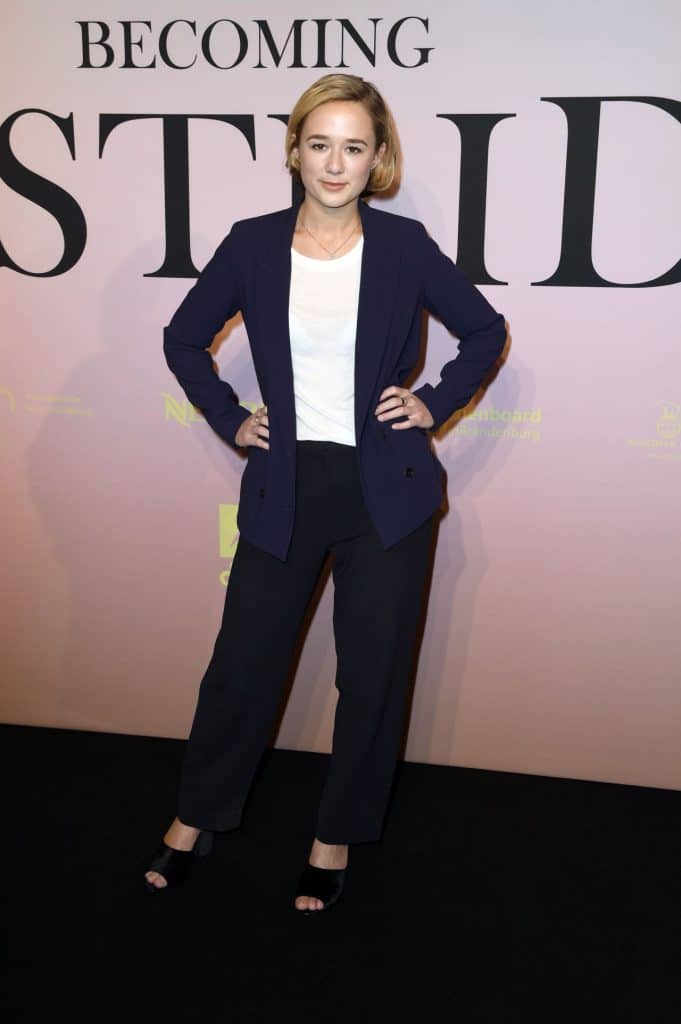 In 2015, she appeared in three episodes of the critically acclaimed fantasy crime drama "Jordskott", created by Henrik Bjorn, and which starred Moa Gammel, Goran Ragnerstam and Richard Forsgren – the series follows a detective who comes back to her hometown seven years after her daughter mysteriously disappeared. The same year saw Alba play Lisalotta in a single episode of the comedy mini-series "Mens vi Presser Citronen", and in 2017 she starred as Marie in eight episodes of the thriller drama "Gidseltagnignen", which is about a man holding 15 people as hostages in a subway train.
Alba's most recent role in a TV series as well as her most notable performance has been in the science fiction thriller "The Rain", created by Jannik Tai Mosholt and Christian Potalivo, and which also starred Lucas Lynggaard Tonnesen and Mikkel Boe Folsgaard – the series follows a virus which has killed the majority of people on Earth, while it is centered on the lives of two siblings trying to save themselves from it. It aired from 2018 to 2020.
Awards and accolades
Alba has been nominated for six awards, and won the 2018 European Film Promotion (EFP) Shooting Star Award at the Berlin International Film Festival.
In 2018, she was nominated for a Robert Award for Best Supporting Actress – TV Series for "Gidseltagningen", and the following year saw her nominated for a Zulu Award for Best Actor for "The Rain", a Robert Award for Best Actress – TV Series for "The Rain", and a Guldbagge Award for Best Actress for "Becoming Astrid".
In 2020, Alba was nominated again for both a Robert Award for Best Actress – TV Series for "The Rain", and for a Guldbagge Award for Best Supporting Actress for "Quick".
Love life and boyfriend
Alba is very secretive when it comes to her love life, and hasn't talked about any men she might have dated, however, there are rumors circulating the internet that she might be dating a mysterious man who can be seen featured in one of her Instagram pictures.
The picture in question was uploaded in September 2020, and many of Alba's fans have asked her whether the man is her boyfriend, however, Alba hasn't responded, so it's still unclear whether or not the two are in a relationship. There are also some people who believe Alba to be a lesbian, mostly because she hasn't talked about hany past and present affairs.
As she hasn't commented on any of the rumors, Alba is single as of December 2020, hasn't married and doesn't have children.
Hobbies and other interests
Alba has been interested in music since a very early age, but has just recently on 30 July 2020 released her debut single, "We're Not Gonna Make It" – the song has been featured in the series "The Rain", and has been listened to around 15,000 times on YouTube (channel The Soundtrack Dealer).
Alba is interested in various kinds of art, especially photography and painting, and has been to various museums and exhibitions held around Europe – she has uploaded many of the photos taken by her onto her Instagram account.
She is interested in modelling, and has done a couple of photoshoots.
In her spare time, Alba is keen on watching movies, and her favorite actor and actress are Tom Cruise and Angelina Jolie, while a couple of her favorite movies are "Top Gun", "The Last Samurai" and "Mr. and Mrs Smith".
How old is she?
Alba is 27 years old. She has long blonde hair and brown eyes, her height is 5ft 5ins (1.65m) and she weighs around 130lbs (58kgs).
As of December 2020, her net worth has been estimated at over $300,000.