• Fiona Victoria Gubelmann is an American actress, born in Santa Monica, California in 1980.
• She is best known for her portrayal of the lead character Jenna in the mystery comedy series "Wilfred".
• She has appeared in around 70 movies and TV series, and has voiced a character in the animated comedy "Family Guy".
• She is married to fellow actor Alex Weed, and the two don't have any children.
• As of February 2021, Fiona's net worth is estimated to be over $1.5 million.
Who is Fiona Gubelmann?
Fiona Victoria Gubelmann was born in Santa Monica, California USA, on 30 March 1980 – her zodiac sign is Aries and she holds American nationality. She is an actress, who is perhaps known best for her portrayal of one of the lead characters Jenna in the mystery comedy series "Wilfred", which also starred Elijah Wood and Jason Gann, and follows a depressed man who sees the neighbor's dog as a man wearing a dog suit. The series aired from 2011 to 2014, and won two out of the four awards it was nominated for.
Early life and education
Fiona was raised alongside her brother Alex in Santa Monica by their father Stephen and their mother Victoria, however, not a lot is known about her family as they prefer to stay away from the media's attention.
She was four years old when she became interested in acting, and appeared in the play "The Cabbage Patch Kids". Fiona then went on to attend various summer drama camps, and to appear in plays performed at a local theatre. She studied at Torrey Pines High School, and upon matriculating in 1998 enrolled at the University of California, Los Angeles, hoping to obtain a pre-medical degree, however, Fiona soon changed her major to theatre and graduated with a Bachelor of Arts degree in 2002, then enrolled at the Beverly Hills Playhouse to improve her acting skills.
Roles in TV series
Fiona has been credited with appearing in around 70 movies and TV series, and we are about to mention some of her most notable performances in this article.
She made her debut TV series appearance in the 2003 episode "Airway to Heaven" of the comedy "The Mullets", while the following years saw her make guest appearances in an episode of various series, such as the mystery crime drama "Cold Case", the drama "The Mountain" and the comedy "My Name Is Earl". In 2008, she was cast to portray the supporting character ShmappleBapp's Hostess in the "Comedy Gumbo", while the year 2011 saw her play another supporting character, Sandy in the comedy "Parenthood" which starred Peter Krause, Lauren Graham and Dax Shepard, and follows the lives of the Braverman family. The series won 15 awards and was nominated for 39 others, including a Golden Globe.
Fiona went on to appear in an episode or two of various series, such as the comedy "How to Be a Gentleman", another comedy "Save the Supers", and the mystery crime drama "Criminal Minds". She then made her voicing debut when she lent her voice to Lois' New Friend in the episode "Lois Comes Out of Her Shell" of the hit animated comedy "Family Guy". The year 2013 saw her play the supporting character Sara in the comedy "We Are Men", and her following notable performance was in 2016 when she starred as Nina in four episodes of the comedy "Sing It!" 2017 saw Fiona play Lori in the critically acclaimed comedy "One Day at a Time", which starred Justina Machado, Todd Grinnell and Isabella Gomez, and follows three generations of a Cuban-American family living together under the same roof.
The series won 10 awards including two Primetime Emmys, and was nominated for 42 other awards.
Fiona's most recent role in a TV series has been her portrayal of Dr. Morgan Reznick, one of the lead characters in the drama "The Good Doctor", created by David Shore and which also stars Freddie Highmore, Antonia Thomas and Hill Harper. It has been airing since 2017, and follows a young surgeon Shaun Murphy who is suffering from both Savant syndrome and autism, and is now working at a prestigious hospital. The series has won two and has been nominated for 17 other awards, including a Golden Globe.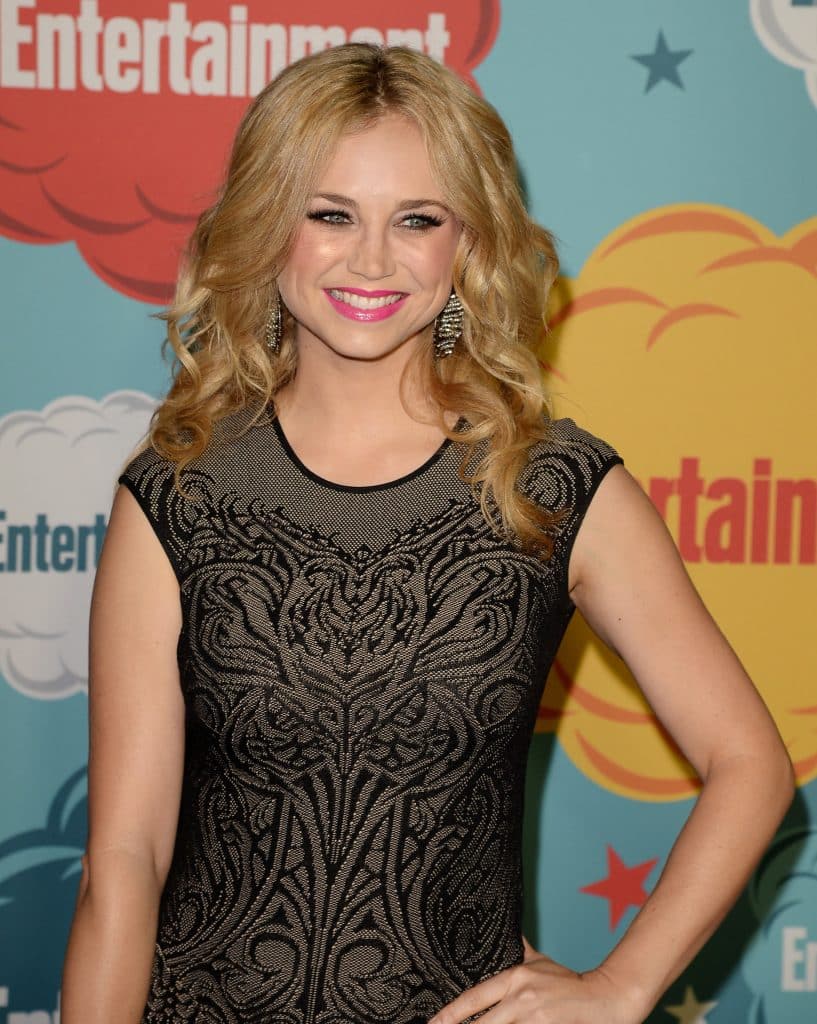 Roles in movies
Fiona made her debut film appearance with her portrayal of Amber in the 2004 comedy "Employee of the Month", and in 2007 she played the Woodland Fairy in the sports comedy "Blades of Glory", which starred Will Ferrell, Jon Heder and Amy Poehler, and follows two Olympic ice skaters who were banned from competing because of their rivalry, however, they have now learnt that they can compete again, but only as a team. The movie won three out of the 13 awards it was nominated for.
Her following notable performance was in the 2014 fantasy mystery horror "Don't Blink", written and directed by Travis Oates, and in which she starred alongside Mena Suvari and Joanne Kelly in the movie following 10 people stranded at an abandoned mountain cabin.
Fiona played the lead character Rose Newell in the 2016 romantic drama "Tulips in Spring", which also starred Lucas Bryant and Kelly Rowan in the story of  an interior designer who returns home to her family's tulip farm after her father suffered an injury. The movie won David Winning and Johnson Entertainment a Gold Remi Award for Best Directing.
Three of Fiona's most recent roles in movies have been in the 2018 comedy "Royally Ever After", in which she starred alongside Torrance Coombs, the 2019 comedy "The Way We Weren't" in which she also portrayed the lead character, and the 2020 romantic comedy "Easter Under Wraps", written and directed by Gary Yates, and which also starred Brendan Penny and Fred Henderson.
Other credits
Fiona has appeared in two TV specials: "The 26th Annual Genesis Awards" and "Comic Con 2012 Live", both in 2012. She has also appeared in various talk-shows, such as "The Daily Habit", "The Late Late Show with Craig Ferguson", and "Home & Family".
Love life and spouse
Fiona met her future other half Alex Weed while attending the University of California, Los Angeles. The two dated for several years before exchanging vows in a private ceremony attended by only a couple of their closest friends and family members, however, being as secretive as they are, neither of the two has disclosed the exact date of their wedding.
Alexander Wilding 'Alex' Weed was born in Menlo Park, California USA, on 11 May 1980 – his zodiac sign is Taurus and he holds American nationality.
He is also an actor who is probably known best for his portrayal of Dusty in the 2019 crime comedy movie "iZombie", which follows a woman who learns that she's a zombie, and then starts using this to help the police. The movie won seven awards out of the 28 it was nominated for.
Fiona hasn't spoken about any other men she has perhaps been with, so as of February 2021, she is married to Alex Weed – they don't have children.
Hobbies and other interests
Fiona is a huge animal lover with cats being her favorites, however, she has no pets because she lacks time to take proper care of them.
She is more concerned about her mental than physical health, and thus meditates and does yoga nearly every day.
Yes, this sundae was as delicious as it looks. And @cocobellacreamery has amazing wallpaper with #unicorns and #cats 🐱🦄🍦 #vegan #glutenfreehttp://www.whosay.com/l/ctOcaaV

Posted by Fiona Gubelmann on Monday, May 22, 2017
Winter is her favorite season as she loves snow, while she also likes summer as she enjoys sun tanning at the beach and swimming in the ocean.
She is a huge fan of the comedian and actor Bill Murray, and has described him as 'a great example of an actor who is funny'. A couple of Fiona's favorite movies are "Groundhog Day", "Scrooged" and "Lost in Translation". She also watches a lot of TV, and some of her favorite shows are "Game of Thrones", "The Marvelous Mrs Maisel" and "Schitt's Creek".
Age, measurements and net worth
Fiona's age is 40. She has long blonde hair and blue eyes, her height is 5ft 6ins (1.68m) and she weighs around 130lbs (59kgs).
As of February 2021, her net worth has been estimated at over $1.5 million.