• Debbe Dunning is a 54-year-old actress and model from Burbank, California.
• She is best known for her role as the "Tool Time" girl in the ABC sitcom "Home Improvement" from 1992 to 1999.
• Her net worth is estimated to be over $4 million.
• She has had modelling and acting roles in various films, TV shows, and commercials.
• She is married to Steve Timmons, with whom she has three children.
Who is Debbe Dunning?
Debra Lynn 'Debbe' Dunning was born on 11 July 1966 under the sign of Cancer, in Burbank, California USA. She is a 54-year-old actress, Perhaps still best recognized for landing the role of the "Tool Time" girl Heidi Keppert in the ABC sitcom "Home Improvement" from 1992 to 1999. Besides that, she is known for being a fashion model, who has been featured in a number of television commercials, and who hosted of her own show, "Debbe Dunning's Dude Ranch Round-Up".
How rich is she, as of now? Debbe Dunning Net Worth
As of late 2020, Debbe Dunning's net worth is estimated at over $4 million, acquired through her successful involvement in the world of acting and as a model.
Early Life, Parents, Nationality, Ethnicity, Education
Debbe Dunning spent her early years in her hometown of Burbank, raised by her father, Bob Dunning, who worked as a sound technician, and her mother, Diane Dunning, an owner of a pet store. She holds American nationality and belongs to the White Caucasian ethnic group. Regarding her education, Debbe went to John Borroughs High School and while in there, she was a cheerleader. Moreover, Debbe was named the school's Homecoming Queen, after which she was crowned the Miss Burbank 1984, so developing her interest in acting and modeling at a very young age.
Modeling Career
In the same year, she appeared in two contests as a bikini model, and won both of them, which encouraged her to start pursuing a career in the same field.
Upon matriculation, Debbe signed with the Judith Fontaine Modeling & Talent Agency, based in Los Angeles, California, and shortly afterwards began appearing in a number of advertisements for Miller Beer, and then made her TV commercial debut for Foot Locker, after which she did advertisements for Ford Motors. In no time, Debbie got a chance to appear as the "Run for the Border Girl" Louise in a series of Taco Bell commercials, which gained her enormous popularity. Thanks to her successful modeling career, she would later feature in her own calendar in 1996.
Debut as an Actress
Debbe's successful modeling career opened the door to many new opportunities, especially in the world of acting. In 1988, she made her debut film appearance in a small role in David Lewis' comedy "Dangerous Curves", followed by her guest-starring role of Heidi Keppert in the ABC prime time series "TGIF" in 1989.
Thereafter, she made such guest-starring appearances as a woman in bikini in an episode of the ABC sitcom "Who's The Boss?", and as Lydia Pinsky in an episode of the HBO sitcom "Dream On", both in 1990. Between 1990 and 1991, Debbe Dunning guest-starred in two episodes of the Fox sitcom "Married… with Children", followed by her guest-starring roles of Lauren in the Fox series "Charlie Hoover" (1991), and Debbie in another Fox series, entitled "Vinnie & Bobbie" (1992).
Big Break and "Home Improvement"
After all these minor roles, Debbe also made a brief appearance as the "Tool Time" girl Heidi Keppert in the second season of the hit ABC sitcom "Home Improvement" in 1992. Following the departure of Pamela Anderson, Debbie was chosen to return as a full-time cast member to replace her for the third season in 1993, and ultimately stayed 'til the end of the show in 1999.
Since "Home Improvement" was one of the top viewed shows at the time, Debbe's career skyrocketed, starring in the show alongside such actors as Tim Allen, Earl Hindman, Jonathan Taylor Thomas, and Patricia Richardson to name a few.
Other Roles in the 1990s
Side by side with filming "Home Improvement", Debbe Dunning continued to pursue other acting roles. In 1994, she played Jolene in an episode of the Syndication series "Renegade", and guest-starred as Aubrey Scott in an episode of the HBO horror anthology series "Tales From The Crypt". In the following year, she landed such minor roles as Anna Campbell in the NBC action drama series "Baywatch", Wendy Miller in the ABC detective series "Burke's Law", and a construction worker in an episode of the educational series "The Eddie Files".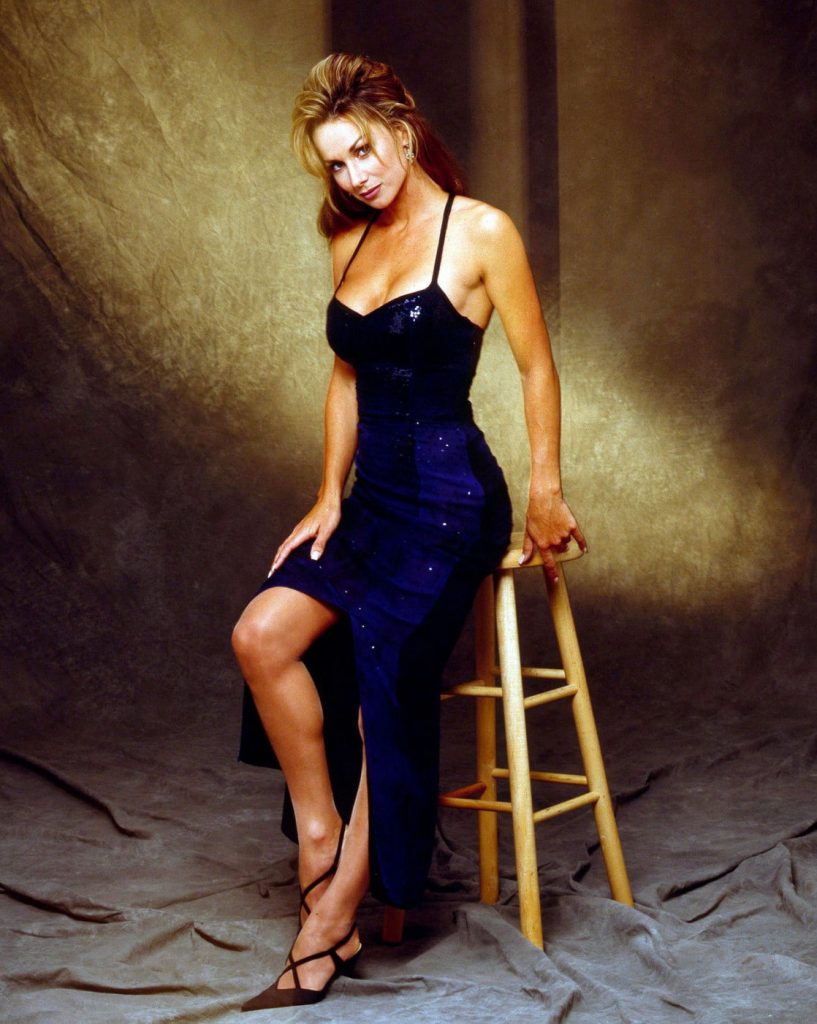 At the time, she also portrayed Ima Barrister, the Public Defender in the comedy film "The Misery Brothers", directed by Lorenzo Doumani.
Between 1994 and 1996, Debbe appeared as Amanda Summers Burke/Marta in two episodes of the CBS crime-drama series "Silk Stalkings". By the end of the decade, the attractive actress had also guest-starred as Alexandra in the episode "The Happiest Show on Earth" of the ABC sitcom "Boy Meets World" in 1996. She then played Pvt. Delores Costello in the fourth installment of the sci-fi black comedy film series "Leprechaun", entitled "Leprechaun 4: In Space" (1997), portrayed herself in The WB's sitcom "The Jamie Foxx Show" (1999), and featured as Danielle in James Head's 2000 television remake of the 1946 film "The Spiral Staircase".
Roles in the 2000s
In 2002, Debbe landed the role of Veronique in the episode "I, Busybody" of the hit ABC sitcom "Sabrina the Teenage Witch", created by Nell Scovell. Following her portrayal of Sun Goddess in Jeff Anderson's comedy film "Now You Know" in the same year, Debbe became inactive in the search for other projects. Her next role came in 2006, when she was chosen to play Hope Lorca in the limited-run telenovela "Wicked Wicked Games", aired on MyNetworkTV's until 2007. Since then, she hasn't appeared in any film or TV title.
Career as a Host
Apart from her careers as an actress and model, Debbe is also known for being a host. Between 1998 and 1999, she served as a panelist in the NBC game show "Hollywood Squares", after which she was presented in the TV special "The 13th Annual Genesis Awards".
Most recently, Debbe served as a host in her own rural television show, entitled "Debbe Dunning's Dude Ranch Round-Up", broadcast on DirecTV's The Cowboy Channel from 2017 to 2018.
Other Ventures
In 1989, Debbe Dunning competed in the syndicated show "American Gladiator All Star Network Challenge", which follows amateur athletes competing against each other, and the show's gladiators. She even won the title, and held it for two consecutive years. Besides that, Debbe tried herself as an animator, working on the 1997 animated television short special, "Santa VS. The Snowman," written and directed by John A. Davis.
Appearance and Vital Statistics
The "Home Improvement" actress has long dark brown hair and hazel eyes. She stands at a height of 5ft 8ins (1.73m), while her weight is around 140lbs (65kgs). Her vital statistics are 37-25-36 – her bra, dress and shoe size aren't available.
Personal Life and Hobbies
The beautiful actress tied the knot with her longtime boyfriend Steve Timmons on 11 May 1997. He is known for being an American former professional volleyball player.
They have three children together. Debbe gave birth to their first child, a daughter named Spencer Schae Timmons, in 1996. The interesting fact is that her pregnancy with Spencer was written into the sixth season of "Home Improvement". In 2000, the former spouses welcomed their second child, a son named Stony Timmons, while their third child and second son named Sysco Timmons was born in 2008. The two decided to part their ways, and divorceD in May 2018.
In her spare time, Debbe enjoys kayaking, skating, skiing, playing golf, and horseback riding.