• Kimberley Conrad is an American model and actress, best known for her marriage to Hugh Hefner, the late founder and editor of the adult magazine "Playboy".
• She became Playmate of the Month in January 1988 and Playmate of the Year in 1989.
• Kimberley and Hugh married in 1989, and had two sons before divorcing in 2010.
• She is a fashion enthusiast, enjoys traveling, listening to pop music, and watching movies.
• Her net worth is estimated at over $2 million.
Who is Kimberley Conrad?
Kimberley Conrad was born in Moulton, Alabama USA, on 6 August 1962 – her zodiac sign is Leo and she holds American nationality. She is a model and an actress, but who might be known best for being the ex-wife of Hugh Hefner, the late founder and editor of the adult magazine "Playboy".
Early life and education
Kimberley was raised alongside her siblings in Moulton by their parents, but hasn't shared many details concerning her family, except that they moved to Reno in Nevada when Kimberley was four years old, and when she was 12, the family moved to Vancouver in British Columbia, Canada.
Kimberley went on to attend a local high school in Vancouver at which she became interested in various things including dancing, singing and acting, while dreaming about becoming a model. Well, the dream came true, as she was noticed by a modelling scout when she was 17, and thus signed her first contract with John Casablancas Elite Model Management. Upon matriculating in 1980, Kimberley chose not to enroll at a college, but to focus on her modelling career.
Career as a model and an actress
Kimberley moved back to the US after her career was launched, and after posing for various brands and companies over the course of eight years, she was convinced by Ken Honey, a photographer, to pose for the magazine "Playboy".
In January 1988, Kimberley became the Playmate of the Month, while the following year saw her become Playmate of the Year. She again found herself on the cover of Playboy's issue "Playmate of the Year" in 2017, aged 55.
Kimberley is also a bit of an actress, having made her debut TV series appearance in 1989 when cast to play a waitress in the episode "Decline and Fall" of the romantic drama "Falcon Crest", created by Earl Hamner Jr., and which starred Jane Wyman, Lorenzo Lamas and Chao Li Chi. It follows the internal conflicts of the family Gioberti, who own the Falcon Crest Winery, and the series was a big success, winning eight awards including a Golden Globe, while it was nominated for 47 other awards.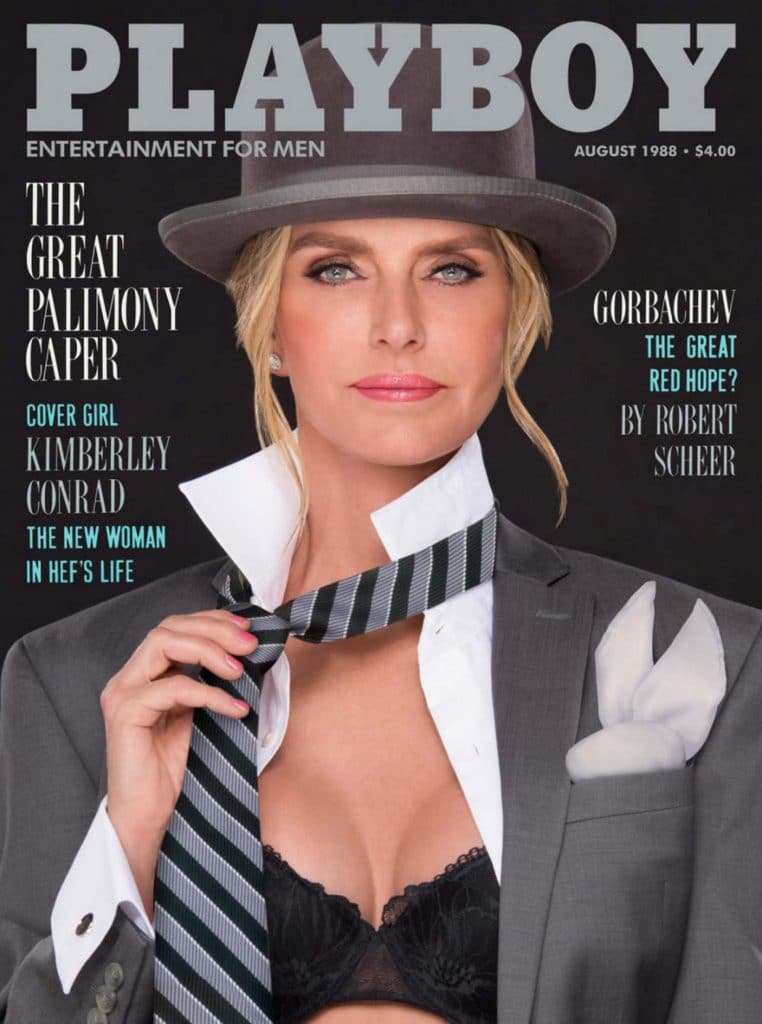 Kimberley's only other appearance was in the 1989 episode "It's a Dog's Life" of the fantasy drama "Highway to Heaven", created by Michael Landon who also starred in it alongside Victor French and James Troesh. The series follows an angel working with a former police officer to better the lives of people, and it won three awards while it was nominated for 20 others, including seven Primetime Emmys.
Kimberley has also appeared in many TV shows and documentary films, such as "Playboy Video Playmate Calendar 1990", "The Howard Stern Show" and "E! True Hollywood Story".
Love life and marriage with Hugh Hefner
Kimberley married Hugh Hefner in 1989, after the two had known each for around a year.
She gave birth to their first son, Marston Glenn Hefner on 9 April 1990, while their second son Cooper Bradford Hefner followed on 4 September 1991. In 1998, Kimberley and Hugh separated, but their divorce wasn't finalized until 2010. Kimberley claimed that the reason behind their divorce was Hugh cheating on her, although he denied these accusations.
Before Kimberley, Hugh was married to Mildred 'Millie' Williams whom he met while she was attending Northwestern University. They married in 1949 and she gave birth to their daughter Christie and son David in 1952 and 1955, respectively. In 1959, the two's divorce was finalized, after which Hugh dated many women, reputedly up to seven at the same time. In January 2009, he began dating the model Crystal Harris and they became engaged but called it off in June 2011, although they eventually married on 31 December 2012.
Kimberley hasn't talked about any men she might have been with since her divorce, so as of January 2021, she is single, was once married to Hugh Hefner, and has two sons.
Hobbies and other interests
Kimberley has been interested in the fashion industry since she was a teenager, and Hugh helped her work with various famous companies in designing their clothes. She is also a bit of a shopaholic, as she goes shopping for clothes nearly every day.
Kimberley likes to travel, and her career has taken her to nearly all US states, while she has also vacationed in various European countries with her dream travel destination being Paris in France. She has also been to a couple of Asian countries.
She likes to listen to pop music, and her favorite singers are Michael Jackson and Taylor Swift.
In her spare time, Kimberley is keen on watching movies and her favorite actor and actress are Brat Pitt and Angelina Jolie, while a couple of her favorite movies are "Mr. and Mrs Smith", "Meet Joe Black" and "The Curious Case of Benjamin Button".
Age, height and net worth
Kimberley is 58 years old. She has long blonde hair and blue eyes, her height is 5ft 9ins (1.75m) and she weighs around 135lbs (62kgs). As of January 2021, her net worth has been estimated at over $2 million while Hugh's net worth was estimated at $45 million at the time of his death.
Who was Hugh Hefner?
Hugh Marston Hefner was born in Chicago, Illinois USA, on 9 April 1926 – his zodiac sign was Aries and he held American nationality. He was a magazine publisher perhaps only known for his magazine "Playboy".
He was raised in Chicago alongside his younger brother Keith by their father Glenn Lucius Hefner who was an accountant, and their mother Grace Caroline who was a teacher. Hugh studied at Sayre Elementary School before moving on to Steinmetz High School.
He joined the US Army in 1944, and became a writer of a military newspaper; he was discharged in 1946. Hugh attended the University of Illinois at Urbana-Champaign, from which he graduated with a Bachelor of Arts degree in psychology in 1949.
Upon graduation, he started working for the magazine "Esquire" as a copywriter but quit in January 1952 when he wasn't granted the $5 raise he asked for. He went on to raise $8,000 with the help of 45 investors, and with the money founded "Playboy". The first issue of the magazine featuring the famous American actress and model Marilyn Monroe came out in December 1953, however, it was later revealed that Marilyn did not consent to her pictures being used in the magazine, and she received no money for them. Hugh went on to create and host two TV shows – "Playboy's Penthouse" and "Playboy After Dark".
On 4 June 1963, he was arrested after he published a nude picture of Jayne Mansfield lying in bed with a man, but the jury was unable to come up with a decision.
The following three decades saw Hugh build his Playboy empire, and he made his debut voicing performance in 1993 when he voiced himself in an episode of the animated sitcom "The Simpsons". He provided the money for the shooting of the documentary movie "Discovering the It Girl", and then in 2000 appeared in a single episode of the romantic comedy series "Sex and the City". He went on to voice himself in an episode of both the animated stop motion comedy series "Robot Chicken", and the animated sitcom "Family Guy", and then received his own star on the Hollywood Walk of Fame.
The documentary movie about Hugh entitled "Hugh Hefner: Playboy, Activist and Rebel" came out on 30 July 2010.
On 7 March 1985, Hugh suffered a heart attack, after which he supposedly decided to take things easy. He stopped having all-night parties, and in 1988 his daughter Christie began taking care of "Playboy". In 2012, Hugh announced that his son Cooper would be in charge of "Playboy".
Hugh died on 27 September 2018 aged 91, from sepsis caused by an E. coli infection.
Hugh was interested in politics, and although he disapproved with both Republican and Democratic parties, he still supported Barrack Obama during the 2012 elections. He was also a philanthropist who donated $100,000 to the University of Southern California, and on 26 April 2010, he donated $900,000 to a conservation group who wished to buy land so that it wouldn't be destroyed by a new Hollywood Sign. For this, the endangered marsh rabbit sub-species was named after him: Sylvilague palustris hefneri.