• Megyn Price is an American actress known for sitcoms "Grounded for Life" and "Rules of Engagement"
• Born on 24 March 1971 in Seattle, Washington State USA
• Attended Stanford University and worked as an investment banker before pursuing an acting career
• Married twice; currently married to an ER physician and has a daughter
• Estimated net worth of around $4 million as of 2021
Who is Megyn Price?
Megyn Price is an American actress, known best for starring in the popular American sitcoms "Grounded for Life" and "Rules of Engagement". She was born on 24 March 1971 under the star sign Pisces, in Seattle, Washington State USA, so holding American nationality.
Early Life
Megyn was raised by her Mormon parents in Seattle, but they eventually relocated to Oklahoma where she attended the Normal High School. From a young age she expressed a desire to become a writer, and even wrote and produced a play – "Here Comes the Sun" – while she was still attending high school. Interestingly enough, at that time she didn't think highly of acting, and said it was "the dumbest career choice anyone could possibly make".
During her high school days, she was listed as one of the top-20 students, and was even chosen as a Presidential Scholar. Upon matriculating, she opted for a career in finance, and enrolled at Stanford University to study economics and communication; nonetheless, she continued to be engaged in writing and producing plays. It seemed that the wish to work or be engaged in writing or acting followed her, and she continued to participate in the school productions. She also performed at the American Conservatory Theatre in San Francisco. After graduating in 1992, she worked as an investment banker for a year. Having realized that it was not for her, she opted for an acting career and fulfilled her long-held dream.
Family
Megyn has always been secretive about her family and background. Not much information is available, especially about her parents. However, she has a younger brother named Joseph, who became a Captain in the US Air Force.
Career as an Actress
Her first TV appearance was in 1993 in an episode of "Quantum Leap". She then appeared in a variety of TV shows and sitcoms such as "Will and Grace", "Saved by the Bell: The New Class", "Drop Dead Diva", etc. One of her first recuring roles was in the comedy series "Common Law", but after receiving low ratings it was removed from the ABC's schedule. In 1999 she appeared in another sitcom called "LateLine", which also proved to be short-lived as it was cancelled after only seven episodes.
However, in the same year, she scored the main role in "Love Happens" a romantic film alongside Ken Marino.
Her other film credits include the comedy-drama film "Misery, Alaska", and "Larry the Cable Guy: Health Inspector". After a couple of unsuccessful sitcoms, she finally hit it off with the role of Claudia Finnerty in "Grounded for Life", alongside Donal Logue. Upon attracting positive feedback and high ratings, the show ran for five seasons from 2001 to 2005, and received numerous nominations. Another testament to its popularity was a British remake of the show, called "In With the Flynns".
Her next big project was starring as Aubrey Bingham in "Rules of Engagement", with Patrick Warburton and David Spade.
The first episode was broadcast in 2007, and it ran for seven seasons through 2013. Despite getting a handful of criticisms and negative reviews throughout its run, it received three Prime Time Emmy Nominations. In 2013, she starred in a less familiar production of "A Country Christmas Story", and the comedy-drama "UnReal" with the role of Julia, an executive producer, with Shiri Appleby. However, in the next year, Price was replaced in the show by Constance Zimmer. In 2016 she made a comeback to TV screens with a role in a Netflix comedy series "The Ranch", which starred Ashton Kutcher and Elisha Cuthbert. Her latest appearance has been in an episode of "Curb Your Enthusiasm", a comedy show created by Larry David.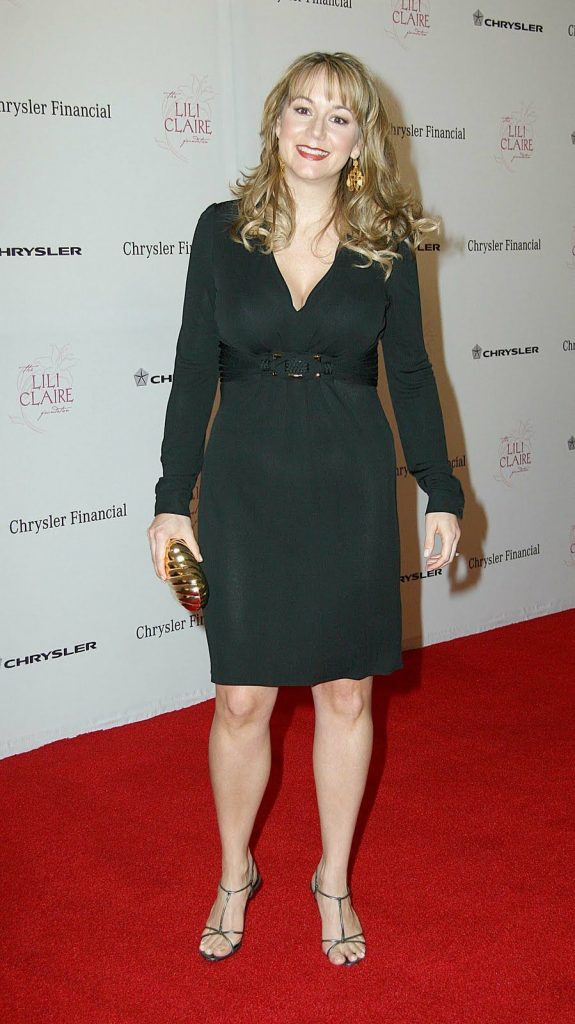 Personal Life
Price has been married twice, firstly to Bill Lawrence, a TV producer and screenwriter, best known as the creator of the hit show "Scrubs". However, they divorced in 1996 for undisclosed reasons. In 1999 Bill married Christa Miller, with whom he has three children. Price, on the other hand, started dating Edward Cotner, an ER physician and her high school sweetheart. They married in 2005, and on 12 July 2007 they welcomed a baby girl, Grace. A funny trivia about Megyn giving birth to Grace is that having realized she was giving birth on Friday the 13th, Megyn joked that she should have an exorcist on standby just in case. At the moment, they are living in Montecito, California.
Physical stats and Hobbies
Megyn Price is 5ft 6ins (170cm) tall and weighs around 123lbs (56 kg), with vital statistics of 39-26-36.
Even though she often dyes her hair blonde, her natural hair color is dark brown, and her eyes are hazel.  Megyn is one of the rare celebrities that can boast about having and growing her own garden. For leisure, she grows organic vegetables and is a member of a club for organic growers. As a supporter of a healthy lifestyle, she loves to use her produce to make balanced and nutritious meals for her family.
Having starred in various sitcoms, it is natural for Price to develop a liking for comedy in general. In an interview, she said that in terms of work preferences she always chooses comedy shows as she's drawn to funny and witty people. Some of her favorite comedians are Jimmy Fallon, Conan O'Brien, Ken Levine, etc. She is also a great fan of "America's Funniest Home Videos".
Would you like to know her net worth?
As of 2021, her estimated net worth is around $4 million, which she's earned through her long and prolific career. Having starred in numerous successful sitcoms has definitely augmented her earnings and net worth. One of her latest project with Netflix is also believed to have been very lucrative for Megyn, considering the success and the reach of the network.
As of 2018, Megyn is very active on her Instagram account, which has over 6,000 followers. Like many celebrities, she loves to share photos of her family, pets and travels on her social media accounts, as a glimpse into her busy life. However, she is more active on Twitter, which counts more than 40,000 fans. As a great animal lover, she made two additions to her family, a dog named Piper and a cat named Alice.
In the last few years, she's shown a great interest in cooking, and she often posts photos of her meals and recipes.
More about Megyn Price
In an interview, Megyn said that she almost quit acting after "Lateline"'s cancelation. After switching her career from finance to acting, she was really upset and afraid and even considered leaving the acting profession. However, she quickly landed the role of Claudia in "Grounded for Life" and decided to stay in the industry.
Another interesting piece of information about Price is that she is a talented singer who has been credited on the soundtracks of two shows – she made a soundtrack called "Summer Nights" for "Grounded for Life", and sang "Amazing Grace" in an episode of "A Country Christmas Story".
As an actress, staying in shape is a must, so it doesn't come as a surprise that Megyn cares about her physical appearance and her health. In an interview, she said that back in the day when "The Rules of Engagement" was filmed, she had a lot of nude scenes, which prompted her to become more involved in fitness and nutrition.