• Mikaela Pascal is an American YouTuber, social media star and actress.
• She is known for her starring role in the short reality comedy series "Teens React".
• She is dating Jack O'Shea, another YouTuber.
• She is physically active, and is interested in traveling, watching movies and doing 'crazy' things.
• She is 21 years old, is 5ft 8ins (1.73m) tall, and has a net worth of over $50,000.
Who is Mikaela Pascal?
Mikaela Leilani Pascal Schmidt was born in California, USA on 12 August 1999 – her zodiac sign is Leo and she holds American nationality. She is a YouTuber, social media star and an actress, who might be known best for her starring role in the short reality comedy series "Teens React", created by Benny Fine and Rafi Fine, and which today stars Chelsey Cook, Olivia Paula and Ethan Woods. The series follows teenagers as they react to hit videos from the internet. It has been airing since 2011, while Mikaela starred in it from 2013 to 2018.
Early life and education
Mikaela was raised in California alongside her younger sister and brother by their mother who is a housewife, and their father Colton whose profession isn't known.
She became interested in comedy at quite an early age, and would spend most of her spare time entertaining her parents, siblings and friends with her jokes. She attended a local high school at which she was very active, as she played soccer, practiced acting with the school's drama club, and took dancing lessons. Upon matriculating in 2017, she chose not to enroll at a college, but to rather focus on her career.
Presence on the internet
Mikaela launched her eponymous YouTube channel on 6 August 2015, and it today numbers over 250,000 subscribers and close to 9.5 million views of all her videos combined. She is mostly focused on uploading videos related to her everyday life, but which are also entertaining – her most popular video "TESTING GUYS ON PERIOD KNOWLEDGE (ft. react cast)" has been watched over 1.7 million times since 8 July 2017.
She is also quite active on Instagram, and has amassed over 330,000 followers, while she's uploaded around 110 pictures onto it, most of which have her breasts in focus. Mikaela joined Twitter in August 2012, and is today followed by close to 50,000 fans, while she tends to tweet at least once a day. She is also popular on TikTok, as she's gathered over 160,000 followers, and close to 600,000 likes of all her videos combined.
Appearances in TV series and shows
Mikaela has only a single acting credit – in 2013, she appeared in the background of a scene in the action adventure comedy movie "Sharknado", but which received poor reviews anyway.
She is mostly popular for her appearances in TV shows. In 2012 and 2013, Mikaela appeared in 13 episodes of the short reality comedy series "Kids React", and in 2014 guest starred in an episode of the short comedy talk-show "Opinions".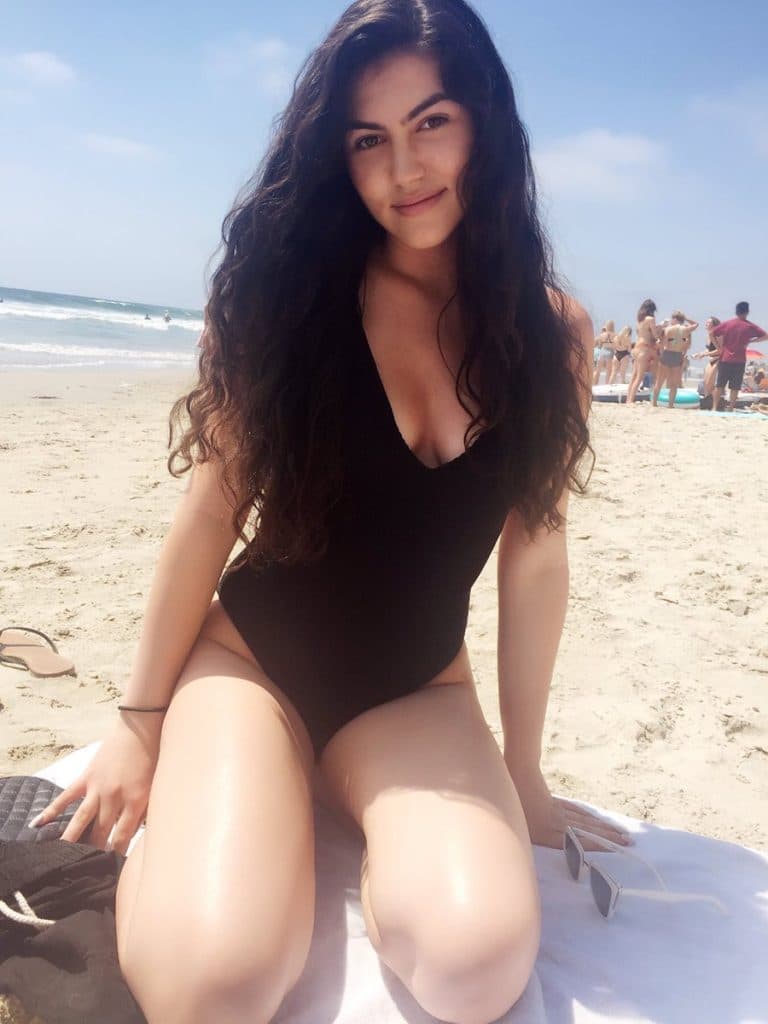 The following year saw her in the episode "Jealous" of the short musical comedy "Lyric Breakdown", and she was then cast to appear in three episodes of the short comedy "Advice".
In 2016, Mikaela appeared in three episodes of the reality comedy competition show "Do They Know It?," hosted by Tori Vasquez and Jasser Kafafi, and which features people of all ages testing their knowledge on movies, TV series, books and music. She went on to star in 13 episodes of the short comedy "Gaming", and then featured in six episodes of the short comedy "Try Not to Smile or Laugh".
In 2017, Mikaela appeared in 10 episodes of the comedy "Challenge Chalice", as well as in several episodes of the short reality comedy "People vs. Food".
The year 2019 saw her host the four-hour long comedy "Comments Against Humanity at Vidcon – Live at VidCon 2019: Last Day", and in 2020, Mikaela appeared in four episodes of the short reality comedy "Adults React".
Love life and relationships
Mikaela has been dating Jack O'Shea for over a year now. He is also a YouTuber, so it's widely believed that they first started talking on the internet before Jack asked her out on a date. He is seven years older than Mikaela (although some sources mistakenly claim the age gap is 25), and not everyone is supportive of their relationship, as they believe it's only there for them to attract more fans.
There are rumors circulating the internet that Mikaela and Jack moved in together not long after they began dating, but this hasn't been confirmed.
Mikaela hasn't talked about any other men she might have dated before Jack, but it's widely believed that she was in several other relationships. Some people claim that she is bisexual. and was once in a relationship with a girl, however, this hasn't been confirmed either.
As of January 2021, Mikaela is dating Jack O'Shea, hasn't married and doesn't have children.
Hobbies and other interests
Mikaela is physically quite active, and has several training sessions at the gym each week, thus her fit body.
She is also following a strict diet, meaning that she avoids eating fast food and anything with sugar in it.
Mikaela likes to travel, and many pictures of her and her boyfriend taken from various parts of the US have been uploaded onto her Instagram account.
She is interested in doing 'crazy' things, and has recently fulfilled her dream of having an inner lip tattoo; it's believed that such a tattoo will disappear within five years.
Her favorite season is summer, as she enjoys sun tanning at the beach, swimming in the ocean and showing off her body.
In her spare time, Mikaela enjoys watching movies, and her favorite actor and actress are Ryan Gosling and Amanda Seyfried, while a couple of her favorite movies are "The Notebook", "Dear John" and "Letters to Juliette".
Age, height and net worth
Mikaela's age is 21. She has long brown hair and brown eyes, her height is 5ft 8ins (1.73m) and she weighs around 130lbs (60kgs). As of January 2021, her net worth has been estimated at over $50,000.
Who is Jack O'Shea?
Jack is very secretive when it comes to personal matters, and not a lot is about him. He was born on 13 December 1992, in Oceanside, New York City USA – his zodiac sign is Sagittarius, while he holds American nationality.
Jack is believed to hold a college degree.
Jack is mostly popular for his TikTok account, which is followed by around 900,000 people, and counts over 16.4 million views of all of his videos combined. He has amassed close to 70,000 followers on Instagram, and has since May 2015 gathered around 5,000 followers on Twitter. Jack also has a Facebook page, followed by around 300 fans.
He launched his YouTube channel on 3 July 2012 and it is today subscribed to by close to 4,000 people, and numbers around 300,000 views of all his videos combined. Mikaela can be seen featured in most of his videos – his most popular one ""Friends" Intro | Washington Nationals Edition" has been watched over 72,000 times since early 2019.