• Bryiana Noelle Flores is a model and entrepreneur, married to celebrity Rob Dyrdek
• At age 11, she was diagnosed with a terminal blood disease and given two options
• She pursued a modeling career and won several titles such as Miss Teen of the Nation, Miss California Teen and Playboy Playmate of the Year
• She also is the founder of the beauty brand Iconic Beauty, a "new kind of girl gang"
• Bryiana and Rob have two children and share a passion for horse breeding
Who is Bryiana Noelle Flores?
Bryiana is a model and entrepreneur, but perhaps best recognized as the wife of Rob Dyrdek, the famous producer, and former professional skateboarder. She was born under the Zodiac sign Cancer on 21 July 1991, in Salinas, California, USA. Her ethnic background is quite interesting and diverse; she is a mix of Chinese, Spanish, Caucasian, Filipino, and Cherokee ethnicity. As of 2021, she is 29 years old.
Early Life, Family and Education
For many, the life story of Bryiana serves as an inspiration reflecting how one can overcome various obstacles and make dreams come true. At the age of 11, Bryiana was diagnosed with a terminal blood disease, and was given a couple of days to live.  There were two options – bone marrow transplantation surgery or treating it with medication; apparently it was Bryiana who chose the latter.
At that time, The Make-A-Wish foundation came in and granted her wish to swim with the dolphins in Hawaii. In her introduction video, she said: "That changed everything for me. I didn't know it then, but that was my first introduction to the law of attraction. I wanted to live so badly. I wanted more experiences like this. I wanted to have a normal life and be a normal kid."
Luckily, the treatment with medication worked, and Bryiana made a full recovery. As she was growing up she dreamt of pursuing a modeling career, but was often discouraged. As a teenager, she was bullied for her weight and height, so her idea of becoming a model rather met with disapproval and ridicule.
During her high school days, she regularly attended pageants and got introduced to the sisterhood. Bryana said: "I finally felt like I belong somewhere. That's when I felt like my best self.
Basically I took everything that I loved about pageants, the sisterhood, the community involvement and modeling and chasing after the big dreams. I used all of these things to craft my own happily ever after."
Career as model and entrepreneur
In 2008 she won the main title in the "Miss Teen of the Nation", followed by another win of the "Miss California Teen" in 2010. Having scooped these titles, Bryiana became even more confident in pursuing her modeling career. Right after matriculating from high school in 2009, Bryiana moved to Los Angeles, where she landed her first modeling gigs. She caught the attention of a scout, and the rest is history. Soon she appeared in the "Playboy magazine, and her gorgeous photographs brought her the title of "Playmate of the Year".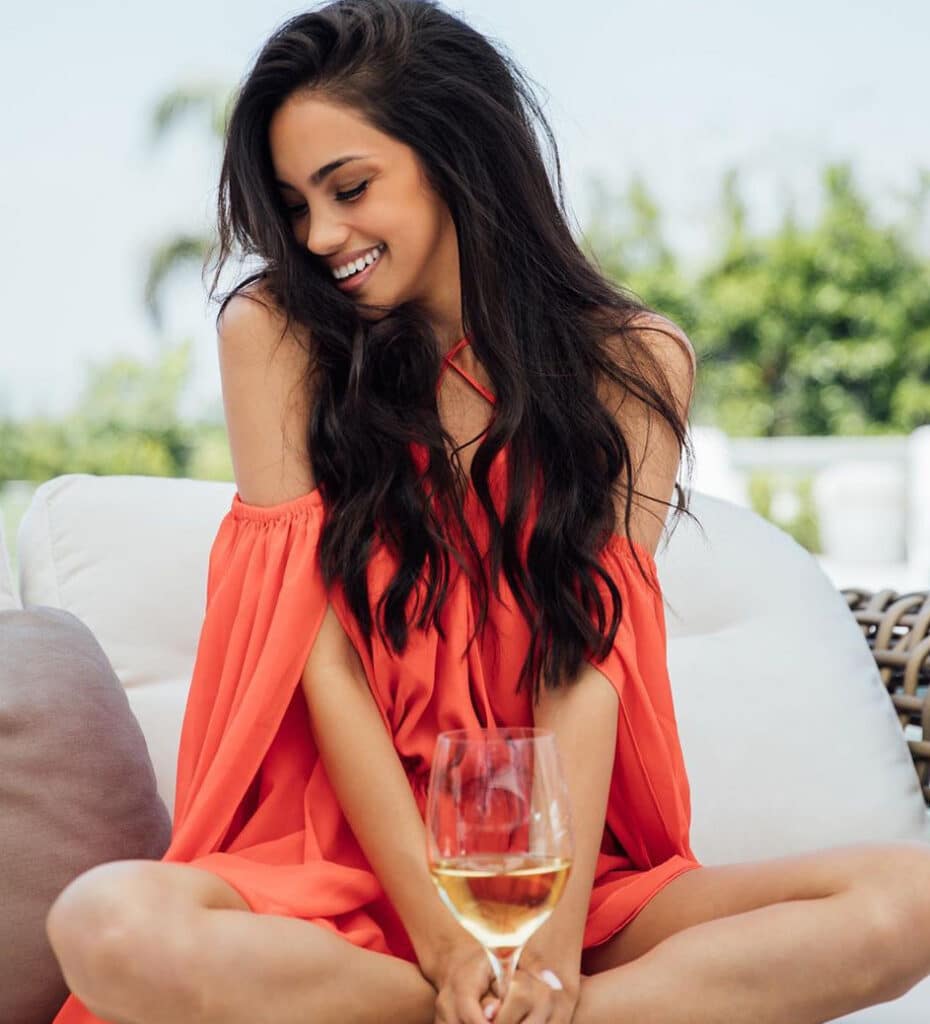 From that point, her career kept rising. In 2011 she participated in and won the "World's Perfect Pageant", which was one of her most notable wins given it further catapulted her into the world of supermodels. Today she is a very sought-after model, as she endorses various brands. In her introduction video, Bryana disclosed that the world of modeling also carries a dark side, as she became a victim of cyberbullies who would comment on her appearance. She said that she didn't like the direction her life was going, and planned to change it. Everything changed quickly when she discovered network marketing.
Besides her successful modeling career, she has also dipped her toes into the world of entrepreneurs. As a vigorous advocate for women's empowerment, in 2014 she created a beauty brand called "Iconic Beauty", featuring a line of hair products such as shampoos, conditioners and texturizing sprays.
Having participated in numerous pageants, Bryiana used that knowledge and applied it to her brand, which she calls "a new kind of girl gang". As a member of this "gang", one can learn how to feel and look good, emphasizing the essential values, which are inspire, empower and transform. At the moment, Bryiana serves as the president of the brand.
Her marriage to Rob Dyrdek
Bryiana has been married to Rob Dyrdek since 2015. The couple met in 2013, and upon their first meeting they instantly clicked, and soon began dating. When their relationship became public, many were quick to point to the age difference between them, given that Rob is 16 years older than Bryiana; however, for them it was never an issue.
In 2015 Rob Dyrdek made his girlfriend Disney princess fantasy come true, when he proposed during the performance of Alladin in Disneyland, which happens to be one of her dearest shows.  In the middle of the performance, Rob said he had to use the restroom and slipped out. When the parade of animals rolled through the audience as usual in the show, Rob appeared riding the elephant instead of Prince Ali, after which he rushed her to the stage, and formally proposed with a lavish ring.
With this proposal, Rob has set the bar really high!
The couple has two children, the first they welcomed in 2016 was son  Kodah Dash, and in the following year, they welcomed daughter Nala Ryan.
Briefly about Rob Dyrdek
Rob Dyrdek is known for various achievements; he is an actor, entrepreneur and TV personality, The former skateboarder was born on 28 June 1974 in Kettering, Ohio. Since he was a young child, he dreamed of becoming a professional skateboarder; at the age of 11, he got his first skateboard from pro skateboarder Neil Blender. Rob invested all his efforts practicing before and after school, hoping to go pro one day. At the age of 12, he started landing sponsorship deals and kicked off his skateboarding career, moving to Southern California to further pursue his dreams.
Rob landed a deal with DC shoes, which remained his sponsor until 2016, and his other notable sponsorships include Silver Trucks, EA Skate, and Monster Energy. In 2019 he founded the Street League Skateboarding competition, becoming an international event with an astonishing prize of $1.6 million. The focus of the competition was Rob Dyrdek's documentary "Motivation".
When we were designing our new @dyrdekmachine offices, I really wanted to create a hero photo moment in my office. Everyone who ever sits in this chair will be blessed by the entrepreneur gods. pic.twitter.com/Dab0FQlhiH

— Rob Dyrdek (@robdyrdek) February 26, 2021
Regarding his acting career, he made his debut in 2006, when he landed a role in the MTV reality series "Rob& Big ". In 2009 he launched his reality series "Rob Dyrdek's Fantasy Factory", featuring Pfaff and Dyrdek Enterprise staff. The reality took place in the converted warehouse where Roby runs his business. During the first season of the show, Rob opened his first shop called "SafeSpot SkateSpot". The show ran for seven seasons, with the last episode aired in 2014.  The show offered a variety of stunts, including the first kickflip with a car. Like many pro skateboarders, Rob was featured in the game "Skate" and "Skate 2".
In 2008 he made an appearance in the American crime thriller "Righteous Kills" opposite Robert De Niro and Al Pacino. In the following year, he co-wrote and produced the movie called" Street Dreams". Rob also made an appearance in "Jackass 3D" in 2011 with Johnny Knoxville.
During the same year, he launched "Superjacket Productions" and produced another series "Ridiculousness", featuring Rob commenting on videos, and other shows such as "The Dude Perfect Show", "Crashletes", "Jagger Eaton's Mega Life". In 2012 he appeared in an episode of the popular show" Punk'd", in which Justin Bieber unsuccessfully tried to pull a prank on Rob. In 2017 he appeared as a judge at the talent show called "Amazingness".
During his prolific and active career, Rob has also set 22 Guinness World Records in skateboarding, some of which have been surpassed.
What is her net worth?
Bryiana's estimated net worth is around $3 million, which she's acquired as a prolific model and entrepreneur. Given her continued popularity and the rising success of her brand, it's believed that her wealth will grow. On the other hand, her husband's net worth is around $50 million, which he has earned through his numerous acting and producing jobs.
Physical stats and Hobbies
Bryiana is 5ft 6ins (167cm) tall and weighs around 110lbs (50kgs). Her natural hair is black, and her face is further adorned with brown eyes. As a model, she has a stunning physique – a slim and well-toned body, with vital statistics of 32-25-35. Regarding her interests, both she and Rob are into horse breeding – Rob owns 13 horses that have participated in various races. The couple also has three dogs; a Pomeranian called Gretchen and two bulldogs, Beefy and Meaty.
Bryiana doesn't use Facebook or Twitter, but is very active on Instagram with over 600,000 followers, and on which she posts regularly.  She recently posted a video titled "Mini House Tour", proudly showing off her luxurious estate, which reportedly cost $8.5 million. Judging from her photos on Instagram, Bryiana is thrilled to have become a parent, and she thoroughly enjoys it.