Who is Nancy Stafford?
Nancy Elizabeth Stafford was born in Wilton Manors, Florida USA, on 5 June 1954 – her zodiac sign is Gemini and she holds American nationality. She is an actress, author and motivational speaker, who might still be known best for her portrayal of Michelle Thomas in the mystery crime series "Matlock", created by Dean Hargrove and which starred Andy Griffith, Linda Purl and Kene Holiday. It follows the life of one of the most expensive criminal defense attorneys who has a special way of defending his clients – by finding the real killer. The series aired from 1986 to 1995, won five awards while it was nominated for five others, including a Golden Globe.
Early life and education
Nancy was raised alongside her brother, Tracy Stafford in Wilton Manors by their father Leslie and their mother Marcia Stafford. Her brother was the Mayor of Wilton Manors twice, and was a member of the Florida House of Representatives five times.
Nancy attended Ft. Lauderdale High School at which she was mostly interested in modelling, as she was noticed by a scout and got to sign her first modelling contract. She matriculated in 1972, and then enrolled at the University of Florida from which she graduated with a Bachelor of Arts degree in journalism in 1976. The same year saw her become Miss Florida, and in 1977 she entered Miss American Pageant.
She went on to work as a public relations specialist, while doing modelling work for the Ford Model Agency.
Roles in TV series
Nancy made her debut TV series appearance in 1982, when cast to play Adrienne and Felecia Hunt in four episodes of the critically acclaimed romantic drama "The Doctors", which aired from 1963 to 1982 counting close to 3,700 episodes.
The following years saw her appear in single episodes of various series, while she became popular after portraying Joan Halloran in the comedy drama "St. Elsewhere", which starred Ed Begley Jr., Howie Mandel and David Morse, and follows the lives of people working at St. Eligius Hospital; the series won 25 awards and was nominated for 83 others, including five Golden Globes.
The year 1986 saw Nancy portray Patricia Blake, one of the lead characters in the family crime drama "Sidekicks", and in 1998 she was invited to serve as the guest host and an expert on the TV show "Great Day America".
She went on to appear in a single 2002 episode of the romantic drama "ER", two 2003 episodes of the drama "Judging Amy", and one 2008 episode of the mystery crime drama "The Mentalist".
As Nancy was mostly focused on appearing in movies after this, her following as well as most recent role in a TV series has been in seven 2017 episodes of the thriller drama "Scandal", created by Shonda Rhimes and which starred Kerry Washington, Darby Stanchfield and Katie Lowes. It follows a woman who launches her own crisis management company, aired from 2012 to 2018, and won 35 awards while it was nominated for 69 others including a Golden Globe.
Nancy has recently finished shooting for the pilot of the drama "Running".
Roles in movies
She made her debut film appearance in the 1982 mystery crime horror "Q", written and directed by Larry Cohen, and then appear in various rather mediocre movies, such as the 1983 western "Lone Star", the 1986 crime drama "D. C. Cops", and the 1987 crime drama "US Marshals: Waco & Rhinehart".
Her first notable film performance was in the 2004 short comedy "The Proverb", in which she starred as Lady in Park alongside Scott Waara and Lauren E. Roman in the film which mocked contemporary journalism and religion. In 2013, Nancy portrayed Terri Boyd in the critically acclaimed short drama "Foreclosed", written and directed by Michael Gier, and which follows a family as they lose everything during an economic crisis.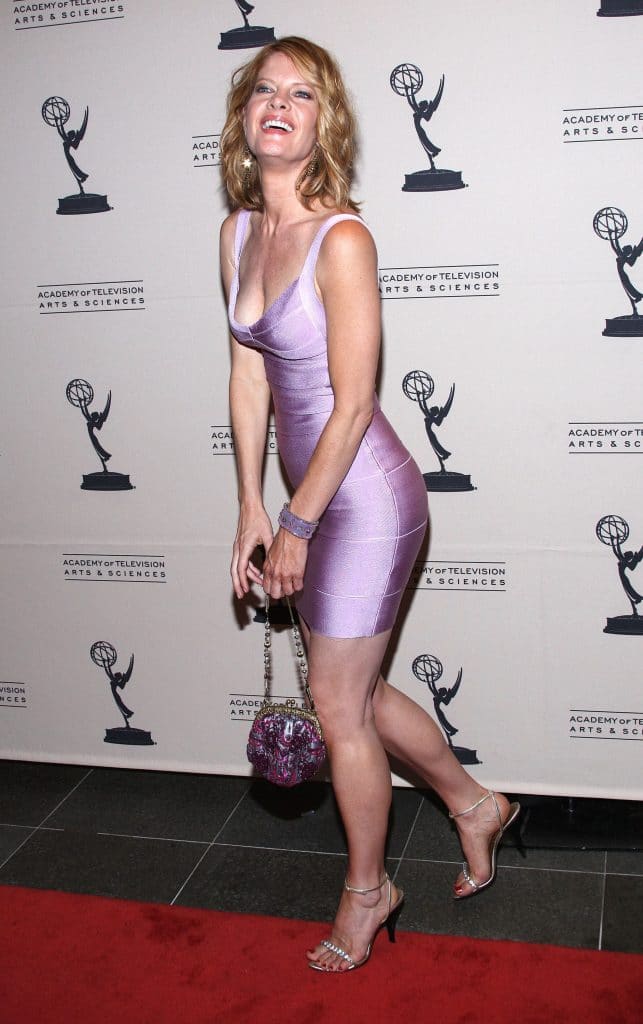 She was also praised for her performance in Greg Robbins' drama "Race to the Finish", which follows a true story of a mentally handicapped young man, Harlan who was helped by a 16-year old boy to run track – the boy who helped Harlan was Greg Robbins.
Nancy went on to appear in more than 10 movies which attracted little to no attention. One of her most recent roles has been in the 2019 romantic comedy "Faith, Hope & Love", written and directed by Robert Krantz who also starred in it alongside Peta Murgatroyd and Michael Richards. It follows Faith, a divorced woman who meets the love of her life, Jimmy Hope while competing in a dance contest.
Nancy has just recently finished shooting for the upcoming drama "The Line", while she is currently shooting for three other movies: "Paul's Promise", "Eleanor's Beach" and "Grace".
Nancy has written two books published by Penguin-Random House, both religion-related, and entitled "Beauty by the Book: Seeing Yourself as God Sees You" and "The Wonder of His Love: A Journey into the Heart of God".
Awards and nominations
In 2011, Nancy was nominated for a Grace Award for Most Inspiring Television acting for her performance in the family comedy movie "Christmas with a Capital C". In 2017, she was nominated for an International Christian Film Festival Award for Best Actress: Feature Film for the family comedy "Heritage Falls", which also saw her become nominated for a Great Lakes Christian Film Festival Award for Best Actress.
Nancy was also nominated for a 2017 Jury Award for Best Actress, for her performance in the short family drama "Common Threads".
Love life and husband
Religion is very important to Nancy, which is one of the reasons why she chose to marry Pastor Larry Lee Myers. They exchanged vows in front of their closest friends and family on 28 May 1989, and have since been together. It is widely believed that the two have agreed not to have children, while others claim that Nancy might be unable to have children. Her husband has a daughter from his previous relationship/marriage.
Nancy hasn't talked about any other men she might had dated before meeting Larry. so as of January 2021, she is married and doesn't have children other than a step-daughter.
Hobbies and other interests
Nancy is a huge fan of the late actor Andy Griffith, who was her friend and mentor for around 26 years until he died in 2012. She is good friends with the retired western actor Robert Fuller; a couple of her favorite movies are "Django Unchained", "The Hateful Eight" and "Rango".
She is a philanthropist who has worked with various charity organizations, and has also built a ranch together with her husband, which offers shelter to believers and artists who need a place to rest and heal, and get in touch with God.
Nancy likes to travel, and her career has helped her visit nearly all US states, while she's also vacationed in various European, Asian and African countries.
Cancer and health problems
Nancy was 24 when she learned she was suffering from skin cancer on her face, which needed surgery – the surgeon advised Nancy to consider changing her profession because she might look differently after the procedure. The surgery still went well and Nancy has since been cancer-free.
Age, measurements and net worth
Nancy's age is 66. She has short grey hair (used to be long and blonde), and blue eyes, her height is 5ft 8ins (1.73m) and she weighs around 140lbs (64kgs).
As of January 2021, her net worth has been estimated at over $5 million.