• Nick Merico is an Argentinian-American actor and musician, known for his role in the comedy series "Every Witch Way"
• He launched his acting career in 2011 and has six acting credits, including "Every Witch Way" and "The Haunted Hathaways"
• Nick also has a YouTube channel where he uploads music videos and a few original songs
• He competed in the 17th and 18th seasons of "American Idol"
• As of March 2021, Nick's net worth is estimated at over $200,000.
Who is Nick Merico?
Nicolas 'Nick' Merico was born in Argentina, on 29 December 1995 – his zodiac sign is Capricorn and he holds both Argentinian and American nationality. He's an actor and a musician, who's perhaps known best for his portrayal of the lead character Daniel Miller in the family comedy series "Every Witch Way" which also starred Paola Andino, Paris Smith and Daniela Nieves, and it follows a teenage girl who has just moved to a new city, has fallen in love with Nick's character, but has learned that she's a witch. The series aired from 2014 to 2018, and won two awards of the 11 it was nominated for, both to Paris Smith, a Young Artist Award for Best Performance in a TV Series – Leading Young Actress, and a Young Entertainer Award for Best Leading Young Actress – Television Series.
Early life, parents and education
Nick was raised in Argentina alongside his sister Lexi, by their father Fredy Merico who is a soccer coach, and their mother Cheryl Merico whose profession isn't known.
Nick was around six years old when he learned that he was a talented singer, and his parents thus enrolled him at a school of the arts. Aged 11, he began singing at several venues in Argentina and the family then moved to South Florida. Nick went on to attend American Heritage Schools, Broward Campus at which he continued practicing his singing skills, while he also became interested in acting, and appeared in various school plays. He was also physically active as he played soccer for the school's team; upon matriculating in 2013, Nick chose not to pursue a college degree, but to focus on his acting and singing career.
Career as an actor
Nick has six acting credits, including "Every Witch Way". He launched his acting career in 2011 with his portrayal of a 13-year old boy in the episode "Royal Angels" of the action crime adventure series "Charlie's Angels", which starred Annie Ilonzeh, Minka Kelly and Rachael Taylor; it follows three woman – a dirty police officer, a car thief and a cat burglar – who have been given an opportunity to turn their lives around by working for the mysterious man known only as Charlie Townsend. The series was nominated for a single award.
In 2014, Nick was cast to play one of the lead characters, Daniel Miller in the aforementioned  fantasy movie "Every Witch Way: Spellbound", which also starred Paola Andino and Paris Smith.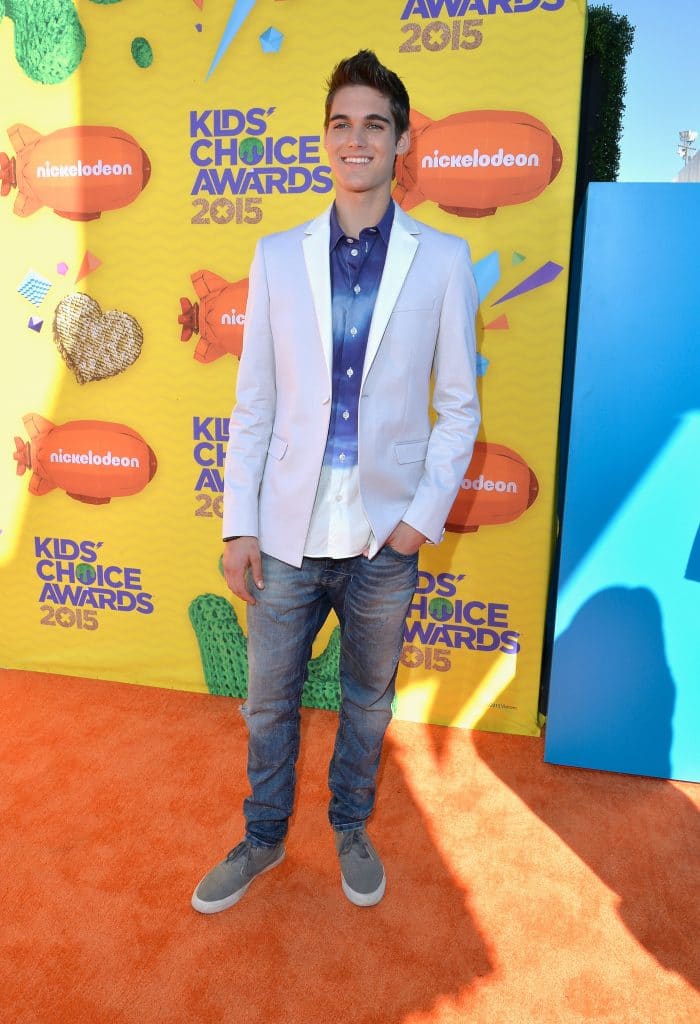 The year 2015 saw him portray Antonio in the episode "Haunted Temptation" of the family fantasy comedy series "The Haunted Hathaways", created by Robert Peacock and which starred Chico Benymon, Ginifer King and Amber Frank. It follows the lives of the Hathaways family who have moved from New York to New Orleans, and are now living in a house haunted by a ghost family. The series aired from 2013 to 2015 and won three of the 11 awards it was nominated for.
In 2018, Nick played the supporting character Jorge in the family movie "Trico Tri Happy Halloween", written by Yamil Piedra, directed by Christian Vogeler, and which starred Kendall Vertes, Armando Gutierrez and Carson Rowland. It follows an Hispanic family who move to Miami in Florida from California to take care of their grandmother, but the movie received poor reviews and attracted little attention.
Nick's only other acting credit has been his portrayal of the lead character J. C. in the 2019 short comedy "First Timers", written and directed by Gilbert Sosa and which also starred Jill Vertes and Sierra Green. It's about a teenage girl who is in a wheelchair, but becomes inspired to live after her grandmother passes away.
Other credits
In 2014, Nick was invited to appear in the episodes "Gross Baby Sneeze and Two Guys 600 Pillows" and "Geese Tsunami and Bubble Wrap Bike" of the comedy series "React to That", In 2018, he made a guest appearance in an episode of the comedy series "Spotlight Live", and the same year saw him appear in the talk-show "The Colt Balok Show", and in 2020, Nick starred in the short comedy video "The Quarantine Journals".
Career as a musician
Nick launched his YouTube channel on 20 July 2011, and has since gathered over 150,000 subscribers and more than 20.2 million views of all his videos combined. The channel is solely used for his music videos – Nick uploaded his first video, a cover of Bruno Mars' "Grenade" on 5 August 2011, which has since been watched over 200,000 times. He has to this day uploaded 37 videos, with his most recent being "American Boy – Kanye West (NICKMERICO REMIX)", uploaded on 21 October 2020, and which has since been watched just over 2,300 times. Nick's most popular video "Bruno Mars- "It Will Rain" from Breaking Dawn- Official Music Video Cover by Nick Merico" has been watched close to 10.3 million times, since it was uploaded on 19 November 2011.
Nick has three original songs entitled "If You Were My Girl", "It's Always You" and "Doesn't Matter Where You Are".
He competed in the 17th and 18th season of the singing competition show "American Idol". For the 17th season, Nick passed the audition with three 'yeses' but then withdrew for personal reasons, then ranked in the top 20 for the 18th season.
Love life and girlfriend
Nick is quite secretive when it comes to his love life, but it's believed that he dated two girls back in 2014 – in the first half of the year American actress Paola Nicole Andino, who is perhaps known best for her portrayal of Emma Alonso in the series "Every Witch Way".
The two met on the set, and were allegedly together for a couple of months before splitting ways for unknown reasons.
In the second half of 2014, Nick dated Kira Kosarin who is a popular American singer and actress, probably known best for her portrayal of Phoebe Thunderman in the comedy series "The Thundermans", which aired from 14 October 2013 to 25 May 2018. Again, the two were together for around two months before going their separate ways.
As of March 2021, Nick appears to be in a relationship with Sol Amanda, a model and a social media star who is followed by around 3,000 people on Instagram onto which she mostly uploads pictures featuring her big breasts and buttocks.
Nick and Amanda have both uploaded numerous pictures featuring them together onto their Instagram accounts.
So as of early 2021, Nick hasn't married, and doesn't have children.
Hobbies and other interests
Nick's taking good care of his physique, as he has multiple training sessions at the gym each week, and is also somewhat careful when it comes to the food he eats, usually avoiding fast food as well as anything with sugar in it.
He likes to travel, and his career has taken him to various US states, while he's hoping to visit some of his dream travel cities in Europe in 2021 including Paris in France and Oslo in Norway.
He can play the piano and the guitar.
Summer is Nick's favorite season, as he enjoys showing off his body at the beach, swimming and playing beach soccer. His favorite city to go to during summer is Miami in Florida.
He has his own favorite actors, some of whom are Matt Damon, Tom Hanks and Al Pacino, and his favorite movies include "Good Will Hunting", "Saving Private Ryan" and "Scarface".
Age, height and net worth
Nick's age is 25. His hair is short and brown, his eyes green, his height is 5ft 9ins (1.77m) and he weighs around 165lbs (75kgs).
As of March 2021, his net worth has been estimated at over $200,000.