• Rob Morgan is an American actor of African descent, known for his character Turk Barret in the Marvel x Netflix shows and his role in ''Stranger Things''.
• Rob was born in 1966 in North Virginia and trained with the American Theatre of Harlem.
• He is known for roles in films such as ''The Inevitable Defeat of Mister & Pete'', ''Full Circle'', and ''Just Mercy''.
• Rob's hobbies include playing chess and guitar and he is active on Instagram.
• His net worth is estimated to be around $3 million.
Rob Morgan is an American actor of African descent, probably best known for his character Turk Barret in the Marvel x Netflix shows, the only character to appear in all six of Marvel's Netflix shows. Rob is also well known for appearing in "Stranger Things".
Early life, family, educational background
Rob Morgan is a very private person, so many details about his life are kept secret. Rob was born on 1966, exact date unknown. His father's name is Dermont Morgan, but hiss mother's name and any information about his possible siblings is also unknown.
Rob Morgan was born and raised in North Virginia, USA, and apparently spent a lot of time with his grandfather, whom Rob told Rotten Tomatoes was an inspiration for his role in "Just Mercy". He matriculated from high school in North Virginia, and then moved to New York City, where he trained with the American Theatre of Harlem.
Career
Movies
Rob's first credited acting performances happened in four short movies in 2004. He would be a part of more than a dozen short movies, but his first real movie role happened in 2006 when he played Cinque in "Sorry Ain't Enough".
Until 2011, Rob did just one movie per year – in 2009 he appeared in "Pro-Black Sheep", in 2010 he had a role in "Conspiracy X", and in "Pariah" in 2011. Once Rob had played a few different characters, his work became its own best PR and directors wanted him in their films. He told Rotten Tomatoes "My most high profile work comes from directors who want to work with me". At this point, he was mainly playing supporting roles, in movies such as "The Inevitable Defeat of Mister & Pete", "Full Circle" and "The Challenger" among many more.
In 2017, Rob appeared in the movie "Mudbound" – a movie adaptation of Hillary Jordan's novel of the same name – playing Hap Jackson, his biggest role to date, and which launched him towards the top when it comes to actors in Hollywood, and brought Rob three awards: Independent Spirit Robert Altman Award, Satellite Award for Best Ensemble: Motion Picture, and Gotham Special Jury Award for Ensemble Performance. He subsequently landed roles in "The Last Black Man In San Francisco", and in "Bull", both in 2019, followed that year by another exceptionally important movie for Rob, when he played Herbert Richardson in the biographical drama "Just Mercy" an adaptation of the book with the same name by Bryan Steohenson.
Richardson was a real person who was wrongly convicted and sent to death row. This was the role that Rob claimed to take inspiration from his grandfather's life.
In 2020, Rob appeared in the World War II drama "Greyhound", alongside Tom Hanks. That was his first time meeting the double Oscar winner and told Rotten Tomatoes in an interview about how great it was "…to work with Tom Hanks and to see how open and giving he is as such an A-list actor, it just shows you how it's not the heaviest stuff we do.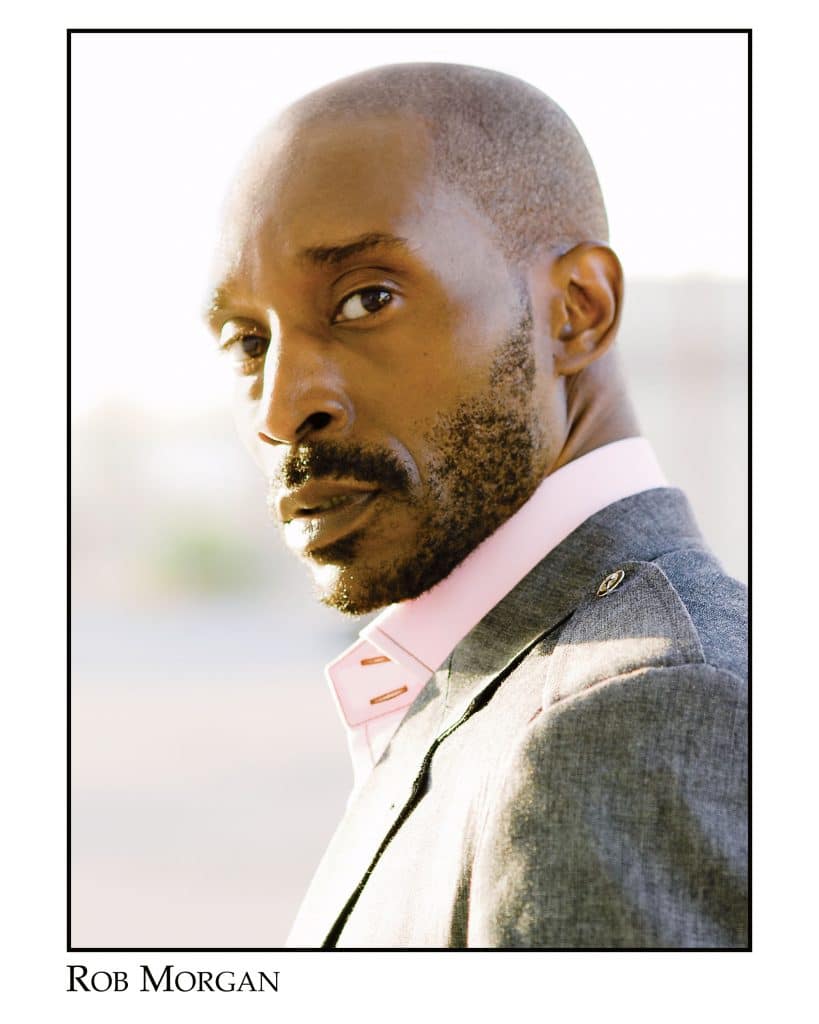 Tom Hanks, when you meet him, he's a such a cheerful, open, giving, fun guy." Later in the same year "Cut Throat City", came out which Rob was also delighted to be a part of. In the same interview, he said "It was kind of like a powerhouse cast movie because you got Wesley Snipes, Isaiah Washington, you got Denzel Whitaker. I mean, you got, like, Eiza González, you know, you got so many heavy hitters in this movie, it's like, 'Hey, man, I'd love to come down there and play with them.'.
Rob Morgan has appeared in another biographical drama – "The United States vs. Billie Holiday" – which came out in February of 2021.
TV shows
Rob Morgan has appeared in many TV shows, mostly in guest roles. The first was "30 Rock" in a single episode, played a cab driver, then he's best known for two roles – Officer Powell in the hit Netflix show "Stranger Things", a recurring character, so far appearing in 12 episodes.
The character that Rob Morgan is probably best known to most people is Turk Barret, first appearing in "Daredevil' in 2015′, then in all of the six TV shows that Marvel has done with Netflix.
Personal life, wife
Rob Morgan is a very private person and doesn't share details about his personal life very easily. It is not known whether he is married or even in a relationship, because he was never seen with a significant other. It's also a secret whether he has children or not.
Rob has recently become active on social media, mainly on Instagram.
Hobbies, favorite things, and interesting facts
Since he's played a lot of emotionally and mentally difficult characters, he still does things he loved doing before he was acting, playing chess and the guitar.
New York Times put Rob in the 20th spot on the list of 25 greatest actors of the 21st century.
Appearance, clothing style
Rob Morgan's height is 6ft (183 cm), and his weight about 175lbs (80 kgs), with warm eyes and a big smile.
Net worth and salary
Rob Morgan's net worth is estimated to be around $3 million, as of mid-2021.