• American actress and author Katharine Juliet Ross born on 29 January 1940 in Los Angeles, California USA
• Appeared in close to 70 movies and TV series, best known for role in 1967 romantic comedy movie "The Graduate"
• Won seven of her 11 award nominations, including a 1968 Oscar nomination for Best Actress in a Supporting Role for "The Graduate"
• Married five times, currently married to famous actor Samuel Pack Elliott since 1984
• Net worth estimated at over $20 million as of December 2022
Who is Katharine Ross?
American actress and author Katharine Juliet Ross was born in Los Angeles, California USA, on 29 January 1940, meaning that her zodiac sign's Aquarius. She's had roles in close to 70 movies and TV series, and is perhaps still best known for her playing of one of the lead characters Elaine Robinson in the 1967 romantic comedy movie "The Graduate", directed by Mike Nichols, and which also starred Dustin Hoffman and Anne Bancroft. It follows a college graduate who's in love with both a woman and her daughter, and the movie won 23 of its 44 award nominations, including an Oscar win for Best Director.
Education and early life
Katharine grew up in Los Angeles, raised by her mother Katherine Mullen who died in 1993, aged 84, and father Dudley Tying Ross who was in the US Navy, and who passed away in 1991, aged 85.
Katharine was mostly into riding horses while growing up, and dreamed of becoming a successful equestrian; she was friends with the late American actor and rodeo cowboy Casey Duane Tibbs. She studied at Las Lomas High School, and it was during her four years there that she became interested in acting; Katharine matriculated in 1957, aged 17, and in the same year made her debut TV series appearance, in the episode "Lizzie Borden" of the historical musical drama "Omnibus".
Katharine then studied at Santa Rosa Junior College for a year, before moving to San Francisco, California to study acting.
Roles in TV series
The year 1962 saw Katharine play Teresa Parrelli in the episode "A Split Week in San Quentin" of the drama "Sam Benedict", and she could then have been seen appearing in an episode of the crime mystery "Kraft Suspense Theatre", the drama "The Lieutenant", and the crime horror drama "The Alfred Hitchcock Hour".
In 1964 and '65, Katharine played Liz Beaumont in the western "Gunsmoke", which Clyde Ware and Charles Marquis Warren created, and which starred Amanda Blake, Milburn Stone and James Arness. It follows the life of Marshal Matt Dillon from Dodge City, the series aired from 1955 to 1975, and won 20 of its 44 award nominations. The remainder of the decade saw Katharine appear in an episode of many series, including the western drama "The Big Valley", the western "The Loner", and the action adventure western "The Wild Wild West".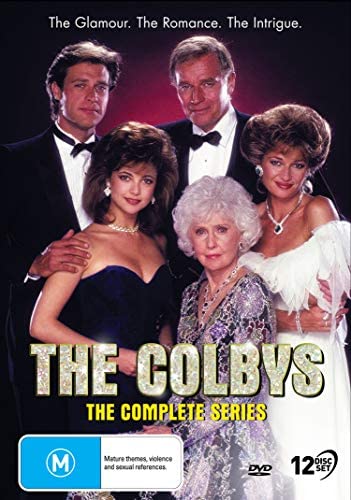 She had only a single TV series role in the '70s, portraying Rosa Mastrangelo in the 1976 episode "Omerta" of the crime mini-series "Alle Origini della Mafia".
From 1985 through 1987, Katharine starred as Francesca Colby in the hit drama "The Colbys", created by William Bast and Paul Huson, and which also starred Charlton Heston and John James. It follows the lives of Fallon and Jeff Colby from the TV series "Dynasty", and won one of its 14 award nominations.
Katharine's since had roles in only three TV series – she played Maggie's Mother in the 1988 episode "Tattle: When to Tell on a Friend" of the adventure comedy "ABC Afterschool Specials", voiced Mayor West's Mother in the 2016 episode "The Heartbreak Dog" of the animated comedy "Family Guy", and voiced both Angela and Sickly Lady in two episodes of the 2016 animated comedy "American Dad!"
Roles in movies
Katharine's debut film appearance was in the 1965 war western "Shenandoah", and she could then have been seen appearing in the  biographical family drama "The Singing Nun" and the drama "Mister Buddwing" both in 1966, and the 1967 war drama "The Longest Hundred Miles".
She gained recognition in 1975, with her playing of the lead character Joanna Eberhart in the mystery science fiction horror "The Stepford Wives", directed by Bryan Forbes, and which also starred Paula Prentiss and Peter Masterson. It follows Joanna and her family who are steadily learning the secrets of the female residents of their small town of Stepford; the movie won one of its two award nominations. A couple of Katharine's notable performances in the remainder of the '70s were in the 1976 war drama "Voyage of the Damned", the 1978 horror thriller "The Swarm", and the 1979 crime mystery "Murder by Natural Causes".
What marked the '80s for her was perhaps her playing of Susannah Dickinson in the 1986 biographical historical drama "Houston: The Legend of Texas", directed by Peter Levin, and which starred Sam Elliott, Claudia Christian and Devon Ericson. It follows the life of Sam Houston, and the movie won a Western Heritage Award for Factual Television Program.
Katharine had roles in only three movies in the '90s: the 1991 drama "A Climate for Killing", the 1991 western "Conagher" and the 1997 drama "Home Before Dark".
The year 2001 saw her play Dr. Lilian Thurman in the evergreen science fiction mystery "Donnie Darko", which Richard Kelly wrote and directed, and which starred Mary McDonnell, Jena Malone and Jake Gyllenhaal. It follows a teenager who's begun having visions now that he's escaped an accident which nearly killed him, and the film won 12 of its 28 award nominations. Katharine could then have been seen appearing in the 2002 drama "Don't Let Go", the 2004 drama "Capital City" and the 2006 family comedy "Eye of the Dolphin".
She's since had only three film roles: in the 2015 family drama "Slip, Tumble & Slide", the 2017 romantic western "The Hero" and the 2019 comedy "Attachments".
Other credits
Katharine sang the song "If You Love" in the 1970 drama movie "Fools".
She wrote the 1991 western movie "Conagher".
Some of the talk-shows in which Katharine's made a guest appearance include "The Stepford Life", "Bravo Profiles" and "Film Genre".
Awards and nominations
Katharine's won seven of her 11 award nominations, including a 1968 Oscar nomination for Best Actress in a Supporting Role, for her performance in "The Graduate".
Some of her wins include a 1971 BAFTA Film Award for Best Actress, for "Butch Cassidy and the Sundance Kid", two Golden Globes in 1968 and 1977 for "The Graduate" and "Voyage of the Damned", respectively, and a 1990 Golden Boot Award.
Love life and marriages
Katharine's married five times. Her first husband was her college sweetheart Joel Fabiani, who went on to become a famous American actor; they exchanged vows in 1960, but divorced two years later.
She married her second husband, American non-celebrity man John Marion in 1964, and they divorced three years later.
In 1969, Katharine married American cinematographer and Oscar winner Conrad Hall, and they divorcedin 1973.
Katharine married her fourth husband, American actor Gaetano 'Tom' Lisi in 1974, but they divorced five years later.
Since May 1984, she's been married to famous American actor Samuel Pack Elliott, and on 17 September 1984, Katharine gave birth to their daughter Cleo Elliott.
My OK! pets page today in @OKMagazine features @Tombstone_Coors Sam Elliott & wife Katharine Ross on stands now pic.twitter.com/GG5TQuv19Z

— Christopher Ameruoso (@Chrisaphoto) May 15, 2013
Why did her daughter stab her?
On 2 March 2011, Katharine, who was 71 at that time, was stabbed by her daughter Cleo, who was 26. According to Katharine's statement, Cleo chased her around the house with scissors, yelling 'I want to kill you'. After Katharine had tried to call the police, Cleo cut the phone wires and stabbed her six times in the right arm.
Katharine was granted a restraining order on 8 March, but it remains unknown why Cleo attacked her mother.
Interesting facts and hobbies
Katharine's a successful children's book author, having published two books "My Favorite Things" and "Little Ballerina".
One of her closest friends is famous American actor Dustin Hoffman, alongside whom she starred in "The Graduate".
She was invited to star in both the 1968 action crime thriller movie "Bullitt" and the 1970 action thriller film "Airport", but rejected both, which turned out to be hits – both won an Oscar.
Katharine appeared nude on stage during the play "The Balcony".
Some of her favorite actresses are Anne Baxter, Lauren Bacall and Ingrid Bergman, and some of her favorite movies are "All About Eve", "The Ten Commandments" and "The Magnificent Ambersons".
Height, eyes and wealth
Katharine's age is 82. Her eyes are brown and her hair's grey, her height is 5ft 3ins (1.6m) and she weighs around 125lbs (56kgs).
Katharine's net worth's been estimated at over $20 million, as of December 2022.