• Samantha Sepulveda is a police officer, model and social media star born in the Dominican Republic in 198•
• She graduated university with a Bachelor's degree in Management, and holds a Master of Business Administration degree.
• She became a viral sensation in 2017 after the "New York Post" published an article about her double life.
• She is married and expecting a baby boy.
• As of August 2021, her net worth is estimated at more than $2 million.
Who is Samantha Sepulveda?
Samantha Sepulveda was born in the Dominican Republic, on 4 February 1984 – her zodiac sign is Aquarius, and she holds both Dominican and American nationality. She's a police officer, model and a social media star, who became famous after the "New York Post" published an article about her.
Early life and education
Samantha is the daughter of Denia and Silfredo Sepulveda. Her father died when she was very young, and she then moved to Freeport, New York USA with her mother and older sister, when she was five years old. Her mother worked at a factory while raising her two daughters.
Samantha showed an interest in sports at an early age, and was a member of her high school's lacrosse team.
During her senior year, she earned a sports scholarship to attend the University of Massachusetts.
She graduated university in 2007, with a Bachelor's degree in Management. During her time there, she played for their lacrosse team, and became the seventh-highest goal scorer in the team's history. She codntinue her studies at Hofstra University, from which she obtained a Master of Business Administration degree in 2009.
In the following year, Samantha became a police officer; she's said that she chose to work in law enforcement instead of working in finance, because she wanted to be able to help people in need.
Career as a model
Samantha launched her modeling career in 2013, when she did her first catwalk show, for her friend's lingerie company. Since then, she has been modeling lingerie and swimwear in her time off work.
In the same year, she was featured in a promo video for the reality TV show "America's Next Great Trainer". In 2014, Samantha did a photoshoot for the "Muscle and Fitness" magazine, which chose her as one of 'America's hot girls of the gym'. She did another photoshoot in October 2015 for "Inside Fitness".
In 2017, Samantha's Instagram account numbered more than 100,000 followers, and the "New York Post" wrote an article about her double life as a model and a police officer.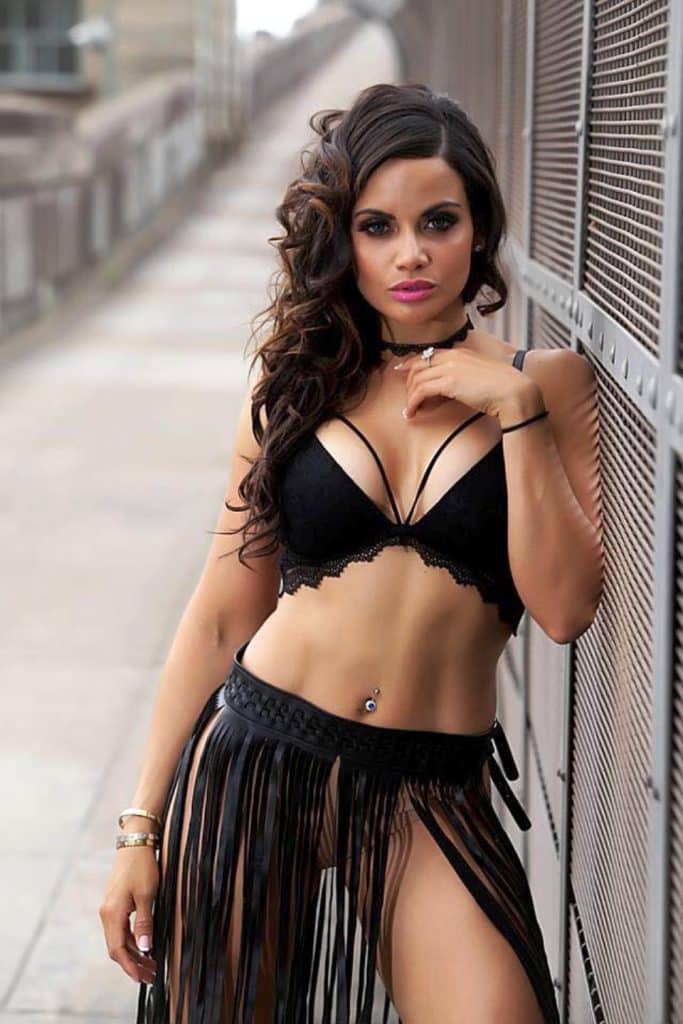 She later clarified that she wasn't hiding her second career from her police colleagues, and that they were all supportive of her modeling. The "New York Post" article ended up gaining a lot of traction, and Samantha became a viral sensation; her follower count on Instagram nearly doubled, and she did a pictorial feature for "Maxim".
"Maxim" is an international men's magazine based in New York City. It's known best for its photography of famous models, actresses and singers who are at the peak of their careers, such as Christina Aguilera, Jessica Alba and Irina Shayk. The magazine was founded in 1995 by the British author Felix Dennis. It moved its headquarters to New York two years later, and soon expanded to a number of other countries.
In 2014, "Maxim" was purchased by the American entrepreneur Sardar Biglari, who tried to remake the magazine into a lifestyle and fashion journal.
Following her rise in popularity, Samantha gave a number of interviews, but she never revealed which police department she worked for to avoid notoriety and to protect colleagues. She was later identified as an officer in Freeport, making $143,000 per year.
Volunteering
Samantha is a very charitable person, and loves helping people whenever she has a chance. In 2019, she was a part of the event entitled "Dream Prom Boutique", which provided free prom dresses to high school seniors. She also frequently gives talks to high school students, encouraging them to pursue higher education.
Samantha had a chance to put her management skills to use when she volunteered at a sustainable energy project in Thailand. She is currently involved with a program that provides free meals to senior citizens in New York.
Samantha is very popular on Instagram, with her account '@sammysep' numbering more than 400,000 followers, and almost 1,000 posts. She uploads a lot of modeling photos which seem to be professionally done, and isn't afraid to show her skin in beautiful lingerie and swimsuit sets. She's been paid by numerous brands, such as Shein and Fashion Box Style, to include their clothes in her Instagram posts, which accounts for a big part of her income.
She is also managing her Facebook page, which numbers more than 680,000 followers.
Unlike many other social media stars, Samantha is mostly focused on her Instagram content, and doesn't have official accounts on other popular sites, such as Twitter, TikTok or YouTube.
Love life and relationships
When Samantha first came into the spotlight she was single, but often talked about wanting to settle down and have a family. It seems that her wishes came true, as early in 2021 she uploaded a picture onto her Instagram account, revealing that she married on 21 January. Since then, she's been posting a lot of pictures featuring her husband, however, his name and profession remain unknown, although the mysterious man is rumored to be a fellow police officer. The two apparently started dating in June 2020,
On 22 July, Samantha announced that she's pregnant, and later posted an update, revealing that she's carrying a boy.
Hobbies and interesting facts
Samantha is a very active person. Although she doesn't participate in team sports anymore, before her pregnancy she was going to the gym at least five times a week, all while keeping a balanced diet.
Although she became known for modeling lingerie, she's said that she hates wearing it at home, saying 'I like to just sleep in an oversized T-shirt and be comfortable. Lingerie is for men!'
Samantha loves to watch reality TV in her spare time, and considers it her 'guilty pleasure'. Her favorite show is "America's Next Top Model" with Tyra Banks, while she also enjoys watching "90 Day Fiancée" and "Too Hot to Handle".
Her favorite ice cream flavor is Vanilla Fudge Swirl.
She has a Bichon Frise called Ava.
Appearance, age and net worth
Samantha is 37 years old. She has long brown hair and brown eyes, is 5ft 2ins (1.57m) tall, and weighs around 110lbs (49kgs).
As of August 2021, her net worth is estimated at more than $2 million.