Sophie Mudd is a noted American model and social media personality. She became an internet sensation for posting sexy pictures of herself a few years back, and she has since remained in the spotlight. In this biography, all you need to know about the supermodel is described in extensive detail. Keep reading.
Early Life, Family, Educational Background
Sophie Mudd was born on 27 July 1998 in Los Angeles, California USA – Leo is her birth sign. Sophie is an American citizen, but she has a mixed ancestry which includes Latin and Native American descent. The names of her parents are not known at this time.
Contrary to popular belief, Sophie does have a brother, Nicolas Mudd. The Mudd children were both raised in Los Angeles; it's widely believed that Sophie and her brother grew up in the lap of luxury, and as a result, were enrolled into private schools, apparently for the best quality of education. Sophie attended Campbell Hall School, Los Angeles, where she was active in sports and other extracurricular activities. In March of 2012, the 14-year old competed in the long jump division at the Delphic League Meet at Notre Dame High School, and finished in 12th position. There is no record of Sophie furthering her education after matriculating from high school.
In 2013, Sophie's parents moved the family to Beverly Hills, California, where she and her brother grew into adulthood. She developed an interest in modeling at a young age, and when she came aboard social media as a teenager, used Instagram and Snapchat to gain recognition, and pursue her career full-time.
Career
Social Media Personality
Sophie Mudd became an internet sensation as a result of the sexy pictures she shared on Instagram and Snapchat. Over the years, she has become more popular and even more relevant to the social media community.
As a result of her large online following, Sophie collaborated with various famous brands, promoted their products, and increased engagement on their pages. She's currently a brand ambassador for companies such as DIFF Eyewear, Revolve, Beverly Hills Bikini Shop, Body Glove Girl, Frankies, Le Jolie, and several more.
Sophie is more active on Instagram, where she has over 2.2 million followers, who keep up with her updates about her personal life and upcoming projects.
Modeling Career
In November of 2013, she posted a picture she had taken at the Sparkle Factory in Las Vegas, which went viral, and resulted in her gaining over 500,000 followers on Instagram in one month.
Soon enough, she landed and signed a modeling contract with the famous talent agency, MP Management, based in Milan with branches in the US and France. Her gorgeous photos on Instagram and Snapchat placed her in high demand for various brands.
Sophie Mudd has modeled for popular brands such as Revolve, Nike, and Shadow Hill. She has also posed with model Anya Nicolodi. She deals more with swimwear brands because of her sexy physique. One of her recent projects is one with Syduals. In recent years, Sophie has shown so much career growth that the famous men's lifestyle FHM magazine labeled Sophie as the next Emily Ratajkowski. Hopefully, Sophie Mudd's career lives up to the hype.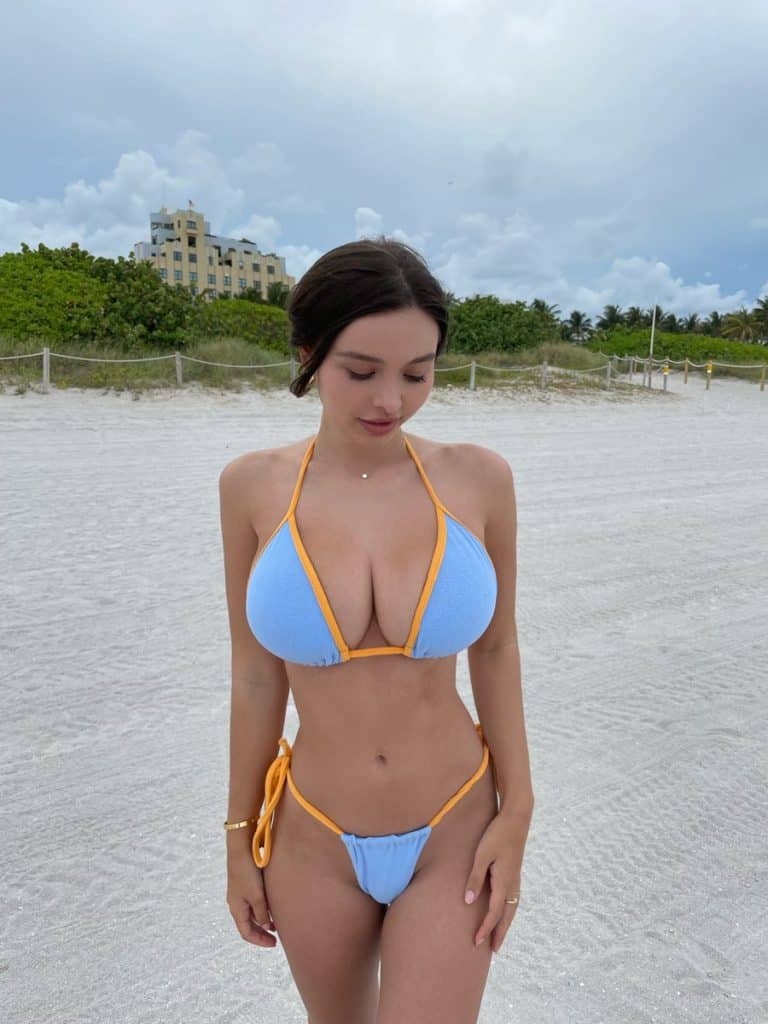 Personal Life, Relationship
Superstar model Sophie Mudd is an extremely private person; however, the media managed to squeeze out some details of her past relationship. Sometime in 2013, Sophie was seen hanging out with Conrad Hughes Hilton, brother of Paris Hilton, whom she met on Facebook and reconnected with on Instagram. Although they kept details of their relationship private, fans discovered that they had broken up in 2014.
Sometime in 2017, Sophie started dating model Austin Dash, son of the American actress Stacey Dash.
Their relationship seems to be going on strongly, as they continue to post pictures of each other, and display their affection in the comment sections.
Sophie hardly ever speaks of her family, nor does she have pictures of them up on her social media pages. However, she does have a close-knit relationship with her parents. On Mothers' Day, Sophie posted a picture on Instagram of herself as a baby, being carried by her mother, captioning the post 'BFF' (which means Best Friend Forever).
Sophie Mudd's parents now live in Louisville, Kentucky USA. The famous social media model also lives in the US with her poodle Alfie, gifted to her by her boyfriend on New Year's Eve, 2017.
Appearance, Clothing Style
The 23-year-old model Sophie Mudd is 5ft 7ins (1.70m) tall, weighs around 128lbs (58kgs), with vital statistics of  35-25-36, She has long brown hair, with a pair of brown eyes to match. Sophie's curvy body and pretty facial features have contributed greatly to her fame as a fashion model, and social media influencer – she is often tagged 'the busty model'.
As per her dressing style, we all know Sophie Mudd loves to wear bikinis and colorful sexy dresses. Occasionally, you can find her in baggy jeans and t-shirts.
Hobbies, Favorite Things, and Interesting Facts
Sophie Mudd loves to travel.
She also enjoys cooking for friends and family.
Sophie likes spending time outdoors, in nature, and loves being at the beach.
She's an avid animal lover.
Net Worth and Salary
As of late 2021, Sophie Mudd earns between $2500-$4000 per sponsored post, plus from regular modeling gigs, and her personal projects. The model has a net worth reportedly valued at close to $1 million. Property owned by Sophie Mudd and her family members remains undisclosed.