• Stella del Carmen Banderas Griffith is a Spanish TV personality and model, known for being the daughter of Antonio Banderas and Melanie Griffith.
• She attended high school and did not pursue a college degree, choosing instead to focus on modeling.
• She has kept her parents company during some red carpet events and has a single acting credit.
• She is currently focused on modeling and is rumored to be single as of March 2021.
• She enjoys traveling, going to the beach, and playing with her pet dog.
Who is Stella Banderas?
Stella del Carmen Banderas Griffith was born in Marbella, Malaga, Spain, on 24 September 1996 – her zodiac sign is Libra and she holds Spanish nationality. She's a TV personality and a model, but who's probably only known for being the daughter of Antonio Banderas, a famous Spanish actor, movie producer and director, and Melanie Griffith, a famous American actress and movie producer.
Early life and education
Stella was raised in Marbella by Antonio and Melanie, alongside her two half-siblings from her mother's former marriages. The two divorced in 2014, but have stayed very good friends. It was reported that Antonio then began dating the investment banker Nicole Kimpel.
Stella attended a local high school at which she was physically active, as she ran track, did gymnastics and played soccer, and became interested in launching a career either as a model or an actress. She appeared in a couple of school plays, but soon learned that acting wasn't her call. Upon matriculating in 2014, Stella chose not to pursue a college degree, but to focus on modelling.
Stella's career
Not a lot is known about Stella's career. She has only a single acting credit, as she played Marilyn in the 1999 crime comedy movie "Crazy in Alabama" written by Mark Childress, directed by her father and which starred her mother, David Morse and Lucas Black. The film follows a woman who has abandoned her family and moved to California to pursue a career as an actress, while her nephew in Alabama becomes involved in a murder. The movie won five of the 11 awards it was nominated for.
Stella has kept her parents company during some of their red carpet events, and she can thus be seen featured in a number of talk-shows and TV specials, such as "Banzai", "The 61st Annual Golden Globe Awards 2004", and "Extra with Billy Bush".
She's currently focused on working as a model.
Love life and relationships
Stella prefers not to talk about her love life, as she's been taught by her parents to keep her personal matters to herself.
It's still known that she was in a relationship with the non-celebrity boy Eli Meyer, and the two could've been seen walking hand in hand while they also uploaded many pictures featuring themselves together onto their social media accounts. However, it appears that Stella has deleted these pictures from her Instagram account, thus making it seem that the two are no longer together.
She hasn't spoken of any other men (or women) she has perhaps been with, so as of March 2021, Stella appears to be single, hasn't married and doesn't have children.
Hobbies and other interests
She loves to travel, and there are pictures taken from several European countries, US states and Asian countries uploaded onto her Instagram account.
Summer is Stella's favorite season, as she enjoys showing off her body at the beach, swimming in the sea and playing beach sports.
She's a dog-lover, and her pet dog can be seen featured in many of her Instagram pictures; Stella refers to it as 'the love of her life'.
She's physically highly active, as she has a couple of training sessions at the gym each week, while she's also following a strict diet, thus her slim figure.
In her spare time, Stella likes to watch movies, and her favorite actors and actresses are Matt Damon, Channing Tatum and Amanda Seyfried – her favorite movies are "Good Will Hunting", "Dear John" and "Letters to Juliette".
Age, height and net worth
Stella's age is 24. She has long brown hair and blue eyes, her height is 5ft 5ins (1.65m) and she weighs around 125lbs (57kgs).
As of March 2021, Stella's net worth is estimated at close to $500,000; her father's net worth has been estimated at over $50 million, and her mother's over $40 million.
Who is Melanie Griffith?
Melanie Richards Griffith was born in Manhattan, New York City USA, on 9 August 1957 – her zodiac sign is Leo and she holds American nationality.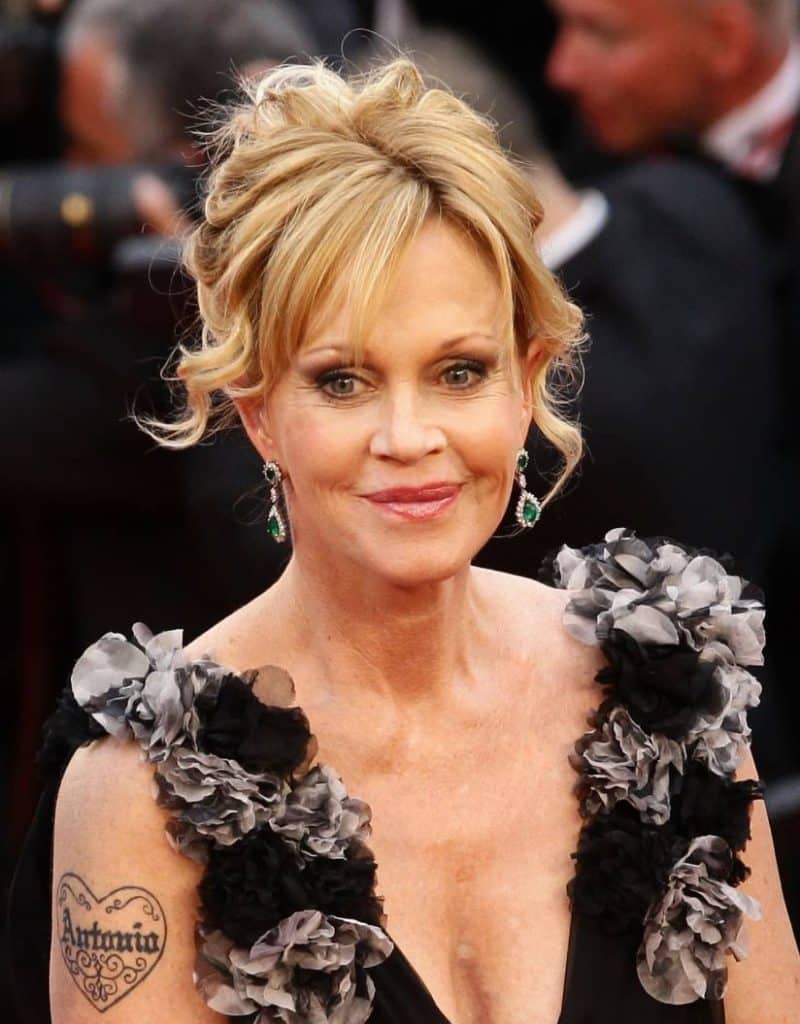 She's probably still known best for her starring role in the 1988 romantic comedy movie "Working Girl" written by Kevin Wade, directed by Mike Nichols, and which also starred Harrison Ford and Sigourney Weaver. For her performance, Melanie won a Golden Globe Award and was nominated for an Oscar.
She was raised an only child by her American father Peter Atwill Griffith who worked as an advertising executive, and her mother Nathalie Kay 'Tippi' Hedren, who's an American actress and a former model. Her parents separated when she was two and divorced two years later; her father later married the popular actress Nanita Greene who gave birth to their two children. When Melanie was seven, her mother married the American film producer Noel Marshall.
Melanie attended Hollywood Professional School, and being ahead of her peers, she managed to matriculate aged 16.
She launched her career with roles in the movies "Smith!" and "The Harad Experiment" in 1969 and 1973, respectively. Melanie was 14 when she met and began dating the American actor Donnie Wayne Johnson who was 22, and they exchanged vows in January 1976, then divorced six months later. Melanie steadily became a popular actress, but her career was somewhat stymied in the '80s because of her addictions to alcohol and drugs. A couple of her notable performances in movies during those years were in the 1986 action comedy "Something Wild", the 1994 romantic comedy "Milk Money", and the 1999 historical drama "RKO 281".
She has continued acting to this day, appearing in around 90 movies and TV series, and Melanie has won 12 of the 33 awards she's been nominated for.
She's a philanthropist, mostly known for contributing to the charity organization Walk for Kids.
Who is Antonio Banderas?
Jose Antonio Dominguez Bandera was born in Malaga, on 10 August 1960 – his zodiac sign is Leo and he holds Spanish nationality. He's probably still known best for his portrayal of the lead character in the 1998 action adventure comedy movie "The Mask of Zorro", directed by Martin Campbell, and which also starred Anthony Hopkins and Catherine Zeta-Jones. The movie follows the old man known as Zorro while he's training a young thief who wants to avenge his brother's death; it won nine awards of the 27 it was nominated for, including two Oscar nominations.
Antonio was raised in Malaga alongside his brother Francisco, by their father Jose Dominguez Prieto who was a Civil Guard police officer, and who died in 2008 aged 88, and their mother Ana Bandera Gallego who was a schoolteacher and who died in 2017 aged 84. Antonio grew up dreaming about becoming a professional soccer player, but after breaking his foot aged 14, he had to give up on the sport. He then turned to acting, practicing his skills at the ARA Theatre-School and College of Dramatic Art, from which he obtained his Bachelor of Arts degree in 1982.
He launched his career in 1982 with his portrayal of a supporting character in the screwball comedy movie "Labyrinth of Passion". He gained recognition with his appearance in the 1988 black comedy movie "Women on the Verge of a Nervous Breakdown".
La millonaria compra de Antonio Banderas que indignó a la gente#Antoniobanderas https://t.co/HKasmkQcV0

— AMBA 24 (@amba24noticias) April 9, 2021
A couple of Antonio's following notable performances in movies were in the 1990 dark romantic comedy "Tie Me Up! Tie Me Down!", the 1993 legal drama "Philadelphia" in which he played the boyfriend of a character played by Tom Hanks, and the 2001 spy adventure family comedy "Spy Kids" followed by its two sequels.
He has been acting to this day, and recently in 2018, Antonio played the lead character in the anthology period series "Genius: Picasso", which saw him nominated for a Golden Globe Award, Screen Actors Guild Award and a Primetime Emmy Award.
In 2000, Antonio received an honorary degree from Dickinson College in the US, and he's also received an honorary doctorate from the University of Malaga in May 2010.
On 26 January 2017, he had a heart attack and had to undergo surgery during in which three stents were put into his arteries. On 10 August 2020, he announced that he was positive to the  corona virus.