• Montana Fishburne is a pornographic actress and the daughter of famous American actor Laurence Fishburne
• She was raised in New York by her father and mother Hajna O. Moss and attended a local high school
• Montana was charged with trespassing and assault with a deadly weapon and has spent time at the rehabilitation center Wavelengths Recover
• Laurence Fishburne is an actor, film writer, and producer known for his roles in "The Matrix" and "Boyz n the Hood"
• Laurence has won 27 awards and is currently living in Hollywood, Los Angeles and New York City's Castle Village.
Who is Montana?
Montana Fishburne was born in California, USA, on 7 September 1991 – her zodiac sign is Virgo and she holds American nationality. She's a pornographic actress, but who's possibly known best for being the daughter of the famous American actor Laurence Fishburne.
Early life and education
Montana was raised in New York alongside her four years senior brother Langston, by their father and their mother Hajna O. Moss who was an actress. Laurence and Hajna divorced around the time when Montana was born, and Laurence then dated Victoria Dillard for three years, before on 22 September 2002 marrying the American actress Gina Torres. In June 2007, Victoria gave birth to Montana's half-sister Delilah, but on 11 May 2018 Victoria and Laurence divorced.
Montana attended a local high school at which she was interested in acting and dancing, however, it's believed that Montana began sleeping with her high school boyfriend aged 15, and that this eventually led her to want to make pornographic movies, as she wasn't able to win other roles due to her lack of skills. Upon matriculating in 2009, she chose not to enroll at a college but to focus on her career.
Career as a pornographic actress
It was in 2010 that Montana starred in the pornographic movie "Phattys Rhymes & Dimes 14" alongside the popular American pornographic actor Brian Pumper.
The movie lasts for an hour – after finding out what his daughter did, Laurence tried to stop the film from being distributed but failed, so upon its release, Laurence made an official announcement that he was ashamed of his daughter, and that she was no longer welcome at his home.
Montana has two pornographic videos uploaded onto her account on Porntube.com, with the first having been viewed over two million times and the second having been watched over 16.6 million times. She's currently the 3,113th most popular pornographic actress on the website, and has gathered around 11,600 subscribers. For her performance in the second film "Montana Fishburne", she was nominated for a 2011 Adult Video News Awards for Best POV Sex Scene.
It appears that after the incident with her father, she eventually decided to stop appearing in this kind of movie, and Montana's today staying away from the media's attention.
Love life and relationships
Montana prefers to keep the details of her lo,ve life to herself but being the daughter of a famous Hollywood actor has been making this hard for her.
It was revealed in 2010 that Montana broke into the house of her boyfriend's ex-girlfriend, forced her into the bathroom where she began beating her with an unknown object. The woman took this to the police, and Montana was charged with trespassing and assault with a deadly weapon – she was sentenced to spend three months behind bars, was put on three-years probation, and ordered to pay $9,000 to the woman.
As she hasn't spoken about any men she's perhaps dating today, Montana appears to be single as of April 2021, hasn't married, and doesn't have children.
Montana was once addicted to drugs, and was put on probation again sometime in the mid-2010s. In 2018 she was declared a fugitive after failing to pass her drug test, and after crossing state borders without the permission of her probation officer. When taken to court, Montana stated that she was visiting her mother, and that she had actually passed her drug tests, which her lawyer also confirmed.
Montana spent time at the rehabilitation center Wavelengths Recover on two separate occasions: once for drugs and the other for anger management.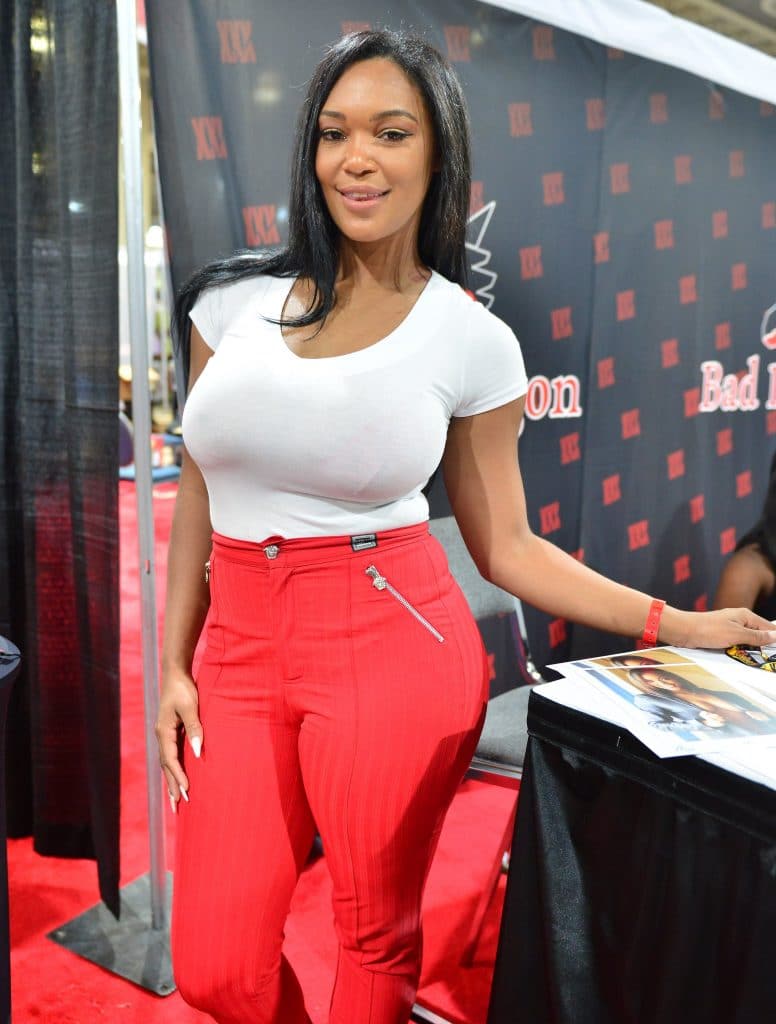 Hobbies and other interests
Montana seems to enjoy leading a lavish lifestyle, but it isn't known whether she's earning her money by herself, or if her father or someone else is supporting her.
She loves t,o party and has allegedly been seen by her father's fans at various clubs in Los Angeles. It's rumored that she has also been seen partying in various other US cities and states, including Las Vegas in Nevada, but this hasn't been confirmed.
She's keen on watching movies late at night – her favorite actor and actress are Vin Diesel and Angelina Jolie, while a couple of her favorite movies are the franchise "Fast and Furious", "xXx" and "Lara Croft: Tomb Raider – The Cradle of Life".
Age, height and net worth
Montana's age is 29. She has long brown hair and brown eyes, her height is 5ft 8ins (1.73m), weighs around 123lbs (56kgs), with vital statistics of 33-26-37, bra size 32B.
As of April 2021, her net worth has been estimated at over $200,000 while her father Laurence's net worth is reputedly over $30 million.
Who is Laurence Fishburne?
Laurence John Fishburne III was born in Augusta, Georgia USA, on 30 July 1961 – his zodiac sign is Leo and he holds American nationality. He's an actor, film writer and producer, who's probably known best for his portrayal of Morpheus, one of the lead characters in the film trilogy "The Matrix", which also starred Keanu Reeves. Laurence is also known for his roles in the film series "John Wick", the 1979 epic psychological war movie "Apocalypse Now", and the 1991 coming of age drama movie "Boyz n the Hood".
He was raised in Brooklyn, New, York as he moved there with his mother Hattie Bell (nee Crawford) after she divorced his father Laurence John Fishurne, Jr. Laurence's mother taught math and science at a junior high school, while his father was a juvenile corrections officer. He attended Lincoln Square Academy from which he matriculated in 1979; the school closed sometime in the mid-1980s.
One of his first roles was his portrayal of Joshua Hall in the long-running drama series "One Life to Live", and gained recognition in 1975 with his portrayal of a young boy in the black drama movie "Cornbread, Earl and Me". When he auditioned for his role in the movie "Apocalypse Now", Laurence lied that he was 14 when he was actually 17, but as the shooting took several years, he was actually 17 by the time it was released.
He played a supporting character in the hit period drama movie "The Color Purple", directed by Steven Spielberg, while a couple of his following roles were in the crime drama "Spenser: For Hire", the 1986 drama movie "Quicksilver" and the 1988 buddy cop action movie "Red Heat".
For his performance in the 1992 play "Two Trains Running" written by August Wilson, Laurence was rewarded with a Tony and an Emmy Award. For his portrayal of Ike Turner in the 1993 biographical movie "What's Love Got to Do with It", he was nominated for an Academy Award (Oscar). In April 2008, he played one of the lead characters in the Broadway play "Thurgood", for which he won a Drama Desk Award for Outstanding One-Person Show.
One of his most recent roles has been his portrayal of Harold Christian in the 2021 action sports movie "Under the Stadium".
Laurence has been credited with appearing in around 130 movies and TV series, producing 15 movies and TV series, and directing the 2000 movie "Once in the Life", as well as the 2017 series "Bronzeville". He has won 27 awards of the 98 for which he has been nominated.
He's currently living in Hollywood, Los Angeles, while he also has an apartment in New York City's Castle Village.
Laurence loves to read books, and his favorite writer is Paulo Coelho, while his favorite book is "The Alchemist"; he's hoping to produce a movie based on the book.