• Chelsie Kyriss is an American teacher, shop director and model, as well as the former girlfriend of Antonio Brown, an American football player.
• She grew up with her older brother in Pennsylvania and obtained a Bachelor's degree from Georgia Perimeter College.
• Chelsie is an Instagram star with over 100,000 followers and enjoys going to football stadiums with her children and partner Antonio.
• She's physically active and likes fast cars, movies and Bill Murray and Scarlett Johansson.
• Antonio Brown is a football wide receiver who has been accused of sexual misconduct and has 3 children with Chelsie and 2 other women.
Who is Chelsie Kyriss?
Chelsie Kyriss was born in Springboro, Ohio USA, on 1 September 1989 – her zodiac sign is Virgo and she holds American nationality. She's a teacher, shop director and a model, but who's probably known best for being the girlfriend (not now ex-) of Antonio Brown, a popular American Football player.
Early life and education
Chelsie was raised alongside her older brother Christopher in Springboro by their father Todd who works in Reading, Pennsylvania as the Elite Sportswear's executive vice president of global operations, and their mother Lynn who is a housewife.
Chelsie became interested in modelling while attending a local high school – most of her peers had the same dream.
She also practiced acting with the school's drama club, and played various sports including soccer and volleyball. Chelsie matriculated in 2007, and after being urged by her parents, then enrolled at Sinclair Community College, before switching to Georgia Perimeter College from which she obtained her Bachelor's degree in 2011.
Chelsie's career
She launched her career in July 2009, when she joined Victoria as their marketing official and around the same time, Chelsie began working at the daycare Adventures Through Learning as an associate teacher holding the job for around two years.
In October 2010, she joined Bakers Footwear Group working at their store Bakers Shoes as an assistant store manager.
She held the job for around a year and a half and was in charge of staffing, training new sales associates, doing inventory control and providing support for merchandising and managing advertising campaigns. Since January 2012, Chelsie has been working at Wilton Brand Inc as a customer service representative making her responsible for the Customer Order Process for the Consumer Care.
Chelsie has also done a bit of modelling and once sent her resume to Explore Talent agency.
She is also an Instagram star as her account's followed by more than 100,000 people.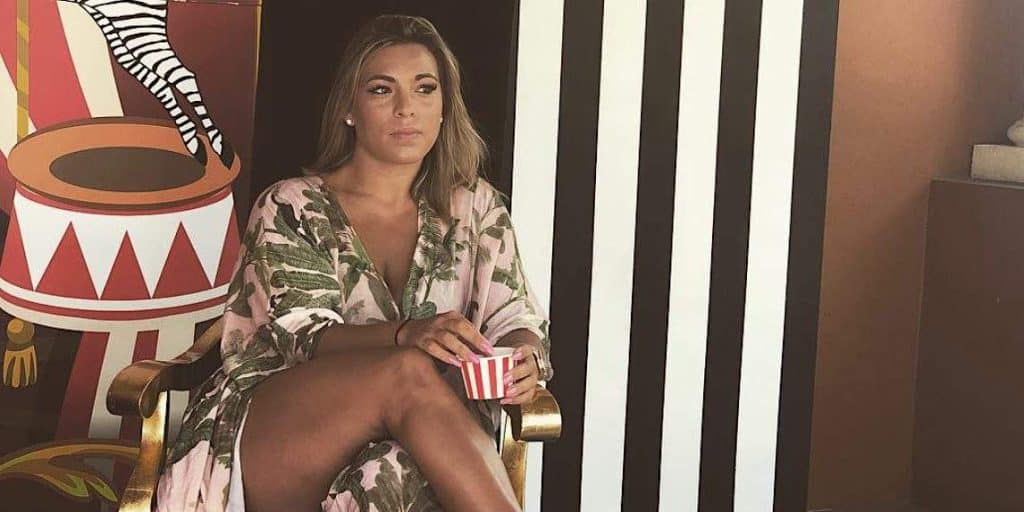 Love life and relationship with Antonio Brown
Before meeting Antonio, Chelsie dated a man whose name isn't known, and gave birth to their children Kellen and Brooklyn.
Chelsie and Antonio haven't shared the details concerning how and when they first met, but it's widely believed that they began dating sometime in the early 2010s. In 2014, Chelsie gave birth to their son Antonio Jr., and in April 2015, they welcomed their daughter followed by their son Apollo in August 2017.
Antonio and Chelsie have split many times during their relationship. In 2016, he broke-up from her to date Teanna Trump, a pornographic actress, but they were together for only a couple of months.
In 2017 he was in a relationship with Jena Frumes, who is a model and an Instagram star with more than 4.3 million followers on her account, but again for just a couple of months.
In early 2018, Chelsie and Antonio got back together, but then in 2019, they both started tweeting about their final split, and how they were never going to date each other again. Not long after that, the two got back together, allegedly for the sake of their children, and numerous pictures featuring both of them can be found uploaded onto Chelsie's Instagram account.
As of March 2021, Chelsie's dating Antonio Brown – possibly living together – but hasn't married, and has five children.
Hobbies and other interests
Chelsie's spending most of her time raising her children, but now that they're a bit older, she has started taking them around the US to watch their father play football. Many pictures have been uploaded onto her Instagram account which feature the couple and their kids at various football stadiums.
She's a fan of fast cars, and has just recently got herself a twin turbo Porsche. Her favorite car is Bentley Bentayga.
Chelsie's physically very active, and has four to five training sessions at the gym each week while she's also following a strict diet, thus her slim body.
She likes to watch movies late at night – her favorite actor and actress are Bill Murray and Scarlett Johansson, while a couple of her favorite films are "Lost in Translation", "The Groundhog Day" and "Ghostbusters".
Age, height and net worth
Chelsie's age is 31. She has long brown hair and brown eyes, her height is 5ft 6ins (1.68m) and she weighs around 130lbs (59kgs). As of March 2021, her net worth is notionally around $200,000, but her boyfriend's net worth is reputedly over $20 million.
Who is Antonio Brown?
Antonio Tavaris Brown Sr. was born in Miami, Florida USA, on 10 July 1988 – his zodiac sign is Cancer and he holds American nationality. He's a football wide receiver, currently playing for the Tampa Bay Buccaneers competing in the National Football League (NFL).
Football seems to be in Antonio's blood, as his father is Eddie Brown, a legendary football player who was nicknamed 'Touchdown Eddie', and who in 2006 was named the best player of Arena Football League.
Following in his father's footsteps, Antonio began playing football at Miami Norland High School, while he also took part in track & field. Upon matriculating in 2006, he applied to Florida State University but was rejected because of his grades, and thus decided to attend North Carolina Tech Prep. After one year there at which he played football and showed amazing results, Antonio was offered a scholarship from Florida International University, but was soon kicked out because he got into a fight with security. In 2007, he enrolled at Central Michigan, but dropped out after his junior year to make himself eligible for the 2010 NFL Draft.
He signed a $1.28 million three-year contract with the Pittsburgh Steleers on 15 June 2010, and in his first season reached Super Bowl XLV, in which the team lost to the Green Bay Packers 31-25.
The following year saw him invited to play in the 2012 Pro Bowl – his team the American Football Conference defeated the National Football Conference 59-41. On 28 July 2012, Antonio signed a new contract with the Steelers worth $42.5 million, and the following years saw him play remarkably well, being invited to play in the Pro Bowl three more times, and was ranked #4 on the list NFL Top 100 Players of 2017.
On 27 February 2017, Antonio signed a new four-year $68 million contract with the Steelers, becoming the highest paid football wide receiver, and was by the end of the year ranked #2 on the list of NFL Top 100 Players of 2018. On 13 March 2019, Antonio was traded to the Oakland Riders, however, he missed numerous training sessions, and was eventually let go by the team, after being fined $215,000 for threating to hit the team's general manager, Mike Mayock.
On the same day, 7 September 2019, Antonio signed a one-year contract worth $15 million with the New England Patriots, but after he was accused of sexual misconduct, he was cut by the Patriots on 20 September, and Antonio then announced that he would be retiring from football. However, he changed his mind five days later, although on 20 July 2020, he once again claimed he wanted to retire but it took him just a couple of days to change his mind again.
Most recently on 27 October 2020, Antonio signed a one-year deal with the Tampa Bay Buccaneers and with them beat the Kansas City Chiefs in Super Bowl LV with a score of 31-9, marking his first Super Bowl Championship.
Antonio has been accused by his former trainer Britney Taylor of sexual misconduct, as she claimed he raped her, and another woman also accused Antonio of sexual misconduct on 16 September 2019. The civil trial for Britney Taylor starts on 6 December 2021.
Besides his children with Chelsie, Antonio has two other kids with two other women.