• Evelyn McGee-Colbert is an American actress and the wife of Stephen Colbert, a famous American actor, writer and producer.
• She holds a Bachelor of Arts degree in English and drama from the University of Virginia, and has four acting credits.
• Evelyn and Stephen married in 1993 and have three children together.
• She enjoys travelling, reading, watching movies and volunteering.
• Stephen Colbert is an American comedian, actor, writer and producer, who is known best for hosting the comedy show "The Colbert Report" and "The Late Show with Stephen Colbert".
Who is Evelyn McGee-Colbert?
Evelyn McGee-Colbert was born in Charleston, South Carolina USA, on 23 July 1963 – her zodiac sign is Leo and she holds American nationality. She's an actress, but who's probably known best for being the wife of Stephen Colbert, a famous American actor, writer and producer.
Early life and education
Evelyn was raised in Charleston by her mother who was a housewife, and her father Joseph McGee who was a civilian litigator, and who worked for the South Carolina's House of Representatives. Joseph's today a co-owner of the litigation company Buist Moore Smyth McGee.
Evelyn grew up being interested in many activities, including acting, creative writing and dancing, but she was urged by her father to focus on her education, and to work on obtaining her college degree.
Upon matriculating in 1981, Evelyn attended the College of Arts and Sciences at the University of Virginia, and obtained her Bachelor of Arts degree in English and drama in 1985.
Career as an actress
Evelyn has only four acting credits – in 1999 she played Nurse Chestnut in the episode "Retardation: A Celebration", and Chuck's Mother in the episode "To Be Young, Gifted and Blank" of the comedy series "Strangers with Candy", created by her husband who also starred in it alongside Amy Sedaris and Paul Dinello. It follows a 46 year-old former drug addict, who enrolls at a high school wanting to obtain her diploma.
In 2005, Evelyn played Clair Noblet in the comedy movie "Strangers with Candy", which starred the same people and follows the same story as the series.
In 2013, she portrayed Laketown Spy in the adventure fantasy film "The Hobbit: The Desolation of Smaug", written by Fran Walsh and Philippa Boyens, directed by Peter Jackson, and which starred Ian McKellen, Martin Freeman and Richard Armitage. It follows Bilbo Baggins, Gandalf the Grey and the dwarves, who are on their way to reclaim the throne of Erebor from the dragon Smaug. It won 19 of the 109 awards for which it was nominated, including three Oscar nominations.
Her only other role has been her portrayal of Booker in the 2014 episode "In the Saddle", and Correspondent in the 2014 episode "The Nuptials" of the critically acclaimed comedy series "Alpha House", created by Garry Trudeau and which starred John Goodman, Clark Johnson and Matt Malloy.
It follows four Republican senators who are doing everything with a sense of humor; the series won one of the six awards for which it was nominated.
Other credits
Evelyn received special thanks for the 2010 episode "Our American Stories" of the documentary series "Faces of America with Henry Louis Gates Jr.", and the 2014 drama movie "Eden".
In 2020, she worked in the sound department as the production manager and a cinematographer on the episode "Amy Klobuchar/Pete Buttigieg/Haim" of the talk-show "The Late Show with Stephen Colbert".
Evelyn made her producing debut in 2020, with the documentary movie "Derek DelGaudio's in & of Itself".
She featured in the 2012 talk-show "Oprah Prime", the 2020 TV special "Stephen Colbert's Election Night 2020: Democracy's Last Stand: Building Back America Great Again Better 2020", and the 2021 talk-show "The Late Show with Stephen Colbert".
Love life and marriage with Stephen Colbert
Back in the late '80s or early '90s when Stephen and Evelyn met, he was in a relationship with another woman who wanted to marry him, but Stephen wasn't ready for this and thus travelled home to Charleston in South Carolina to speak to his mother, who only confirmed what he doubted. He and his mother then attended the Spoleto Festival together at which Stephen met Evelyn, and after talking with each other, learned that they had lived two blocks away from one another during their childhood.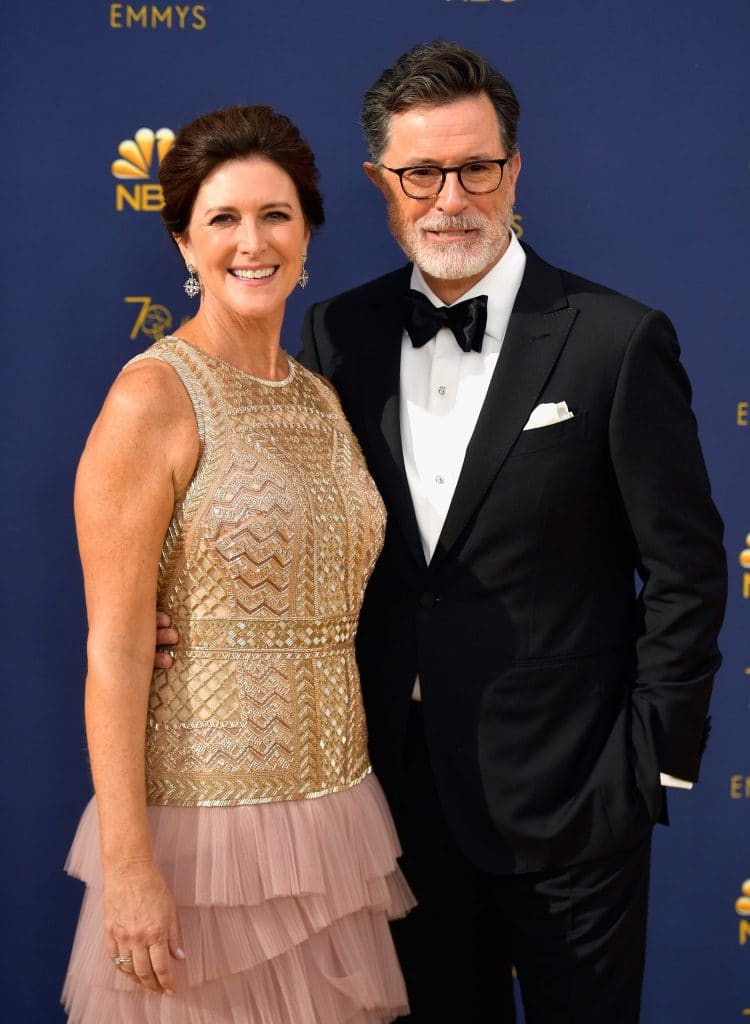 The two exchanged vows in 1993, and Evelyn has given birth to their three children, Peter, John and Madeleine. As of April 2021, the family of five seems to be leading a happy life together at their home in Montclair in New Jersey.
Hobbies and other interests
Evelyn likes to travel, and has kept her husband company during most of his red carpet events. The two could also have been seen travelling for pleasure, and have visited various European countries including Greece and Scotland.
She's keen on reading books in her spare time – her two favorite genres are romance and history, while her favorite book is "The Notebook" by Nicholas Sparks.
Evelyn's a philanthropist who has worked with various charity organizations, and has volunteered with the Montclair Film Festival.
In her spare time, she enjoys watching movies starring her favorite actors and actresses Bill Murray, Amanda Seyfried and Scarlett Johansson, such as "Groundhog Day", "Letters to Juliette" and "Dear John".
Age, height and net worth
Evelyn's age is 57. She has long brown hair and brown eyes, her height is 5ft 8ins (1.73m) and she weighs around 145lbs (65kgs). As of April 2021, her and Stephen's shared net worth has been estimated at over $75 million.
Who is Stephen Colbert?
Stephen Tyrone Colbert was born in Washington, DC, USA on 13 May 1964 – his zodiac sign is Taurus and he holds American nationality. He's known best for having hosted the comedy show "The Colbert Report" between 2005 and 2014, and "The Late Show with Stephen Colbert" since September 2015.
He was raised alongside his 10 siblings in Bethesda, Maryland, before the family moved to James Island in South Carolina. Stephen's father James William Colbert Jr. worked as an immunologist, and was the medical school dean at several universities including Yale; his mother Lorna Elizabeth Colbert (nee Tuck) was a housewife. On 11 September 1974, his father and two brothers died when their Eastern Air Lines Flight 212 crashed in Charlotte upon landing.
Stephen grew up reading novels by J. R. R. Tolkien, and playing board games such as "Dungeons & Dragons". Upon matriculating in 1982, he enrolled at Hampden-Sydney College, and moved to Northwestern University's School of Communication in 1984, from which he graduated with a Bachelor's degree in 1986.
Stephen was planning to become an actor, but after obtaining his college degree, he had to find work and joined Second City, at which he answered 'phones and sold souvenirs, but also practiced comedy with their improv comedy group. He was then invited to join their touring group, and following this, Stephen quit Second City and moved to New York to work on the comedy sketch series "Exit 57". He went on to work on "The Dana Carvey Show" for half a year in 1996, and in 1999 he worked with his two former Second City colleagues Amy Sedaris and Paul Dinello on the new comedy series "Strangers with Candy". From 1997 to 2005, Stephen was part of the comedy series "The Daily Show", followed by "The Colbert Report" and "The Late Show with Stephen Colbert".
Stephen Colbert Has A Hilarious Way To Convince Republicans To Get The Vaccine. It involves guns. And walls. https://www.huffpost.com/entry/stephen-colbert-vaccine-republicans_n_608168bee4b0c1b8964611b1

Posted by The Grinning Buffalo on Thursday, April 22, 2021
He has made an appearance in various movies and TV series, such as the 2005 romantic fantasy comedy film "Bewitched", the comedy series "Curb Your Enthusiasm", and the police procedural drama series "Law & Order: Criminal Intent". He also voiced Colby Krause, Homer's life coach, in the episode "He Loves to Fly and He D'ohs" of the comedy series "The Simpsons".
Stephen has won 32 awards, including nine Primetime Emmys, while he's been nominated for 81 other awards.
He's also an author, having published his novel "Wigfield: The Can do Town That Just May Not" in 2003.
Stephen admitted in a 2018 interview with the magazine "Rolling Stone", that he struggled with depression and anxiety in his youth, and that he was prescribed with Xanax. He took it for nine days and then stopped, but only got better only after he began doing comedy.