• Dee Devlin is an entrepreneur, businesswoman, and the girlfriend of Conor McGregor.
• She quit school at age 16 to financially support herself and started working as Conor's manager.
• She runs her own line of luxurious handbags and watches, and is a social media personality.
• She and Conor have two children, and are engaged since August 2020.
• She is a philanthropist and likes to dress up, watch movies, and is physically active.
Who is Dee Devlin?
Dee Devlin was born in Walkinstown, Dublin, Ireland, on 9 August 1986 – her zodiac sign is Leo and she holds Irish nationality. She's an entrepreneur and a businesswoman, but who's perhaps known best for being the girlfriend of Conor McGregor, a famous Irish mixed martial artist (MMA). Although it is widely believed that the two are married, they've actually only just recently become engaged.
Early life and education
Dee was raised in Walkinstown alongside her sisters Sarah and Cathy, by their mother who was a housewife and their father who was a serviceman.
I's believed that Dee's family struggled with money during her early teenage years, especially as she quit school aged 16 and started working to financially support herself. She was a waitress for three years before eventually meeting Conor, and starting to work as his manager.
While Dee hasn't disclosed any other details concerning her education, it's been reported that she has taken her GED tests and passed them.
Dee's career
Dee has been working as her fiancé's manager for well over a decade now, and he's helped her launch her own line of luxurious handbags and watches.
She is also a social media personality, and is today followed by more than 1.8 million people on Instagram, while she's uploaded around 235 pictures onto her account, most of which feature her husband and their children. Dee has also been active on Twitter since July 2011, and has gathered almost 60,000 followers.
Love life and relationship with Conor McGregor
Dee met Conor McGregor sometime in 2008, reportedly at a nightclub in Dublin. She gave birth to their son Conor Jack McGregor on 5 May 2017, and their daughter Croia followed on 2 January 2019. Dee and Conor have been engaged since 8 August 2020, but it appears that they're not rushing the wedding.
It was reported by the magazine "The New York Times" in March 2019, that Conor was being investigated by the Irish police because a woman claimed that he sexually assaulted her at a hotel in Dublin in late 2018. Following the allegation, another woman sued him claiming he sexually assaulted her in a car in September 2019. Dee has stood in her husband's defense, and in January 2021, the prosecutors decided not to prosecute Conor.
He was also arrested in Corsica on 10 September 2020 under the suspicion that he sexually assaulted a woman at a bar, while also exposing himself in an indecent way. He was kept in jail for two days before being released.
As of February 2021, Dee is engaged to Conor McGregor, hasn't married and has two children.
Hobbies and other interests
Dee is a huge fan of the ocean which is why summer is her favorite season. She likes to show off her body at the beach, swim in the ocean and play beach sports such as volleyball and soccer.
She is physically very active, and occasionally works out with Conor. Dee has several training sessions at the gym each week, thus her fit body.
She is a philanthropist who together with Conor, has donated money to various charity organizations; most recently, the two donated valuable equipment to Mayo General Hospital.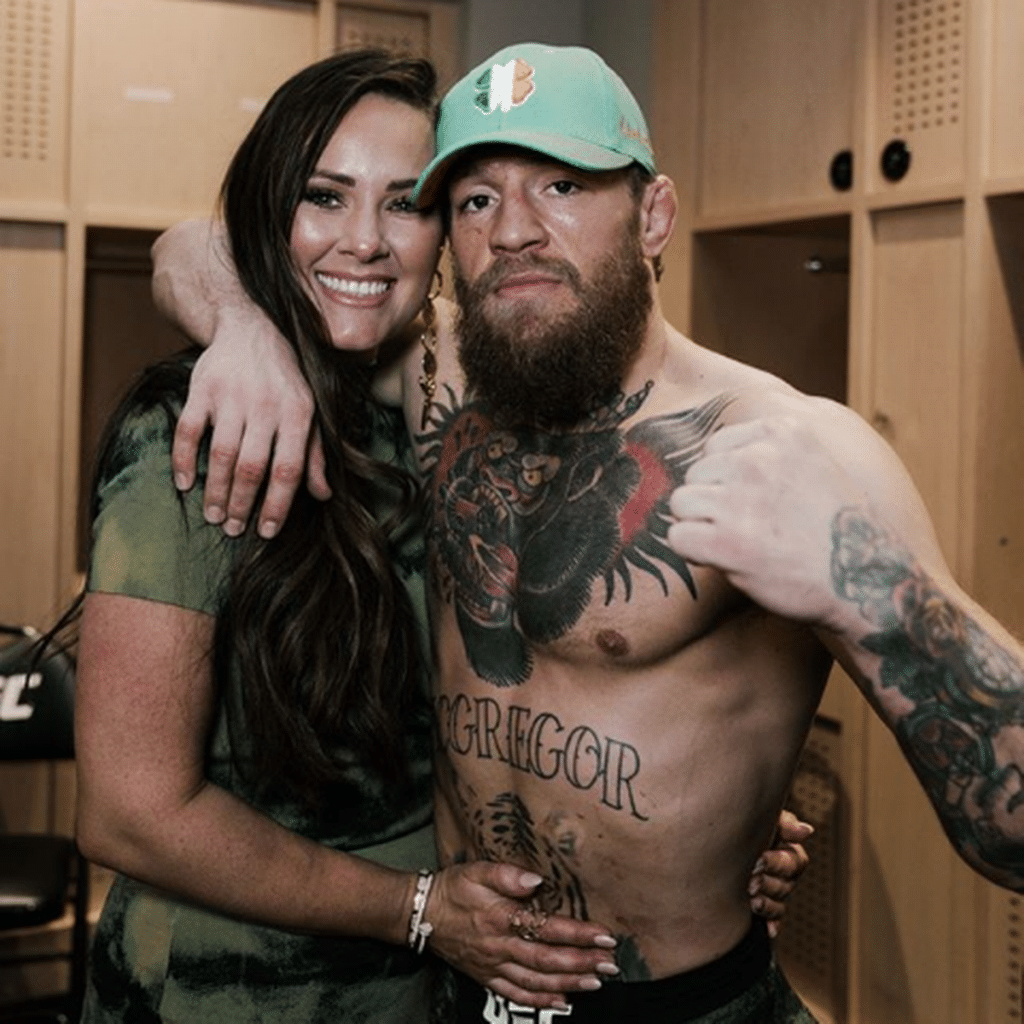 Dee likes to dress up whether it's for fun, a Halloween party or a family photoshoot. Many pictures featuring her, Conor and their children wearing costumes can be found uploaded onto her Instagram account.
She likes to watch movies in her spare time, and her favorite actors and actresses are Vin Diesel, Richard Gere and Emma Watson – a couple of her favorite movies are the franchise "Fast and Furious", "Gone in 60 Seconds" and "The Perks of Being a Wallflower".
Age, height and net worth
Dee's age is 34. She has long brown hair and blue eyes, her height is 5ft 6ins (1.67m) and she weighs around 130lbs (59kgs).
As of February 2021, her husband's net worth has been estimated at over $120 million.
Who is Conor McGregor?
Conor Anthony McGregor was born in Crumlin, Dublin, Ireland, on 14 July 1988 – his zodiac sign is Cancer and he holds Irish nationality. He's known best for having previously been an Ultimate Fighting Championship (UFC) lightweight and featherweight champion.
Conor was raised alongside his sisters Aoife and Erin in Crumlin, by their parents Margaret and Tony. He studied at the Geolscoil Scoil Mologa before moving on to Gaelcholáiste Coláiste de HÍde, at which he became interested in sports and excelled in soccer.
He played for the Lourdes Celtic Soccer Club, then because he was bullied at school and wanted to fight back, at 12 he started taking boxing lessons at Crumlin Boxing Club. Aged 18, he moved to Lucan in Dublin together with his family, and there attended Gaelcholáiste Coláiste Cois Life. It was in Lucan that Conor met Tom Egan, with whom he started practicing mixed martial arts (MMA).
He was also 18 when he fought his first amateur MMA fight against Kieran Campbell, knocking him out in the first round. This fight made Conor a professional, and he signed his first contract with the Irish Cage of Truth.
He had his first fight as a professional in the lightweight category against Gary Morris on 9 March 2008, and Conor beat him by a technical knockout (TKO) in the second round. He won his first lightweight and heavyweight championships in 2011 and 2012, thus becoming the first European MMA fighter to hold titles in two categories.
It was announced in February 2013 that Conor had signed to UFC, and he won his first fight against Marcus Brimage on 6 April 2013. Conor won all his fights in the UFC until 4 March 2016, when he lost to Nate Diaz who defeated him with a rear naked choke in the second round.
Conor is fighting to this day, and while there have recently been some rumors circulating the internet regarding his retirement, he fought Dustin Poirier on 24 January 2021, and lost by a second round knockout.
Conor has stated in one of his interviews that he doesn't perform any pre-fight rituals, believing that fighters usually do this because they are afraid of losing.
He is a devout Catholic.
Conor is a huge fan of whiskey, and thus in September 2018, he launched his own brand of Irish whiskey he calls Proper No. Twelve.