Summary
• Tonia Sotiropoulou is a Greek actress, best known for her role in the 2012 film "Skyfall", as well as "Waiting Room".
• She initially studied at the Modern Theatre of Athens Drama School, but moved to London to pursue an acting career.
• Her career started with a role in the film "Pyhraimia", and she was later cast as James Bond's girl in "Skyfall".
• Tonia is currently in a relationship with Kostis Maraveyas.
• Her net worth is estimated to be around $1 million.
Who is Tonia Sotiropoulou?
Tonia Sotiropoulou is a award-winning Greek actress, who is perhaps best known to the world as Bond's girl in the  2012 film "Skyfall", while she's also known as Katia in the film "Waiting Room", among several other notable appearances in both Greek and English language productions.
Tonia Sotiropoulou Biography: Age, Childhood, and Education
Tonia Sotiropoulou was born on 28 April 1987 under the Taurus zodiac sign, in Athens, Greece.
She hasn't talked about her parents and siblings, but she spent her childhood in her hometown, and as she was growing up, became interested in cinema, and after high school, enrolled at the Modern Theatre of Athens Drama School founded by Giorgos Kimoulis. However, she didn't finish her studies, as she moved to London in pursuit of an acting career. Once settled in England, Tonia continued with acting lessons, and attended English classes since it isn't her mother tongue, and she needed accent softening lessons.
Career Beginnings
Tonia's career started while she was still in her native Greece and a student at Modern Theatre Athens Drama School, when she appeared in the comedy film "Pyhraimia", directed by one of the most recognized Greek directors, Nicos Perakis, who also wrote the film. The following year, Tonia was quite busy working on several projects, including the role of Romina in the TV fantasy-comedy series "Lola".
Rise to Prominence
After early success in Greece, Tonia chose the English cinema industry rather than American, but which gave her the possibility to audition for both European and American films.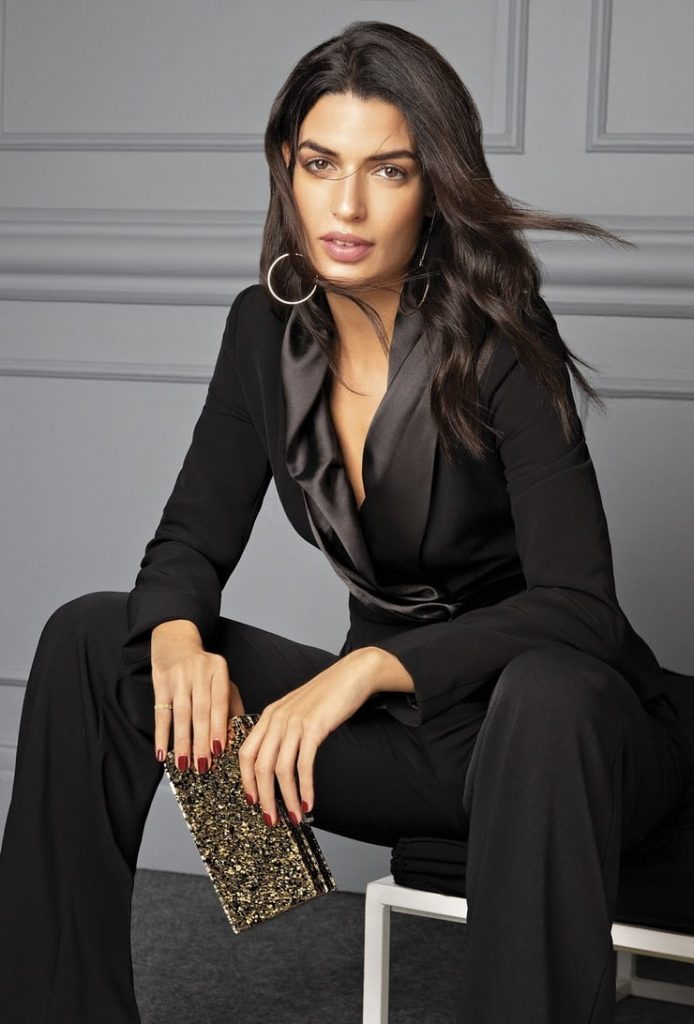 In 2012 after a year and a half of living in England, she was selected for the part of Elena in the horror thriller-drama film "Berberian Sound Studio", written and directed by Peter Strickland, and starring Toby Jones, Antonio Mancin, and Guido Adorni. The same year, she was cast as James Bond's new squeeze in the film "Skyfall", starring Daniel Craig. Originally, she auditioned for one of the lead roles, as Severine, however, French actress Berenice Marlohe was selected ahead of her, but the following day she was called by casting directors and told that they could still find a role for her.
After the recognition she got from her appearance in "Skyfall", Tonia continued her career quite successfully, appearing in the fantasy action-adventure film "Hercules" in 2014, starring Dwayne Johnson, John Hurt and Ian McShane. Then in 2016, she was Jenette in the award-winning thriller crime-drama film "Brotherhood", with Noel Clarke, Arnold Oceng and Red Madrell in the lead roles, and the same year she also appeared in the romantic comedy film "The Bachelor".
The following year of 2017, she had her first starring role, as Maria in the comedy-drama film "Everything is Wonderful", co-starring Pia Mechler and Hannah Herzsprung.
In 2018, she starred in the horror-thriller film "Waiting Room", for which she won the Los Angeles Film Festival Award for Best Actress.
Two years later, Tonia secured the role of Antigone in the TV comedy series "Ta Kalytera Mas Hronia", and has so far appeared in 27 episodes of the popular series. Recently, she starred in the biopic about Saint Nektarios of Aegina, "Man of God", also starring Mickey Rourke and Alexander Petrov – written and directed by Yelena Popovic, the film won a number of awards, making Tonia rather popular.
She is currently working on several projects, including the television romantic fantasy movie "The Selection", which is yet to receive its release date, while she is set to star in the action crime-mystery film "Saison Morte", which is currently in post-production. Furthermore, she is also working on the action-thriller film "Perfidious".
Personal Life, Dating, Boyfriend, Single?
When it comes to her personal life, Tonia prefers not to share that many details, however, since 2017 she's been in a relationship with Kostis Maraveyas, singer-songwriter, composer and director, best known as one of the four judges in the TV show "The Voice of Greece".
She was seen with a few celebrities before Maraveyas; back in 2010, she started dating German actor Alexander Dreymon, and their romance lasted for two years before they broke-up. Tonia then found new love with Greek model Dimitris Alexandrou, but their romance didn't last long, after which from 2013 to 2017, she dated Greek actor Alexis Georgoulis.
Net Worth
As of mid- 2021, Tonia Sotiropoulou's net worth has been estimated to be around $1 million, earned through her successful career as an actress, during which time she has already appeared in more than 20 film and TV titles, all of which have added to her wealth.
Appearance and Vital Statistics
This award-winning actress has dark brown hair and brown eyes. She stands at a height of 5ft 6ins (1.68m), weighs approximately 119lbs (54kgs), while her vital statistics are 34-25-34, bra size 34B.
Hobbies, Interests, Trivia
Tonia has several hobbies and interests other than acting. She loves to travel, and Greek beaches are her favorite destinations.
She also enjoys spending time reading a good book, while she also uses her acting skills for nights with family and friends, doing improvisations, and playing charades.
Tonia is an avid animal lover, and she owns a pet dog named Stella. She often shares pictures of her pet dog on her official Instagram page.