-Lee Kirk is a writer, actor, and producer known for "The Giant Mechanical Man" and "Pants on Fire".
-He met Jenna Fisher when she sent him a film idea and they worked together on the project "Giant Mechanical Man".
-They married in 2010 and have two children.
-Lee has an estimated net worth of $500,000 and his wife Jenna has an estimated net worth of $12 million.
-Lee does not appear to have any social media accounts.
Who is Lee Kirk?
Lee Kirk is a writer, actor, and producer, perhaps best known for "The Giant Mechanical Man" and "Pants on Fire". Many will also recognize him as Jenna Fisher's husband – she's best known as Pam from the popular American mockumentary "The Office". He was born on 9 October 1972 in Texas, USA, under the Zodiac sign Libra, and holds American nationality.
Early life and Family
There is no information about his parents, sibling and background. Reportedly, he matriculated from a private High School in Texas, but information about his academic records isn't disclosed does not necessarily  connate that Lee did not get an education, as his abilities as a writer and producer have proved to be exceptional.
Career
He said in an interview that he started his career as a struggling actor whose 'phone wasn't ringing – the idea to start writing just came to him, after realizing that he really enjoys it, coupled with the positive response he got from the public.  In 2003 he landed his first project as a writer for the short movie "The Man Who Invented the Moon", which turned out to be a commercial success. In 2008 he wrote "Pants on Fire, which stars Lee Kirk himself in a lead role with Heather Ankeny.
He made his directorial debut with the comedy-drama "The Giant Mechanical Man", starring Jenna Fisher as Janice and Chris Messina as Tim.
The movie portrays the life of Janice, a woman trying to navigate adulthood, and Tim who is a street performer with financial issues. In a 2012 interview, he revealed that the origin of the idea for the movie came to him in the period when he lived in Chicago, where he had an opportunity to see a lot of avant-garde theaters which were known for productions that were out of the box. Intrigued by these theater companies, he always wondered about the tiny shows and the mechanical man he had seen on the streets: " I just kind of took those two ideas and tried to meld into this one guy who does this sort of avant-garde crazy street performing thing."
Even though he is mostly known for writing, he also appeared in the role of Clark the Lactation specialist in the 6th season of "The Office". He also directed the episode "Vandalism" in the 9th season of the same show.
How did he meet his wife Jenna Fisher?
Lee Kirk has been married to Jenna Fisher since 3 July 2010. Reportedly they got in contact after Fisher sent a film idea to Kirk sometime in 2008; the director kindly rejected her idea, but proposed other three ideas for the movie. After messaging back and forth, they ended up working together on the project "Giant Mechanical Man". In the beginning their relationship was strictly professional – at that time, Fisher was going through her divorce from screenwriter James Gunn, while Kirk had ended his seven-year-long relationship with his girlfriend, an emotional period of break-ups.
None of them expected this to happen, given Jenna said that she had no intention of starting a new relationship at the time, and planned to be single for a while. However, they spent a lot of time together, and feelings began to evolve.
Jenna realized that she was in a tricky situation because she didn't know whether he had the same feelings for her, and was also afraid that she might jeopardize the production of the movie they were working on. It turned out that he also developed the same feelings for her, and they finally confessed their love to each other. Jenna said in an interview:" You don't get to spend that much time with someone before becoming romantic with them. It was a lot of dinners with wine…while pretending like we were developing a movie when, in fact, we were essentially developing a relationship."
His marriage to Jenna Fisher
The couple announced their engagement in June 2009, and the next year they tied the knot in a small, private ceremony with their close friends and family in Malibu.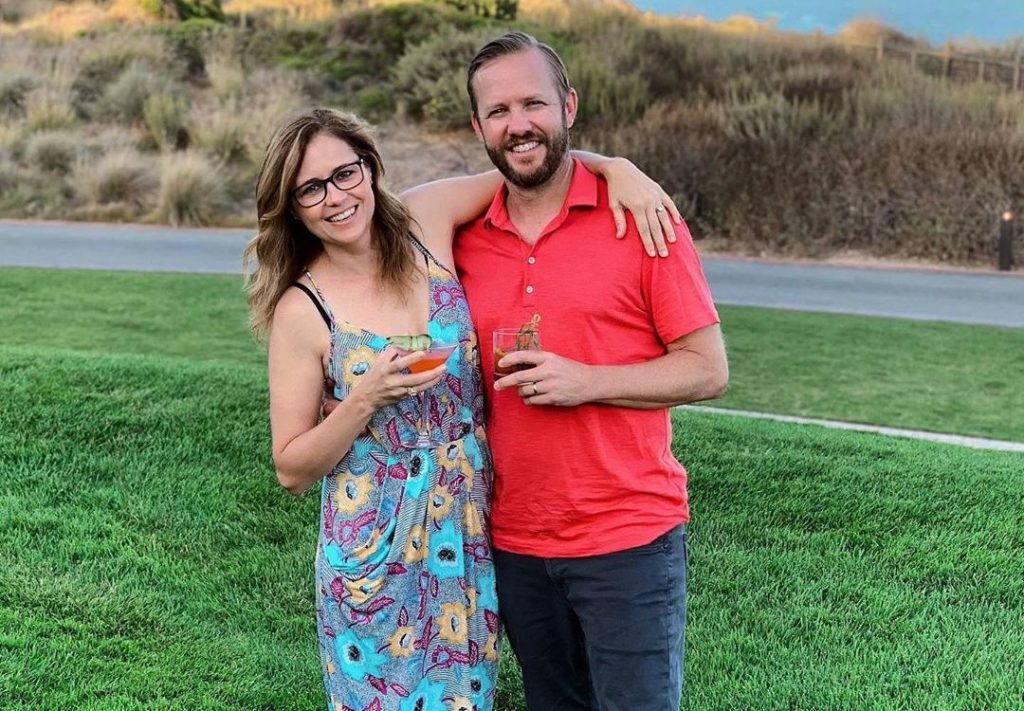 On 3 July 2011, they welcomed their first child, Weston Lee Kirk, and three years later the second addition to their family, Harper Marie Kirk, was born on 25 May 2014.  In 2020, Jenna posted the cutest caption  on her Instagram account – "This weekend we celebrated out 10th Wedding Anniversary. Ten Years! It's gone by so fast. I love you Lee! Nothing has changed except we both need glasses now".
Briefly about Jenna Fisher
Perhaps best known as Pam Beesly in "The Office", Jenna Fisher is an American actress born on 17 March 1974, in Fort Wayne, Indiana, to James Fisher and Anne Miller. Her father was a plastic engineer, while her mother worked as a history teacher. She has a sister who continued their mother's vocation working as a teacher.
Jenna matriculated from the Nerinx Hall High School in Missouri, then enrolled at the Truman State University for her Bachelor of Arts in theatre.
The beginning of her career seemed quite unpromising given she struggled to get a role and was mostly cast in theater productions and adaptations. She landed her first role as a waitress in an American sitcom called "Spin City" in 2001, then appeared in a variety of small independent movies, such as "Employee of the Month", "Lucky 13" and "The Specials".
An interesting fact about Jenna is that she is not only an actor, but has also been credited as a director and writer of her own mockumentary "Lollilove", in which she starred alongside her ex-husband James Gunn. This role garnered her the Screen Actors Guild Emerging Actor Award in 2004.
In the next year, she landed the role of her life – Pam Beasly in "The Office", for which she was nominated for the Primetime Emmy Award for Outstanding Supporting Actress in a Comedy Series.
As the series grew into a success, so did her career, and she began landing various roles in movies such as "Slither", "The Brother's Solomon", and "The Promotion". After the last season of "The Office", she appeared in an off-Broadway play called "Reason to be Happy". In 2016, she starred in the theater production of "Meteor Shower", the comedy written by Steve Martin.  One of her latest projects was in 2019, when she and her co-star Angela Kinsey announced that they would co-host a podcast "Office Ladies" – it has two seasons, with the third one announced. In January 2020, Jenna posted on her Instagram that the podcast won the Podcast of the Year Award at the 2021 IHeart Podcast Awards.
Physical stats and Hobbies
Lee Kirk is 5ft 7ins tall (170cm) and weighs around 165lbs (75kgs).
His hair is blonde, and his eyes are brown. Given that he's a very private man, not much is known about his hobbies, except that he enjoys reading and writing.
Net Worth
Depending on the sources, Lee's estimated net worth as of early 2021 is close to 500,000, acquired mainly through his career as a writer and director. On the other hand, his wife's estimated worth is around $12 million, from appearing in a variety of high-grossing TV shows and movies. They own a house in Northwest Glendale which reportedly cost $1.9 million. The one-acre property was bought in 2012, and includes a swimming pool and an orchard.
It appears that Lee doesn't have Twitter or Instagram accounts, unlike his wife Jenna ,whose Instagram account has over three million followers.