• Emma DiGiovine is a 28-year-old journalist and television producer, married to famous political commentator and television personality Jesse Watters.
• Her net worth is estimated to be over $100,000, and she is also assumed to share the wealth of her husband, who has a net worth of over $5 million.
• She studied Journalism at Fairfield University, and has worked with Fox News, Elite Daily, and MSA Models.
• She and Jesse Watters are expecting their first child in the northern spring of 2021.
• Jesse Watters is a Fox News host and producer, who graduated from Trinity College in 2001.
Who is Emma DiGiovine?
Emma Christine DiGiovine was born in 1992, in Cranford, New Jersey USA; the actual date of her birth is unknown. She is a 28-year-old journalist and television producer, but probably best recognized for being the second and current wife of famous political commentator and television personality Jesse Watters.
How rich is she, as of now? Emma DiGiovine Net Worth
As of early 2021, Emma DiGiovine's net worth is over $100,000, acquired through her successful involvement in several endeavors. It's assumed that she also shares the wealth of her famous husband, Jesse Watters, who has a reputed net worth of over $5 million.
Early Life, Family, Nationality, Ethnicity
Emma DiGiovine spent her early years in her hometown of Cranford, where she was raised by her parents; however, there is no information in the media about their names and professions, except that her mother was a ballerina. It is also unknown whether she has siblings or not. Emma holds American nationality and belongs to White Caucasian ethnic group. Under the influence of her mother, Emma took ballet lessons at a prestigious studio in Manhattan, New York City, and at the age of 15, she performed with the American Ballet Theatre at the Metropolitan Opera House.
She also played various sports, such as soccer, field hockey and softball, to name a few.
Educational Background
Regarding her education, Emma attended a local middle school, and then went to the Academy of Saint Elizabeth. Upon matriculation in 2010, she enrolled into Fairfield University in Connecticut, and from there obtained her Bachelor's degree in Journalism in 2014. In her junior year, Emma even served as the Director of Marketing for the Fairfield University Student Association, and also spent some time working as a journalist for its newspaper, 'The Mirror'.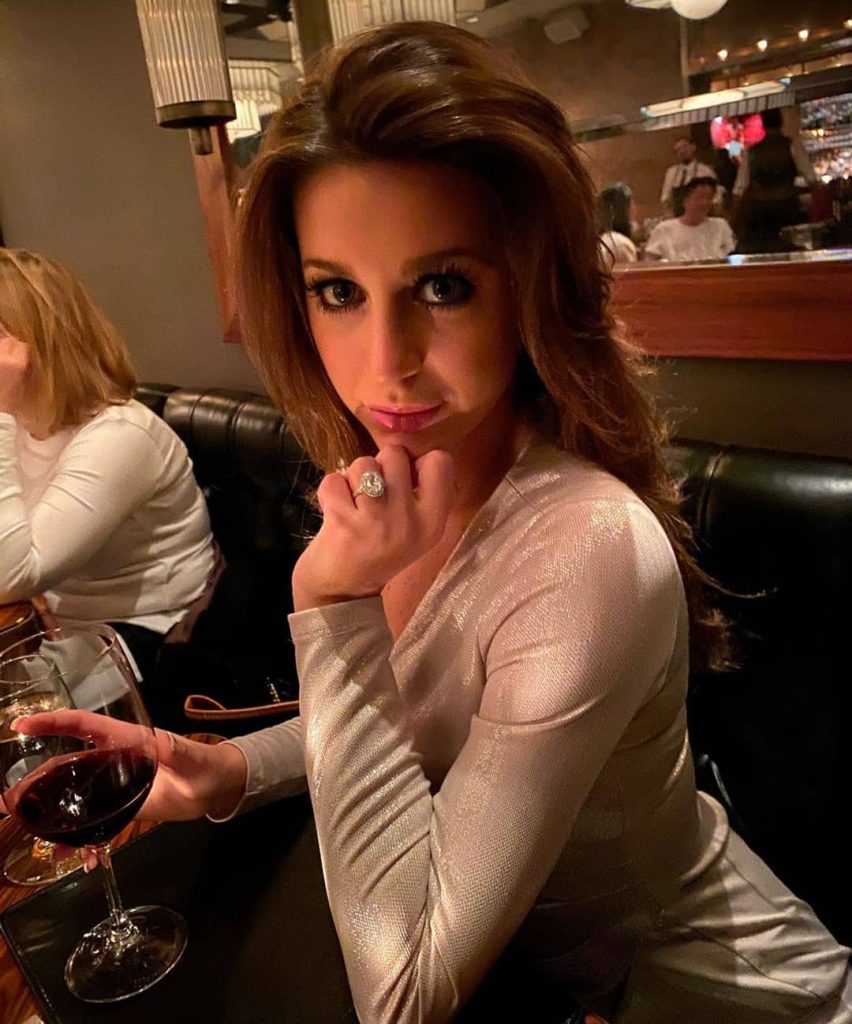 Professional Career
While in college, Emma DiGiovine did an internship at Showtime Channel, then following her graduation, served in the position of an assistant editor at Wainscot Media. She then tried herself as a fashion model, and was signed by the MSA Models agency. During her stint there, she collaborated with several top fashion brands such as Macy's and Tommy Hilfiger.
Thereafter, Emma continued to pursue her career in the field of journalism, so she joined Fox News based in New York City in February 2015. She initially worked as the personal assistant to John Stossel, and production assistant for his talk show.
In the following year, she was promoted to work as an associate producer for Jesse Watters' show "Watters' World". Once they went public with their romance and Jesse admitted he cheated on his wife with Emma, she was transferred to work on another Fox News program "The Ingraham Angle", eventually leaving the network in 2018. Emma also worked as a writer for the blog Elite Daily. Recently, she launched her own website, on which she shares her workout videos, hairstyling, make-up and skincare tutorials, beauty and fashion tips, cooking videos, and other content.
Marriage with Jesse Watters
The public isn't aware of when Emma DiGiovine and her future husband Jesse Watters actually became romantically involved. It's believed that they started their romance sometime in 2016, when she was promoted to work on his show. At the time, he was already married to Noelle Inguagiato Watters, with whom he shares twin daughters, named Sophie and Ellie Watters; news about their split hit the headlines in October 2017, when she filed for divorce. The reason for that was Jesse's extramarital affair with Emma.
They continued their relationship, and as soon as the divorce was finalized, Jesse announced their engagement. The couple eventually tied the knot at a ceremony which took place in late December 2019 in Naples, Florida. They are currently expecting their first child, a boy, to arrive in the northern spring of 2021.
Appearance and Vital Statistics
Emma DiGiovine has long dark brown hair and blue eyes. She stands at a height of 5ft 6ins (1.68m), her weight is approximately 115lbs (53kgs), and her vital statistics are 34-26-36. Her bra, dress and shoe sizes aren't available.
Who is her husband? Jesse Watters Short Wiki/Bio
Jesse Bailey Watters was born on 9 July 1978 under the zodiac sign of Cancer, in Philadelphia, Pennsylvania USA. He was raised in Germantown and then East Falls neighborhoods by his parents, Stephen and Anne Purvis Watters. He attended the William Penn Charter School, then following his junior year, Jesse moved with his family to Long Island, New York and there completed his high school education. Upon matriculation, he continued his education at Trinity College in Hartford, Connecticut, from which he graduated with a Bachelor of Arts degree in History in 2001.
Rise to Fame at Fox News
Right after his graduation, Jesse Watters landed the job as a production assistant at Fox News. In 2003 he joined the production staff of the news and talk show "The O'Reilly Factor". As time passed, he distinguished himself and eventually started to make his on-air appearance in various segments of the show, such as "Watters' World" and "On-The-Street". In June 2014 he joined the daytime news and talk show "Outnumbered", and appeared as a guest co-host from time to time, gaining enormous popularity over the time.
In November of the following year, Jesse started to host and produce his own monthly program, entitled "Watters' World", then in January 2017, it became a weekly show. Since April of the same year, Jesse has also produced and served as a co-host of the panel talk show "The Five", along with Greg Gutfeld, Dana Perino, and Juan Williams. He's also hosted the segment "Final Exam" of the news and talk show "Tucker Carlson Tonight", and has made appearances in other shows, such as "Fox And Friends", "Media Buzz", and "Fox Files", to name a few.