• Wanda Miller is a housewife and widow of the late musician Kenny Rogers, with whom she has two sons.
• Wanda was born in Lowndes County, Georgia in 1967 and holds American nationality.
• She met Kenny Rogers at a hotel in the mid-90s and they married in 1997.
• Wanda is a fan of tropical islands, animals, music and television.
• Her net worth is estimated to be over $15 million.
Who is Wanda Miller?
Wanda Miller was born in Lowndes County, Georgia USA, in 1967; she hasn't shared her exact date of birth with the public, but her zodiac sign is believed to be Cancer, and she holds American nationality. She's probably known best for having been the wife of the late Kenny Rogers, a popular American singer-songwriter, actor and entrepreneur.
Early life and education
Wanda was raised alongside her sister Tonia in Lowndes County by their mother Teena Miller and their father Charles but as their parents prefer to be left out of media, nothing about them is known.
Wanda attended Lowndes High School at which she was physically active, mostly because she was planning to become a model.
She did gymnastics, ran track and played soccer, then upon matriculating in 1985, she enrolled at the University of Georgia from which she graduated with a Bachelor's degree in 1989.
Wanda's career
Before she met Kenny, Wanda worked at a hotel as the manager, with a salary reportedly around $3,500 a month. After marrying Kenny, she quit her job and moved with him to Los Angeles where they lived together in a mansion.
Since she exchanged vows with Kenny, Wanda has been focused on being a housewife and raising her children.
Love life and marriage to Kenny Rogers
Wanda met Kenny Rogers at a hotel sometime in the mid-'90s. He saw her in the hall and began following her around the hotel before he finally approached her, complimented her and asked her out on a date.
Kenny was 29 years her senior, and thus Wanda's parents – who were only two years older than Kenny – weren't happy that the two wanted to marry. However, Kenny spent some time talking to the family, convincing them that they truly loved each other.
They married in a large ceremony in 1997, attended by their wide circle of friends and family members, and in the following years, Wanda gave birth to their twin boys Jordan and Justin. The marriage ended with Kenny's death in 2020.
Kenny was married four times before Wanda. On 15 May 1958, he exchanged vows with Janice Gordon, and she gave birth to their daughter Carole Lynne. The two divorced in April 1960 and Kenny went on to marry Jean in October 1960, but they divorced three years later.
In October 1964, he married Margo Anderson who have birth to their child; their divorce was finalized in 1976. On 1 October 1977, Kenny married the famous American actress Marianne Gordon who also gave birth to their child, but in 1993, the two divorced for unknown reasons.
Wanda hasn't spoken about any other men she has perhaps dated, and as of March 2021, she's single, is the widow of the late musician Kenny Rogers, with whom she had two sons.
Hobbies and other interests
Since she began going out with Kenny, Wanda has been a huge fan of tropical islands, and the two could often have been seen vacationing on various beautiful islands such as Bora Bora, the Maldives and Santorini (Greece).
She's a huge lover of animals, and has a pet dog which can be seen featured in some of her Instagram pictures; Wanda enjoys being active on Instagram because of the attention she receives.
She loves music and everything that has anything to do with it. In her spare time, Wanda likes to watch the popular show "America's Got Talent", as well as "Britain's Got Talent".
She's also keen on watching movies – her favorite actors and actresses are Tom Hanks, Bill Murray and Scarlett Johansson, and a couple of her favorite films are "Sleepless in Seattle", "You've Got Mail" and "Lost in Translation".
Age, height and net worth
Wanda's age is 53. She has long brown hair and brown eyes, her height is 5ft 4ins (1.62m) and she weighs around 115lbs (58kgs).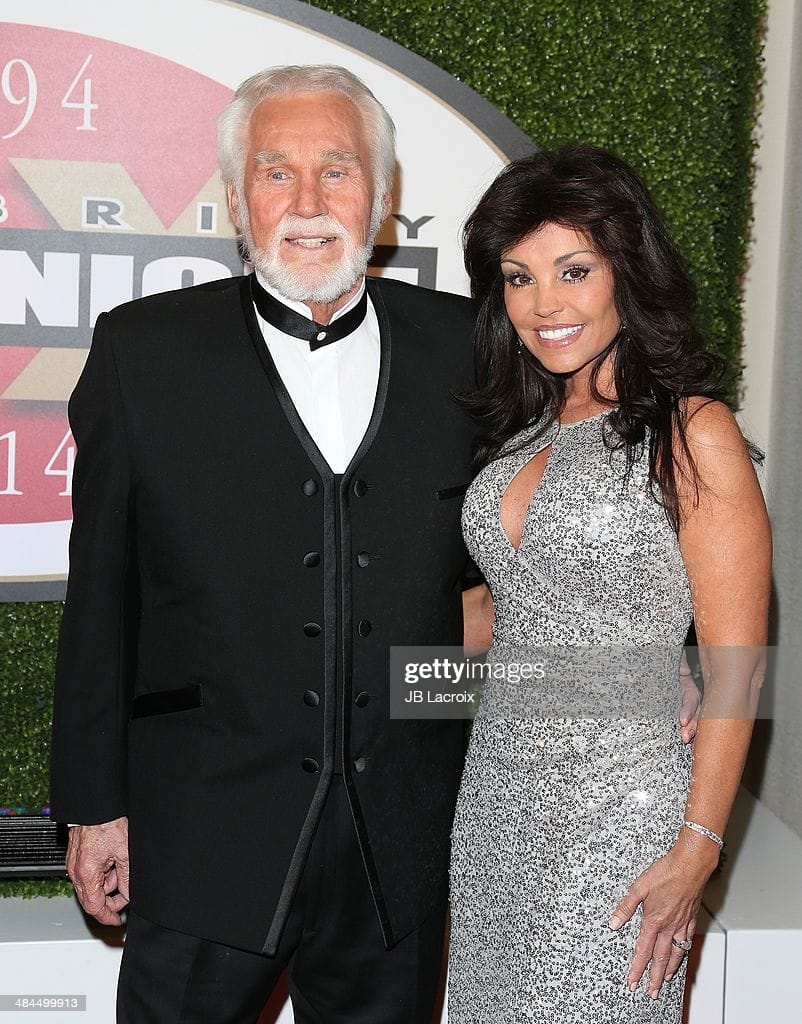 As of March 2021, her net worth has been estimated at over $15 million, while Kenny's net worth at the time of his death was estimated at over $250 million.
Who was Kenny Rogers?
Kenneth Ray 'Kenny' Rogers was born in Houston, Texas USA, on 21 August 1938 – his zodiac sign was Leo and he held American nationality. He was famous for his songs, was inducted into the Country Music Hall of Fame in 2013, and sold over 100 million albums all around the world, ranking him amongst the best-selling musicians of all time.
Kenny was raised alongside seven siblings in Houston by their father Edward Floyd Rogers who was a carpenter, and their mother Lucille Lois who was a nurse's assistant. He studied at Wharton Elementary School before moving on to George Washington Junior High School and then to Jefferson Davis High School.
In 1949, he entered and won a talent show held at the Texas Theatre. Upon matriculating in 1956, he first decided to focus on his singing career, however, Kenny soon changed his mind and enrolled at the University of Houston, from which he obtained his Bachelor of Arts degree.
He launched his career sometime in the '50s, and gained recognition with his single "That Crazy Feeling" which became a hit in 1957. Kenny went on to join the jazz group The Bobby Doyle Three, then after they disbanded in the mid '60s, he began writing music for other artists including Eddy Arnold and Mickey Gilley. In 1967, Kenny founded the group The First Edition, which eventually changed its name to Kenny Rogers and the First Edition. They were quite popular, but still disbanded in 1976 when Kenny decided to work solo.
He had released two albums by the time his single "Lucille" became a huge hit in 1977, topping pop charts in more than 12 countries. His album "Kenny Rogers" became a hit, topping the Billboard Country Album Chart. In the early '80s, Kenny became one half of a duo with Dottie West, and they released several duets and albums together, becoming popular, while today there's also a movie about them entitled "Big Dreams and Broken Hearts: The Dottie West Story" which was released in 1995. Dottie died in a car accident in 1991, aged 58.
The '80s also saw Kenny collaborate with various famous musicians such as Kim Carnes, Lynda Carter and Lionel Richie, and he sang the duet song "Islands in the Stream" with Dolly Parton, which topped the Billboard Hot 100 Chart.
For Kenny and Ronnie Milsap's song "Make No Mistake, She's Mine", the two won the 1988 Grammy Award for Best Country Collaboration with Vocals. By the start of a new millennium, Kenny had also released the albums "Timepiece" and "Vote for Love".
In 2000 aged 61, he was able to top the charts once again with his single "Buy Me a Rose". Kenny then spent several of the following years touring and performing with other artists, and didn't release any new albums. In March 2006, his album "Water & Bridges" was released and his final album entitled "You Can't Make Old Friends'' was released in 2013, before his retirement in 2015. Kenny still decided to go for one more concert, held on 25 October 2017 in Nashville.
He was also an actor, having appeared in various movies such as the 1982 comedy drama "Six Pack", the series of westerns "The Gambler", and the drama "Christmas in America".
He was passionate about photography.
Kenny was an entrepreneur who launched a restaurant chain called Kenny Rogers Roasters in 1991, with the help of the American politician and businessman John Young Brown Jr.
He was also a writer, as he published his book "Luck or Something Like it: A Memoir" in October 2012, and on 1 September 2013, Kenny and Mike Blakely published their novel "What Are the Chances".
Kenny died a natural death at his Sandy Springs home on 20 March 2020.