• Ian Watkins was the lead singer and songwriter of the band Lostprophets, and rose to fame in the 2000s.
• He was born in Merthyr Tydfil, Wales, and was a straight-A-student of Hawthorn High School.
• In 2012, he was charged with possession and/or distribution of indecent images of children, conspiracy to engage in sexual activity with a one-year-old girl, and extreme animal pornography.
• He was sentenced to 29 years of prison, plus an additional 10 months for possessing a mobile phone in jail.
• His net worth was estimated at $500,000 before he was sentenced to prison.
Who is Ian Watkins?
He was a world-famous rock singer, known for refusing to do drugs and drink as much as his fellow musicians would do. Ian Watkins rose to prominence as the lead member of the band Lostprophets, with Lee Gaze, Mike Lewis, and Mike Chiplin. No one even suspected that he was hiding a dark secret.
His name made the headlines in 2012, when he was charged with possession and/or distribution of indecent images of children, conspiracy to engage in sexual activity with a one-year-old girl, as well as extreme animal pornography.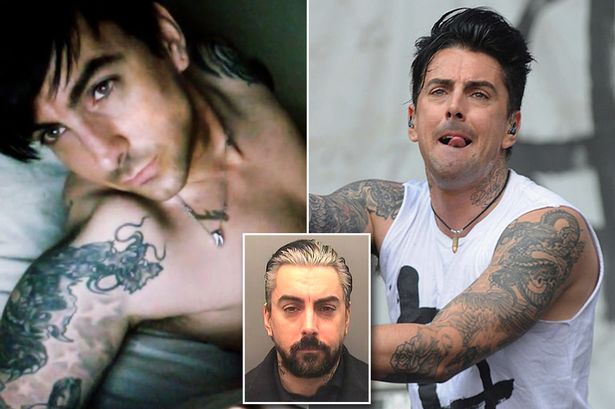 Early life, family, and education
Born Ian David Karslake Watkins on 30 July 1977, he's aged 45 as of 2022. Ian was born in Merthyr Tydfil, Wales but was raised in Pontypridd by his mother and his stepfather who was a Baptist minister – his mother, Elaine remarried John Davies after Ian's father died when he was a child. Elaine and John have their biological son, Daniel, who said that he was so proud of his brother until he found out the horrible truth about the heinous crimes his brother had committed.
Speaking of Ian's educational background, he was a straight-A-student of Hawthorn High School, and upon matriculating in 1995, he enrolled at the University of Wales, in Newport, from which he graduated with a first-class honors degree (a British undergraduate degree classification) in Graphic Design, in 1998.
Career with Lostprophets
While he was in high school, Ian met Mike Lewis, and the two formed a group, playing mostly thrash metal in a shed in Ian's garden. Subsequently, in 1997, Ian and a guitarist Lee Gaze formed Lostprophets, recruiting Mike Chiplin as the drummer in the band, and Mike Lewis as a second guitarist; Ian was the singer and songwriter in the band.
The band released their debut album "The Fake Sound of Progress" in 2000, followed by four more albums, entitled "Start Something" (2004), "Liberation Transmission" (2006), "The Betrayed" (2010), and "Weapons" (2012).
The band was quite popular, and their singles "Rooftops" and "Last Train Home" charted on the UK Singles chart of top ten singles, and "Last Train Home" was a number one single on the USA Alternative Songs chart list. Lostprophets have received several Kerrang! Awards and nominations, and sold over three million albums worldwide.
After Ian was charged with multiple sexual offenses, the band canceled all tours, and the remaining band members joined Geoff Rickly, with whom they formed a new band called No Devotion.
Charges, trial, and sentence
According to sources, Ian began changing his behavior sometime in 2008, and reportedly became obsessed with online pornography; it was later revealed that he'd been grooming his female fans who had young children. Although the police had some information about Ian, it wasn't until 12 December 2012 that he was charged. Two women, known to the public as Woman A and Woman B, were also accused; they allowed Ian to sexually abuse their young children, so aAll three were remanded in custody.
On 31 December 2012, Ian Watkins appeared in court via video link from prison in Bridgend and was remanded in custody until March 2013. The case was adjourned two times, however, in June 2013, Ian denied the charges against him.
The trial was announced to start on 25 November 2013, and the following day, Ian Watkins pleaded guilty to sexual assault of a child under 13 and attempted rape, but not guilty to rape. Further, Ian pleaded guilty to making, taking and possessing indecent images of children, and also possessing an extreme pornographic image that included an animal. According to court documents, Ian sent a text to the mother of a baby boy, one of his victims, saying that if she belongs to him so does her baby. The Crown Prosecution Service, represented by Suzanne Thomas, said that Ian was a highly dangerous and manipulative person.
On 18 December 2013, Ian Watkins was sentenced to 29 years of prison, and six years of supervised release; the mothers of his victims were sentenced to 14 and 17 years of jail. A sentencing hearing was held at Cardiff Crown Court, and Justice John Royce said that Ian had a 'corrupting influence' and 'complete lack of remorse', adding that this case 'plunged into new depths of depravity'.
Allegedly, two days after his guilty plea was accepted, Ian in his phone call with a female fan said that he refers to his sexual offenses as 'mega lolz' (slang LOL-laughing out loud).
An investigating senior who worked on Ian's case said that he is potentially the most dangerous sex offender and committed, organized pedophile he had ever seen.
In March 2018, Ian was again in front of the judge, as after a strip search in jail, the guards found a mobile phone on his body. After a five-day trial in August 2019, Ian was convicted and sentenced to an additional 10 months of imprisonment.
Love life and relationships
Ian was quite popular among female fans of Lostprophets, and was romantically linked to numerous celebrities. It is known that back in the early 2000s, he was in a relationship with musician Alicia Simmons.
From 2003 through 2005, Ian was in a relationship with Marissa Festa, who is now married to Jade Puget, a guitarist in the rock band AFI.
After Ian separated from Marissa, he was dating Fearne Cotton, an English broadcaster and author; they were together for a few months in 2005.
In 2011, Ian become engaged to his long-term girlfriend, Joanne Nikita Majic, an English model; the two had been dating since 2006. There were some rumors that they have a child together, however, this was confirmed false. Joanne broke off the engagement when she found out that Ian had been accused of sexual assault.
Net worth
According to sources, Ian is entitled to royalties from Lostprophets music, so as of late 2022, his net worth has been estimated at $500,000, but he cannot benefit from any earnings while in prison. Nor can he access a payout of nearly £150,000 (around $180,000) resulting from the Lostprophets management company being dissolved.
Ian was also a director of Goonies Touring Company, which made money from Lostprophets' concerts and merchandising.