• Mark Hamill is a renowned Hollywood star and a respected voice-over artist
• He chose Marilou York, a Dental Hygienist, over fame and other actresses
• Marilou has been dedicated to taking care of her family, including travelling with Mark while pregnant with her first-born
• The couple has appeared on multiple shows, such as Star Fun Facts and Stars Lifestyle, as one of the celebrities in long-lasting marriages
• Marilou has co-produced a comic book and her children have had roles in the film industry
Hollywood stars have been known for divorces over the years and children falling out of line and turning to be unsuccessful because of fame and always being in the spotlight and media. But here is a story of a couple that has been together for 43 years. Yes, 43 years in marriage without cases of their children being taken to rehabilitation centres for drug addiction and none losing their lives to a drug overdose. What is the secret behind Hamill's Family?
Mark Hamill is a renowned Hollywood star and a respected voice-over artist who has appeared in a dozen of TV shows, like Child's Play movie where he was the voice to the Chuck Doll and the voice of "Joker" in the famous Batman the animated series.
Despite all the success and all attention he could get from beautiful actresses in the industry Hamill still chose Marilou York a Dental Hygienist.
Marilou York was born on the eleventh day of February 1955, she is the only child to her parents, Doyle Fredrick York and Jean Apple. She is of Caucasian ethnicity.  Born in Illinois, she attended Carmi Township Hall Schools and Parkland College where she graduated in dental hygiene in 1975.
Three years later her story with Mark Hamill started in a hospital, where Marilou was the doctor and Mark Hamill the patient. Being an actor and in the movie industry, Hamill was the bold one.
He threw a compliment to a lady in jeans and a white coat only to be called next to be attended to. The first date of a movie star was to take the lady to the movies, which led to another.
Mark Hamill presence in Hollywood allowed him to meet and date other movie stars but he chose love over fame. Marilou was calm even when she didn't see hope, in the return of Mark she was confident enough that she and Hamill were meant to be. But who does that with a TV star? These two were truly meant to be. Hamill came back and they tied the knot in 1978 and they have been together to date. No controversial stories about their marriage.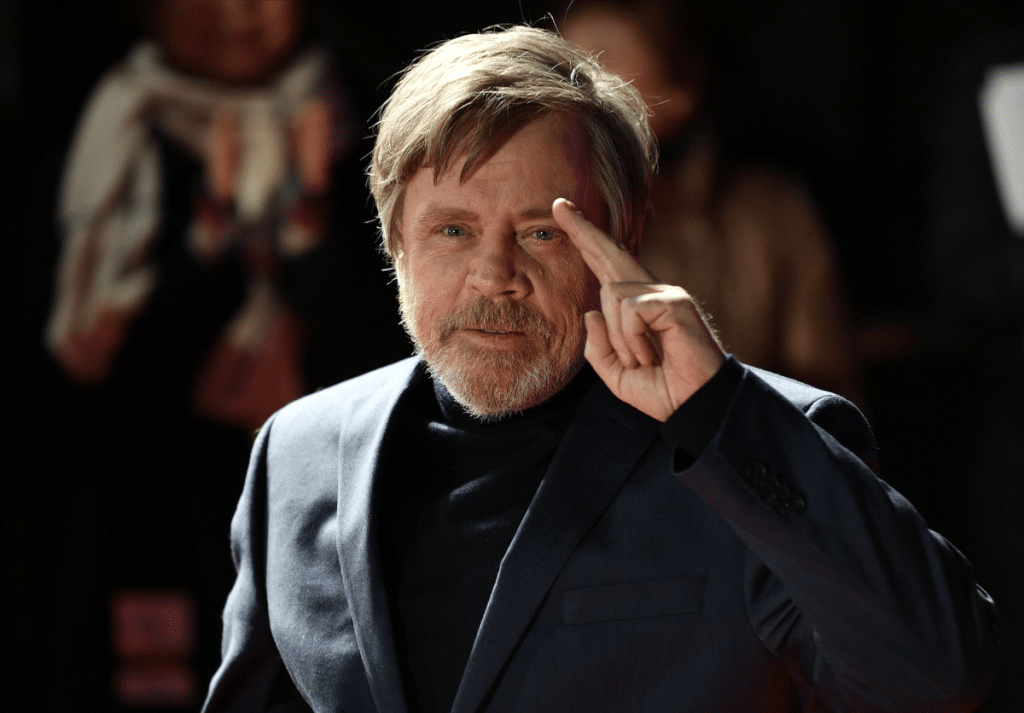 Marilou has been all about her family, with three children, two sons and a daughter. She dedicated her life to take care of her family. She even travelled with Hamill whenever he went filming the movie "Empire Strikes Back" when she was pregnant with her first child, she didn't want to give birth without Mark on her side.  Nathan the firstborn has maybe been the controversial one. Back in 2016, his girlfriend Meagan Chen an ex-porn star who was pregnant with Nathan's baby claimed to have received a call from Marilou telling her to abort the pregnancy and the following year she filed a lawsuit against Nathan claiming he wasn't paying child support.
Marilou never has discussed how the issue with Nathan's girlfriend was solved, but in her quiet moments she stood up to uphold the family's reputation. She has never allowed anything to come between her family members. It may not have been spoken loudly but she seems to be the kind that has ensured the family stays together. As most families of Hollywood families have fallen out, Hamill's family has stayed put and this has led to success, not only for the family businesses but every individual member of the family.
Griffin Hamill the second born is quite a simple man who has flourished in his career as an artist and martial arts.
He is the operations manager MuDo Integral Martial Arts, green and black belt holder. Marilou is the CFO and Chelsea Elizabeth Hamill the last born in the family is the CEO of Amazing Invisible Inc., a company that was started by Hamill. With a master's degree from the University of South California in Communication Management and Entertainment Market and a degree in BA from the same university, Chelsea also helps in managing media relations for the company.
Marilou dedication to a better family has been the pillar of success in Mark Hamill's life, career and family life.
Recounting how his relationship with actress Ann Wyndham turned out Mark Hamill didn't see any future with Hollywood stars. He chose to stick to a normal and infamous woman who he keeps praising on Twitter that he is lucky to have. Marilou is not a social media person and though her husband is famous she still has chosen to be a wife, mother, and grandmother to her family.
Being the wife of a Star Wars actor, Marilou has been involved in the comic industry and so is her son Nathan and daughter Chelsea in the film industry. Marilou co-produced the comic book "Movie" in 2004. Nathan got a role as a background character where he did a voice-over in Star Wars Episode I – The Phantom Menace.
He was also part of the writers of the short-animated series Weasel Town. Chelsea appeared on Star War Episode VIII – The Last Jedi as Koo Millham.
Marilou York's net worth has never been revealed. Her husband is worth over 15m dollars, she lives lavishly and comfortable in money but she is not bothered about telling the world how much she is worth though if Mark Hamill was asked that question he would say she's priceless. Marilou travel habits have been private since she is not a social media person.
Mark and Marilou Hamill have been spotted together in almost all red carpet events that Hamill has attended or involved in. They still have a spark when together, as photos of them speak. He has left fashion choices to his wife, he said this at LIVEKellyandRyan show, meaning he enjoys letting her decide what both of them will wear, and who dresses them for events. The couple has appeared on Star Fun Facts a show that talks to, and about celebrity couples, as one of the celebrities in long-lasting marriages. They also appeared on Stars Lifestyle for being married for over 25 years.