Jean Muggli:
• Born in 1965 in Carson, North Dakota USA
• Married to Michael Strahan, former American Football player, TV personality and journalist
• Has five siblings and was raised by their mother Marry Muggli and father Anthony Alphonse Muggli
• Worked as a beautician prior to meeting Michael
• Received $15 million as a divorce settlement from Michael in 2007
Who is Jean Muggli?
Jean Muggli was born in Carson, North Dakota USA, on 3 November 1965 – her zodiac sign is Scorpio and she holds American nationality. She's probably only known to the public for being the wife of Michael Strahan, a famous former American Football player, now a TV personality and a journalist.
Early life and education
Jean was raised alongside her five siblings Denise, Timmy, David, Carolee, and Scott by their mother Marry Muggli who was a housewife, and their father Anthony Alphonse Muggli who was an Army man.
Jean was interested in a couple of activities while attending a local high school, as she played soccer, was a member of the school's drama club, and practiced singing.
She was urged by her parents to focus on her education, and thus upon matriculating in 1983 she enrolled at a local university, from which she obtained her Bachelor of Arts degree in 1987.
Jean's career
Not a lot is known about Jean's career, as she prefers to stay away from the spotlight. Prior to meeting Michael, she worked at a salon in California as a beautician, but after giving birth to their daughters, she became a housewife.
Love life and marriage with Michael Strahan
Jean and Michael Strahan met at a spa in 1998, and exchanged vows in front of their closest friends and family members in late 1999. In December 2004, Jean gave birth to their twin daughters Sophia and Isabella, but on 20 July 2006, Jean and Michael's divorce was finalized.
It was in January 2007 that she received $15 million as a divorce settlement, while Michael was ordered to pay $18,000 a month for child support. Their mansion in Montclair, New Jersey was auctioned and sold for around $3.5 million, and the money was shared equally between the two. It was reported in 2020 that Jean's daughters were not happy living with their mother, and have claimed that they are suffering physical and emotional abuse from her.
Jean hasn't spoken about any other men she has perhaps been with, while it's known that Michael was married once before meeting her.
In 1992, he exchanged vows with the non-celebrity Wanda Hutchins, who gave birth to their daughter Tanita Strahan and son Michael Anthony Strahan Jr. – Wanda and Michael divorced in 1996. In the summer of 2009, Michael and the former wife of the popular actor Eddie Murphy named Nicole Mitchell became engaged, but they called it off in 2014.
As of April 2021, Jean appears to be single, was married to Michael Strahan and has twin daughters.
Hobbies and other interests
Jean prefers not to share the details of her private life with the public, and for a long period of time, she didn't even have an Instagram account; she has one today, but has set it to private, and only her followers are able to see her posts.
Jean has apparently been seen on various occasions spending time with her daughters at parks and other natural locations, as she dislikes being in the streets of overcrowded cities.
She likes to travel, and during the time she spent married to Michael she often kept him company during his football games, so the two travelled together all around the US, as well as to a couple of European countries.
In her spare time, she likes to watch movies, and a couple of her favorite actresses are Julia Roberts, Anne Hathaway and Emma Watson, while her favorite movies are "The Runaway Bride", "One Day" and "Les Miserables".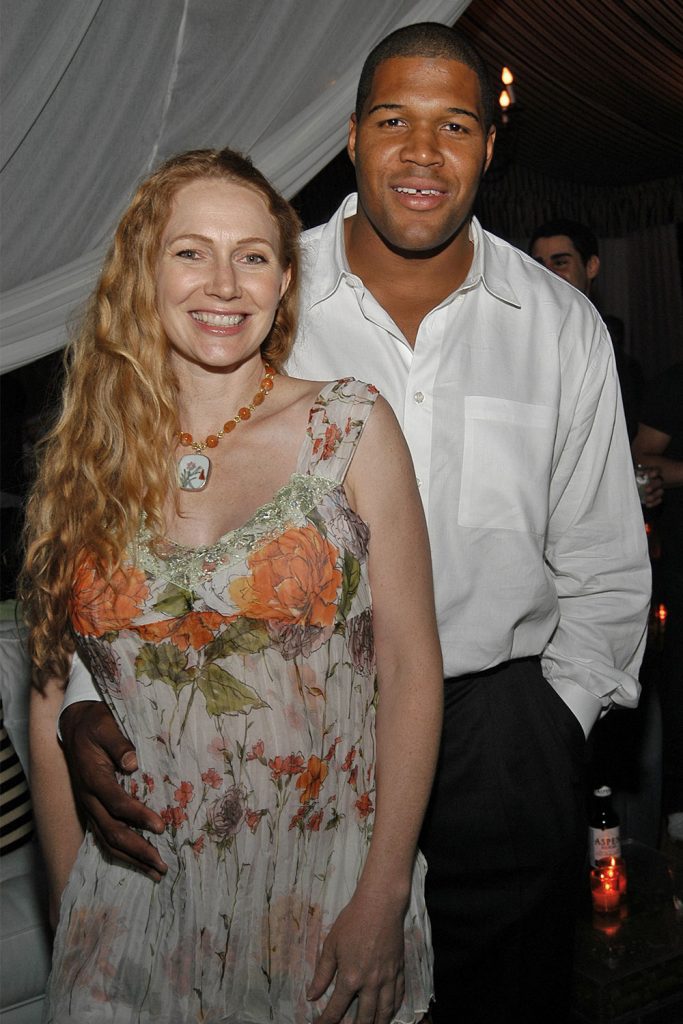 Age, height and net worth
Jean's age is 55. She has long brown hair and brown eyes, her height is 5ft 6ins (1.67m) and she weighs around 128lbs (58kgs). As of April 2021, her net worth has been estimated at over $15 million, while Michael's net worth is reputedly over $65 million.
Who is Michael Strahan?
Michael Anthony Strahan was born in Houston, Texas USA, on 21 November 1971 – his zodiac sign is Scorpio and he holds American nationality. He's probably known best for having played for 15 years with the New York Giants competing in the National Football League (NFL). In 2014, Michael was inducted into the Pro Football Hall of Fame, as well as into the Black College Football Hall of Fame.
He was raised in Houston alongside his five older sibling,s by their father Gene Willie Strahan who's a boxer and a retired Army Major, and their mother Louise Strahan (nee Traylor) who was a basketball coach. At the age of nine, Michael moved with his family to Mannheim in West Germany, as his father was stationed there. Upon returning to the US, he enrolled at Westbury High School, and there began playing football. In 1990, Michael enrolled at Texas Southern University, and following graduation in 1993, he made himself eligible for the NFL draft.
Michael was then picked by the New York Giants, and played unremarkably for a couple of seasons until 1997, when he was voted to his first Pro Bowl, followed by another in 1998.
He played for the Giants until 3 February 2008, when they won the Super Bowl XLII against the New England Patriots – on 9 June 2008, Michael officially retired.
Less than a month after he announced his retirement, it was revealed that he would be joining the pre-game show "Fox NFL Sunday" as a co-host. In 2018, he became the host of the show "Fox NFL Thursday", together with Howie Long and Terry Bradshaw.
Michael also co-hosted the talk-show "Live! with Regis and Kelly" for the first time on 1 October 2010 ,when Regis Philbin wasn't able to work, and on 4 September 2012 when Regis quit, Michael was chosen as the new host. He quit on 19 April 2016 when invited to join the show "Good Morning America", for which he then won two Daytime Emmy Awards for Outstanding Talk Show Host. From August 2019 to March 2020, he hosted the talk-show "Strahan, Sara and Keke".
He's a philanthropist, who has donated money to various charity and non-profit organizations, and has also volunteered with many. In 2000, Michael bought a mansion in Montclair, New Jersey for $1 million, and in 2002 he paid several million dollars for its renovation. After the renovations were completed, Michael let the Junior League of Montclair-Newark use the mansion for their charity fundraiser, at which an undisclosed amount of money was raised. Some of the other organizations Michael has worked with include Children at Risk and Let Me Play, while he also volunteered at St. Jude Children's Research Hospital.