• Jeff Lutz is an active cast member of "Street Outlaws" and appeared in "No Prep Kings" fourth season
• In May 2021, he crashed his 1957 Chevy during the filming of "Street Outlaws"
• Jeff started race driving in the late 1980s and won his first Hot Rod Drag Race in 2014
• He has his own business, Lutz Racecars, dedicated to building and upgrading cars for race purposes
• Other cast members have been involved in car crashes in the latest seasons of the show
While the words 'fearless' and 'daring' could easily describe any of the guys from "Street Outlaws", if there's someone in the show who rates special attention it's Jeff Lutz, a man apparently too normal to belong in the street race world, but who fits in it like no one else.
Although Jeff's undeniable top-notch driving abilities have gained him respect and recognition both on the streets and through TV, we know it's hard to stay updated on what he and the other guys from the show are doing nowadays, their current projects.
If you have indeed lost track of what Jeff Lutz has been recently doing, then fear no more. In this vid we're going to recount some of the most important things which has happened to him recently, the highlights of his career and some bad news related to him. Just keep with us and enjoy the ride!
#JeffLutz is rolling his '57 back onto the list, TONIGHT on #StreetOutlaws. pic.twitter.com/tV7JDoYWos

— Street Outlaws (@StreetOutlaws) January 30, 2018
What Is Jeff Lutz Doing Today?
Despite how attractive it sounds to spend your days out racing speed-obsessed guys for a living, the truth is that very few people are fearless enough to actually risk their life on the road, just to win recognition and a street-race title.
Nonetheless, ability and a daring attitude sometimes is not enough. Accidents and crashes happen during drag races all the time, including to some expert guys such as Jeff Lutz.
In May 2021, Jeff crashed his 1957 Chevy during the filming of "Street Outlaws". While to date it's unknown what caused the crash, or even where exactly it happened, the many pics posted on social media show that his Mad Max twin-turbo was left severely damaged in the accident.
Fortunately, Jeff seemed to have survived the accident well, even if he apparently took some days off to recover from his injuries. Nonetheless, on his Instagram page, a pic of an almost-entirely wrecked Chevy can be found with the caption "this car saved my life", making it apparent that what prevented him from being seriously injured was the car's safety mechanisms.
What Happened After The Crash?
While we're glad he's well after such a terrible crash, the event awakened a bit of drama. Apparently, the accident was meant to be kept under wraps until some irresponsible person from the filming staff leaked the photos, which obviously got a bad reaction from the show's production, and Jeff's fellow race driver Chuck Seitsinger, who expressed on Facebook his annoyance on the subject.
In his words, whoever posted the pics did it without permission, and to 'boost their numbers' on social media. Nonetheless, while we're not sure if said person posted the pics out of naivety or with suspect intentions, their actions didn't go unnoticed, and judging by Chuck's post, they're going to be banned from working with "Street Outlaws" again.
Other than that, Mad Max was repaired quite quickly, and was back on the road in no time.
By mid-June 2021, Jeff posted pics of the  modified 1957 Chevy on his social media, and it looked well at least from the outside, though it's unknown how much had to be changed and repaired in its mechanism. Since he car was repaired and "Street Outlaws" filming apparently wrapped up, Jeff has been attending public events and race exhibitions with it.
If that's not obvious enough, Jeff Lutz is still an active cast member of "Street Outlaws", and in 2021 also appeared in "No Prep Kings" fourth season.
Who Is Jeff Lutz?
Despite his notable expertise on the speedway, Jeff Lutz' life story is very different from his fellow "Street Outlaws" drivers.
For starters, he didn't grow up surrounded by cars, or develop a strong passion for driving from an early age. The first car he owned was gifted to him by his father when he was barely 14 years old, but contrary to what you might expect, he never got to drive that 1974 Nova.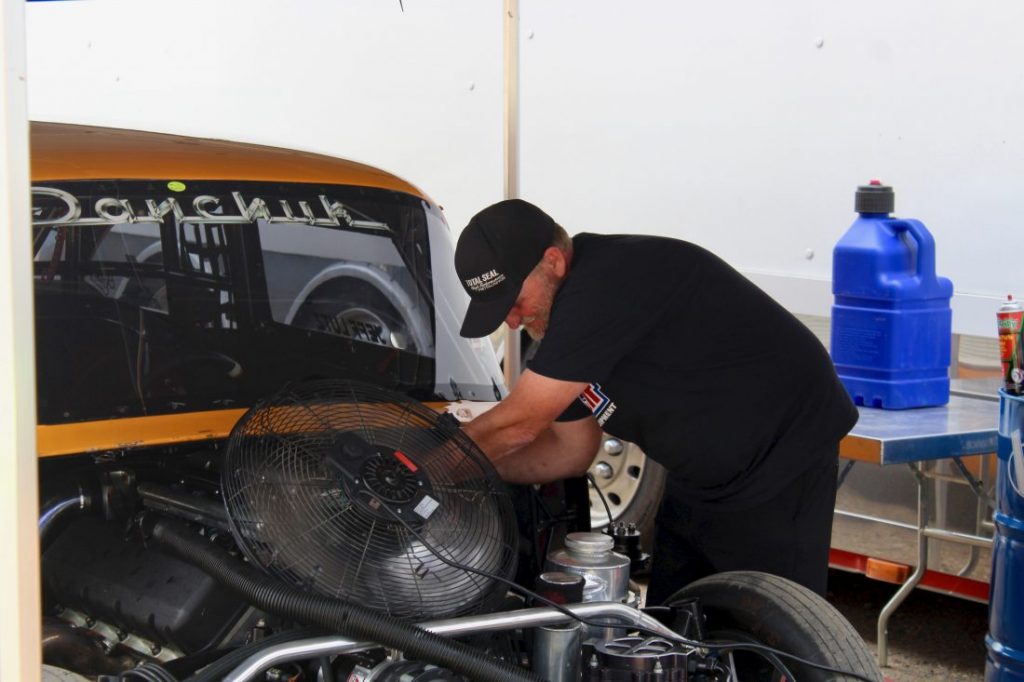 Apparently, although his father was a man who liked cars a lot, he was never into the upgrading and modification thing. Anyway, Jeff wasn't particularly affected by his father's lack of interest in mechanics, or by his idea that no one could earn real money with race driving. Actually, at 18 years old Jeff was already a married man, who was more preoccupied with establishing his own home with his wife Christine than in paying attention to a hobby, even less if it wasn't going to help him pay the bills.
How Did He Get Started On Drag Race?
It wasn't until he was some years into his marriage, with young kids and a stable profession, that Jeff started considering getting into race driving seriously.
It actually happened thanks to his brother Rick, who asked him to take a look into a 1970's Camaro he had difficulty driving. However, as soon as Jeff took the driving seat, he felt just too well with it, a feeling which only increased when he took it to the speedway for good measure.
That was what definitely set the deal and convinced him to try race driving, an activity he had long been curious about, thanks to having watched it on TV, but never dared to personally try it until then.
In the late 1980s, Jeff bought a Chevrolet Camaro he started modifying a couple years later, and although he supposedly didn't have a vast experience working in mechanics, his newfound passion for cars and determination for learning led him to become an expert mechanic, while also eventually establishing his own shop several years later.
Jeff's determination to become a respected full-fledged race car driver paid off in 2014, when he won his first Drag Race with a 1957 Bel Air, a feat he repeated two years later with a 1969 Camaro.
Debut On TV
Participating in recognized race events not only made Jeff's dream a reality, it also led him to connect to some expert drivers such as Shawn Ellington and Justin Shearer, whom he met during his first week in Drag Race.
He's Jeff f***ing Lutz and that's all you really need to know. But if you're curious, check out what #JeffLutz is running tomorrow night at #StreetOutlawsBristol. pic.twitter.com/5tDVwQy2lL

— Street Outlaws (@StreetOutlaws) December 31, 2018
Although at the time Jeff was barely a rookie, he maintained that friendship with the Oklahoma guys, and even started helping them out with the show. Sometime later, Ellington and Shearer invited him onto the show, and he couldn't say no.
That's how he ended up debuting on TV during the tenth season of "Street Outlaws", and later on its spin-off "No Prep Kings", generating a positive welcome by both the audience and his fellow race drivers. If there's something undeniable, it's that gaining a spot in the show, race driving all the time, and just fixing cars for a living makes Jeff visibly happy. As he describes it, the experience is 'a dream come true' for him.
For the following seasons, Jeff continued appearing in the show, and steadily climbed the legendary The List's spots, eventually reaching the Top Five. The show has also opened new opportunities for Jeff, allowing him to showcase his mechanical abilities through his modified cars, in exhibitions all around the US.
His First Cars
We don't exactly know what happened to that 1954s Chevy Nova Jeff's father gifted him in his early years, but if there's something for sure, it's that the cars which followed that one saw better use.
The Camaro Jeff bought in 1988 was the first car he modified, and considering Jeff was still learning at the time, it's normal that it took some time for it to be ready for the road. Although that Camaro proved to be one of his best acquisitions, nowadays it's not looking exactly the same way it did initially. While Mad Max preserves its original black matte color, it's now equipped with a Rossler TH400 transmission, and twin 88mm turbo chargers.
Later on, Jeff bought a black 1957 Chevy Bel Air, which gained huge fame for its sinister-looking appearance back in the late 2000s, when Jeff was still a rookie. Knowing it brings back many memories from his beginnings, it's not surprising that Jeff didn't want to get rid of it, even after buying a new race-machine a couple years later, so nowadays The Beast is driven by his son Jeffery.
What Does Jeff Drive Nowadays?
The new decade saw Jeff's race career speeding-up by winning his first Hot Rod Drag Race in 2014. While some common guys would have thought that was enough, for Jeff it meant he needed to improve even more. That's how in 2017 he ended up replacing The Beast in favor of another 1957 Chevy Camaro, but painted yellow. However, the color wasn't the only thing different in this car.
Maybe it was the 632 cubic-inch motor and the twin-turbos, but this then newly-upgraded speed machine assured Jeff some victories, and even a lot of stares thanks to his then-recent debut on "Street Outlaws". Although the second Mad Max was everything he wanted at the time, it was a car meant for the streets but not for the strips, thus it's usually the one you would see him driving on "Street Outlaws".
Wanting and needing something different for the speedway, in 2020 Jeff acquired an apparently factory bodied 2006 Pontiac GTO.
This might seem a big step away from his signature pro mods, but it's supposedly meant to improve his "No Prep Kings" performance.
Business
Becoming independent so early in life surely meant an advantage in many ways for Jeff. For one, he was financially stable enough to pursue his passion for cars when he came to it, and besides, it allowed him to gain experience in a variety of fields.
It's unknown in how many work fields Jeff was involved, but we know he learned to weld by working in a Connecticut body shop. In addition, he established a small brick and block business he had for several years, until it went broke due to the market's lows.
With the vast experience he already had at the time, he knew working with cars was a good new start for him.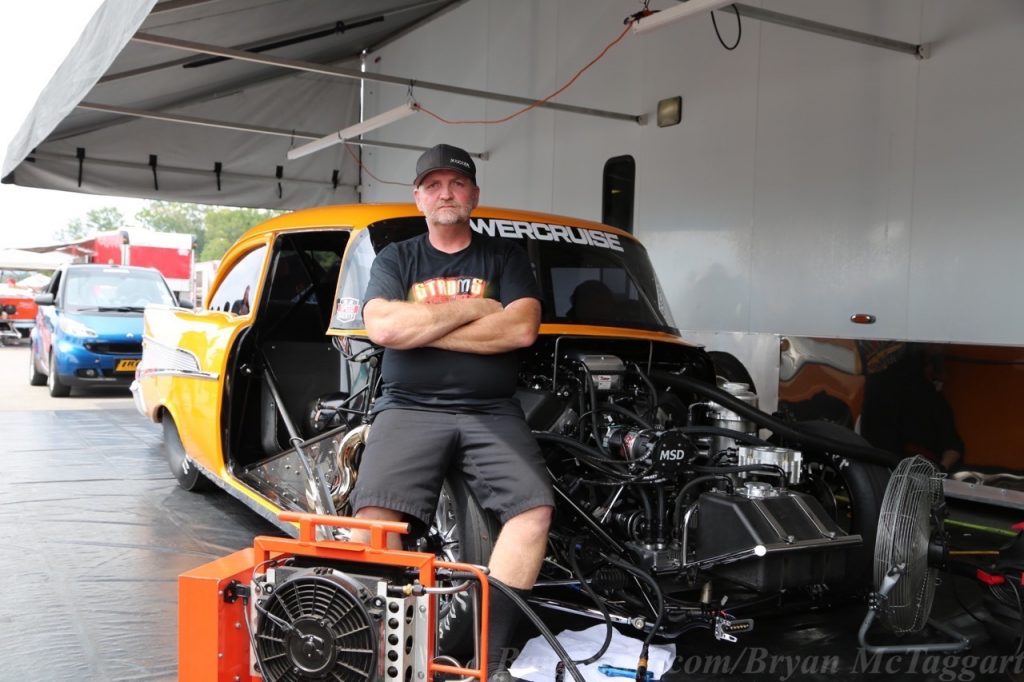 The choice fitted him well, as even before the closing of his first business, Jeff was slowly improving his mechanical skills on the side, while also establishing a home-based small body shop which took years to be ready. After being left with no job in the brick and block field, Jeff opened his car business, while also accepting mechanic side jobs.
Nowadays, Jeff's business is named Lutz Racecars, and is dedicated to building and upgrading cars for race purposes. The shop apparently has a two-year waiting list of customers, which means it's certainly successful.
How Much Does He Earn?
Reality stars' salaries is one of those things everyone wants to know about, but very few are daring enough to ask, even less an answer! This applies to "Street Outlaws" cast members, who despite how approachable they might look, are of course quite wary of revealing too much info about the financial inner workings of both the show and themselves.
Due to this and the secret surrounding their income, it's not surprising the show's cast' salaries and net worths are widely speculated about.
In Jeff Lutz' case, some sources estimate his net worth at over $3 million, accumulated from his various businesses, partnerships with car-specialized brands and from winning car races and championships, which is totally great in itself. Added his involvement with the TV shows over the last decade, and the figure may be a considerable underestimate.
Who Else Has Crashed Their Cars In The Show?
If you've been loyally watching "Street Outlaws" and its spin-offs series throughout the years, you surely know that the cast aren't strangers to crashes and road accidents.
However, seeing that Jeff Lutz' crash is still recent, it's worth reminding you that it's something which has actually happened more than once in the latest seasons of the show.
For starters, Chris 'Kamikaze' Day was involved in a car crash in mid-2020 as well. His legendary Elco, which used to belong to the late Tyler Priddy, and then passed into Justin Shearer's hands, was totally destroyed in the accident. He eventually got a hold of a C5 Corvette for the next season, but had to sell some of the Elco pieces which weren't destroyed to be able to afford his new car.
Not long after, James Love's Street Beast was almost completely destroyed in a crash, though he fortunately wasn't seriously injured in it.
While these happenings are unlucky to say the least, it doesn't mean "Street Outlaws" race drivers aren't skilled enough to prevent them, but it's a good reminder of how dangerous their profession actually is, since they consistently push the speed-racing limits.
None more so than Jeff Lutz!