Steve Damstra:
• Born on 21 September 1981 in the US
• Member of the band Whirlwind Heat
• Husband of "Criminal Minds" star Paget Brewster
• Net worth of around $1 million
• Works as musician, songwriter, and film score composer
Who is Steve Damstra?
Steve Damstra was born on 21 September 1981 under the zodiac sign of Virgo, in the United States; however, the actual place of his birth is unknown. He is a 40-year-old musician, songwriter, and film score composer, probably best recognized for being a member of the band Whirlwind Heat. He is also known for being the husband of famous "Criminal Minds" star Paget Brewster.
How rich is he, as of now? Steve Damstra Net Worth
As of mid-2021, Steve Damstra's net worth is estimated at close to $1 million, earned through his successful career as a musician and film score composer. Moreover, it's assumed that he partly enjoys the wealth of his famous wife, whose fortune is estimated at over $9 million.
Early Life, Parents, Siblings, Nationality, Ethnicity, Educational Background
Steve Damstra remains silent when it comes to his early life but he apparently spent his childhood somewhere in the United States.
Hear ye hear ye #TheLearningCurve will be in London for Raindance Film Festival. Hope to see you there! @Raindance pic.twitter.com/xhG4veIvbJ

— The Learning Curve (@meteachpretty) September 13, 2014
There is no information about the names and professions of his parents, and it's also unknown whether he has siblings or is an only child. He holds American nationality and belongs to White Caucasian ethnic group, but regarding his education, Steve hasn't shared any details.
Whirlwind Heat
Steve Damstra is known for being a musician, bassist and songwriter. In 1996, he co-formed the indie-rock band Whirlwind Heat, alongside vocalist and synthesizer-player David James Swanson and drummer Brad Holland. Their first performance came in the following year, while their debut studio album, entitled "Do Rabbits Wonder?", came out in April 2003. The next year, they released the EP "Flamingo Honey", which includes ten songs.
Two years later, the band issues two studio albums, "Types Of Wood" and "I Fucked Up Types Of Wood", as well as two EPs, "Reagan" and "Air Miami". After releasing their third full-length studio album, "Self Titled Or Scoop Du Jour" in 2008, the group disbanded.
Folded Light and Swanny
Steve Damstra quickly went on to form another band, called Folded Light, alongside Jaffe Zinn. They released their debut self-titled album in 2009, and the duo's second album entitled "Kelly", was out in the next year. They then issued three more albums – "Warm Dark" (2012), "We Did It" (2014) and "Fresh & Cool" (2015). Most recently, they made public their sixth studio album "Beach Gem", in early 2020.
Furthermore, Steve co-formed a duowith David James Swanson called SWANNY, and they released the album "Are You For Real?" in 2018.
Career in Music Department
According to his IMDB account, Steve Damstra started working as a film score composer in the late 2000s. His first projects came in 2009 when he worked on the critically-acclaimed short comedy "Our Neck Of The Woods", the extreme sports TV series "Built To Shred", and the horror film "Messengers 2: The Scarecrow". In the following year, he wrote "Cup O' Sun Coffee Song" for the HBO comedy series "Funny Or Die Presents" and composed for the short comedy-drama film "The Extraordinary Fight Of Atticus Walker And The Monster In His Mind". It was followed by his work on "Magic Valley" and "10 Years + 10 Minutes"both in 2011, and "Excision" (2012). He then contributed music for the documentary "Expedition To The End Of The World", and two films, "Cheap Thrills" and "All Cheerleaders Die", all in 2013.
Afterwards, Steve provided music for the 2014 short film "The Learning Curve", and the 2016 documentary "24×36: A Movie About Movie Posters". During the same year, he worked on "Teenage Cocktail" and "Trash Fire"., then composed for the short film "Buckets" (2017), followed by the comedy "St. Bernard Syndicate" (2018). Most recently, his music could be heard in "Tone-Deaf" and "Union Bridge", both in 2019, and as of mid-2021 he's working on the upcoming comedy "King Knight", which is set to be released later in the year.
Appearance and Vital Statistics
Steve Damstra has short light brown hair and blue eyes. He stands at a height of 5ft 6ins (1.72m), but information about his weight, vital statistics, biceps size, and shoe size isn't available.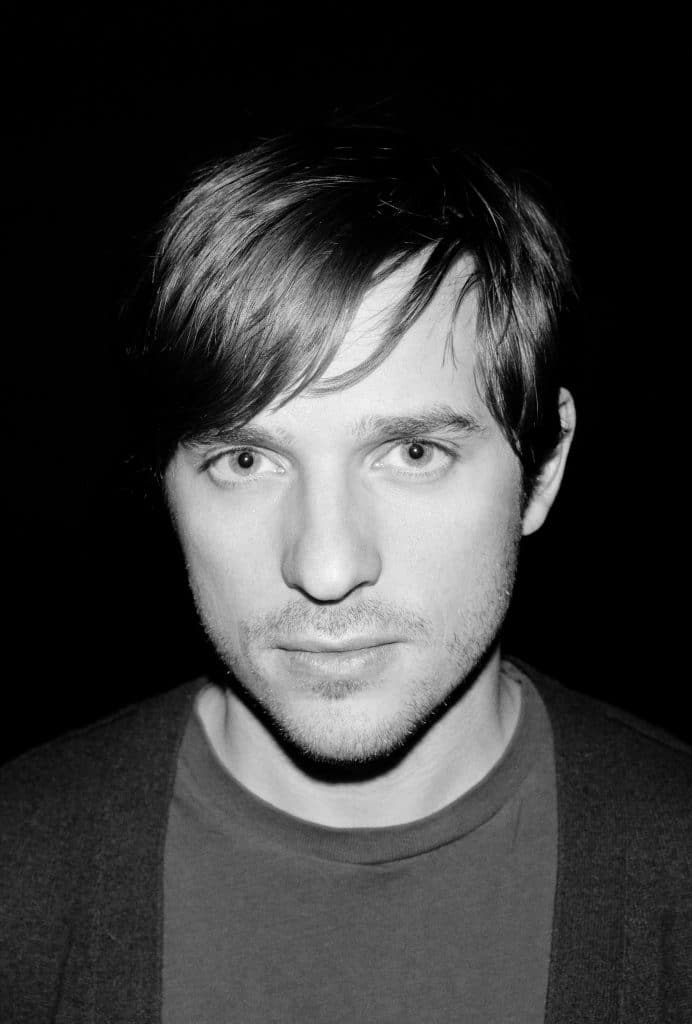 Love Story with Paget Brewster
Steve Damstra met his future wife Paget Brewster while they were working on the film "Magic Valley". After dating for a while, they took a step closer to marriage when he proposed to her on 27 March 2013 – she announced the news via Twitter by posting a photo of her engagement ring. After a year of engagement, the couple eventually exchanged their wedding vows at a ceremony in Los Angeles, California on 28 November 2014, officiated by their best friend and Paget's "Criminal Minds" co-star Matthew Gray Gubler. They don't have children; their residence is still in Los Angeles.
Who is his wife? Paget Brewster Short Wiki/Bio
Steve Damstra's wife, Paget Valerie Brewster, was born on 10 March 1969 under the zodiac sign of Pisces, in Concord, Massachusetts USA, where she was raised by her father, Galen Brewster, who worked as a school administrator, and her mother, Hathaway Brewster, who was a government official.
After completing her high school education, Paget moved to New York City to enroll into Parsons School of Design. While in there, she made her acting debut, after which she quit her education to pursue her professional acting career, and moved to San Francisco, where she took acting classes in the mid-1990s.
Career Beginnings
Paget Brewster started her career as a host of the late night talk show "Paget", aired on KPIX-TV in the San Francisco Bay Area from 1994 to 1995. Following the cancelation of the show, she made her breakthrough with the recurring role of Chandler Bing's girlfriend Kathy in the fourth season of the hit NBC sitcom "Friends" (1997-1998), after which she provided the voice to Audrey Timmonds in the American-Japanese animated series "Godzilla: The Series" from 1998 to 2001.
Concurrently, she also portrayed Allison Conklin in the short-lived CBS sitcom "Love & Money" (1999-2000), and played Claire Garletti in the ABC comedy series "The Trouble With Normal" (2000-2001).
Rise to Stardom
Through 2002 and 2003, Paget was cast as Jessica Green in the Fox sitcom "Andy Richter Controls The Universe". Her next major role came when was selected to play Beth Huffstodt, one of the main characters in the Showtime drama series "Huff", which ran from 2004 to 2006. The series became a huge success, and earned three Primetime Emmy Awards from ten nominations, and which led her to acquire more serious roles in the following years. Paget then played Binky in the 2005 crime comedy "Man Of The House", alongside Tommy Lee Jones, and voiced Judy Sebben/Birdgirl in the Cartoon Network's adult animated series "Harvey Birdman, Attorney At Law" (2005-2007), which she would later reprise in its sequel, "Birdgirl" (2021).
Worldwide Recognition and "Criminal Minds"
Paget gained international recognition in 2006 after joining the main cast of the CBS police procedural crime drama series "Criminal Minds", featuring as multilingual FBI Supervisory Special Agent Emily Prentiss. She starred regularly until 2012, and then guest-starred until returning again in 2016 as a series regular, and remaining in the series until its finale in 2020, appearing in more than 190 episodes.
Her next significant project was the voice-over of Elise and other characters in The Hub animated series "Dan Vs." (2011-2013). Concurrently, she also voiced Lana Lang in the two-part direct-to-video animated superhero film "Batman: The Dark Knight Returns" in 2012. It was followed by her portrayals of Debra Chambers and Francesca 'Frankie' Dart in the NBC sitcom "Community" (2014-2015), which received critical acclaim and became a cult classic.
Still going pic.twitter.com/G8SqAXOL4E

— paget brewster (@pagetpaget) May 31, 2021
Recent Years
In 2015, Paget did the voice-over of Lois Lane in the direct-to-video animated superhero film "Justice League: Gods And Monsters", after which she was cast as Sara Kingsley in the Fox sitcom "Grandfathered" (2015-2016) and played Dodo Bellacourt in the Comedy Central sitcom "Another Period" (2015-2018). Thereafter, she provided her voice to Poison Ivy in the animated superhero film "Batman And Harley Quinn" and Dr. Lynch in the drama film "Axis", both in 2017. In the following year, she produced and starred as Detective Strauss in the horror film "The Witch Files", directed by Kyle Rankin. Later that year, she started voicing Della Duck in the Disney's animated series "DuckTales" (2018-present), which has earned her a Daytime Emmy Award nomination for Outstanding Performer in an Animated Program.