Carly Aquilino:
• Born in New York City, USA, on 18 November 1990
• Stand-up comedian, actress and a TV host
• Ex-girlfriend of Pete Davidson
• Appeared in the reality comedy show "Girl Code"
• Single and has no children
Who is Carly Aquilino?
Carly Aquilino was born in New York City, USA, on 18 November 1990 – her zodiac sign is Scorpio, and she holds American nationality. She's a stand-up comedian, actress and a TV host, BUT who's perhaps known best for being the ex-girlfriend of Pete Davidson, a famous American actor, writer and producer. She's also known for having appeared in the reality comedy show "Girl Code", which has been airing since 2013, and stars Tanisha Long, Shalyah Evans and Jamie Lee. The show's done in the form of a 'how-to' manual.
Early life and education
Carly was raised in New York City by her parents, who prefer to be left out of the media's attention, thus nothing about them is known.
As Carly hasn't spoken of having any siblings, she's widely believed to be an only child.
She grew up being interested in modelling, and her and her peers at a local elementary school would occasionally gather money, and buy themselves girly magazines. The girls were fascinated by the models featured in these magazines, and most of them wanted to become either models or actresses once they grew up. Carly attended a local high school, at which she became interested in acting and comedy, was a member of the school's drama club, and appeared in a couple of school plays. She was also into sports, and enjoyed playing volleyball and soccer with her friends.
Upon matriculating in 2008, Carly chose not to pursue a college degree, but to focus on her career on TV.
Career as an actress
Carly's acting career was launched in 2013, with her appearance in the short music video "Bob Dylan: Like a Rolling Stone", then in 2015 she portrayed Sheri,in the episode "Maria" of the comedy series "The Jim Gaffigan Show". It was created by and starred Jim Gaffigan, alongside Ashley Williams and Michael Ian Black; the series follows the lives of a married couple and their five children.
In 2016, she appeared in the episode "Goals" of the comedy series "Gay Girl Straight Girl", and most recently in 2020, Carly played Tara, in the critically acclaimed comedy movie "The King of Staten Island".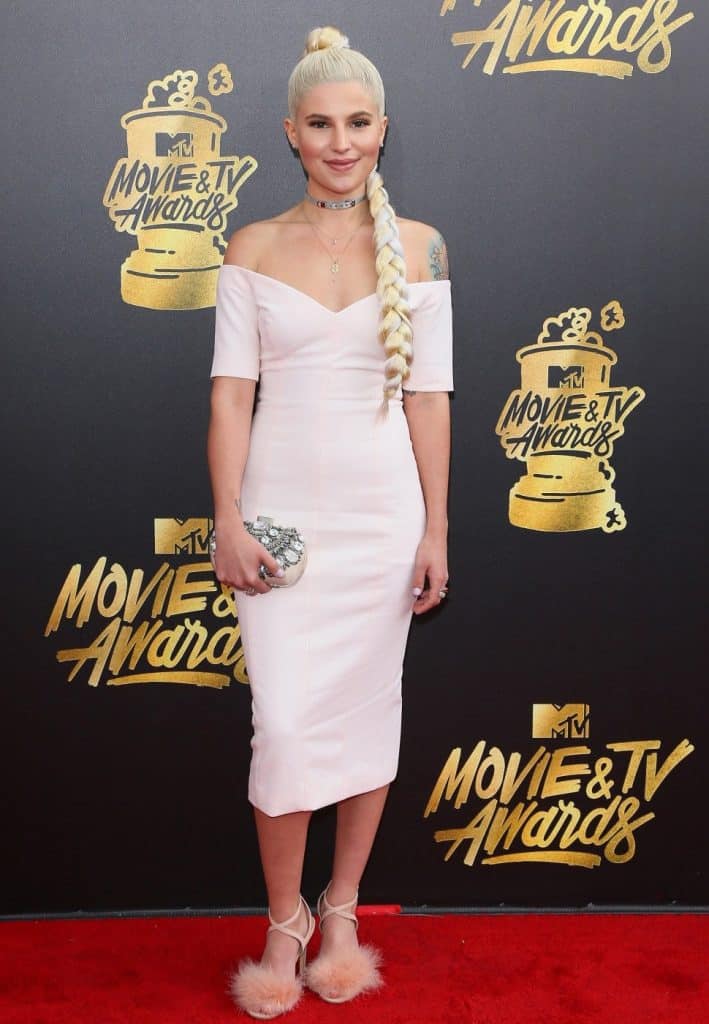 It was written and directed by Judd Apatow, starred Pete Davidson, Bel Powley ad Ricky Velez, and follows the life of Scott, who has been doing nothing but smoking weed since his father passed away. The film won three of the 28 awards for which it was nominated.
Other TV appearances
In 2013, Carly appeared in a single episode of various shows, such as "The Challenge", "Gotham Comedy Live" and "Guy Court", and in 2014, made a guest appearance in an episode of various other shows, such as "Bethenny", "Wolf Watch" and "The Playboy Morning Show".
The year 2015 saw her featured in the TV special "2015 MTV Video Music Awards", and she also hosted an episode of the show "Girl Code Live". A couple of Carly's most recent appearances have been in 2017 in the series "Vidiots" and the show "SafeWord", and the 2020 TV special "2020 Code".
Love life and relationship with Pete Davidson
Carly and Pete met in 2015, when they appeared alongside in the show "Girl Code". Carly had already gained some recognition as a comedian by then, while Pete had started his second season in the show "Saturday Night Live" (SNL). They were together for around a year, and during that time attended most of their red carpet events together. Carly and Pete broke up for unknown reasons, but stayed good friends, and could've been seen acting alongside in the 2020 movie "The King of Staten Island", in which Pete played the main character.
Before Pete, Carly dated American comedian Chris Distefano, back in 2013, but only for a couple of months.
Pete has dated various girls since the launch of his career, including the American writer Cazzie David, the British actress and model Kate Beckinsale, and the American actress Margaret Qualley. He was also engaged to the famous American singer Ariana Grande back in 2018, but as of mid-2021, Pete's dating Phoebe Dynevor, a British actress.
As of June 2021, Carly appears to be single, hasn't married and doesn't have children.
Hobbies and other interests
Carly's passionate about travelling, and has been to various US states to perform stand-up comedy. She has apparently also been to a couple of European countries, including France and England. Her dream travel destination is Miami in Florida.
She likes to go shopping, whether for clothes, groceries or home decor. Carly's a fashionista, and goes shopping for clothes at least once a week, making her a bit of a shopaholic.
She's a cat-lover, and her pet cat can be seen featured in some of her Instagram pictures.
Carly has her own favorite actors and actresses, some of whom are Jim Carrey, Leonardo DiCaprio and Angelina Jolie, while a couple of her favorite movies are "Bruce Almighty", "Titanic" and "Mr. and Mrs Smith".
She's physically quite active, and has a couple of training sessions at the gym each week, thus her slim figure.
Age, height and net worth
Carly's age is 30. She has long brown hair which is usually dyed blonde, her eyes are brown and her height is 5ft 5ins (1.65m), while she weighs around 120lbs (55kgs).
As of June 2021, her net worth has been estimated at over $400,000, while Pete's net worth is reputedly over $6 million.
Who is Pete Davidson?
Peter Michael 'Pete' Davidson was born in New York City, USA, on 16 November 1993 – his zodiac sign is Scorpio, and he holds American nationality. He's an actor, writer, producer and a comedian, who has appeared in close to 35 movies and TV series, and around 50 shows, and has won one of the six awards for which he's been nominated.
Pete was raised in New York City by his father who was a firefighter, and who died during the 9/11 attack and rescue, and his mother who's working at Xaverian High School as a nurse.
At one point after his father died, Pete found it hard to cope with his death, and ripped his hair until there were several hairless patches on his head; he also contemplated suicide. Pete studied at St. Joseph by-the-Sea High School before switching to Tottenville High School, and eventually to Xaverian High School. He matriculated in 2011, and then began attending St. Francis College, but dropped out after a year, as he chose to pursue a career in comedy.
He gained recognition on 27 September 2014, after he made an appearance in the show "Saturday Night Live". Pete made guest appearances in various shows in the following five years, and in January 2019, he began touring around the US with the popular American stand-up comedian John Edmund Mulaney.
The same year saw him star in the coming-of-age comedy movie "Big Time Adolescence", and he also played supporting characters in a couple of movies, such as the romantic comedy "What Men Want", the biographical comedy drama "The Dirt", and the crime comedy "The Jesus Rolls". Most recently, in 2021 Pete has been cast to play Joey Ramone, in the upcoming biographical film "I Slept with Joey Ramone".
In the 2020 US presidential election, Pete voted for Joe Biden, while he previously supported Hillary Clinton, and has a tattoo of her on his leg.
He was 18 when he was diagnosed with Crohn's disease, and has recently been diagnosed with borderline personality disorder.