• Charles Davis 'Chad' Lowe II is an American actor, film director and producer, best known for his role in the 1989 drama series "Life Goes On".
• He is the younger brother of famous American actor and director Rob Lowe.
• Chad has appeared in several films and TV series, and has directed and produced a few.
• He has been nominated for four awards, winning three.
• He is married to his second wife Kim Painter, and they have three children.
Who is Chad Lowe?
Charles Davis 'Chad' Lowe II was born in Dayton, Ohio USA, on 15 January 1968 – his zodiac sign is Capricorn and he holds American nationality. He is an actor, film director and producer, who is probably still known best for his portrayal of Jesse McKenna in the drama series "Life Goes On" created by Michael Braverman and which starred Kellie Martin, Chris Burke and Patti LuPone. It follows an All-American family, the series aired from 1989 to 1993 and won nine awards while it was nominated for 20 others including a Golden Globe.
Chad is also known for being the younger brother of rather more famous American actor and director Rob Lowe.
Early life and education
Chad was raised in Dayton alongside Rob by their father Charles Davis Lowe who was a lawyer, and their mother Barbara Lyn Wilson who was a teacher.
Chad's parents divorced when he was still very young, and his father went on to marry another woman who gave birth to Chad's half-siblings Micah Dyer and Justin Lowe.
Chad attended Oakwood Junior High School before transferring to Santa Monica High School. He was 16 years old when he made his debut TV film appearance in the 1984 drama "Flight 90: Disaster on the Potomac", and the same year saw him appear in two other movies – "Oxford Blues" and "Silence of the Heart". Chad also made his debut TV series appearance in seven episodes of the comedy "Spencer", then in 1986 played a supporting character in the movie "There Must Be a Pony".
He matriculated in 1986, and decided to focus on his acting career and not pursue a college degree.
Roles in movies
The following years saw Chad appear in several mediocre movies, such as the 1988 mystery horror "Apprentice to Murder", the 1989 action drama "True Blood", and the 1990 comedy "Nobody's Perfect".
His first notable performance was in the 1998 comedy "Suicide, the Comedy" directed by Glen Freyer, and which starred Jamie Harris, Alison Eastwood and Phil LaMarr. It follows an unsuccessful screenwriter who is planning to commit suicides, but ends up being put into an intervention program by his girlfriend and his family. In 2002, Chad appeared in the critically acclaimed romantic thriller "Unfaithful" which starred Richard Gere and Diane Lane, and follows a married couple who face problems after the wife starts an affair with a librarian. The movie won three and was nominated for 16 other awards, including an Oscar. The following year saw Chad appear in the romantic family drama "Red Betsy" which won Chris Boebel a Jackson Crossroads Film Festival Award for Best Feature.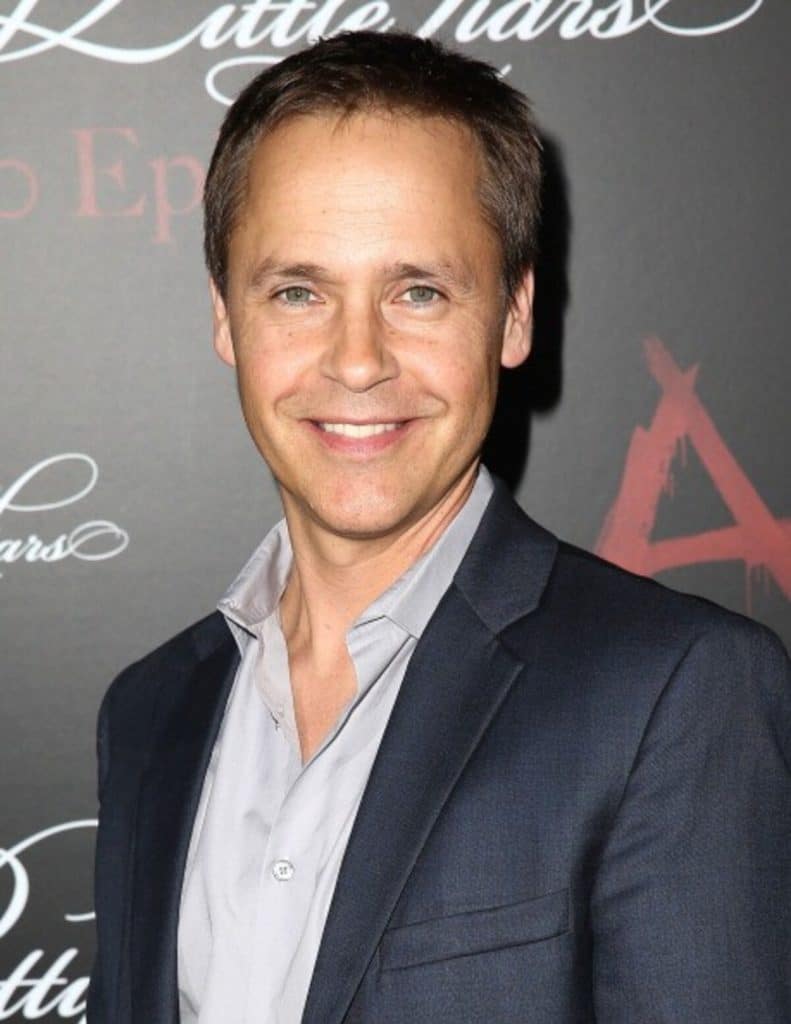 Then after over a decade of appearing mostly in TV series, Chad appeared in the 2015 hit comedy drama "Entourage", written and directed by Doug Ellin, and which starred Adrian Grenier, Kevin Connolly and Jerry Ferrara. It follows a movie star and his friends as they are risking a lot financially to make a new movie.
Chad's most recent role in a movie has been in the 2019 adventure comedy "7 Days to Vegas" which received mixed reviews and attracted little public attention.
Roles in TV series
In 1996, Chad was cast to portray Carter Gallavan in eight episodes of the romantic drama "Melrose Place", which aired its 220 episodes from 1992 to 1999 and won six awards. The following years saw him guest star in single episodes of various series, such as the fantasy horror "The Hunger", another fantasy horror "Poltergeist: The Legacy" and the family fantasy "Touched by an Angel".
In 1999, Chad was cast to play the supporting character Luke Grant in the romantic comedy "Popular", and in 2007 he portrayed Reed Pollock in the action crime drama "24", which starred Kiefer Sutherland and Mary Lynn Rajskub, and was a hit winning 74 awards including two Golden Globes, while it was nominated for 208 other awards. From 2010 to 2017, Chad portrayed Byron Montgomery in over 80 episodes of the romantic mystery drama "Pretty Little Liars", created by I. Marlene King and which starred Troian Bellisario, Ashley Benson and Lucy Hale. It follows four friends as they join forces to fight an unknown enemy – the series was nominated for 91 awards winning 45.
Three of Chad's most recent roles in TV series have been in three 2018 episodes of the mystery crime drama "Hailey Dean Mystery", a 2019 episode of the animated action adventure "Young Justice" in which he voiced Billy Batson, and the 2020 episode "It's a Super Life" of the action adventure drama "Supergirl".
Other credits
Chad has 21 directing credits, having debuted with the 2000 short film "The Audition", while he's only directed two other movies: the short "The Space Between" and the comedy drama "Beautiful Ohio". Some of the TV series he has directed include 13 episodes of the crime comedy "Bones", 15 episodes of the romantic mystery "Pretty Little Liars" and seven episodes of the comedy "Life in Pieces".
He also has two producing credits: the 2005 series "Celebrity Charades", and the 2006 film "Beautiful Ohio".
Chad received special thanks for the 2013 TV special "Pretty Little Liars: A Liars Guide to Rosewood".
He has appeared in many talk-shows, some of which are "One on One with John Tesh", "The Steven Martin Short Show", and "The Big Idea with Donny Deutsch".
Awards and nominations
Chad has been nominated for four awards winning three.
In 1993, he won a Primetime Emmy for Outstanding Supporting Actor in a Drama Series for "Life Goes On" as well as a Viewers for Quality Television Award for Best Supporting Actor in a Quality Drama Series. In 2007, Chad won a Special Jury Prize at Sarasota Film Festival for Debut Director for "Beautiful Ohio".
He was also nominated for a 1989 Daytime Emmy Award for Outstanding Performer in a Children's Special for "CBS Schoolbreak Special".
Love life and relationships
Chad met his future other half Hilary Swank while they were shooting together for the 1996 German drama movie "Quiet Days in Hollywood", and they dated for less than a year before marrying in a private ceremony on 28 September 1997. Hillary is perhaps known best for her portrayal of Brandon Teena in the 1999 biographical movie "Boys Don't Cry", and Maggie Fitzgerald in the 2004 sports film "Million Dollar Baby".
In January 2006, Chad and Hilary announced they would be divorcing, and in January 2007, several months before their divorce was finalized, Chad began dating film producer Kim Painter. She gave birth to their daughter Mabel Painter Lowe on 16 May 2009, and Kim and Chad married in a private ceremony attended by their closest friends and family on 28 August 2010. They welcomed their second daughter, Fiona Hepler Lowe on 15 November 2012,followed by their third daughter on 18 March 2016 they named Nixie Barbara Lowe.
As of February 2021, Chad is married to his second wife Kim Painter, and they have three children.
Hobbies and other interests
Chad is physically very active and has several training sessions at the gym each week, while he also plays a variety of sports including basketball – in 1985, he auditioned to portray a basketball player in the critically acclaimed sports movie "Hoosiers".
Chad is also an avid cyclist, and has uploaded numerous pictures taken during his cycling trips onto his Instagram account.
He is keen on travelling, and has been to nearly all the US states since the launch of his acting career, while he has also been to various European countries including England and Italy.
He is a lover of animals and has a pet dog.
Chad has his own favorite actors and actresses, some of whom are Robert De Niro, Matt Damon and Anne Hathaway, while of his favorite movies include "Taxi Driver", "Good Will Hunting" and "Les Miserables".
Age, height and net worth
Chad's age is 53. He has short brown hair and blue eyes, his height is 5ft 8ins (1.74m) and he weighs around 150lbs (68kgs). As of February 2021, his net worth has been estimated at over $4 million. while brother Rob's wealth is reputedly over $100 million.
Who is Rob Lowe?
Robert Hepler 'Rob' Lowe was born in Charlottesville, Virginia USA, on 17 March 1964 – his zodiac sign is Pisces and he holds American nationality. He has been credited with appearing in more than 100 movies and TV series, while he has won four awards and been nominated for 19 others, including six Golden Globes.
Rob became interested in acting while attending Santa Monica High School, as he met the famous actor Charlie Sheen there and the two became best friends. One of his first roles was in the 1983 drama movie "Thursday's Child" for which he was nominated for a Golden Globe Award, then in 1987 Rob portrayed Rory in the drama movie "Square Dance" and received his second nomination for a Golden Globe Award.
The '90s saw him appear in the horror mini-series "The Stand" and the hit political series "The West Wing", while some of his other notable performances in the 2000s were in the mini-series "Beach Girls", the supernatural horror movie "Stir of Echoes: The Homecoming" and the family series "Brothers & Sisters". In 2011, he was cast to portray a supporting character in the comedy series "Californication", and Rob then appeared in various movies and TV series. while one of his most recent appearances has been in the procedural drama series "9-1-1: Lone Star".
He is also an author, having written his memoir "Stories I Only Tell My Friends" in 2011.
In 1983, Rob met make-up artist Sheryl Berkoff on a blind date, and they eventually married in 1991. Sheryl gave birth to their son Matthew Edward in 1993, followed by their second son John Owen in 1995.
Rob is a noted philanthropist who has donated money for breast cancer research, and this is mostly because his mother, grandmother and great-grandmother all struggled with breast cancer, and which killed his mother in 2003.