• Kate Capshaw is a retired actress and former Ford model known for her role as Willie Scott in "Indiana Jones and the Temple of Doom".
• She has close to 30 acting credits, is married to Steven Spielberg, and has six children.
• She has been interested in acting since high school and has a BA in history and an MA in special education.
• She is a Democrat, likes to read Agatha Christie, and is into dancing and playing sports.
• She has a net worth of over $100 million and her husband Steven Spielberg has a net worth of over $7.6 billion.
Who is Kate Capshaw?
Kathleen Sue 'Kate' Nail was born in Fort Worth, Texas USA, on 3 November 1953 – her zodiac sign is Scorpio, and she holds American nationality. She's a retired actress and a former Ford model, with close to 30 acting credits to her name, while she's perhaps still known best for her portrayal of Willie Scott, one of the main characters in the critically acclaimed 1984 action adventure movie "Indiana Jones and the Temple of Doom". It was directed by Steven Spielberg, also starred Harrison Ford and Ke Huy Quan, and follows Indiana Jones, who's searching for a mystical stone in India in 1953. The movie won 11 awards, including an Oscar, and was nominated for 21 other awards.
Early life and education
Kate spent the first five years of her life in Fort Worth, as the family then moved to St. Louis in Missouri. She was raised as an only child by her father Edwin Leon Nail who was an airline employee, and her mother Beverly Sue (nee Simon) who was a beautician, and a travel agent.
Kate became interested in acting while attending Hazelwood Senior High, and appeared in various plays performed there. She was also into dancing, and learned various styles with her favorite being ballet. Upon matriculating in 1972, she enrolled at the University of Missouri, and became a member of the Alpha Delta Pi sorority. Kate graduated with her Bachelor of Arts degree in history education in 1976, and two years later, she obtained her Master of Arts degree in special education. She then taught special education at Rock Bridge High School, and at Southern Boone County High School.
Roles in TV series
In 1980, Kate moved to New York City to pursue an acting career, and made her debut TV series appearance in 1981 with her portrayal of Jinx Avery, in 32 episodes of the mystery crime drama "The Edge of Night". The long-running series aired 6,613 episodes between 1956 and 1984.
The following years saw her solely in movies, so by her retirement, Kate had appeared in only one other TV series. In 1993, she was cast to play the main character Margo Cody, in all five episodes of the comedy "Black Tie Affair". It was created by Jay Tarses, also starred John Calvin and Alison Elliott, and follows a detective who has been hired to investigate a tycoon.
Roles in movies
Kate made her debut film appearance in 1982, with her portrayal of Katherine, one of the main characters in the romantic comedy "A Little Sex". A couple of her following roles were in the 1982 drama "Missing Children: A Mother's Story", the 1984 war comedy "Best Defense", and the 1984 romantic drama "Windy City".
She gained recognition in the second half of 1984, when she portrayed Jane DeVries in the action adventure horror "Dreamscape".
Written by David Loughery, directed by Joseph Ruben, and starring Dennis Quaid, Max von Sydow and Christopher Plummer, it follows a young psychic who has been hired by the US government, to try and plant an idea into the US President's mind. The movie won one of the two awards for which it was nominated.
Kate was then cast to play supporting characters in a number of critically acclaimed films, such as the 1989 action crime thriller "Black Rain", the 1990 mystery comedy drama "Love at Large", and the 1991 western drama "My Heroes Have Always Been Cowboys". Her next notable performance was in 1995, when she was cast to play Laurie Prentiss Armstrong in the action crime drama "Just Cause".
Based on the novel by John Katzenbach, directed by Arne Glimcher, and starring Sean Connery, Laurence Fishburne and Kate, it follows the case of a young black man who has been convicted of the murder of a child, and a former lawyer who has decided to defend the man. The movie won Ed Harris a Broadcast Film Critics Association Choice Award for Best Supporting Actor.
In 1999, Kate starred alongside Tom Selleck and Tom Everett Scott in the romantic comedy drama "The Love Letter". It follows the appearance of a mysterious love letter in a provincial town, and the movie was nominated for a single award. Kate's final two roles in movies before retiring from acting,were in the 2001 romantic comedy drama "A Girl Thing", and the 2002 drama "Due East".
Other credits
Kate is featured in a number of documentaries, such as the 1990 series "Intimate Portrait", the 1992 series "60 Minutes", and the 1992 movie "Shattered Lullabies".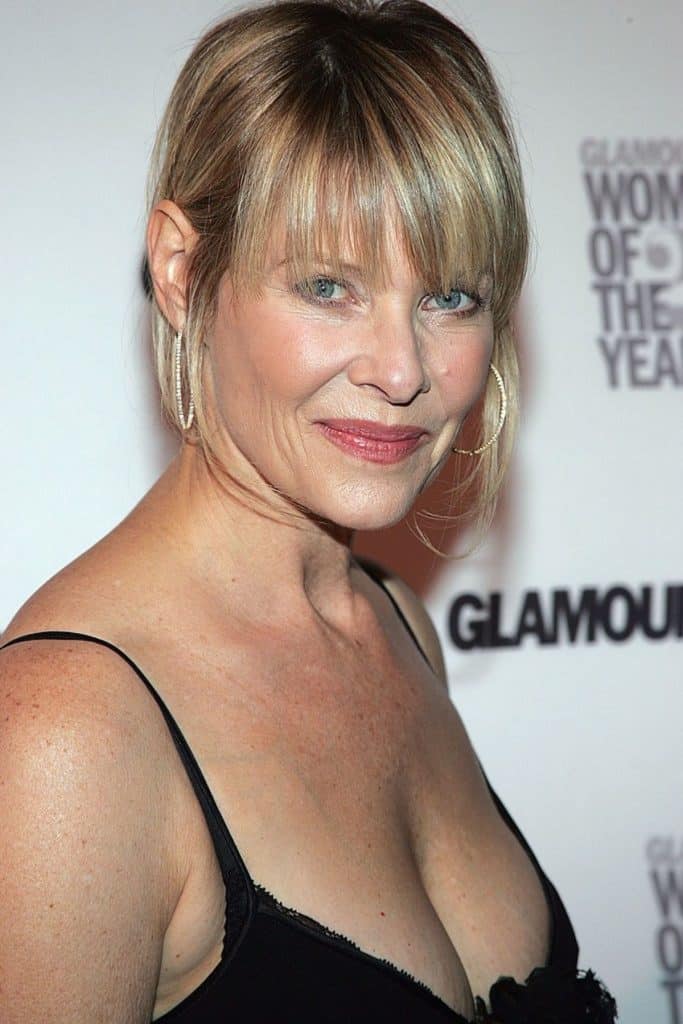 She performed the song "Anything Goes" in the 1984 movie "Indiana Jones and the Temple of Doom", and "The Riddle Song" in the 1995 film "Just Cause".
Kate produced the 1999 movie "The Love Letter".
She has received special thanks for the 2019 mystery crime movie "Earthquake Bird".
Kate has made a guest appearance in a number of talk-shows, including in "Late Night with Conan O'Brien", "The Rosie O'Donnell Show" and "The Tonight Show with Jay Leno".
Love life and marriage with Steven Spielberg
Sometime in the mid-1970s, Kate began dating Robert Capshaw, an American marketing manager, and the two exchanged vows in January 1976 in a private ceremony attended by their closest friends and family members. On 9 August 1976, she gave birth to their daughter Jessica Capshaw, but in 1980, Robert and Kate divorced for unknown reasons, but she retained his surname.
She met Steven Spielberg in 1984, while auditioning for a role in the movie "Indiana Jones and the Temple of Doom". The two became close over time, then started dating, and eventually married on 12 October 1991. Kate was an Episcopalian, but converted to Judaism prior to the wedding.
They adopted the boy Theo, born in 1989, then on 14 May 1990, Kate gave birth to their daughter Sasha Rebecca Spielberg. On 10 March 1992, they welcomed their son Sawyer Spielberg, and in 1996, Kate and Steven adopted the baby girl Mikaela Georg, born on 29 February 1996. On 1 December 1996, Kate gave birth to their daughter Destry Allyn Spielberg.
Kate hasn't spoken of any other men whom she has perhaps been with, and as of June 2021, she's married to her second husband Steven Spielberg, and has six children, two of whom she and Steven adopted.
. @JessicaCapshaw and her mom #KateCapshaw at #ReadyPlayerOne premiere in LA on March 26, 2018.
GORGEOUS LADIES 😍✨ pic.twitter.com/8L7yqF4A72

— JCapedia (@JCapedia) March 28, 2018
Hobbies and other interests
In her 20s, 30s and 40s, Kate was physically highly active, as she played various sports with her friends and colleagues, and also followed a strict diet. It was important for her modelling and acting career to stay in shape, and she enjoyed leading a healthy lifestyle.
She likes to read books in her spare time, with her favorite genres being mystery and crime, and her favorite writer Agatha Christie; her favorite book is "The Mysterious Affair at Styles".
Kate has been interested in clothes since her early teenage years, and has always enjoyed wearing dresses with flower prints.
She's interested in politics, and is a Democrat. In 2020, she donated $250,000 in support of Joe Biden, who has become the 46th President of the United States of America.
Kate has her own favorite actors and actresses, some of whom are the late Marlon Brando, Clint Eastwood and Meryl Streep, and a couple of her favorite movies are "Last Tango in Paris", "Apocalypse Now" and "The Good, the Bad and the Ugly".
Age, height and net worth
Kate's age is 67. She has long brown hair and blue eyes, her height is 5ft 7ins (1.7m) and she weighs around 128lbs (58kgs). As of June 2021, her net worth has been estimated at over $100 million (amassed mostly thanks to her husband), while Steven's net worth has been estimated at over $7.6 billion.
Who is her husband Steven Spielberg?
Steven Allan Spielberg was born in Cincinnati, Ohio USA, on 18 December 1946 – his zodiac sign is Sagittarius, and he holds American nationality. He's a screenwriter and film producer, but is amongst the most successful directors of all time, and has won numerous awards, including two Oscars for Best Director, a Cecil B. DeMille Award and a Kennedy Center honor.
He was raised alongside his three younger sisters Nancy, Sue and Anne, in both Cincinnati and Haddon Township, New Jersey, by their father Arnold who was an electrical engineer, and their mother Leah (nee Posner) who was a concert pianist and a restaurateur. When Steven was 11, the family moved to Phoenix in Arizona, where when he was 13, he had his bar mitzvah ceremony.
He was 12 when he made a movie at home, with his toy trains, while he then made a nine-minute film called "The Last Gunfight". He was 13 when he filmed the 40-minute movie "Escape to Nowhere", which then won first prize in a national competition. He grew up watching one movie a week at a local theatre – the films which influenced him the most were the 1956 kaiju "Godzilla, King of the Monsters!", the 1940 animated fantasy "Pinocchio", and the 1962 epic historical drama "Lawrence of Arabia".
Steven's debut independent movie was "Firelight", which he created with a budget of less than $600; it was 140 minutes long, and was shown for a single evening at a local theatre.
He attended Saratoga High School, and upon matriculating in 1962, enrolled at California State University, Long Beach, but from which he dropped out, after having signed a seven-year contract with Universal Studios.
Steven has been making movies for over five decades; amongst his first hits were the 1975 blockbuster "Jaws", the 1982 science fiction "E. T. the Extra-Terrestrial", and the 1993 science fiction "Jurassic Park". In 1993, he worked on the epic historical drama "Schindler's List", which follows the life of Oskar Schindler, who saved numerous Jews during World War II. Some of Steven's other notable works include the 1998 "Saving Private Ryan" starring Tom Hanks and Matt Damon, the 2002 "Catch Me If You Can", starring Tom Hanks and Leonardo DiCaprio, and the 2004 "The Terminal", once again starring Tom Hanks.
In November 1985, Steven married the American actress Amy Irving, and they share a son together, named Max. The two divorced in 1989, and two years later, he married Kate.